Unless you're blessed with natural curls, coaxing stick-straight strands into beautiful beachy waves requires turning up the heat. Curling irons, blow dryers, hot rollers, and straightening irons are all part of most women's hair arsenals as they try to create the perfect bend and bounce. Anyone who's ever suffered a burn at the hands of one of these stylers knows just how hot they can get. Over time, all that heat can damage the hair, resulting in frizz, dryness, and breakage. Heat protectants can help, but they can only do so much. Fortunately, there's a new wave of curling options on the market that don't use heat to deliver salon-worthy curly girl styles.
RobeCurls Curling Headband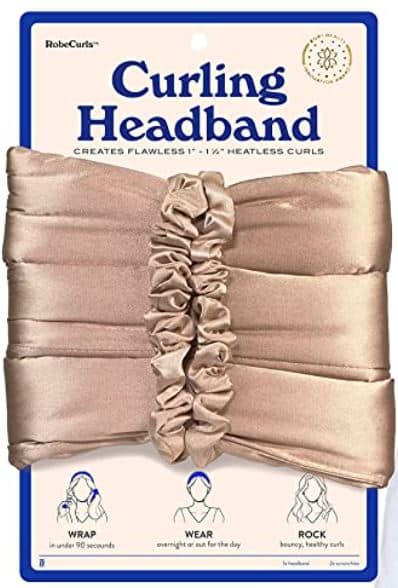 One of the most popular methods for creating heatless curls is the RobeCurls Curling Headband. Several dupes of this product are floating around cyberspace, but this one is the OG, and for a good reason—it works! The results have been blowing up on social media, with some of the most popular influencers sharing reels of themselves getting ready for bed looking like a weird version of Princess Leia with their tresses twisted around this silky band. However, going to sleep looking silly is a small price to pay for waking up with sexy hair.
To create loose, luxurious curls, start with slightly damp hair or mist it with water. Place the headband across the top of the head and begin twisting sections over it until you have all the hair wrapped. Secure the ends with the scrunchies and go to bed. In the morning, unwind, fluff, and go. Admittedly, it takes a little patience and practice to master the technique (especially wrapping the ends). However, plenty of tutorials and videos are out there to help you become a wrap artist.
12-Piece Heatless Hair Curler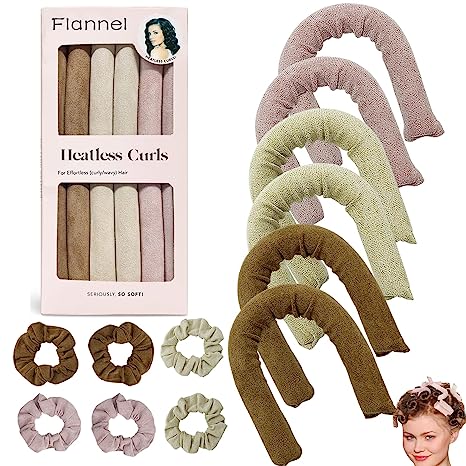 If you are of a certain age, you may recall using rags or socks to roll your damp hair at night for flawless morning curls. This 12 Piece Heatless Hair Curler set is the same concept. Ideal for long hairstyles, the curling rods and scrunchies are made from Flannelette material, which holds the hair in place and prevents slippage while you sleep.
To create your curls, wind a section of damp hair around a rod, bend and secure it, and then add the scrunchie to keep it in place. These individual bands allow you to vary the direction, placement, and size of your curls better than one long band, offering more flexibility in style.
The Sleep Styler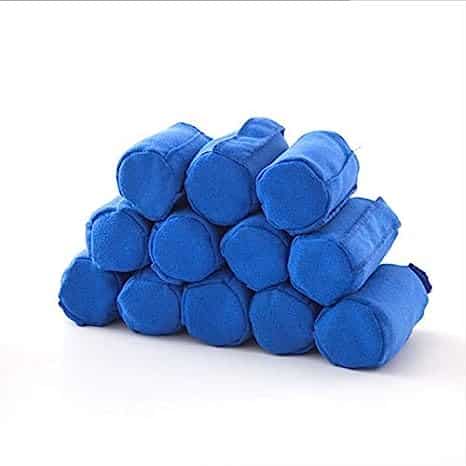 Those pink sponge rollers with the uncomfortable plastic snaps of your youth just got a major upgrade! The Sleep Styler is a set of 12 microfiber rollers, each with an attached soft strap for securing. What makes these so great (besides the comfort factor) is that they can hold 4-5x their weight in water, which means they dry and style hair quickly while you sleep. Available in large or mini sizes, they are easy to use and allow you to create customized curls that last.
Self-Grip Rollers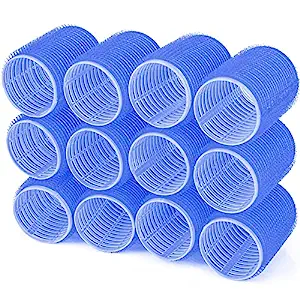 Don't let the name fool you. Self-Grip Rollers are essentially the same Velcro rollers your mom wore underneath her oversized head scarf when getting ready for an event. Today's versions are a little gentler on the hair than the old black, wiry versions that pulled and tangled. Unlike some heatless options, these rollers are less about curls and more about creating soft, smooth volume, ala '90s supermodel hair.
Start with sections of damp hair and wrap them around the barrel. The self-grip exterior will keep your hair in place without the metal clips mom used. Once hair is dry, unwind and get ready for a BIG difference.
Shark FlexStyle Air Styling™ and Drying System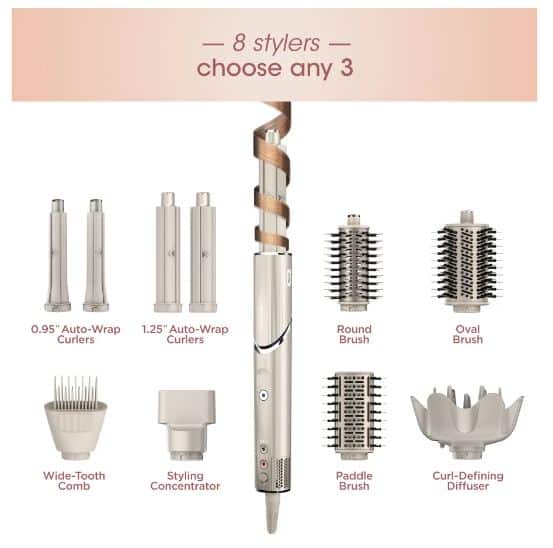 On the days when you don't have hours to let your hair dry or the nights when you want to look a little sexier in the bedroom, try the Shark FlexStyle Air Styling and Drying System to create heatless curls. Okay, technically, it is still a hair dryer. But unlike dryers that blast the hair with high heat, the Shark measures and regulates temperatures at 1000x per second, minimizing potential damage. Plus, you can choose from four temperature options. Like the Dyson Air Wrap, the Shark has several attachments for creating curls, straightening, or creating volume quickly and efficiently. So while it's not truly a "heatless" curling option, it is a solid "heat-damage free" choice that is half the price of the Dyson and works every bit as well.
Tips and Tricks
One of the biggest complaints about heatless curls is their lack of staying power. While it's true that heat helps the hair to "set" and lock in the style, if you follow the instructions for the heatless method you are using, along with using the appropriate products for your hair type, it's possible to get curls that last. The first thing to remember is that hair should be slightly damp, not soaking wet. You should also use hair products that help it hold its shapes, like curl enhancers or setting sprays. Make sure the hair is completely dry before you unroll or unwind it. Once it's down, resist the urge to brush out the curls. Less is more when it comes to touching your tresses. If you must fluff it, lightly run your fingers through it and then spray with hairspray to maximize the hold. Check out YouTube or TikTok for ideas on how to get the most from your heatless tools. You'll find hundreds of videos that can make you a pro in no time.
Substituting your hot tools with heatless options once or twice a week can make a big difference in the long run. Once you get the hang of going heat-free, you can create beautiful styles while improving and preserving the health of your hair.
Read More:
Fighting Humidity and Hair Frizz
The Best Brushes For Every Hair Type