Are you damaging your hair with lifelong habits? As you age, your hair can become thinner and less hydrated. Make sure you aren't unintentionally making things worse. Pay attention to these "don'ts" and you'll keep your hair healthy.
Stop using damaging elastic bands.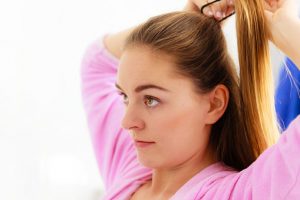 If you are making a tight, high pony, you can also be damaging your hair follicles at your hairline to the point that it begins to fall out, giving you a receding hairline! Avoid any type of band with hair snagging metal or plastic pieces. If you are going to use a band, make sure it's covered with a fabric and that you don't stress hair by using it daily. Try Cyndibands, Scünci's Fashionably Fit 2 in 1 Hair + Wristband, or Grab & Go Pony tube.
Stop shampooing every day.
Unless you're a workout fiend getting sweaty at the gym, stop shampooing every day. Your scalp needs a chance to recover. If you must do something,
use dry shampoo
instead, or
cleansing cream
or
foam
. They're more gentle on your hair and scalp than the sulfates in shampoos. The benefit will be shinier hair (use a
boar bristle brush
to distribute oils evenly), and your hair color will last longer.
Stop backcombing/teasing with a comb.
A fine-tooth comb can do more damage than good. Instead, use a teasing brush with densely packed bristles.
Stop skipping your conditioner.
It doesn't weight your hair down. It does help your color last longer and keep hair looking healthy. Even if you are skipping shampoo, use conditioner.
Stop rinsing your hair in hot water.
Rinse your hair with cool to lukewarm water to maintain the life of your color. Warm water opens the hair cuticle, allowing shampoo and conditioner to do its job. So, start with warm water, but finish with a cold rinse to close the cuticle and lock all that good stuff in.
Stop scrubbing your hair with a towel.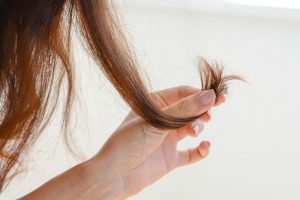 To towel dry your hair, scrunch with a towel. Vigorus rubbing can damage your hair and lead to frizz or breaks that weaken your hair. For best results, give up those terrycloth towels and use a soft microfiber towel like the
Lisse Luxe Hair Towel
, instead.
Stop avoiding haircuts.
A fresh haircut and color maximizes your style and makes you look younger and fresher too, so stop procrastinating. Visit your stylist and keep those ends trimmed to keep your hair healthy and happy.