Styling thin hair can be frustrating sometimes, but don't panic. The secret to stylish thin hair is a good half updo. You can wear many hairstyles and still look gorgeous without feeling insecure about your thinning hair.Whether looking for a hairstyle to wear to the office, casual gathering, formal dinner, or for your upcoming wedding, you can never go wrong with a half updo.
15 Fabulous Half Updos for Any Occasion
Bridal Updo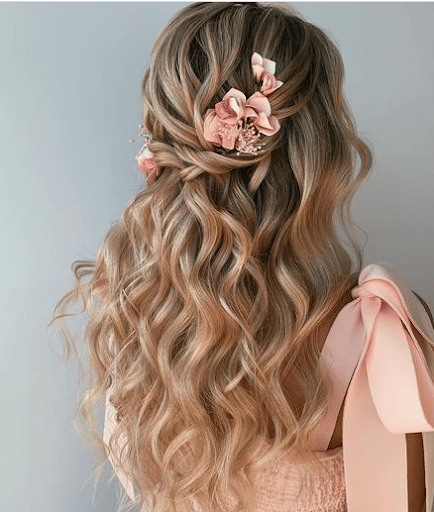 Updos are one of the best hairstyles for weddings because they can be styled in many different ways. The waves in these tresses look all too perfect, especially when accessorized with vines. For a more luxurious look, you could add pearls or beads, but even as it is, it looks stunning.
Boho-Inspired Bridal Look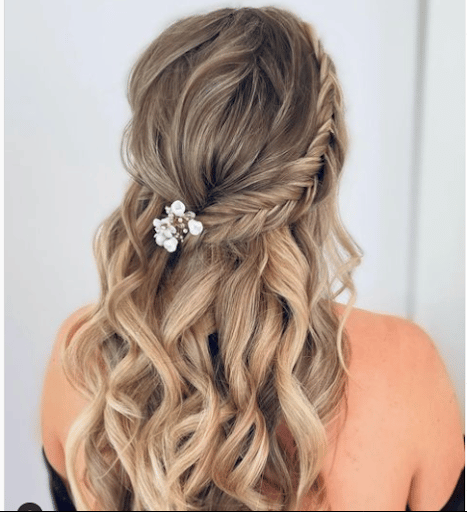 Another beautiful wedding day hairstyle includes a fishtail waterfall braid on the side and floral pin detail. This Boho-inspired style is excellent for both formal and casual occasions, and you can easily add (or remove) embellishments for the event.
Simple Twisted Crown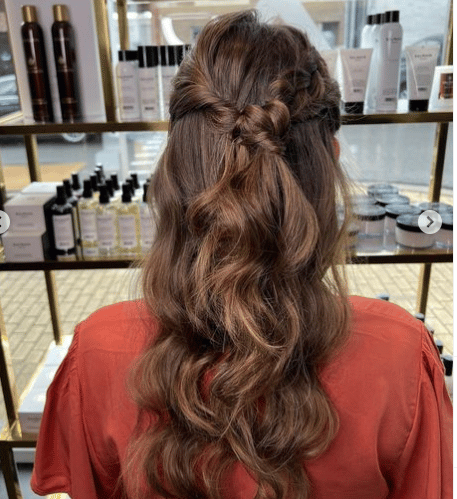 This is a great choice for those who do not know how to braid or for women with fine hair. It's a super easy hairstyle that takes under 2 minutes to put together once you've curled your hair. You don't need a tutorial for this half-updo; it's pretty straightforward. To achieve the waves, you can use either hot rollers or a curling iron.
Accessorized Short Fishtail Braid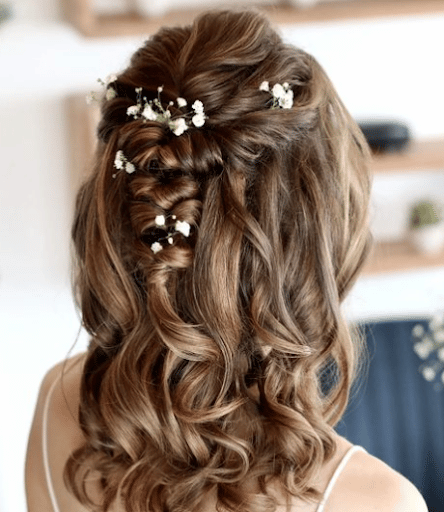 A fishtail braid is a whimsical twist on the original french braid, and if you're hesitant to wear one, this half-up fishtail braid hairstyle proves that you can. This is a great choice to show off your fishtail braiding skills. You can add some pizzazz to this otherwise traditional basic hairdo by adding floral pins or other hair accessories.
Clipped Half Updo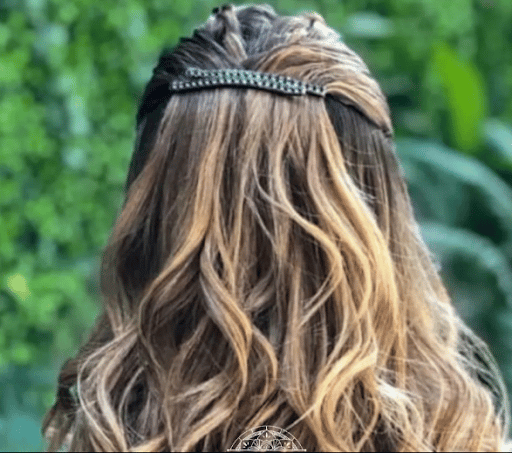 This is a pretty simple hairdo that won't require a tutorial to pull off, and it's one of the easiest ways to get your hair out of your face. Curl your hair with a large curling iron or hot rollers, then gather some of the front hair and pull it back to the midsection. Secure the hair with French barrette, banana clips, or claw hair clips; boom, you are ready to step out. This hair looks stunning with highlights and is perfect for ladies with long locks.
Double Waterfall Braids
Upgrade your classic waterfall to a much fancier look. Create two waterfall braids on each side, and join them at the mid-section of your head. Curl the other half down to create loose bouncy curls. This style looks stunning with side bangs, textured bangs, or curtain fringe. For a much fuller look, consider adding extensions or highlights.
Curly Waves with Floral Half Updo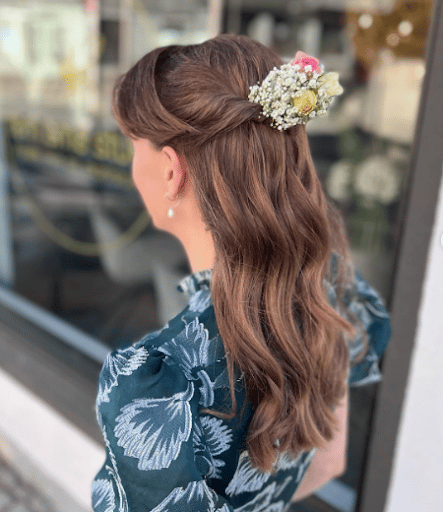 If you are on the lookout for a chic and feminine hairstyle, then be sure to consider this look. The loose waves are perfectly aligned, and the blunt ends look neat. To pull the style together, tie the half with a floral pin.
Whimsical Curls and Bouffant Half Updo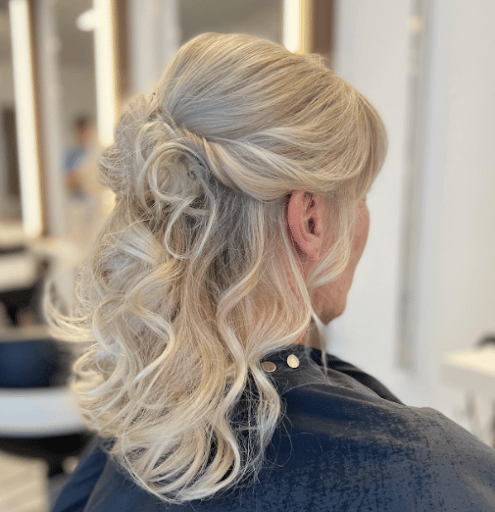 You can still achieve whimsical curls and a glam bouffant updo with short hair or any hair type. For the bouffant, back-skimming will do the trick. This stylish hair updo is a cinch to maintain and is just as trendy. You can wear it to dinner or any other formal event or simply elevate your look when you head to lunch with your friends.
Luscious Braided Half Updo
The best thing about half-up hairstyles is that you can get very creative. This look mixes braids and luscious curls, giving off an intriguing textured look. You can play around with the braided proportions and even add bangs or a side swoop for more drama.
Blonde Curly Half Updo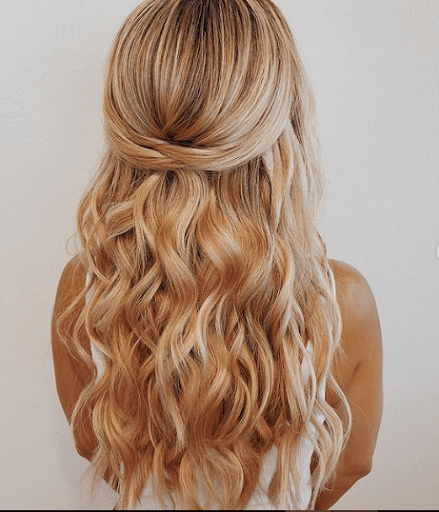 Have a big event coming up? How about this golden blonde half-updo? The twisted bun really pops against the draping curly golden tresses. This is a perfect hairstyle for when you want to bring out your feminine side. This look will involve some intricate criss-cross threading with some meticulously placed bobby pins, pulling your hair through the center in opposite directions but then allowing the hair to pull through loose on the other side.
Prom Style Bow Half Updo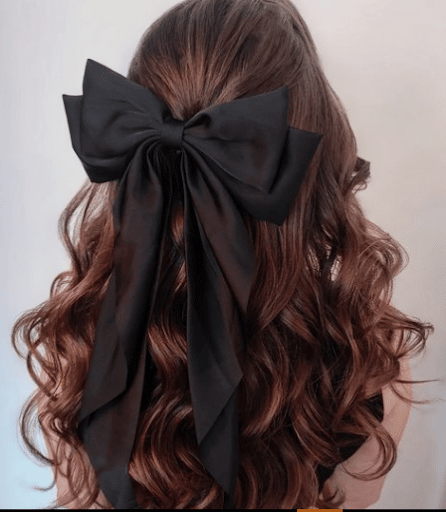 Attention prom buffs with long hair: prom styles are no longer complicated to pull off. This simple half-updo requires curling and a big bow to take it to the next level. While it's not the right look for every occasion, you just might find the perfect outfit to accentuate a bow of this magnitude.
Braided Top Knot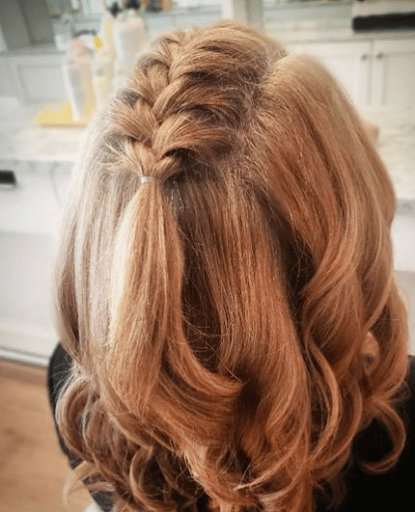 If you have a penchant for braiding, then this style is perfect for you. It's so simple to pull off, yet looks so stunning. Start by creating loose curls, then do a single loose mohawk braid – the braid compliments the free-flowing curly tresses. This style could take you just about anywhere, whether formal or informal. And the best part? It's low maintenance.
Not-So-Messy Medium Curly Half-Up Hairdo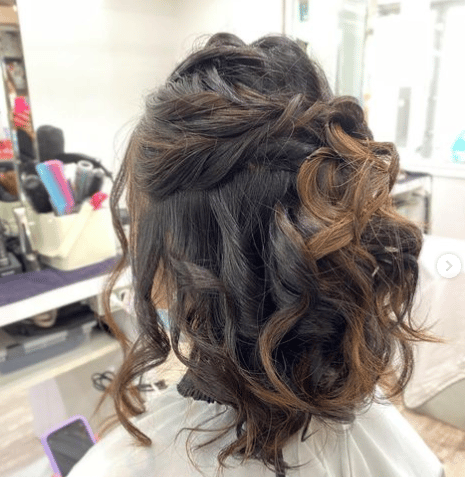 This not-so-messy curly look gives off a cool yet polished look. It's an excellent style for a gala or dinner event and doesn't require any braiding. Simply create multiple twists back to a central (or off-center – your choice!) point on your head and secure with bobby pins. Make sure the loose curls cover the pins, and you're ready to go. This is a fun twist on a messy bun and gives your hair extra volume because of the way it's tied in the back.
Waterfall Braid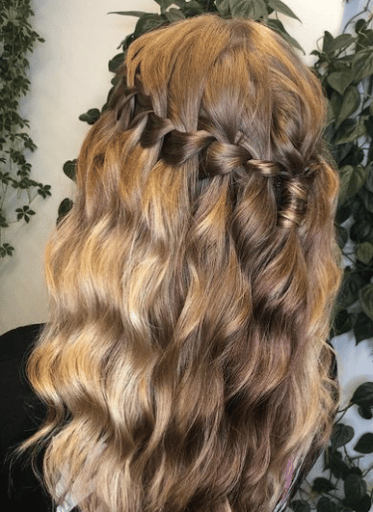 This waterfall braid style looks lovely on long hair. It can be worn by young and older women of all ages and hair textures, although it looks particularly great on wavy hair. It definitely fits the bill for both casual and formal events.
Half Up Ponytail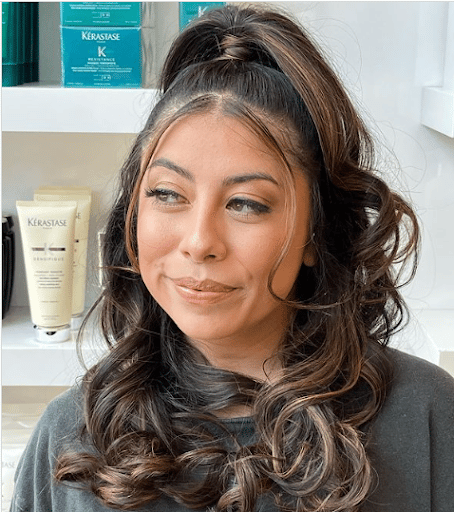 The half-up high ponytail is one of the best half updos for thin hair, and the curls and the balayage are always a win for added volume. You won't have to worry about your hair looking thin because the hairstyle compliments your face shape while drawing attention to your facial features.
Tips To Make Your Thin Hair Look Thick When Wearing Updos
Opt for messy updo hairstyles. The messy look gives the illusion that your hair is thicker.

Consider using hair extensions for more volume.

Choose loose curls and waves instead of ringlets and straight hair. Remember to use the right curling products and a heat-protectant when using the curling iron.

Don't be afraid to add highlights. Highlights add dimension, texture, and movement, which make your hair look thicker.

Use bun makers to make your buns look bigger and give the illusion of thick hair.
Top Tools For Fabulous Half Updos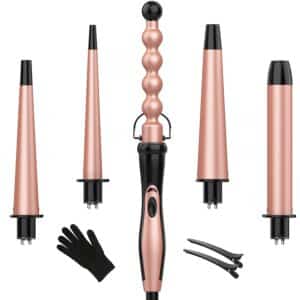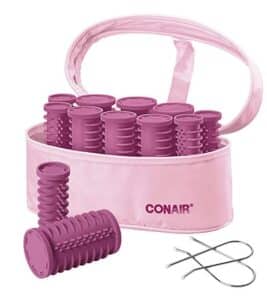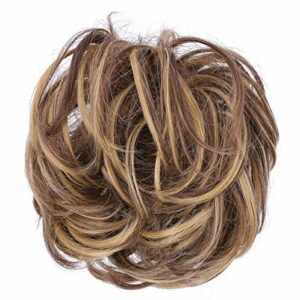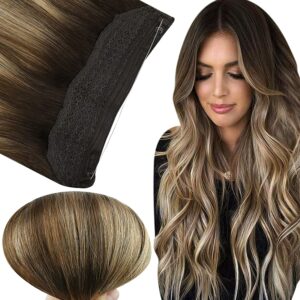 Read More:
Low-Maintenance Hairstyles for Women Over 50
5 Best Volumizing Haircuts For Thin Hair