Fashion is a true passion of mine, and I always enjoy finding new and exciting pieces to wear to events. However, I've found that once I am photographed in an outfit, I feel like I can't wear it again. This inclination makes the holiday party season a costly time of the year because it seemed like there was a different party every weekend during December. I found that I was spending more than I cared to admit, and now, even with the holidays in the rearview mirror, I've found myself facing wedding season, and it's starting all over. Fortunately, this past holiday season, I tried Rent the Runway. It's a clothes rental service that lets you pick clothes from brands like Kate Spade, Rebecca Minkoff, Reformation, and more. They ship you the clothes for a rental period; you wear them and look fabulous, and then return them without any hassle.
And the best part is that you can get these designer items starting at just $30! If you're still hesitating, you can get 20% off your first order with code GETDRESSED.
100s of Options to Choose From
I first ordered a dress for a black-tie wedding. On the Rent The Runway site, they prompted me for my zip code, sizes, and rental dates to see what would be available at that time. I could filter by traditional options like color, size (they carry up to size 22), and price, but one of my favorite features is the ability to filter by age range. There were literally hundreds of options. All one-time rentals come with a backup size, in case the one you selected doesn't fit. This is wonderful, especially because I have some wearable medical devices that can make ordering online a challenge. First-time renters also get a free backup dress. So when all was said and done, I rented two different designer dresses and backup sizes, and after shipping and insurance, the total was just $42.16!
Renting and Returning Has Never Been Easier
The clothes ended up arriving earlier than expected, so I had several days to try things on. I wore the Harlyn Short Sleeve Slip Gown and got compliments all night! People kept asking where I got the dress from, and I couldn't help but gush about Rent The Runway. It had been easy, I had so many options to choose from, and I felt and looked great. And because of the backups they'd sent, I had not struggled at all with my medical devices!
Rental periods are either 4 or 8 days, so you have some time before returning the clothes. They also take care of all dry-cleaning, so on Monday, all I had to do was pack the dresses back into the black garment bag they shipped in and drop them off at UPS. Return shipping is included in the price, so all I needed was my tracking number.
Rent the Runway Makes Designer Affordable
I now go to Rent the Runway for all my one-time wear events like weddings and holiday parties. I love that I can always have something new and beautiful to wear without going over budget. They have something for everyone, from very trendy to classic silhouettes that will never go out of style. And while rentals start at $30, prices go up from there, so it helps to make reservations early; that way, you'll have more options available to you. If you're ready to rent the runway and find some fabulous new fashion, we recommend some of these beautiful designer dresses!


Rixo Zadie Dress, $30+ (Normally Retails for $293.40)

Maje Romba Dress, $45+ (Normally Retails for $460.75)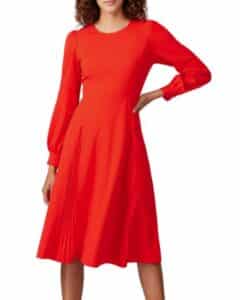 With all of the ups and downs we've had in the recent past, it's nice to think we'll have events and activities to start attending again this year. If you've got some special occasions (or even just want to jazz up your wardrobe every once in a while) but don't want to break the bank, you should consider Rent the Runway to try out some fabulous designs. You can look and feel your best and have a little fun while you do it!
Read Next:
Fashion Finds: Top 10 Sweater Dresses for Winter
Shoes To Wear With Cocktail Dresses