Eco-friendly. Organic. These might just sound like nice words or soundbites, but they mean something. They indicate products (and often companies) that have taken another step to ensure they're leaving the smallest impact on the world as they can – while still delivering quality and affordability.
Did you realize that we create 139.6 million tons of garbage in the US each year? Wowsa. That's a lot of trash, and there's really not a lot of space to put it. Landfills are ever-expanding, but the options for recycling (at least where I'm at) aren't keeping up the pace. Still, we work to recycle, reduce, and reuse as often as possible. We ride our bikes or walk instead of driving in order to decrease our carbon footprint. I reuse sandwich bags and use reusable bags at the grocery store to do a little bit more to help the environment. And when I forget my reusable bags? I use those dang plastic bags on walks with my dog. I know they're still terrible, but it's a tiny way to try to do something productive with them.
To celebrate companies and products that are working to help the environment, we compiled a list of our top products from a variety of categories. We looked for items that use natural ingredients, organically-sourced materials, or are using recycled items to create something new. As we looked, we were overwhelmed with the choices and were delighted with the options we found.
10 Top Organic and Eco-Friendly Products
Disclosure: This post contains affiliate links.
These organic cleansing wipes are gentle on sensitive skin and work to remove makeup and daily grime. The plastic-free cotton wipes are infused with organic essential oils to provide the best care for your face's delicate skin. Lifetime environmentalist Susie Hewson founded Natracare with a mission focused on providing period products that look after both the planet and people's bodies.
Natracare offers a plastic-free, organic, and natural range of tampons, pads, liners, and wipes. They're better for you and the environment.
Mott & Bow renewed their commitment to protecting the environment by incorporating preferred fibers and materials that align with global sustainability standards. This includes using organic cotton, recycled polyester, and hemp denim. The results are amazing jeans that you can look and feel good wearing.
Tree to Tub designed this luscious kit to naturally soothe and hydrate your hair and skin while surrounding yourself with the relaxing smell of lavender. With soothing organic botanicals, these products are made with safe, eco-friendly, vegan, and cruelty-free ingredients, so you can look and feel good.
Warrior blend fuses the power of several rich protein sources into one smooth, great-tasting formula that is overwhelmingly superior to the individual components alone. Medium-chain triglycerides from coconut work synergistically with the other ingredients to create a unique vegan protein rich in amino acids and BCAAs.
VENO maximizes the use of post-consumer material to make high-quality, sustainable grocery bags which saves plastic from ending up in oceans, lakes, and landfills. Keep our bag in your kitchen or trunk for convenience to help protect our environment and create a cleaner, more livable future.
Preserve recycles and makes all of its products in the USA. With a "powered by leftovers" philosophy, preserve turns yogurt cups into toothbrushes and take-out containers into cutting boards. Preserve makes its kitchen items from 100-percent recycled BPA -free plastic that is dishwasher safe and can stand up to everyday use.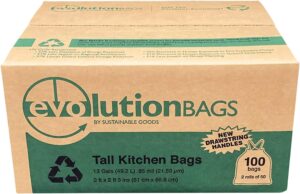 Made with 70% (third-party certified) Post-Consumer Recycled (PCR) LLDPE, the exclusive closed-loop recycling process allows Evolution's trash bags to be manufactured at the highest quality.
The clean and cruelty-free formula offers complete and natural skin-perfecting full coverage. You can use it all over your face and under your eyes and will experience fast-acting and long-lasting results. 100% of Hey Honey's Clean & Active skincare products are formulated with Honey & Bee Propolis to provide fast glowing results. They're also always cruelty-free and consciously sourced.
The Avocado Green Mattress is GREENGUARD Gold Certified — and made with natural and organic materials, including GOLS-certified organic latex. The non-toxic green bed combines the finest natural cushioning with an internal, zoned, pressure-point support system for proper back support and extended durability. They even make a new Vegan Mattress without wool that is also PETA-approved.
Get 10% off with code SAVE10.
Read Next:
Look Great Naturally with the Best Organic Skincare Products
Stop the Streaks: Our Top Organic Stretch Mark Creams
Is Organic Makeup Really Better for you?