Sponsored post.
With so many great vacuum cleaners on the market these days, where do you even begin to narrow down the best of the best? And furthermore, how do you determine which is well worth the money or a waste of cash? Here's the scoop on the Roborock vacuum, including features, pricing, and warranty.
Roborock Vacuum: The Basics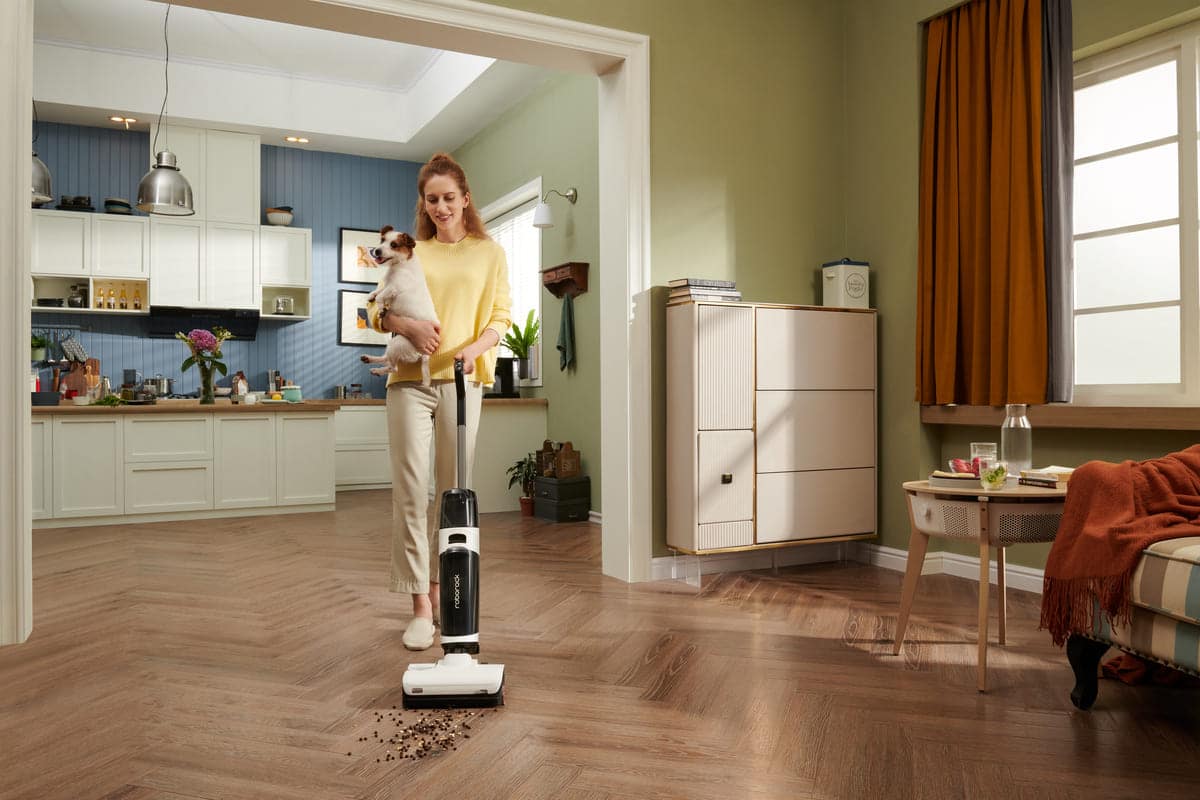 Officially called the Roborock Dyad Pro, it's one of a handful of Roborock products but the only vacuum the company offers right now (it also has nine robot vacuums and some accessories and cleaners to go with the products). Having written that, from what I can tell, it looks like they've tried to kill all of the proverbial birds with one stone in the Dyad Pro.
Touting it as the only multi-roller (one main roller in front, two smaller rollers in the rear) wet/dry vacuum in the world, the vacuum cleans up both wet and dry messes at the same time. As someone with grown children, I would have loved this feature when they were young (think cereal and milk spills) as it would be a paper towel-less cleanup. So, you can easily push and pull the vacuum, and it will clean no matter the direction, as opposed to many floor cleaners that only clean when moving forward and suction when pulling back.
Additionally, the cleaner has a 180-degree brush angle, so it offers plenty of area to be covered in a swipe and ease of movement around and under furniture. And if that wasn't enough, the cleaning brushes literally clean themselves as you're using it, so it's not a "clean with dirty brushes" type of deal, and I can totally get on board with that concept. That's one thing that's always bothered me about using a mop or wash rag to clean my floors – the first time you dip it into the scrub bucket, you're essentially washing the floor with dirty water from that point on.
Roborock Dyad Pro Battery and Cleaning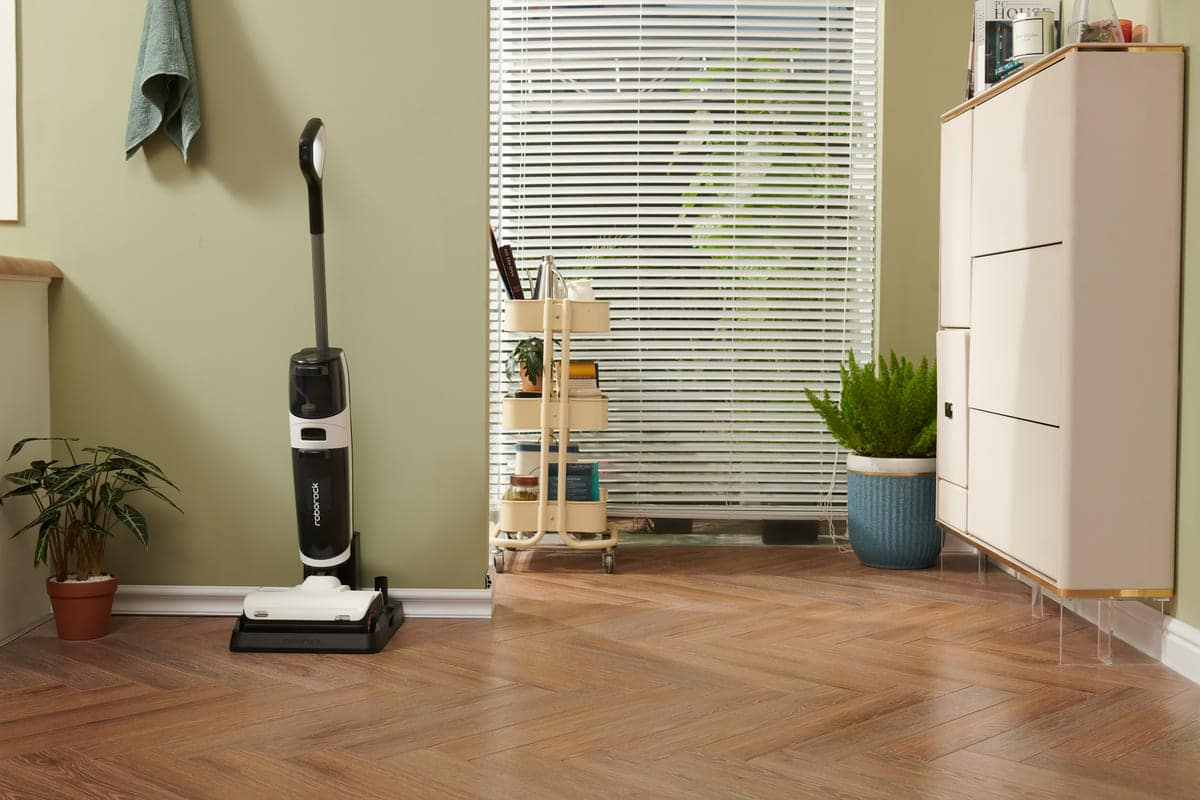 The Dyad Pro offers a rechargeable battery and offers 3000 square feet of cleaning, and a 43-minute run time with a single charge, so no pulling a cord behind you or getting it tangled up in your feet. Considering my home is significantly less than that, I could clean its entirety in one go without having to stop and recharge the battery or add new liquid to it. All you'll need to remember is to replace it back into the charging dock that comes with it and let it clean and dry the rollers automatically.
Handles Wet Messes Well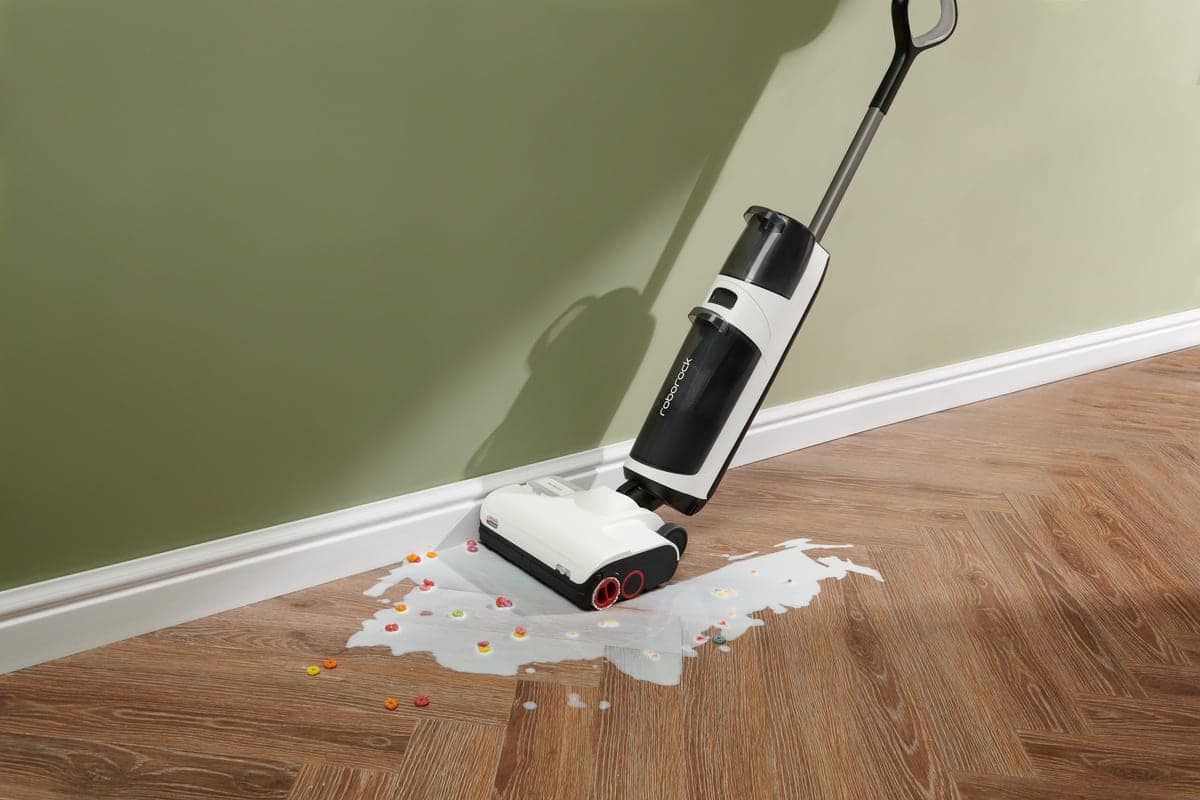 Another important feature to share is the fact that it can clean up wet messes. And by clean up, I mean completely clean it up and dry the floor while it's doing so with the Floor Drying Mode. So, if you spill water in the kitchen, the dog comes in with soaking wet feet, or the tub overflows a little, all you have to do is use the drying mode for extra suction power to clean it up quickly.
How to Clean the Roborock Dyad Pro
From what I've read and the explanation that was given, it looks like an ideal concept. The vacuum actually splits dry dirt from the dirty water, so all you have to do is remove the tank and empty it. It has a 900 ml clean water tank and a 770 ml dirty water tank for reference.
There's no proprietary cleaning solution needed for the vacuum, either, so feel free to use your own homemade blend. But, if you want to keep your brand loyalty, Roborock does offer its own floor cleaner made for the Dyad Pro. Created by Unilever, the product is derived from plants and scented with tea tree oil, so it has that super clean scent that I personally really like.
Roborock App
Keeping up with all of the smart appliances these days, the Roborock Dyad Pro has a phone app that offers plenty of features:
The Ability to tell you just how dirty your floor is – I'm not sure if this is a good thing or a way to make me feel guilty, but it will adjust its cleaning power automatically depending on how much is needed.
Voice Alerts – You won't need to learn any odd codes if there's an issue: voice alerts let you know in a tell-it-to-me-like-I'm-five-years-old style.
Roborock Vacuum Warranty and Pricing
The Roborock Dyad Pro is a higher-end floor cleaning machine, so you will be paying a pretty penny for it: at the time this post was written, it costs $449.99 with free shipping. So, yes, it is on the expensive side (say, compared to some of the wet/dry vacs you can get on Amazon or at Walmart), but you're paying for quality, ease, and functionality.
Buy it Today and Save Big.
Roborock is so sure you'll love the Dyad Pro that right now, you can get $100 off MSRP. That means you'll get the Dyad Pro for just $349.99 (valid Jan. 20 -Jan 24 – so don't wait!).
They've got an additional deal to get the S8 Pro Ultra for only $349.99, but that's only valid for the first 100 sold.
Visit the Roborock Website to take advantage of these amazing offers!
The company offers a 30-day money-back no questions asked guarantee on all of its products with free return shipping, so they stand behind its product. For me, that's always the sign of a quality company and a quality product.