Traveling can be a hassle but your traveling clothes don't have to be part of the problem. With so many great fabric options from knits to lycra, no one should travel in anything that isn't totally comfy. However, layering is key when preparing to dress for travel days, and each layer should be somewhat compact when stored so you can bring as many options as possible to have within easy reach. Whether by car, by train or by plane, we have selected our favorite travel clothes pieces for you to remain stylish, but sane, and above all, comfy!
The Japanese Goweave Essential Jumpsuit from Everlane, $120
What Women Are Saying:
"I love this jumpsuit! Since I've gotten it I've worn it without the belt and a t-shirt underneath and with the belt with some heels for a more dressed up look. The material is very light and I stayed cool even in 90 degree weather. It also doesn't wrinkle easily which is nice because I sit at a desk 5 days a week." – mjefferson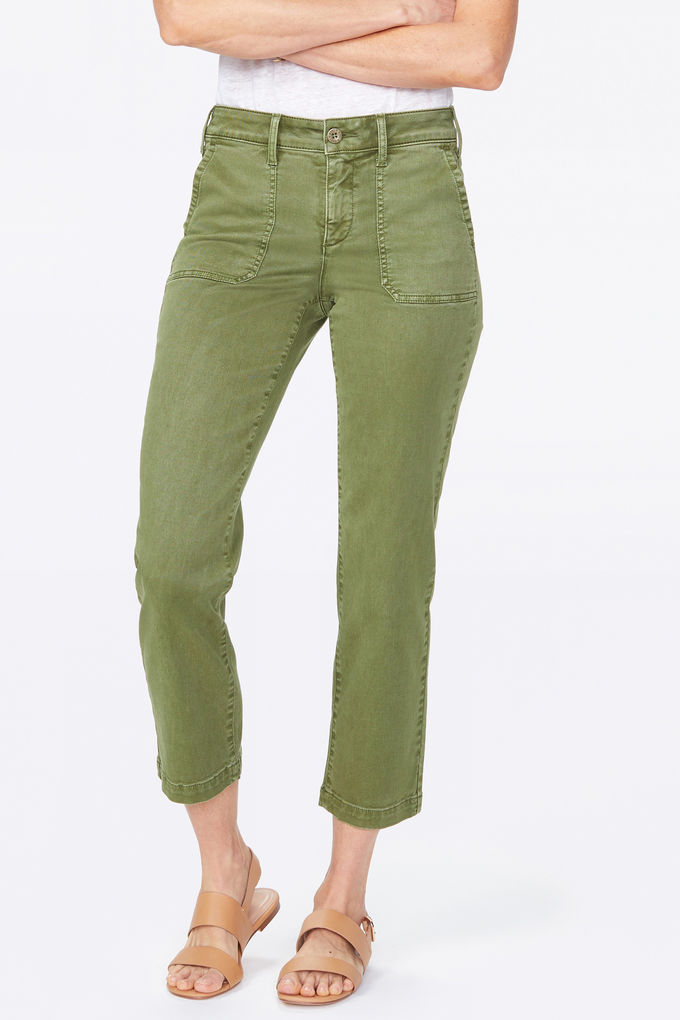 NYDJ Straight Ankle Chino Pants, $119
Available in sizes 00-18, Petite & Regular, and 6 colors.
What Women Are Saying:
"I find cropped pants very hard to fit but these are perfect! The material is soft and comfortable; the fit is flexible in the waist and hips so wearing them is enjoyable not something to just endure. I'd highly recommend these even if you carry your weight in the hips; these fit really well!" – Janette R.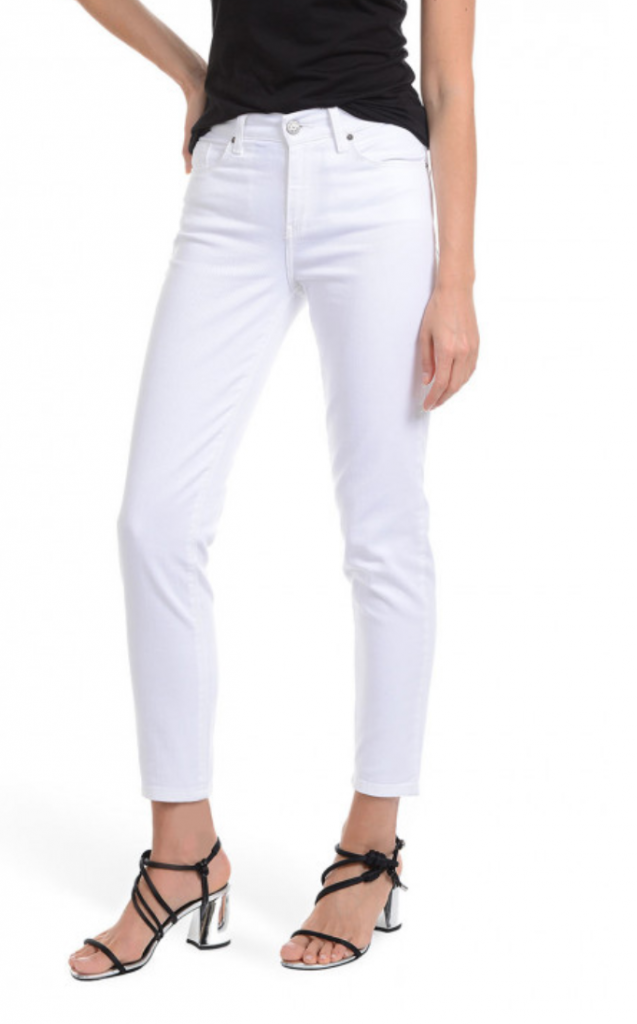 Mott & Bow 'Mom' Mercer Jeans, $108Available in sizes 24-32.
What Women Are Saying:
"I took a total chance on these jeans – I've been afraid to try white because I always thought they were generally unflattering. BUT these jeans are soooo flattering, chic and not see through. Highly recommend!"- Kate>READ MORE: MOTT & BOW ARE OUR CURRENT BFF JEANS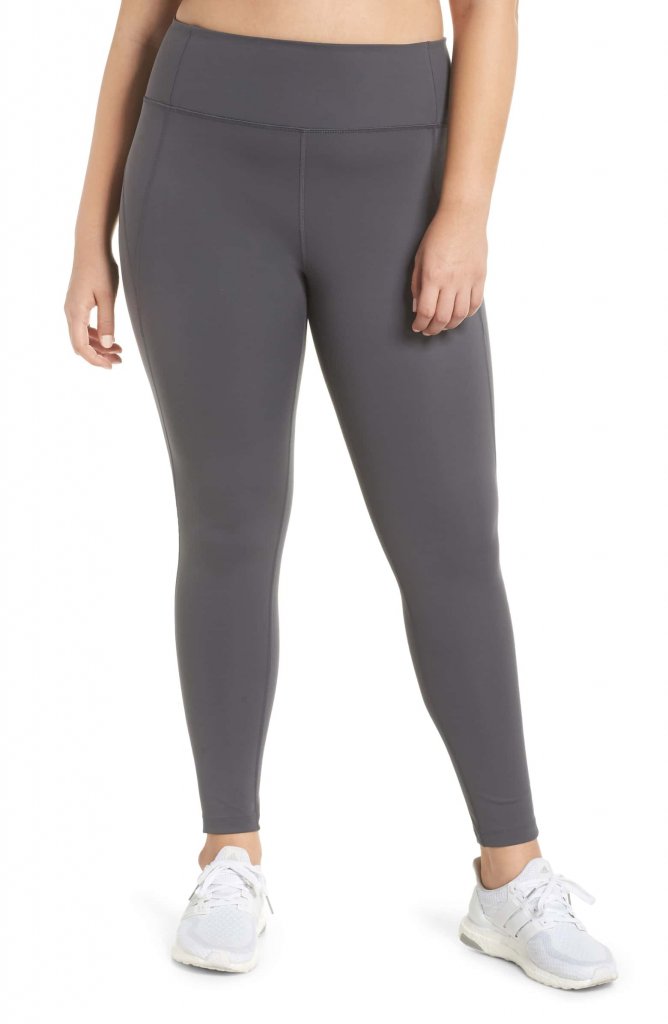 Girlfriend Collective Hi-Waist Full Length Leggings, $68
What Women Are Saying:
"I was unsure whether to order these but my usual brand was unavailable. Now I have a new brand I like even better! Not only do these feel like a second skin, they are silky to the touch and the high waist does not roll over. I can't imagine anyone being disappointed with these." -'Leroux57'"The best leggings I've ever worn! I have been searching for what seems like years for the perfect leggings and these are the holy grail of leggings! They are compressive, slimming, and they sculpt! I hesitated writing this review because I want them all to myself but seriously, forget the super expensive Lululemon, etc…these are life changing!" -'Mds622'

Karen Scott, Cotton Drawstring Shorts, Created for Macy's, $17 (was $33)
Available in sizes XS-XL, and 9 other colors.
What Women Are Saying:
"Thank you for continuing to offer the longer shorts. These fit very comfortably, are easy to care for and hold up nicely. Would recommend to anyone!" – 'loyalcustomer'>SHOP: OUR FAVORITE ATHLEISURE WEAR FOR WOMEN OVER 50
Everlane, The Air Oversized V-Neck Tee, $25
Available in sizes XXS-XL, and 4 colors.
'The Air' is also available in other styles, as well: Cami, Muscle Tank, Crewneck, and Long-Sleeve.
What Women Are Saying:

"I really like this t-shirt. It's roomy but doesn't make you look bigger. It actually make me look more shaped even though it is not a tight fit T-Shirt. The v neck is in perfect depth and I like it for the shape not being sharp v rather in between v and u shape which I found more attractive. I purchased a round neck as well in xs and loved it. For this style I got a small for a looser look and I love it. Material is thin but good quality. I wear this with mom jeans and shorts and it just goes well with pretty much anything." – 'calimomof3'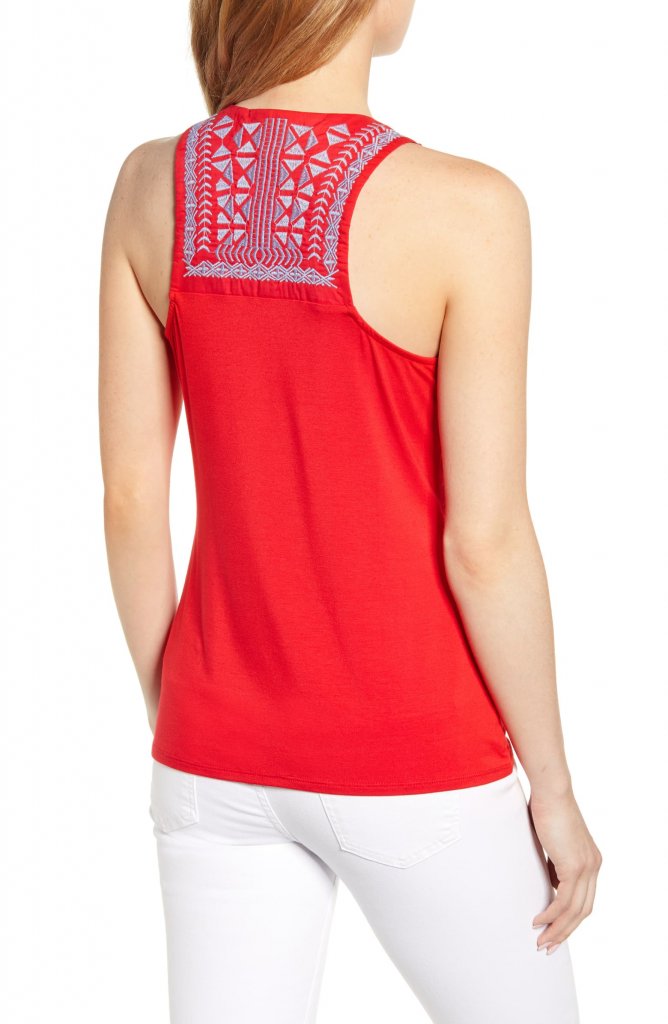 Gibson x Hi Sugarplum!, Naxos Embroidered Racerback Tank Top, $39
Available in sizes XS-XL, and 4 other colors.
What Women Are Saying:
"I ordered this shirt in the red color and it is just gorgeous! The back has the most beautiful cornflower blue embroidery on it, and the back is much more bra friendly than the last Hi Sugarplum embroidered tank that I missed out on ordering. The tank hangs perfectly, made me feel instantly thinner and tanner somehow. The material is a bit heavier and feels substantial so it drapes better than a lot of tanks and looks more "expensive" on. I was having the worst day when I got this and when I put it on, I instantly felt happier – it's one of those pieces for your closet! Trying to talk myself out of buying another color – but I might not win the battle." -'MoirasMom'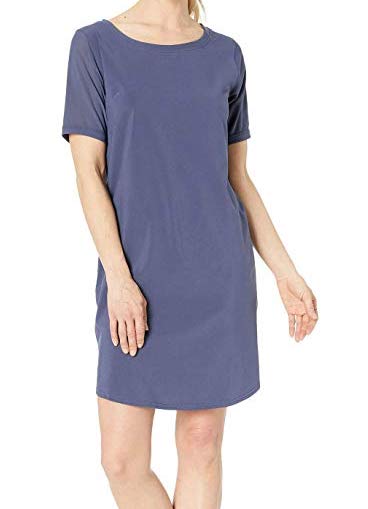 Columbia Work To Play™ Dress, $60
Available in XS-XL, and 2 other colors.
What Women Are Saying:
"This dress is comfortable and while it's has some room to move, it's not a tent. The fabric is great for keeping cool in the hot southwest where I live. Looks great with sneakers or sandals. Perfect for running errands or even for brunch/lunch out. I wear a 12 in dresses and the large fit perfectly." -Kam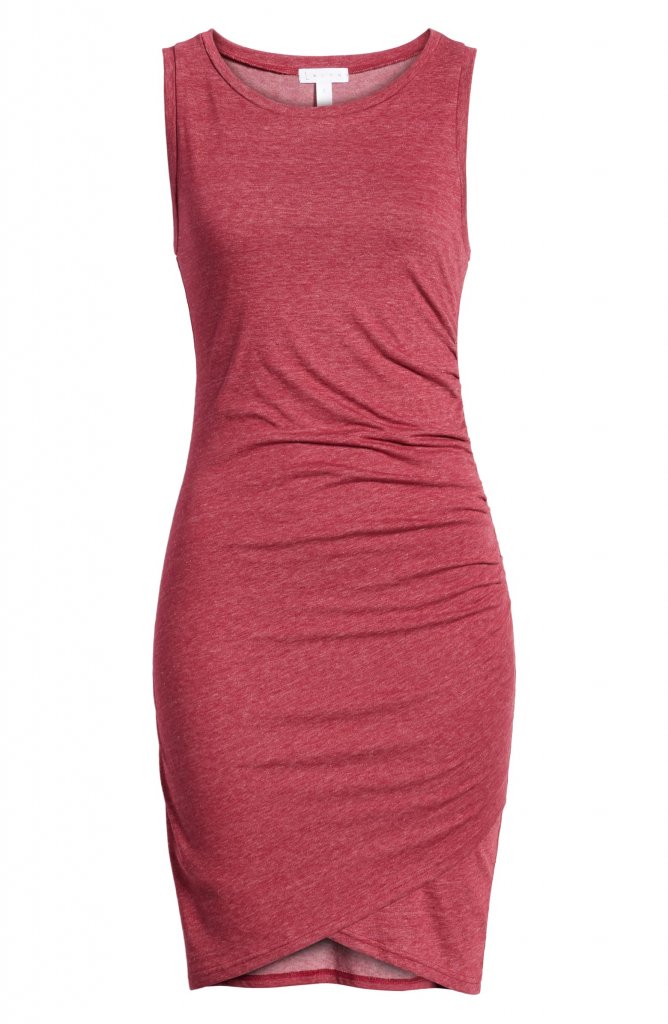 Leith Ruched Body-Con Tank Dress, $42 (was $56)
Available in sizes XS-XXL, and 10 other colors.
What Women Are Saying:
"This is a GREAT dress. Not only does it look good on (wearing spanx underneath makes it look better) but the color I got (the aqua one) looks nice and bright for summer. It's also wonderful for packing as it folds up so small but shakes out looking perfect. The ruching and the crossover V at the hem is VERY complimentary. I plan to but a few more in different colors as you can easily slip a shirt, jacket, shoulder scarf around it and it looks even better. Dress it up or down, it's fabulous." -'RedKetch'>SHOP: SUNSHINE AND DINE IN THESE SUMMER DRESSES FOR STYLISH WOMEN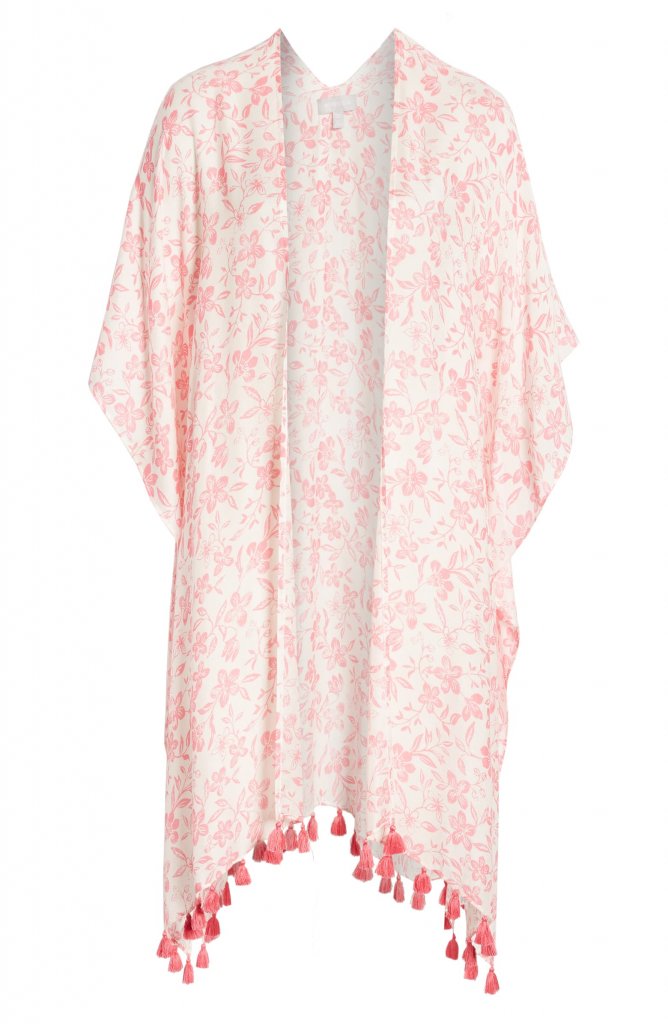 Nordstrom, Print Tassel Duster, $35
Available in 3 other prints.
What Women Are Saying:
"You can wear this Duster different ways. I like to wear it as a light cover-up, with Jeans and with my lounge wear." -Tajo
"Perfect summer piece to throw on over a simple outfit. I've worn it as a beach cover-up and out to dinner. Love the light weight and cute pattern. Would highly recommend."-Ich8119
Michael Kors Keaton Slip-On, $99
What Women Are Saying:
"These were my first ever pair of slip on sneakers and Michael Kors definitely delivered! I'm usually a size 10 but as others have mentioned, i went a half size down to 9.5 and I'm so happy I did. The shoe fits like a dream and is so comfortable! Thinking of getting the other colors too."-'ShoeQueen347'>READ: SNEAKER NATION – SUMMER SNEAKER TRENDS FOR 50+
Everlane, The Day Heel, $145
Available in sizes 5-11 and 10 other colors.
What Women Are Saying:
"Super comfortable. I can wear them all day and not suffer:). The colour is a gorgeous red lipstick shade, and the leather is buttery soft. I want another pair stat!"-'ct11'"The caption is on point – you really can walk in it all day. I was concerned that the shoe would be too narrow based on some reviews (I have bunions so usually need a wider fit) and so, despite wanting this shoe for years, didn't buy. But on a recent random trip to NYC I stopped in the Everlane store and tried it on and it fits perfectly. So thrilled! I love the color so much and can hardly wear it without getting at least one compliment from strangers. I'm usually between a 6 and a 6.5 but this was a definite 6 for me."-Emily>SHOP: OUR TOP 10 UNDER $100 FROM EVERLANE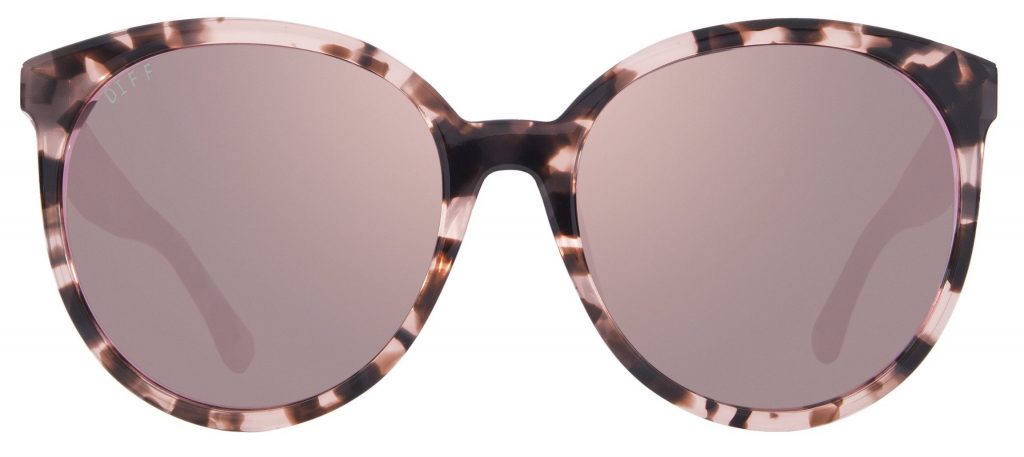 Diff, 'Cosmo' Himalayan Tortoise + Taupe Flash Polarized Lens, $95
What Women Are Saying:
"LOVE these! I can leave the house without makeup and still look put together and chic when i throw these on."-Kristin>SHOP NEXT: TRENDY SUNGLASSES FOR EVERY BUDGET>READ NEXT: ARE NECK CREAMS REALLY NECESSARY?