When it comes to natural oils that boast multiple hair benefits, we are always keeping our eyes and ears open. And it seems that there's a new buzzy oil on our radar that's actually been around for thousands of years. Curious to try it for yourself? Read more about amla oil, its multiple benefits for hair, skin, and health, and how to use it.
What is amla oil?
Amla oil is a natural oil that contains extracts from the Indian gooseberry (Phyllanthus emblica). Traditionally, it's made by drying the fruit and immersing it in a base oil for a duration, and then filtering and purifying the oil. (Of course, it's a little more detailed than that — there's more information on how it's made below!)
These Indian gooseberries have been long used in Ayurveda and prized for its sour taste. In fact, the word amla translates to 'sour' in Sanskrit. These berries also differ from gooseberries that are found in American grocery stores — Indian gooseberries are rarely sold in the United States.
All parts of the amla tree are believed to be beneficial and the fruits are very high in Vitamin C and other antioxidants and nutrients. However, it's also important to note that while the Indian gooseberry is edible, amla oil is for external use only.
How is amla oil made?
This oil is made by soaking dried amla fruits in a type of oil for several days, often coconut, sesame, or mineral oil. Soaking it in a basic oil encourages the fruit's own oils to release themselves, and then it is filtered and purified to remove the fruits.
You'll probably notice that many health stores and Indian grocery stores sell dried, fresh, or even frozen amla fruits, powders, and juices. They're in season from October through March, but you can also easily purchase these products online.
The Hair And Skin Benefits Of Amla Oil
This oil is widely used for hair and skin benefits, and it's easy to see why. Here are just a few benefits of incorporating this traditional oil into your beauty routine:
Anti-inflammatory properties: This oil is highly effective at reducing inflammation and dandruff due to its antibacterial nature.
Strengthens hair: Amla oil is rich in phytonutrients vitamins and minerals, which adds shine, strength, and supports moisture.
Moisturizes dry hair: Dealing with dry hair or frizzy gray hair? The juice and oil from the amla plant contain up to 81.2% moisture, which helps nourish dry strands.
Reduces oil production: Our hair becomes oily when our scalp overproduces sebum due to dehydration. By providing moisture to our scalps, our scalps don't feel the need to act!
Provides cuticle protection: This outermost part of our hair shaft keeps the rest of our hair safe from excessive heat, hard water, and other causes of damage. Because amla oil is rich in antioxidants, it protects it from those external factors.
Works to prevent hair loss: One 2012 study found that amla oil was a powerful inhibitor of 5-alpha reductase. The medication finasteride (used to treat male baldness) also works by inhibiting 5-alpha reductase. More research is needed to solidly prove that amla oil prevents hair loss. But it definitely strengthens hair, and we all know that dry, brittle hair is more prone to breaking and falling out.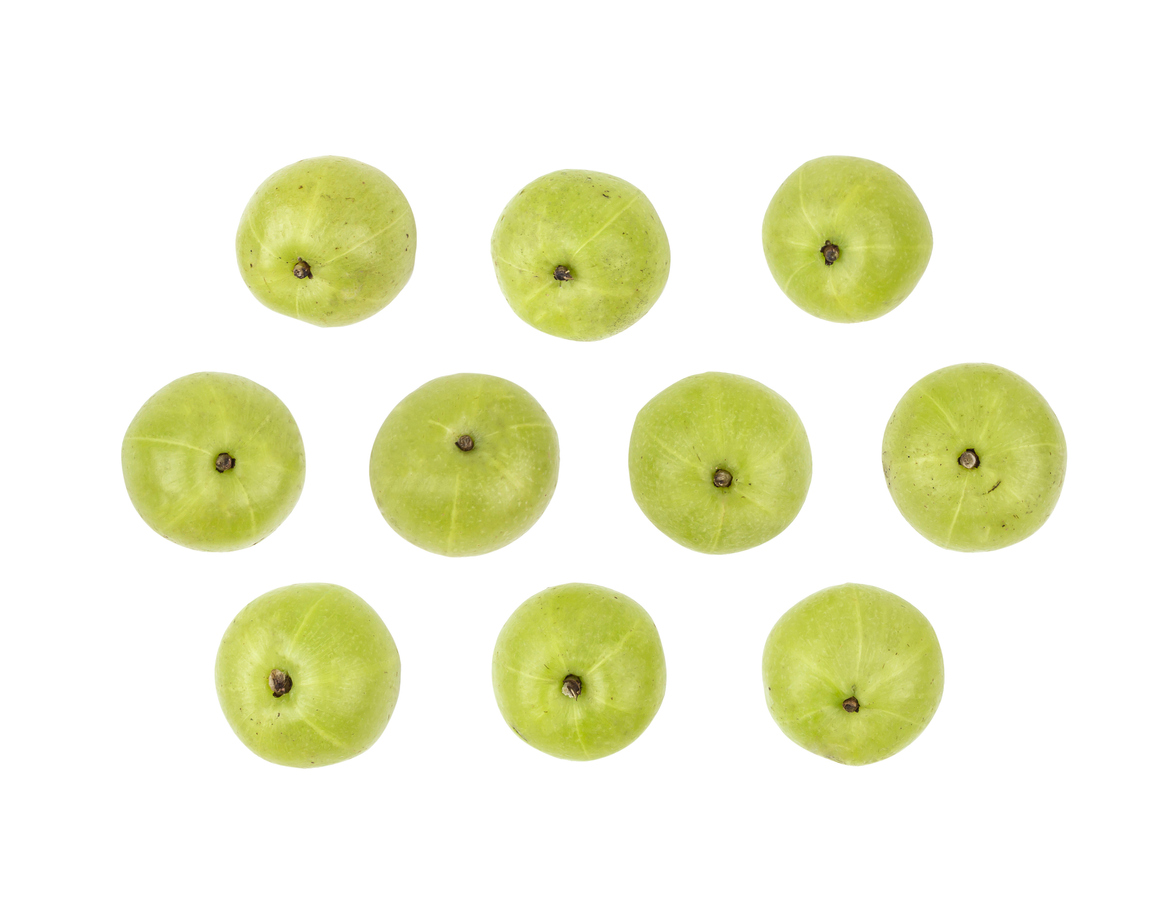 Other Amla Oil Benefits
It's no surprise that when something is great for our hair, it's also usually good for our health. Here are some other health benefits of amla and amla oil.
Anti-Cancer Properties
One study reconfirmed that the seven phenols found in amla oil fruits had anti-cancer properties. And another study from late 2017 found that hypothyroid female rats on a high-fat diet for six weeks reduced oxidative stress and inflammation. Many studies have also demonstrated amla may even have anti-diabetic properties.
Increased Immune Health
One 2016 study found that broiler chickens given even very low doses of amla extract had increased immune health and even grew faster than chickens not given amla.
How To Use Amla Oil
Looking to take advantage of this oil's hair-boosting benefits? Apply it topically in the following ways:
Use a treatment oil: Apply directly to the hair and scalp (after a patch test!). Leave it on as a conditioning treatment or wash it out.
Try a hair mask: Use a powdered form of amla and water or oil to make a paste. Then, apply it evenly to the scalp and massage it into the roots of your hair.
Use it as a detangler: Apply this oil to unwashed hair before shampooing. Work it through the hair to smooth tangles. If you don't have time to let it sit for very long, use a blow dryer to gently heat the hair and activate the oil before shampooing it out.
Are there side effects of amla oil?
This oil is not commonly associated with any side effects. If you have a sensitive scalp, you may want to do a patch test before applying. It's also been reported (in rare cases) that the oil use may trigger Lichen planus pigmentosus (LPP), especially with UV exposure and in naturally darker-skinned people.
The Takeaway
There are multiple hair and health benefits to this traditional oil, along with various ways to use it. But as always, always perform a patch test before applying it to your entire scalp.
Related Article: We're always on the hunt for the best shampoos, conditioners, and hairbrushes to keep our hair looking soft, frizz-free, and full. But at the end of the day, our hair is a reflection of our health. And there are certain vitamins that our bodies need to ensure healthy hair growth, strength, and shine. One of those vitamins is folic acid! Learn more about folic acid and folate, how much you need in your diet, and the folic acid benefits for hair.
This article is for informational purposes only.