It seems like every time we turn around, there's another hair oil in the spotlight. And as we age, our hair can probably use all of the hydrating miracle oils it can get! (Mustard seed oil, anyone?) So when this Ayurvedic hair oil popped up on our radar, we had to share the good news ASAP! Let's chat about bhringraj oil, how it benefits hair, possible side effects, and why you may want to try it for other health-related reasons.
What is Bhringraj Oil?
Bhringraj, known as 'Kehraj' in Assamese and 'Karisalankanni' in Tamil, is a medicinal herb that comes from a plant known as the "false daisy". It grows in moist areas like Thailand, Brazil, and India. The leaf is considered in the Ayurvedic tradition to be a powerful liver cleanser and is very good for the hair. It is referred to as the 'rasayana' — an ingredient that rejuvenates and slows down the aging process. It's also available in powder or capsule form.
You can buy Bhringraj oil online or in stores, or you can even make it on your own! Buy some Bhringraj and sundry the ground leaves for two to three days. Then, you'll immerse the dried rounds in a jar of coconut oil or sesame oil. Leave it out in the sun for another two to three days till the color of the oil changes to light green.
How Bhringraj Oil Benefits Hair
In the Ayurvedic tradition, this oil is said to strengthen hair, prevent graying, and even promote hair growth. It's even effective at fighting bacteria and fungus, making it a great way to battle dandruff.
Promotes Hair Growth
A 2008 study on lab mice revealed that this oil can increase the number of hair follicles, even more than Rogaine! It also helps that Bhringraj oil contains vitamin E, a known free radical-fighter that promotes stronger hair.
Slows Graying Hair
Gray hair is mostly genetic, but it's possible that Bhringraj oil may slow or prevent the graying process. Because gray hair involves a loss of pigment in the hair, the darkening properties of this oil may at least help diminish the appearance of gray hair.
Reduces Dandruff
The antimicrobial and antifungal properties of this oil make it a great way to naturally beat dandruff and dry scalp. It also has anti-inflammatory properties, which can help psoriasis or other skin irritations on the scalp and can even boost scalp circulation.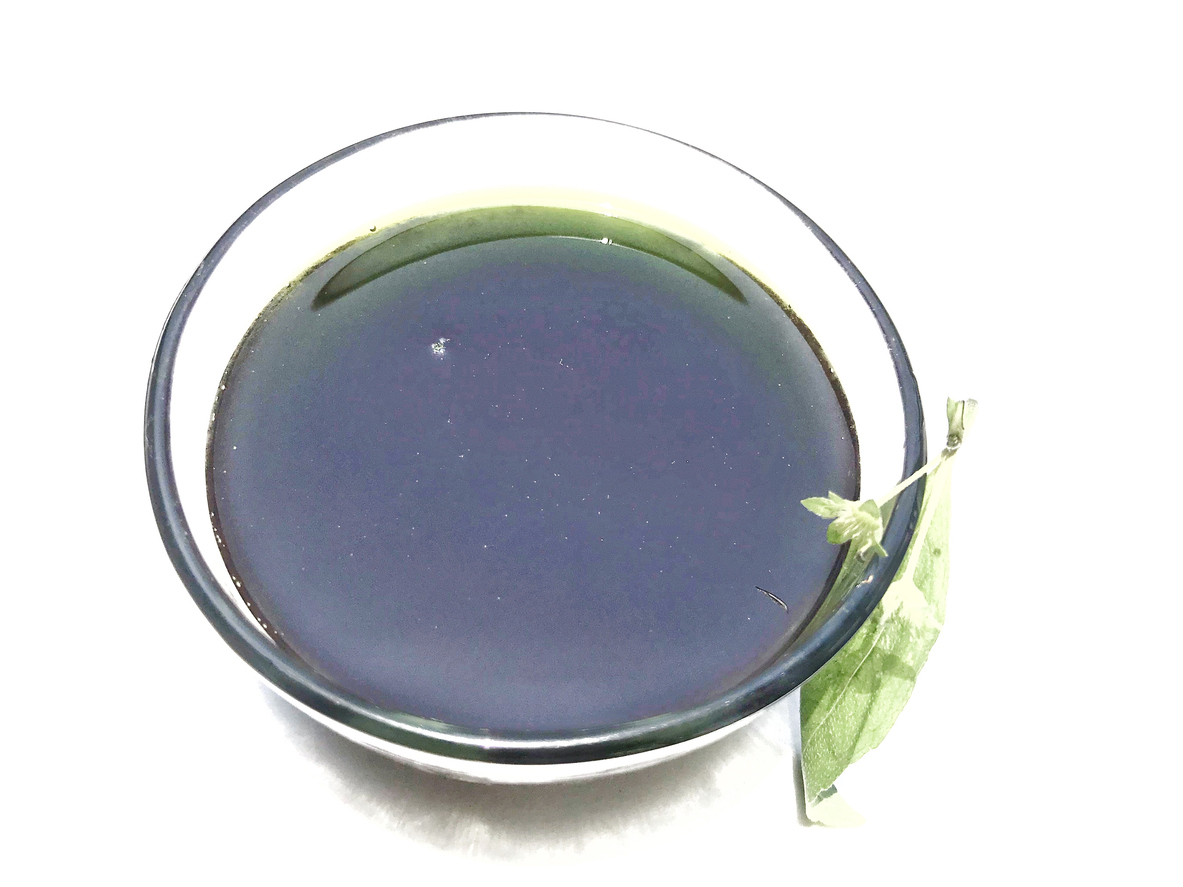 Other Benefits of Bhringraj Oil
This natural oil is very rich in vitamins and minerals, containing vitamins E and D, magnesium, calcium, and iron. So it's no surprise that bhringraj offers multiple benefits:
It promotes relaxation. Magnesium is often touted for its

relaxant properties. Consider

Bhringraj for muscle relaxation, mood enhancement, and sleep.

Bhringraj is used as a liver tonic in Ayurvedic medicine. Some studies have revealed that the herb may help with liver cell generation.
It may help prevent bacterial infections. Ths antimicrobial properties may help treat infections like urinary tract infections (UTIs).
Bhringraj soothes inflamed skin. This anti-inflammatory treatment can help treat psoriasis, dermatitis, and even some forms of acne.
It may improve Alzheimer's-related memory loss. A study from 2014 found that bhringraj (referred to as Eclipta alba) combined with ashwagandha) increases "mitochondrial activity" in the brains of rats.
Side Effects of This Ayurvedic Oil
Side effects of this oil are generally pretty mild. You'll still want to chat with your medical professional before introducing anything into your diet.
If you have allergies or sensitive skin, be sure to do a patch test by applying some of the oil to your forearm and waiting 30 minutes for any signs of a reaction.
How To Use Bhringraj Oil
To improve scalp health and circulation, simply massage this oil into your head, letting it sink in for at least an hour. You can also make a hair mask by mixing the oil with water and/or yogurt and letting it sit for 30 minutes before rinsing.
If you're aiming to treat gray hair, mix one teaspoon of bhringraj and two tablespoons of coconut oil. Massage the heated mixture into your hair and wash it out after an hour.
The Takeaway
This medicinal herb is available in oil, capsule, or powder form and carries multiple health and hair benefits. It's said to help prevent bacterial infections, soothe inflamed skin, and even improve scalp circulation to facilitate hair growth! But, be sure and chat with your doctor or physician before orally ingesting it.
Related Article: Diet fads may come and go, but Ayurveda isn't going anywhere — this wellness practice originated in India about 5,000 years ago! The diet that accompanies this form of traditional medicine involves eating according to your body type to create a healthy body through whole foods, exercise, sleep, and mindful living. Click for more information about the Ayurvedic diet, how to determine your dosha, and the pros and cons of this ancient meal plan.