When it comes to coats, you have your parkas, your faux furs, your pea and your swings, but the one that has made its mark throughout history in movies and amongst the fashion elite is trench coat fashion.
This is the coat that stands out by not standing out. It's mysterious yet forthright. It's masculine, yet sultry. You can dress it up or dress it down. It's functional, versatile, and just plain chic.
Think Marlene Dietrich in Witness the Prosecution, Catherine Deneuve in Belle du Jour, Audrey Hepburn in Charade and Breakfast at Tiffany's, and Bette Davis in Of Human Bondage. The Trench has a reputation to uphold, and it does so beautifully, whether short, mid-length or long.
This year, the coat fashion trend is in full swing – and with cooler (and wetter) weather approaching many of us, let's use that as an excuse to get our fix. Here are a few of the styles that caught our eye this season.
Any list has to start with the classic Burberry – one of the original two inventors of the coat. In fact, they have an entire collection dedicated to Trench Coat Fashion – separated into the Heritage Trench, the Runway Trench, and Beyond the Classics.
Burberry Long Chelsea Heritage Trench Coat, $1,990
The style that immediately springs to mind when you think "Trench Coat Fashion." But do check out the over 20 styles they have if you want to invest in a Burberry.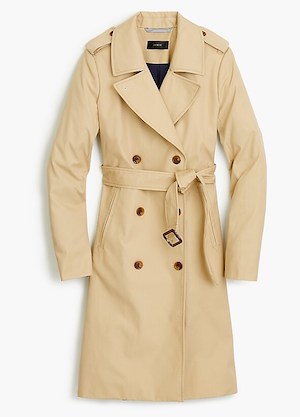 J. Crew Vintage Icon Trench, 0-24 and also Petites, $228
Or if you'd like a similar version without the telltale plaid inside, this trench from J. Crew gives you the look without the price tag.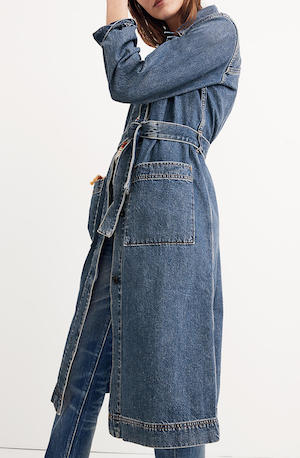 For a casual twist, try one in Denim.
Everlane Drape Trench in Navy, $148
Navy, Black or Khaki – pick your color on a well-known style with an affordable price.
Tory Burch Plaid Trench with Contrast Piping, $798
The contrasting color really makes this twist on the classic a showstopper.
Vegan Leather Trench Coat in Camel, was $800 – now $600
Socially conscious and evokes Pam Grier all at once.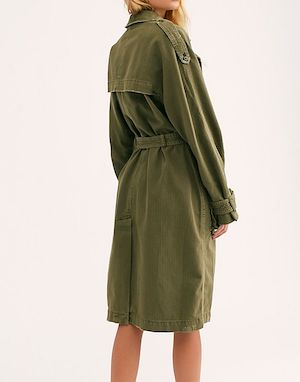 Free People Undercover Trench Coat, was $199 – now $99
A very casual version, but a washable material in Olive or Camel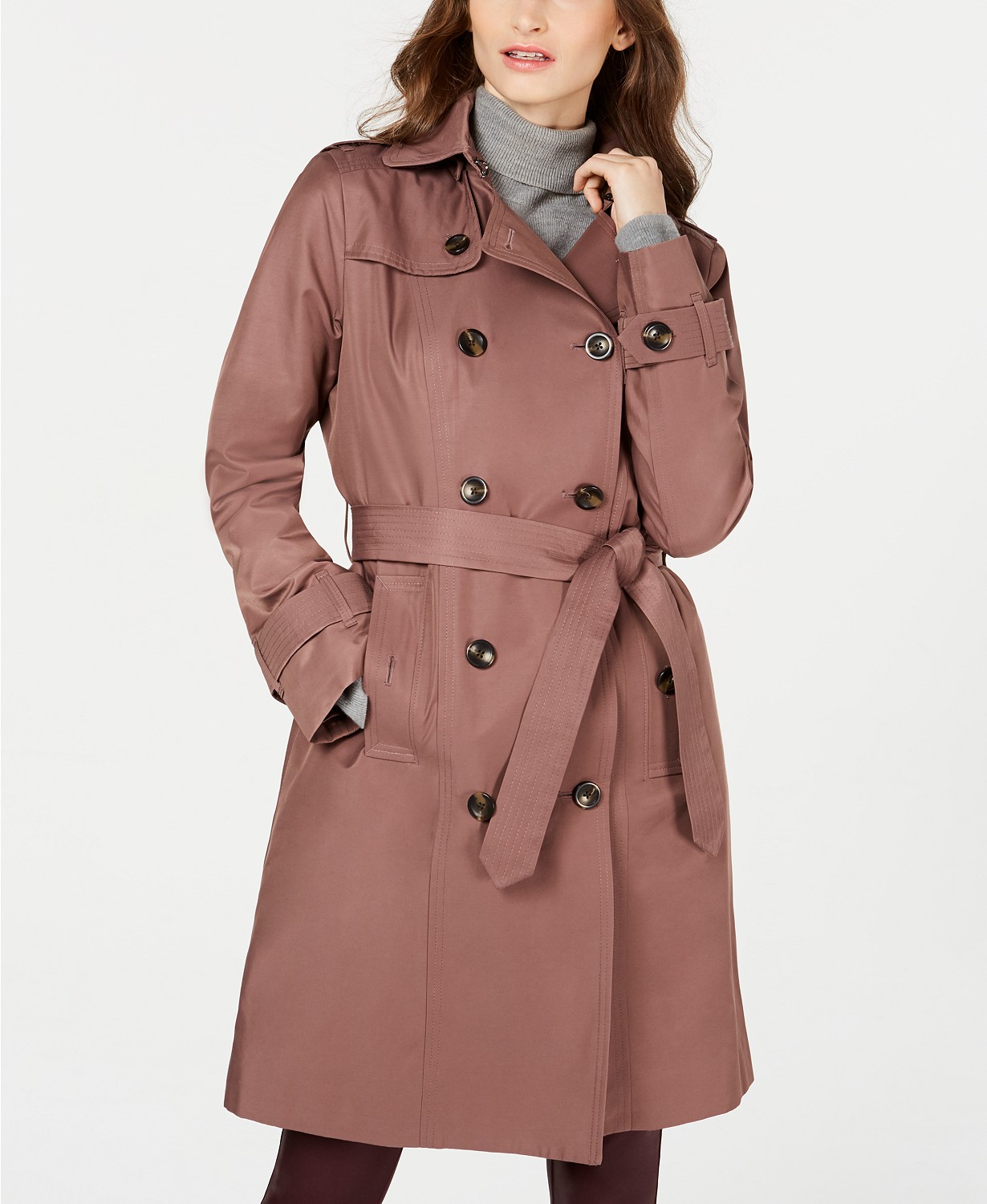 London Fog Double-Breasted Water Resistant Trench Coat, 9 colors, $139
A brand also renowned for their trench coats, but in so many color options. We love this one in Adobe.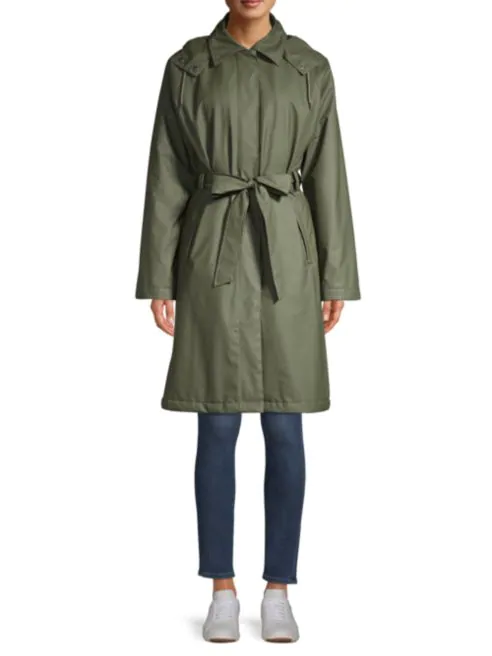 Rains Hooded Trench Coat, $225
More of a raincoat really, in the trench syle.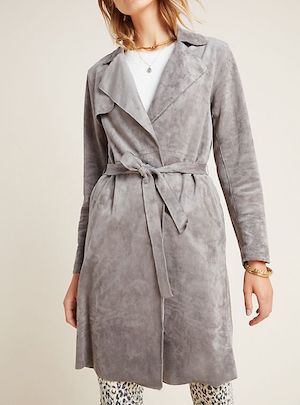 Anthropologie Sueded Trench Coat, $128
Less for weather, and more for Fashion
In the UK, give these trenches a try:
Cheeky plaid? Yes, Please. Also available in the US, $160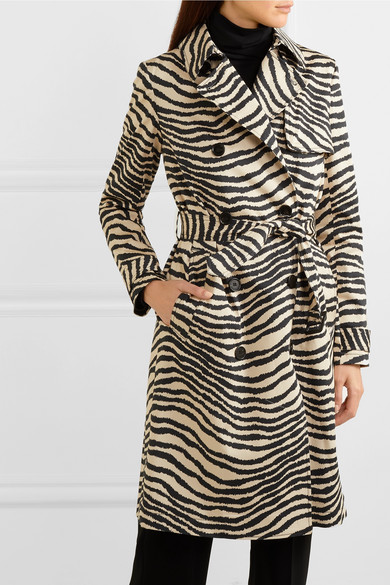 Malene Birger Zebra Trench, £405.00
For this zebra, a few pounds more just might be worth it.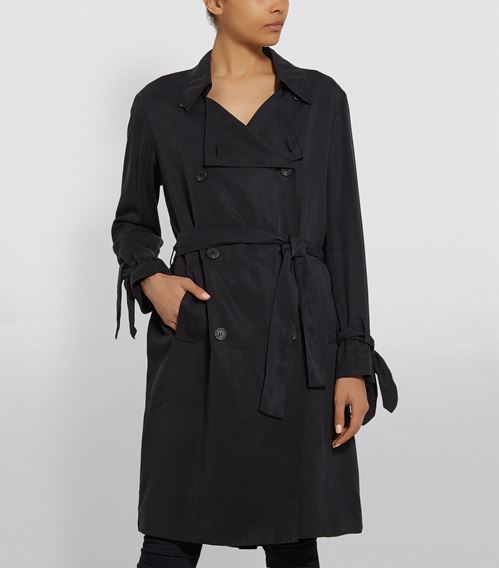 All Saints Ria Trench Coat, £166.00
A very classy option in Navy.
From solids in standard or new colors, prints or plaids, make the most of Trench coat fashion this year while you have the chance and the selections are available!
>READ: WOMEN'S BLAZERS: FASHION OVER 50 STYLE
>READ: BUSINESS CASUAL FOR WOMEN OVER 50 – THE TOP 10 STORES