All the comfort of a pair of yoga pants with all the style of business slacks… is that possible? I didn't believe it. But, after getting used to dressing for comfort over the last couple of years, I've found the move back to business clothes to be, well, uncomfortable. So, I hopped online, and a quick internet search showed that this look is more popular than I'd initially thought and is available in a wide variety of styles and categories. However, because what looks good online isn't always what we find in reality, I ordered a few pairs and gave them a go. I was pleasantly surprised. I started with my favorite pair of pants that I tried and then included some other pairs that appear to be on point.
Holy Moly, These are Beautiful Pants!
So expensive looking! I'm going to attempt to describe how great this fabric is, but I've never really felt material like it before. I got the Lyssé Pant Jacquard. They look and feel 20 times better than they do on the Lyssé website (and I thought they looked good there!).
Rich coloring
The print looks like real woven plaid
Thick and sturdy with a matte finish
Looks or feels nothing like any man-made material I've ever seen
Feels soft in a smooth way. Slight stretch… but not as much as lycra or spandex
Moves well
Keeps their shape all-day
Breathable
Front "crease" seaming
No wrinkling
Machine washable!!
These Pants Fit Like a Dream
I don't say this lightly. It's really, really hard for me to find pants that fit right. My waist is big, but my behind and upper thighs aren't. And I'm tall. These have a flattering fit in all the right places. But the way they are made makes it obvious they will fit many body types. It's hard to believe pull-on dress pants can fit this well! Here are some of the key points of these amazing pants:
Firming stretch 5″ waistband lining instead of elastic
Non-binding waist (it doesn't squeeze or create any rolls)
Pulls on easily
No zippers, buttons, clasps, hooks, or other closures
Stay put (no tugging needed after wearing all day)
Sculpts to your body without being tight (no sagging)
Flattering slight flare below the knee
Perfect length (5'10 and size XL)
True to size
Comfortable and movable in every way
More Great Pull-On Pants
Disclosure: This post contains affiliate links.
Maximize your style with these silhouette-hugging dress pants. Pair them with some killer heels and a trendy blazer to take your look from the office to a night out without missing a beat.
Every woman needs black pants to wear to the office or out for dinner. This pair from JM Collection fits and flatters like a dream.
These trousers are full-length and fitted through the thigh with just a little flare above the knee.
These pull-on jeggings maintain their shape even after you wear them for an entire day. They are crafted from Talbot's revolutionary Sculpt Stretch fabric with flattering compression properties that contour every curve. Pair these with a duster or tunic for a long-over-lean look, or dress them up with a soft blazer.
These trendy bottoms skim to the hips and thighs and then fall into a fit and flare leg.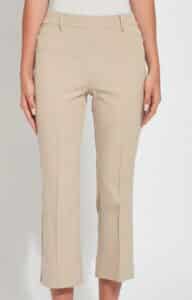 The Amanda Bootcut Crop pants have many features: a wide hem with side slits, belt loops with studs, center front pin tucks, back welt pockets, and a concealed patented waistband.
These straight-leg bottoms are like yoga pants but look chic, polished, professional. The "Secret Figure" fit flatters your body in all the right places!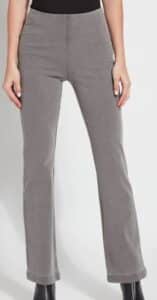 The Baby Bootcut jeans are fitted through the hips and thighs before falling into an open bootcut hem. These jeans can be dressed up or dressed down.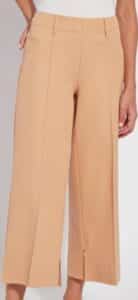 These trousers deliver unrivaled comfort and undying style. They feature a wide, ankle-length leg with front pintucks and an inner and outer hemline slit with light-gold metal studs.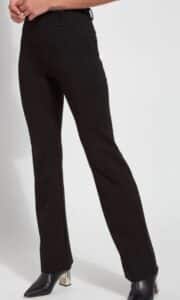 These pants are crafted from 4-way stretch Ponte. They offer pull-on styling, concealed patented waistband, studded back pockets, and all-day support, shaping, and resiliency.
Alfani's essential tummy-control pants feature a stretchy fit and a sleek silhouette, giving you comfort throughout the day without sacrificing style.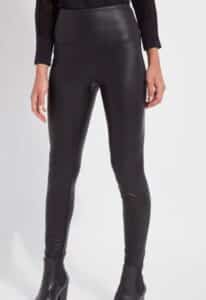 The Textured Leather Legging showcases a body-hugging fit and concealed signature waistband for smoothing comfort.
More Than Just Pants
A great pair of pants is only as good as what you pair it with, so here are some tops that will add some style to your wardrobe.
Thanks to the sateen fabric, this raw edge military jacket has a subtle sheen. It's trimmed with raw edges for a cool and polished vibe that will look amazing with jeans or pants. The banded collar and soft gold front zipper are on-trend design details.
The Button Detail TENCEL™ Popover is so soft on the skin. The buttons at the sides add an unexpected flair and add a flattering look to any figure.
The Abbie is a gorgeous long-sleeve silk shirt that features a classic embroidered collar and an embroidered placket to offer a flair to any outfit.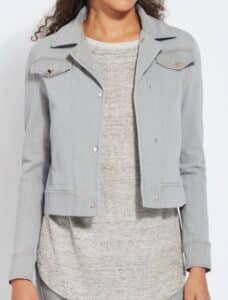 This jacket is fitted and unlined, making it the perfect grab-and-go top layer for just about any outfit.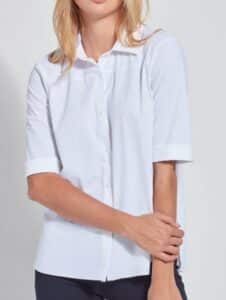 The Josie Short Sleeve Button-Down offers a slimmer fit and curved, hip-length hem that is longer in the back than in front.
If you're headed back to the office, or you just want to elevate your look without losing comfort, it's time to consider investing in some pull-on dress pants. They're comfortable like a pair of yoga pants while still showing the world that you mean business.
Read Next:What Are Treggings?10 Best Clothing Stores for Women Over 505 Flattering Ways to Minimize a Large Chest