Sponsored Post
When looking at party dresses, it can be difficult to find one that fits your body just right, but it's not impossible, especially with these dresses below.
The Stylish Little Black Dress
When looking for a dress fit for a special occasion, the Bardot Off Shoulder Black Dress is just the ticket. With a ruched detail at the waist and short sleeves, it suits basically any body type. With a look of timeless elegance fit for any event, this classic is the perfect option for a formal event or a night out on the town with your friends.
To complete the look, pair with ankle strapped heels and statement jewelry.
>BUY: BARDOT OFF SHOULDER BLACK DRESS
If you are looking for a dress with a dash of color, the Autumn Batwing Floral Top Midi Dress is ideal. With a flattering silhouette and cant-go-wrong floral print, it's a guaranteed winner for date night or autumn weddings. Regardless of the event, you'll definitely turn heads in this one – a standout style that you'll struggle to find anywhere else.
To complete the look, pair with a clutch and court heels. You could even take this look to the office (and for drinks at 5pm). It's a comfy material, so ideal for any event really, our go-to when we want maximum impact with minimal effort.
>BUY: AUTUMN BATWING FLORAL TOP MIDI DRESS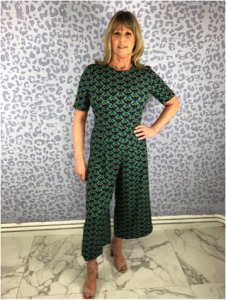 If you're looking for an alternative to a party dress, the Furious Fanfare Bianca Jumpsuit is a great option. With a bold pattern and beautiful green color, you'll still look elegant despite ditching the traditional dress. Whether you are spending time in the office, attending a wedding or going out for drinks with friends, a jumpsuit is a perfect dressy-but-comfortable choice.
Complete the look with ankle-strapped heels or wedges to elongate the legs. Pair with statement earrings and natural-looking makeup for a timeless look that can be worn both during the day and well into the evening. Finish the look with a clutch bag and leather jacket for an edgy look that will also keep you warm in the cooler weather.
>BUY: FURIOUS FANFARE BIANCA JUMPSUIT
With this in mind, there are a number of party dresses to choose from that perfectly suit your body type. Which of these dresses will you go for?
>BUY: CHRISTMAS PARTY DRESSES AT SILKFRED
>READ: TIPS FOR PERFECTING YOUR HOLIDAY POUTY LIPS
>READ: HOLIDATING: 4 TIPS TO HELP YOU THRIVE DURING THE HOLIDAYS