Ask any stylist about the one element in a woman's wardrobe that tells the story of who she is and they will likely say; "her handbag." You can throw on a pair of old sneakers, jeans, and a tee-shirt, but add a great bag and suddenly your entire look is elevated. Even a well-loved high-quality bag says, "luxe."
The good news is that you don't need dozens of them. Realistically, few of us swap out our handbags on a regular basis. Also, although designers are constantly adding elements to bring them fashion forward there are fundamentally five types that will serve most of your needs. If you just build your handbag wardrobe thoughtfully with these five handbag styles, you'll find that you have the right one for just about any occasion.
Always go for the best you can afford. This is one of the few items that will likely be in your wardrobe long after you've turned over almost everything else. As for color, you'll probably want the one you use most often to be in a neutral, one that works with the majority of your wardrobe. That doesn't mean you must have a black, tan or even a mono-colored every day bag. Deep burgundy, navy and even dark green might be one of your best neutrals.
For your everyday bag function and comfort should be your first consideration. And then, just as with your clothing, proportion and size should always be considered. You don't want your bag announcing itself before you do, or being so petite as to be inconsequential. It has to make a statement about you, one that is flattering.
Let's look at the basic types of handbags and their functions.
Top handle: These are the satchels, doctor's bags, bucket-type bag, bowling bags, just about anything with shorter handles. What defines them is a flat base and one or two handles. These days almost all of them come with a removable cross-body strap, giving you the option to go hands free. But generally, they are meant to be grasped by the handles. Softer, slouchy leather, suede or other textiles say "relaxed/casual." Stiffer, structured or boxy styles say "classic/professional." For most of us, a satchel type bag will be our daily go-to because it has the volume to carry most of what we need while still looking polished and pulled-together.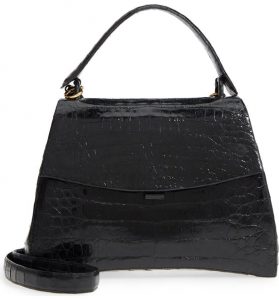 Nancy Gonzalez Genuine Crocodile Top Handle Bag, $3,350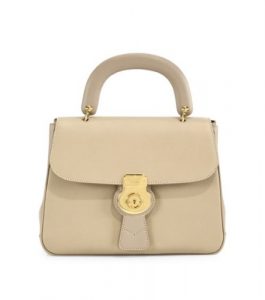 Burberry The Medium DK88 Top Handle Bag, $2,495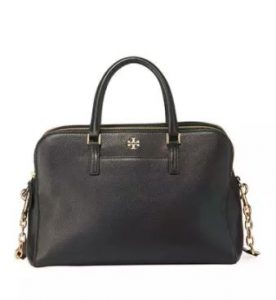 Tory Burch Georgia Pebbled Leather Satchel Bag, $558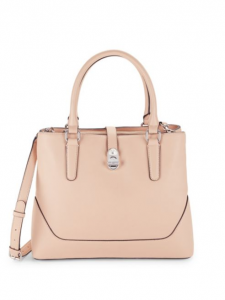 Karl Lagerfeld Paris Leather Satchel, $268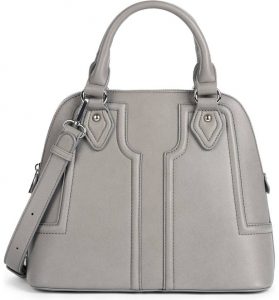 Sole Society Structured Faux Leather Dome Satchel, $59.95
Cross Body or Shoulder Bag: These often vie with the satchel bag for the most popular daily use handbag. They include saddle bags, messenger bags, buckets, narrow zip top (and often with multi external zippers), magnetic or twist lock fold-over tops with similar structure to satchels, all running the gamut from very classic to extremely casual. The more structured and moderate in size the more classic and dressy they appear. This could even include the Chanel-type quilted bags. The larger, less structured in shape, and less refined in texture or material, the more casual they appear. They can be small enough to accommodate just the bare necessities or large enough to match a satchel in volume. Cross body bags are a requirement for when you need – or want – to be hands-free.
Saint Laurent Quilted Leather Crossbody Bag, $2,450
Hailey Python-Embossed Leather  Crossbody Bag, $225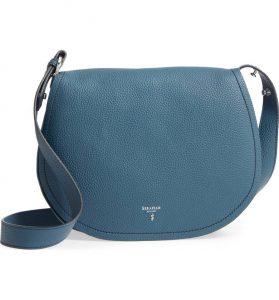 Serapian Milano Small Valeria Leather Crossbody Bag, $1,050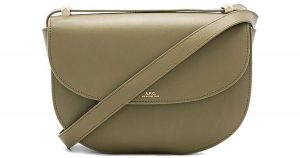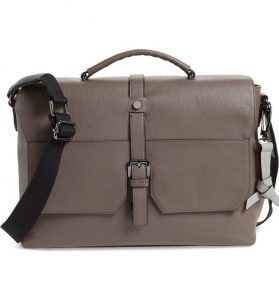 Ted Baker Sandune Leather Messenger Bag, $415
See By Chloe Suzie Crossbody Bag, $395
Nordstrom Finn Leather Crossbody Bag, $99
Karl Lagerfeld Lara Quilted Leather Shoulder Bag, $119.99
Clutch – We generally think of two styles for a clutch purse. The first ones are trim and more casual versions like small envelope or a baguette bags. Although these may have small handles or wristlets they are still meant to be held in your hand. The key word being "clutch." The smaller more delicate versions, including minaudieres, have more refined textures and materials – beading, metallic finishes, velvet, crystals, beads etc. – and complement more formal attire. These aren't functional bags (unless you are an extreme minimalist) but they add an elegant finishing touch to any formal outfit.
Judith Leiber Couture New Rose Clutch, $4,995
Judith Leiber Couture Airstream Ombre Swarovski Crystal Clutch, $2,695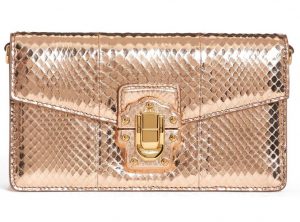 Dolce&Gabbana Lucia Genuine Snakeskin Crossbody Clutch, $1,995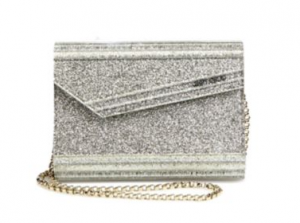 Jimmy Choo Candy Glitter Convertible Clutch, $725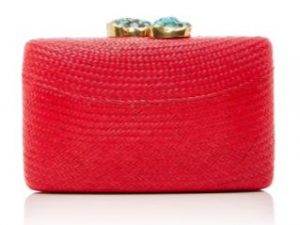 Michael Kors Mott Leather Convertible Clutch, $228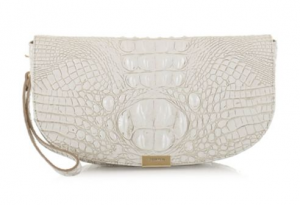 Brahmin Sandrine Melbourne Leather Clutch, $195
Nina Gelsey Crystal Embellished Minaudière, $125
Sole Society Black Crackle Faux Leather Foldover Clutch, $49.95
Envelope or Pouch– You can certainly find envelope bags in a cross-body version (those often have chain handles) but generally, like a clutch, they are meant to be hand-held and carried close to the body. Their fundamental structure is that of an envelope and is best suited to a dressy-casual occasion, such as going out with friends, a business meeting when you don't want to appear overly fussy, or an informal date night. But don't expect to pack them with too much stuff. Anything larger than a phone, lipstick and small wallet will alter their sleek silhouette. They're not the most practical of bags, but they can really make an outfit say "chic".
Bienen-Davis Max Silver Haircalf Clutch, $1,895
Valentino Garavani Large Rockstud Leather Pouch, $695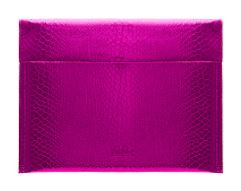 MM6 Maison Margiela Snake Lame Pouch, $260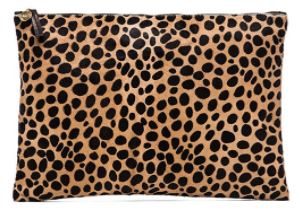 Clare V. Oversize Clutch, $375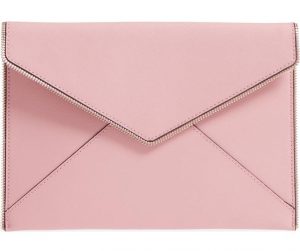 Rebecca Minkoff Leo Envelope Clutch, $95
Tote – The most versatile of handbag styles. Whether you are a young mom, an executive, or a packrat, you need a tote. Everyone needs a tote. In fact, almost everyone has several. But here we're referring to fairly plain, and larger sized totes. Their function depends on the environment. Unless you're going to the beach, your tote should be simple and classic in style: less adornment, fewer embellishments. There's even some wisdom to carrying a sleek, simple leather tote for your larger more professional – or pedestrian – items (like papers or spare shoes) and a smaller bag or envelope for your personal items. That way you can keep valuable items more secure in the smaller bag. For many women the tote has replaced the briefcase altogether. And come summer everyone wants a colorful and practical beach-y tote.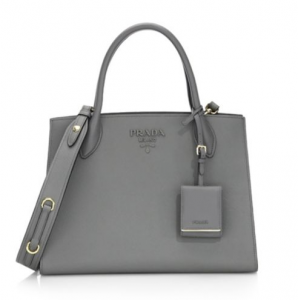 Prada Large Saffiano Monocrome Tote, $2,150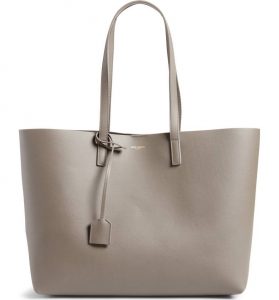 Saint Laurent 'Shopping' Leather Tote, $995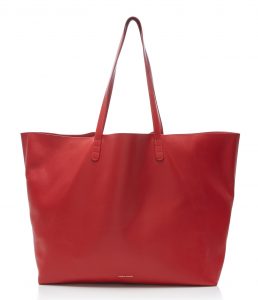 Mansur Gavriel Oversized Leather Tote, $695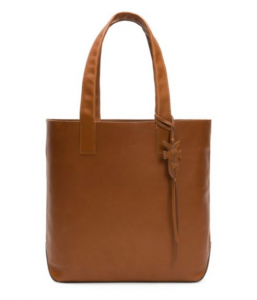 Frye Carson Leather Tote, $298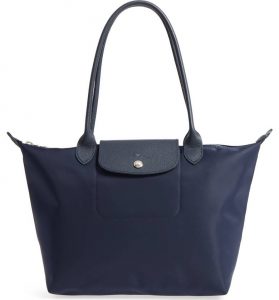 Longchamp Medium Le Pliage Neo Nylon Shoulder Bag, $175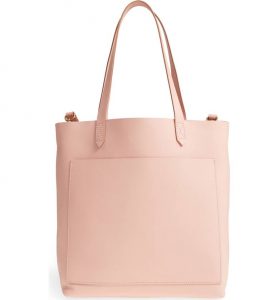 Madewell Medium Leather Transport Tote, $158
But don't deny yourself a little fun. Basket woven bags are a cheerful summer staple. And, if you're a bohemian at heart, your bags will probably have fringe or artsy construction, macramé-type woven material, whimsical adornments or details …and lots of color. And for students, a backpack can be your go-to. These all make a statement about you too!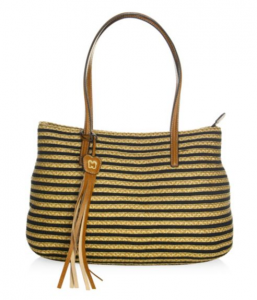 Eric Javits Dame Brooke Handbag, $375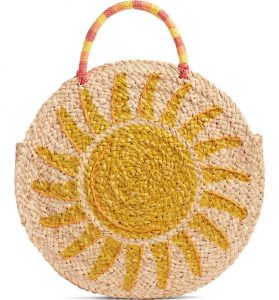 Nordstrom Shine Raffia Circular Tote, $79
Just one final point: since you're going to be spending a little more for basics, make sure you take good care of them. That means pre-treating with stain guard if necessary and getting them repaired or polished as needed. With just a little maintenance you'll have a great handbag wardrobe for a long time.