Summer is finally here, and I think we're all ready for some warmer weather and days at the pool. With summer trips on the agenda, it's time to find some easy summer styles that are both functional and flattering, and having a selection of summer dresses on hand will make getting dressed each day a piece of cake. While different fashions come and go, there's versatility to dresses because they are available in a variety of styles that can flatter just about any body type.
There's a good chance many of us aren't quite ready to throw on the old swimsuit yet, but that doesn't mean you can't still get out and enjoy the sunny days. Flowing summer dresses will help camouflage some of those extra pounds we're still working to sweat off. Summer dresses look great with sandals, and you can add a lightweight jacket or a blazer on cooler summer evenings. With sunny days ahead, I'm ready to embrace any opportunity to wear a summer dress, even if it is just to the grocery store, farmers market, or lunch with your girlfriends.
5 Summer Dress Styles for Women Over 50
T-Shirt Dress
So many clothing styles can feel constricting and uncomfortable – the t-shirt dress takes the opposite approach. With its loose, flowing style, it feels like you're wrapped up in a big comfy t-shirt. It is an excellent go-to for days at home or out running errands. Shoes can change the look of your t-shirt dress: pair it with sneakers for a more casual style or put on some wedges to dress it up a bit.
J.Crew Short-Sleeve T-Shirt Dress with Pockets, $24.50
J.Crew Knit Broken-In Jersey Dress, $49.50
Eileen Fisher Pima Cotton Stretch Jersey T-Shirt Dress, $178
Land's End Linen Dolman Sleeve Dress, $59.46
J.Jill V-Neck T-Shirt Midi Dress, $99
Diane Von Fustenberg Eloise Faux-Wrap Dress, $179
Collarless Midi Shirt Dress, $180
Waist-Defined Slub-Knit Dress, $29.99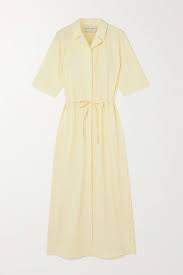 Loulou Studio Cotton-Poplin Shirt Dress, $305
Denim Dress
There are so many ways you can accessorize a denim dress that it's hard to make a wrong choice when selecting one. Their versatility opens up a wide range of opportunities when pairing with shoes and jewelry, so you can make it work for any occasion. The best part about denim dresses is that they get more comfortable and softer each time you wash them.
Smocked Sleeve Tencel Denim Dress, $99.99
Anthropologie Denim Buttondown Dress, $190
Smock Dress
The smock dress is an artsy, sophisticated way to dress up your summer days. With their floaty look and free-moving fabric, they add a touch of whimsy to your daily wardrobe. While you can wear them as they are, I often like to wear a T-shirt underneath mine to mix it up a little bit.
Smocked Poplin Midi Dress, $159
Striped Smocked Midi Dress, $248
Olympia Smocked Midi Dress, $268
Gauze Dress
As you're cramming your suitcase full of more items than you'll need for a quick weekend away, you'll find yourself appreciating your gauze dresses even more. Why? Because they'll never look wrinkled! I even like to roll mine up after washing to keep the wrinkles and creases in the fabric!
Because of their light, airy fabric, they're a great go-to option on hot summer days.
Anthropologie Malika Gauze Dress, $98
Anthropologie Sundry Tiered Gauze V-Neck, $129.95
Corinne Tiered Cotton Gauze Maxi Dress, $108
Shift Dress
Simple and sophisticated, shift dresses are universally flattering. Regardless of your body type or style, you'll find a shift dress that will make you look (and feel!) great. They can even work double duty as a swimsuit cover-up, making the transition from pool to after-party seamless.
Sleeveless Jersey Shift Dress, $80
Notch Neck Mini Shift Dress, $98
There is a variety of summer dress styles for women over 50 at different price points to fit most budgets. Find your favorite summer dress style, add a pair of sunglasses, and welcome your summertime outfit.
Read Next:
Sunshine and Dine in These Summer Dresses for Stylish Women
Best Bandage Dresses for Women Over 50