This past weekend I was included in an event hosted by 4word, a national organization with 22 local groups across the U.S. serving professional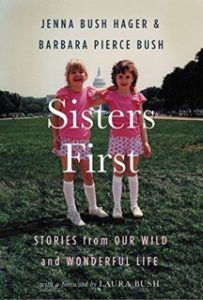 Christian women. The gala and dinner included a conversation with the Bush twins, Jenna Hager and Barbara Pierce Bush, moderated by Charity Wallace, former Laura Bush Chief of Staff. A book by the girls entitled, Sisters First, Stories from Our Wild and Wonderful Life was released in the fall.
Early in the conversation, the twins mentioned the TED Talk by Novelist Chimamanda Adichie that warns that if we hear only a single story about another person, group of people, or country, we risk a critical misunderstanding. How true and dangerous this is. Currently, 78% of Americans under the age of 50 say they get their news from social media. Even more than half (55%) of Americans ages 50 or older report getting news on social media sites. Are we getting the full picture when we consume our information in snippets and headlines? How often do we rush to judgment with partial facts so we can move on to the next item of business? The "one story" concept appears to be one many are inclined to buy into.
While the TED Talk is about one story as applied on a global scale that creates limited thinking and lack of understanding, I couldn't help but apply it to my knowledge of the twins. I realized the one story I know about Jenna and Barbara is the occasion when they were cited for underage drinking (or possession of alcohol) while at a Chuy's restaurant in Austin, Texas. The press was all over it. This quote from ABC News paints a picture of George W. Bush's reaction – A senior administration official confirmed Wednesday that the president, traveling in California, had called Jenna to talk about the incident. The official would not characterize the call but published reports described him as "not happy."
If I based my opinion on that one story, I'd summize they were a bit wild, oddly talented at getting away from the Secret Service, and probably pretty spoiled. Therefore, it was wonderful having the chance to hear other stories from the girls and discover who they are beyond "the secret service nightmare" they were accused of being. Among the things I didn't know was the amount of time they spent in Midland, Texas with their maternal grandparents. There they lived a very different life from the one their paternal grandparents were living as President and First Lady in Washington D.C. Jenna told the story of attending the inauguration of her grandfather, George H.W. Bush, and her misunderstanding the situation as not being unique to him. She returned home and asked her friend, "When is YOUR grandfather being inaugurated?"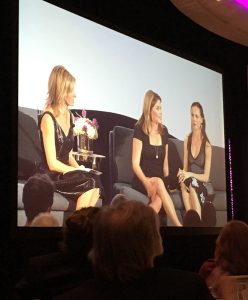 I also didn't know Jenna was a third grade teacher at an inner city elementary in D.C., where she tells of a student who witnessed a stabbing while on the way to school. Or that she taught at the SEED School of Maryland, a public boarding school in Baltimore, where students received a tuition free education. However, the story Jenna told of her daughter is what really stayed with me. She said her daughter had developed a habit of asking if she could play on her smartphone. Jenna couldn't figure out what had started this craze and approached friends asking if their children were showing the same interest. A friend pointed out that since she was often on the phone or texting when with her daughter, the child was mirroring that behavior. Jenna looked out at the audience and shook her head sadly, "We are telling our children they're not interesting." Eek. Lesson learned. From Jenna Bush, concerned and chagrined parent.
And Barbara, who confessed to being the most "prickly" when it came to the Secret Service tells of her personal experience on September 11, 2001. That morning, the Secret Service rushed into her dorm room at Yale and whisked her away to a secure location where she wouldn't be found. As it turns out, that was a motel. The Secret Service detail also made the decision to bring her college roommates along so she wouldn't be all alone. Barbara spoke of watching what was happening on the news with everyone gathered together. She saw their concern and tears for their families and friends and had a change of heart regarding their role in her life that day.
Barbara is Co-Founder and Board Chair of Global Health Corps, a public-health analogue to the Peace Corps and Teach for America. They send more than 100 recent college graduates annually into the most impoverished areas of the world. Barbara spends a lot of time in those places, too. She spoke passionately about their program and the excitement she felt knowing their alumni could someday lead the Gates Foundation and other non-profits truly making a difference in the world. She also told of the practice she and her father have, of exchanging texts each morning, and the former president's newfound gift for emoji-ing most of the communications.
Everyone has their own political views, but I think we can all agree, growing up in the White House and in front of the world's press must be an absolute nightmare. Not only for any mistakes you make, but for the comments and criticism you witness your parents dealing with. The twins said they actually cried when their father told them he was running for office. No doubt feeling a special kindred for those who followed, Jenna and Barbara wrote a letter to Sasha and Malia about being "first daughters," when Barack Obama was elected President, and again eight years later when they were leaving the White House.
Whatever happened while they were growing up and whatever we have in mind about who the Bush twins are, or who anyone is, for that matter, we should be careful we are taking more than one story into consideration. After all, it's the good, the bad, and the in between that makes us interesting.