In pretty much everywhere but Louisiana, it's just another Tuesday, but here it's a legal holiday. Yes, we're talking about Mardi Gras, its revelry and parades, masks and music, great food and entertainment, and more.
While these festivities are celebrated throughout the United States, did you know that Mardi Gras began as a Christian holiday?
What is Mardi Gras, and What is it NOT?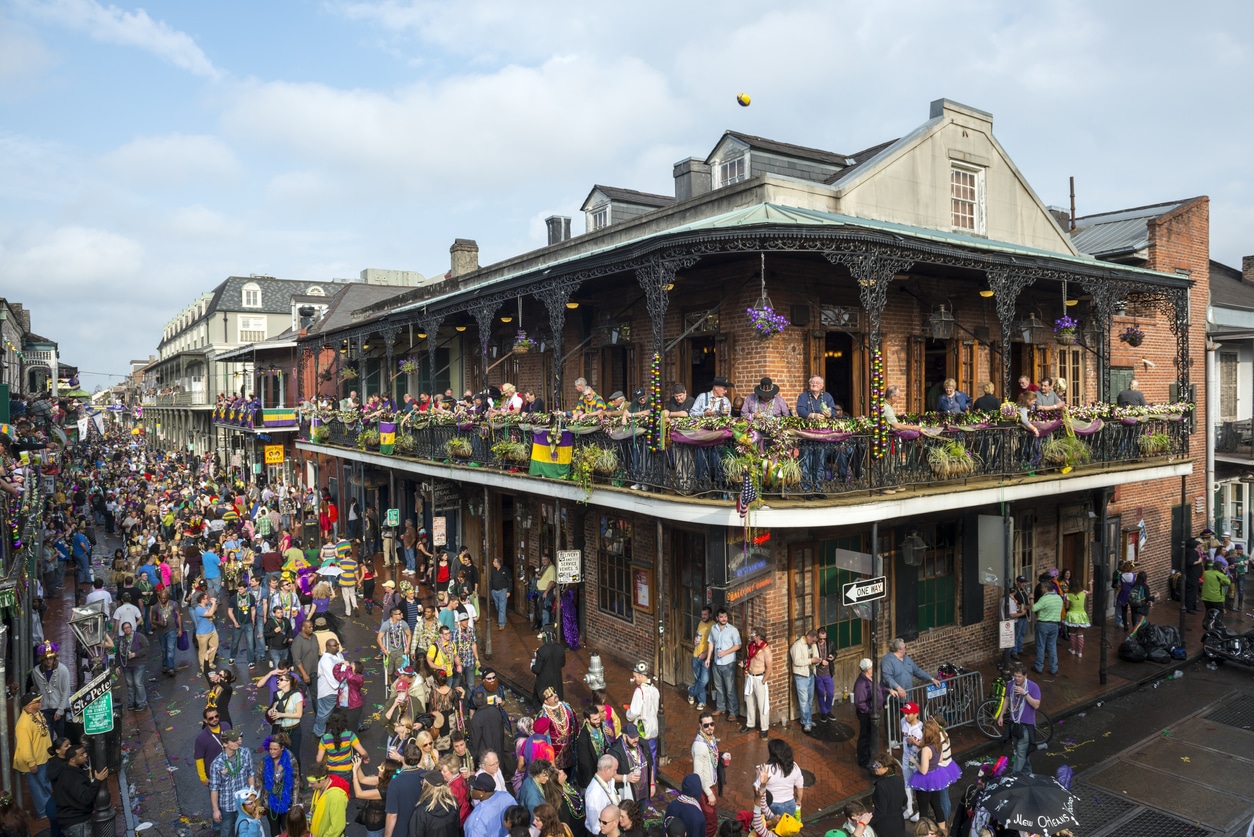 Mardi is French for Tuesday, and gras translates into fat. Fat Tuesday, aka Mardi Gras, is the day before Ash Wednesday, known as Lent in the Catholic religion, when followers begin 40 days of fasting and penance.
Mardi Gras is not the same as Carnival, according to Louisiana Travel. The word carnival is derived from carnelvarium, a Medieval Latin word meaning to take away or remove meat.
Even before Christianity, the origin of "Mardi Gras" dates back thousands of years to pagan celebrations of spring and fertility, including the infamous overindulgence of ancient Roman festivals.
Varied versions exist, but one of the most popular ones is that Catholic leaders opted to incorporate these local traditions prior to Lent rather than abolishing them completely.
In many areas throughout the United States and the world, the Mardi Gras festivities expanded into the week leading to Fat Tuesday.
When are Carnival and Mardi Gras?
In 2023, Mardi Gras is celebrated on Tuesday, February 21, the day before Ash Wednesday. The official colors of Mardi Gras are purple, green, and gold, representing justice, faith, and power – and you will see the colors everywhere.
Carnival season officially kicks off on the Feast of the Epiphany, also known as the Twelfth Night (12 days after Christmas), and this year it lands on January 6. The celebrations usually kick off slowly and then pick up steam with many parades, elaborate floats, masked balls, local cuisine (Creole and Cajun), spirits (both alcohol and people persuasion), and entertainment.
If you've experienced Carnival and Mardi Gras season in New Orleans, you know. If you haven't yet, add this to your travel bucket list, then strap on your big girl panties and go have fun. If you're more into the family-friendly version, you'll find that too.
History of Cajun and Creole Cuisine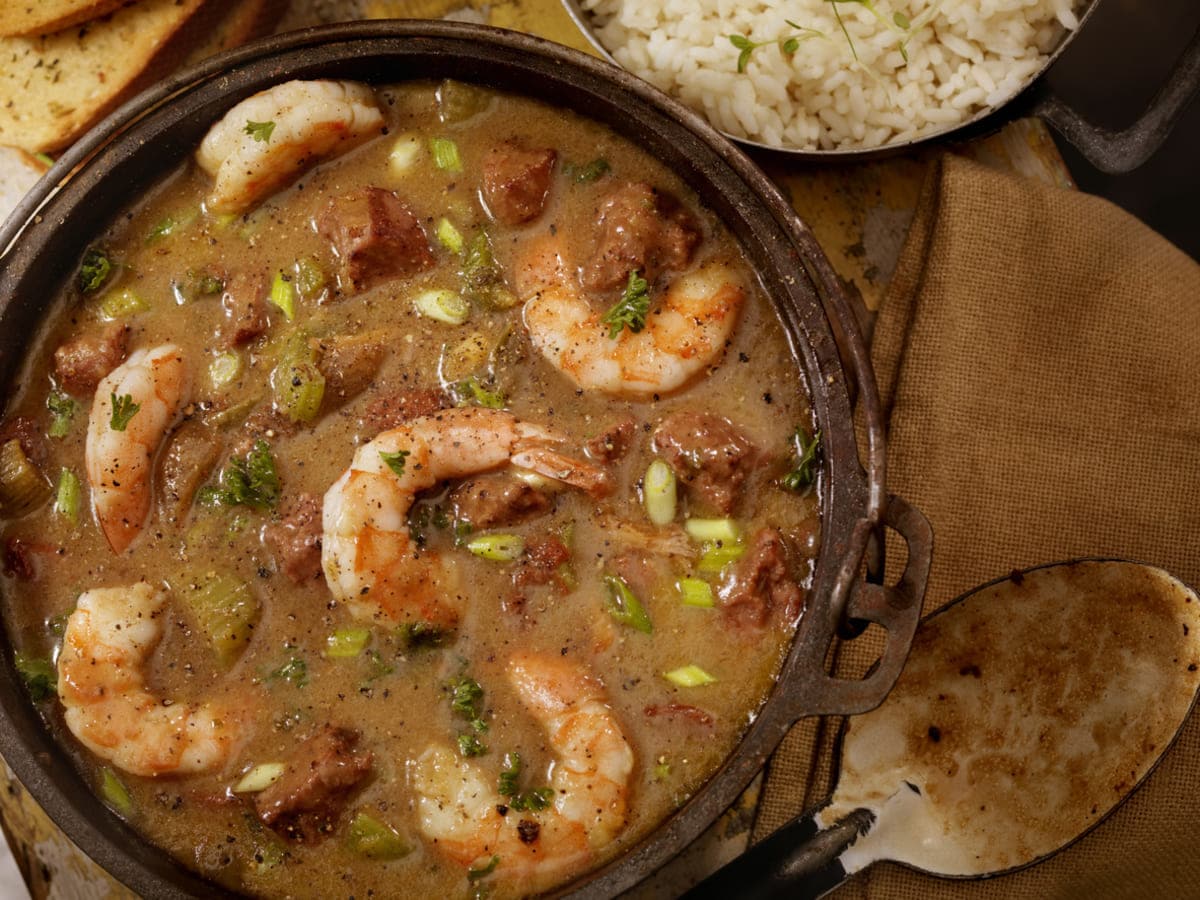 Louisiana's melting pot of cultures, colonized by France, African, Spanish, and Caribbean people, resulted in a delightful influence of Cajun and Creole. Experience these influences through its language, music, and Cajun and Creole cuisine.
According to Chef Gaye M. Sandoz, Tony Chachere's promo TV chef and Director of LSU AgCenter Food Incubator, the difference between Cajun and Creole cuisine is "Creole food is tomato based, and Cajun cuisine is darker based, no tomatoes." Born in Opelousas, Louisiana, the "spice capital of the world," Chef Gaye grew up cooking Cajun, but she admits to mixing the two cuisines.
Tony Cachere's Famous Creole cuisine said it best: "Cooking is a sacred activity here, especially in Creole homes, where dining is a celebration of life, friends, and family that feeds not only hunger but also the soul."
Flavorful cuisine and Louisiana go together like gumbo and rice. Louisiana is home to many famous chefs, creative dishes, and exceptional restaurants, including Chef Emeril Lagasse, aka the pioneer of "new New Orleans" cuisine.
Recipes for Mardi Gras at Home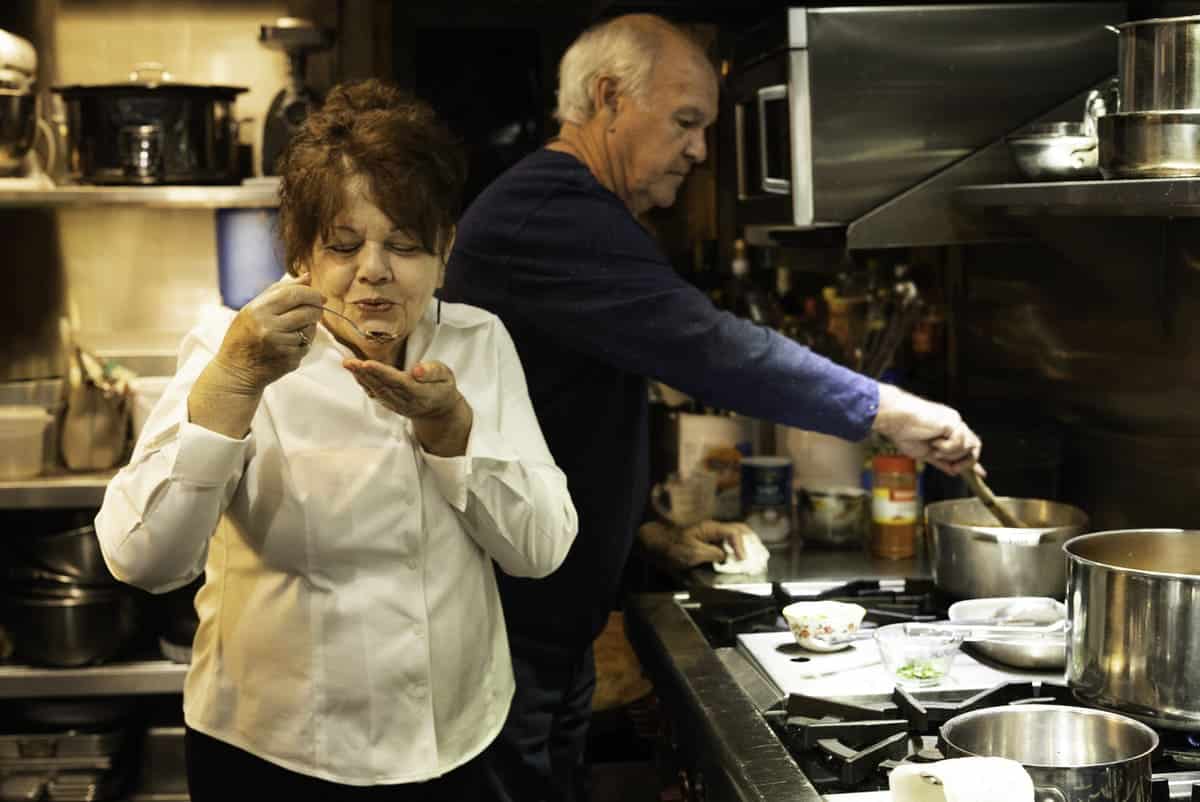 Are you unable to travel to Mardi Gras but are a fan of Cajun and Creole cuisine? Read on, my friends, as these chefs share their recipes and tips to make these popular Mardi Gras dishes at home.
Chicken & Andouille Sausage Gumbo
Courtesy of Tony Chachere's & Chef Gaye M. Sandoz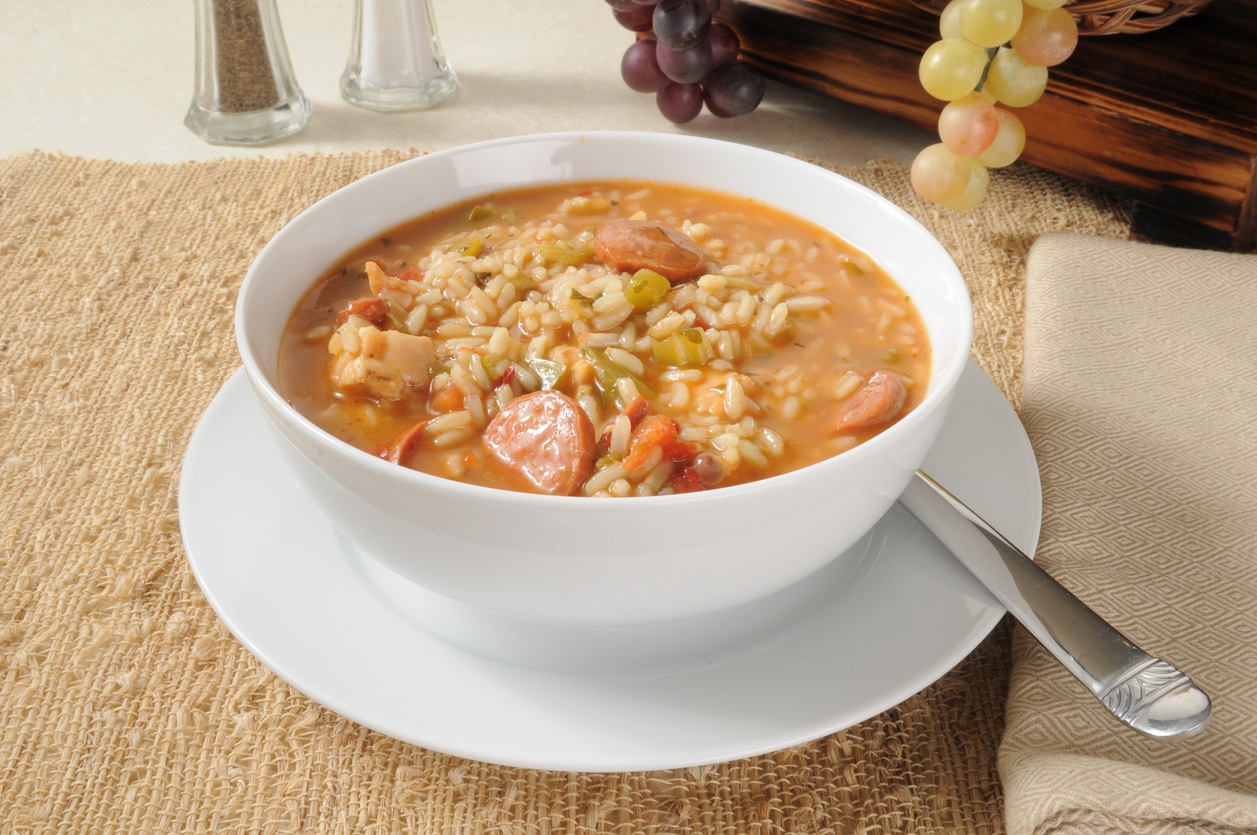 "Gumbo is a signature dish in the South and a favorite in Louisiana," according to Chef Gaye. "Our recipe includes tons of flavor with the help of chicken, andouille, smoked sausage, and seasonings! It's best served over steamed rice, garnished with green onions, and potato salad on the side."
Prep time: 20 minutes
Cooking time: 40 minutes
Serves: 20
INGREDIENTS:
2 Lbs. Smoked Sausage
2 Lbs. Andouille
5 Lbs. Chicken Thigh Meat (Boneless)
4 Tbsp. Oil
1/2 Cup Butter
4 Cups Chopped Onions
2 Cups Chopped Celery
2 Cups Chopped Bell Pepper
1/4 Cup Bouillon Granules (Chicken Flavored)
2 Tbsp. Black Pepper
1 3/4 Tbsp. Red Pepper
1 Tbsp. Garlic Powder
1 Whole Bay Leaf (or to taste)
1 Pinch Oregano
1 Pinch Thyme
2 Tsp. Hot Pepper Sauce
4 Cans Chicken Broth
6 Cups Water
2 Cups Dark Roux
1/4 Cup Chopped Green Onion
DIRECTIONS:
Warm up a large gumbo pot over medium heat, then reduce heat to low.
In a cast iron skillet, sauté smoked sausage in half of the cooking oil over medium-high heat until sausage begins to brown (about 4 to 5 minutes), and transfer to the gumbo pot.
Sauté andouille in the skillet over medium-high heat until slightly browned, and transfer to the gumbo pot.
Sauté chopped onions, celery, and bell peppers in butter in the skillet for 8 to 10 minutes.
Add all seasonings and bouillon granules to the skillet and cook for 3 minutes, stirring constantly.
Transfer vegetable and seasoning mixture to gumbo pot.
Sauté chicken, half a batch at a time, in remaining cooking oil until slightly browned.
Transfer chicken to gumbo pot.
Add hot pepper sauce, chicken broth, and water to the gumbo pot and bring to a boil over medium-high heat.
Crumble in a dark roux.
Bring to a boil again, then reduce heat and cook gumbo on a low boil for 40 minutes.
Simmer for 10 minutes.
Garnish with green onions and serve with potato salad.
Tips and Tricks On Making The Best Gumbo
Executive Chef Alex Harrell, on the Crescent City culinary scene since 1998 and currently Executive Chef of Virgin Hotels New Orleans, shared that the secret to his famous gumbo is in his roux.
"One of my favorite tricks when making gumbo is to cook my roux in the oven," says Chef Alex. "Preheat the oven to 325 degrees, then heat a mixture of bacon or chicken fat and canola oil in a cast iron pot on the stove. Once the oil/fat mixture starts to get hot, I'll whisk in my flour and start to brown it. At that point, I place the cast iron in the hot oven to finish cooking the roux. I set a timer and stir the roux every 8-10 minutes until it has developed the color I'm looking for. I really like this trick because you are less likely to burn to the roux due to the even heat of the oven. The oven just cooks the roux more evenly. On a stovetop, there is only heat from the bottom of the pot, so if you don't constantly stir, you are at greater risk of burning the roux."
Meet Chef Kelly O'Hara of SFL Food Group and mastermind behind South Bar & Kitchen, a contemporary Southern American concept with a heavy Louisiana influence.
Here are Chef Kelly's tips on making the best homemade Gumbo: "When making homemade Gumbo, you want to start with a pan that holds heat evenly, like a cast iron. To kick things off, start by searing your meat on all sides, remove the meat, then start on the roux. A good roux is a key pillar of a good gumbo."
"To make the roux, you should use an oil with a high smoking point which will let you cook the flour longer (i.e., butter, grapeseed, or vegetable oil). Add your choice of fat into the pot and loosen it with a whisk or spatula, then add all-purpose white flour and constantly stir with your whisk. Don't use self-rising flour because it will leave the dish with an unwanted aftertaste of bicarbonate."
"As the color begins to change, switch to a flat spatula (the greater surface area will help avoid sticking). Depending on how dark of a roux you are looking for, this process can take up to 30 minutes. The roux should be dark, not black, but almost chocolate in color. It should move like soup, not gravy, for viscosity and mouth feel.
"Once the roux is to your liking," suggests Chef Kelly, "toss in your diced "holy trinity" of white onion, green bell peppers, and celery – a staple of almost all Cajun cuisine. The addition of cool raw vegetables will stop the coloration and also start the sweating process. Add in your Cajun seasoning."
Chef Kelly says, "Nothing quite matches Tony Chachere's seasoning, and if you are looking for a traditional gumbo for Mardi Gras, the must-have finishing touch to any gumbo is white rice, sliced green onions, and hot sauce. There's always a fight over the best hot sauce; in my opinion, it's the Original Louisiana Hot Sauce."
Best Ever Jambalaya
Courtesy of Tony Chachere's & Chef Gaye M. Sandoz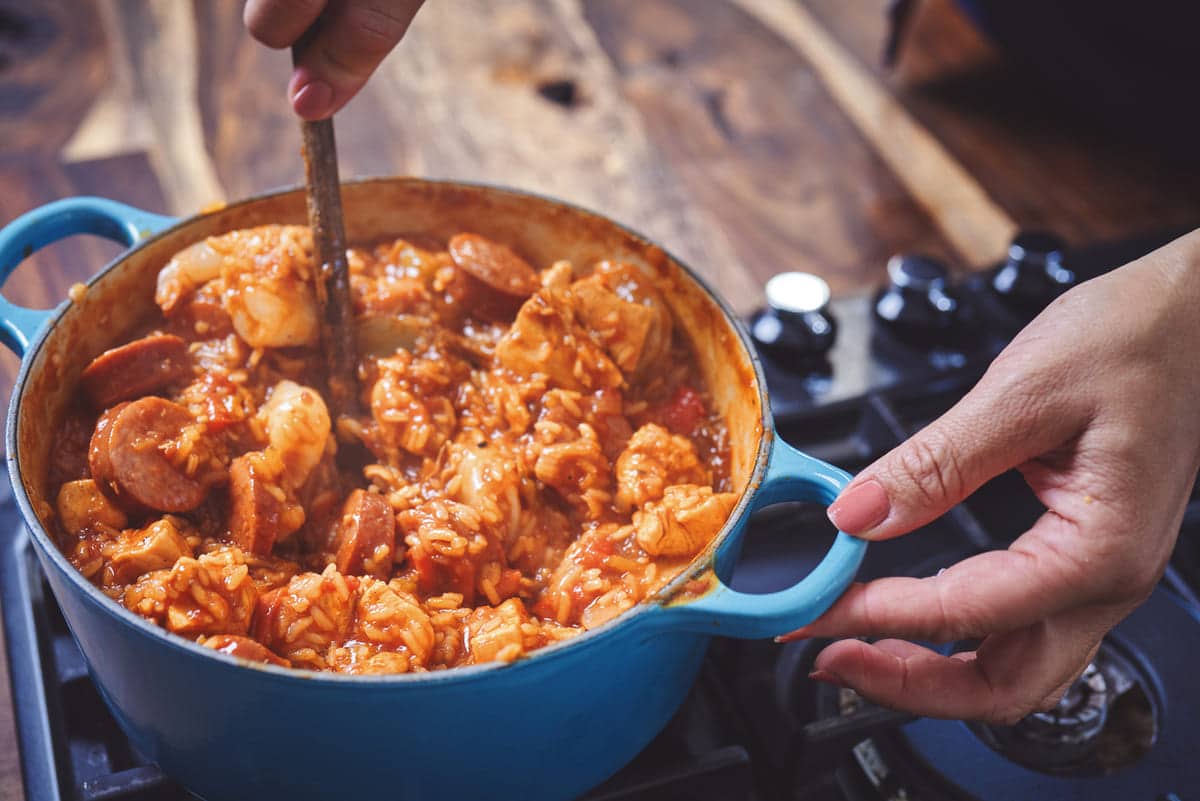 INGREDIENTS:
8 lbs boneless skinless chicken thighs, cut up into 2-inch pieces
4 packs Savoie's Smoke Sausage, sliced
2 lbs salted Butter
16 Whole Onions, Chopped
6 pods Whole Garlic
2 Whole Celery, Chopped
8 Whole Bell Peppers, Chopped
1 container smoke flavor (by the condiments)
2 containers of Tony Chachere's Creole Seasoning
2 large bags of Zattarain's Long Grain Rice PARBOILED
10 containers of Chicken broth
DIRECTIONS:
Sauté chicken and sausage until they're browning a bit, and remove them from the pan. Melt the butter, and add onions, garlic, celery, and bell pepper. Sauté until soft. Add the long grain rice, chicken, smoke flavor, Tony's seasoning, and sausage.
Cover and cook for 20-30 minutes or until rice is done.
Grits and Grillades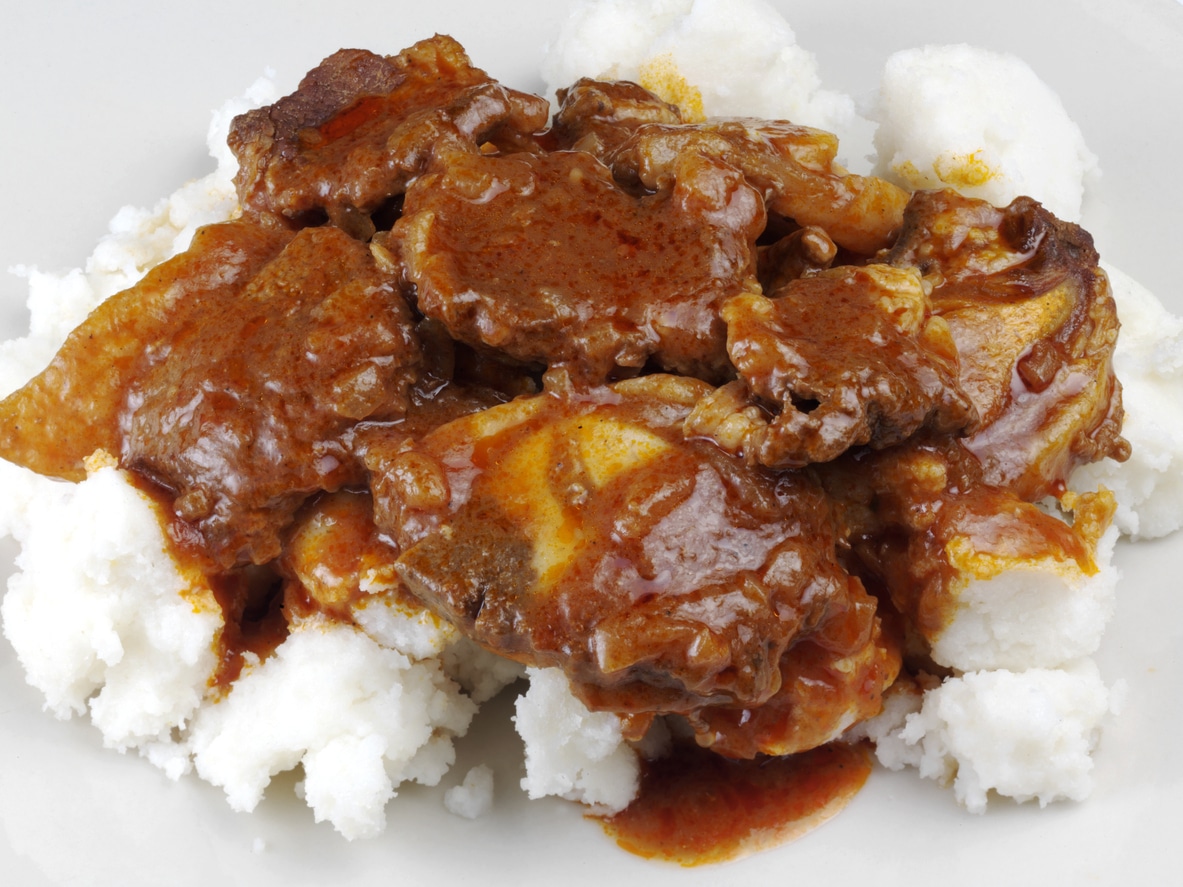 INGREDIENTS:
1 pork shoulder or butt Roast
Bottle Roasted Garlic Injectable Marinade
Tony Chachere's Bold Seasoning
1/2 cup Rotel Tomatoes
Tablespoons Worcestershire sauce
Green peppers, sliced
Cloves garlic, minced
1/2 cup Tony Chachere's Brown Gravy Mix
DIRECTIONS:
Inject the roast with Roasted Garlic Marinade, and season well with bold seasoning. Place in the slow cooker, and add the other ingredients.
Cook for 8 hours on low or 4 hours on high. Take out the roast and pull it apart with a fork. Add Tony's Brown Gravy Mix, and reduce the gravy on the stovetop or in the slow cooker (on high). Add meat to the gravy, and serve over grits (recipe below).
GRITS RECIPE
INGREDIENTS:
1 cup grits
2 cups water
2 cups milk
4 tablespoons butter
2 teaspoons Tony Chachere's More Spice Seasoning
2 teaspoons Black Pepper
2 teaspoons garlic powder
1 cup cheddar cheese, shredded
1 cup Parmesan, shredded
DIRECTIONS:
Boil water, milk, butter, Worcestershire, and seasoning. Add grits. Whip while cooking to create a creamy consistency. Add cheeses and season to taste with Tony's.
Crawfish, Shrimp, or Chicken Pasta with Sherry Cream Sauce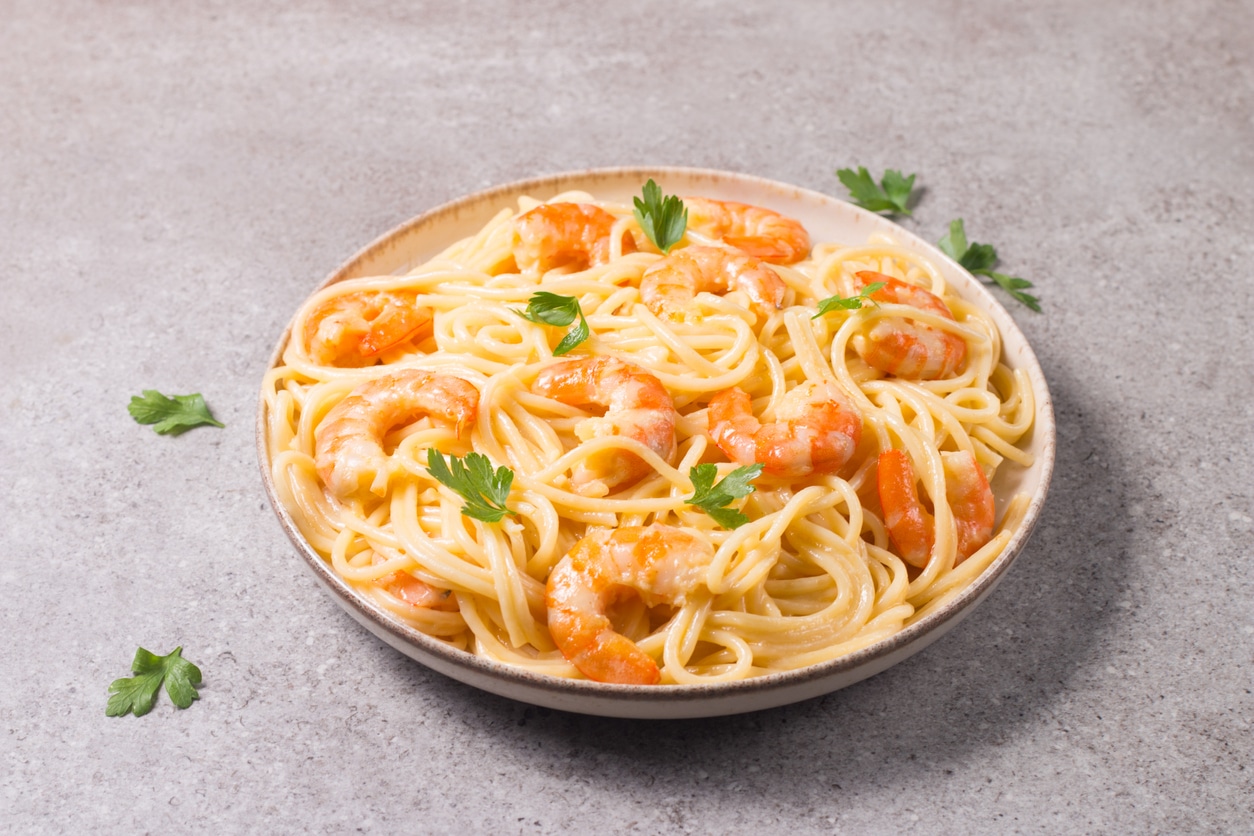 INGREDIENTS:
1 lb Louisiana Crawfish or shrimp
1 stick light butter
2 tablespoons flour
1 bunch green onions, sliced
1 cup heavy cream
2 teaspoons Tony Chachere's More Spice Seasoning
1 teaspoon hot sauce
1 teaspoon Worcestershire sauce
1/4 cup cream sherry
3 cups angel hair pasta, cooked
DIRECTIONS:
Melt butter over medium heat. Add flour, and cook for 3 minutes. Add green onions. Slowly add cream, and stir until thickened. Add seasoning, hot sauce, crawfish, and sherry. Mix in angel hair pasta. Garnish with chopped parsley and serve.
Mel's Shrimp Boil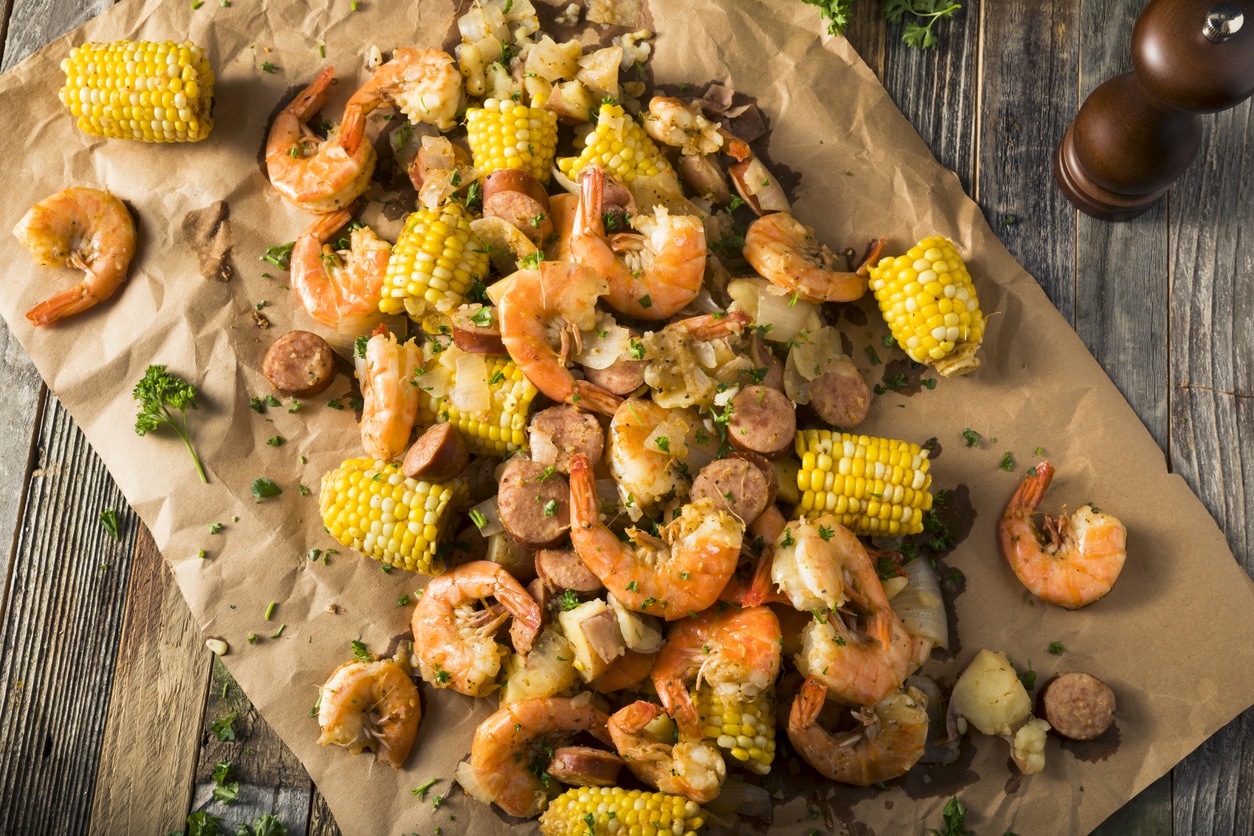 A Mardi Gras favorite, this recipe is courtesy of Mel LeMane and his restaurant Po' Melvins. His family came to Irving, Texas, from Louisiana and established one of the top outposts for authentic Cajun cooking outside of NOLA.
INGREDIENTS:

2 pounds fresh, unshelled gulf shrimp (21-25 count per pound)
1 gallon water
8 small red potatoes
4 ears of corn, cut into three-inch pieces
Handful of pearl onions, peeled
1 cup liquid shrimp boil
1/4 teaspoon cayenne pepper
1 stick butter
1 cup of salt
2 tablespoons of beef bouillon granules
DIRECTIONS:
Put water, salt, shrimp boil, butter, beef bouillon granules, and cayenne pepper in a pot and bring to a boil. Add new potatoes, return to boiling, and boil for 10 minutes. Add corn pieces and pearl onions, bring back to boil, and let boil for 7 minutes. Add shrimp and bring it back to a boil. Boil for 1 minute. Remove the pot from heat, strain, and serve on a large platter.
Traditional King Cake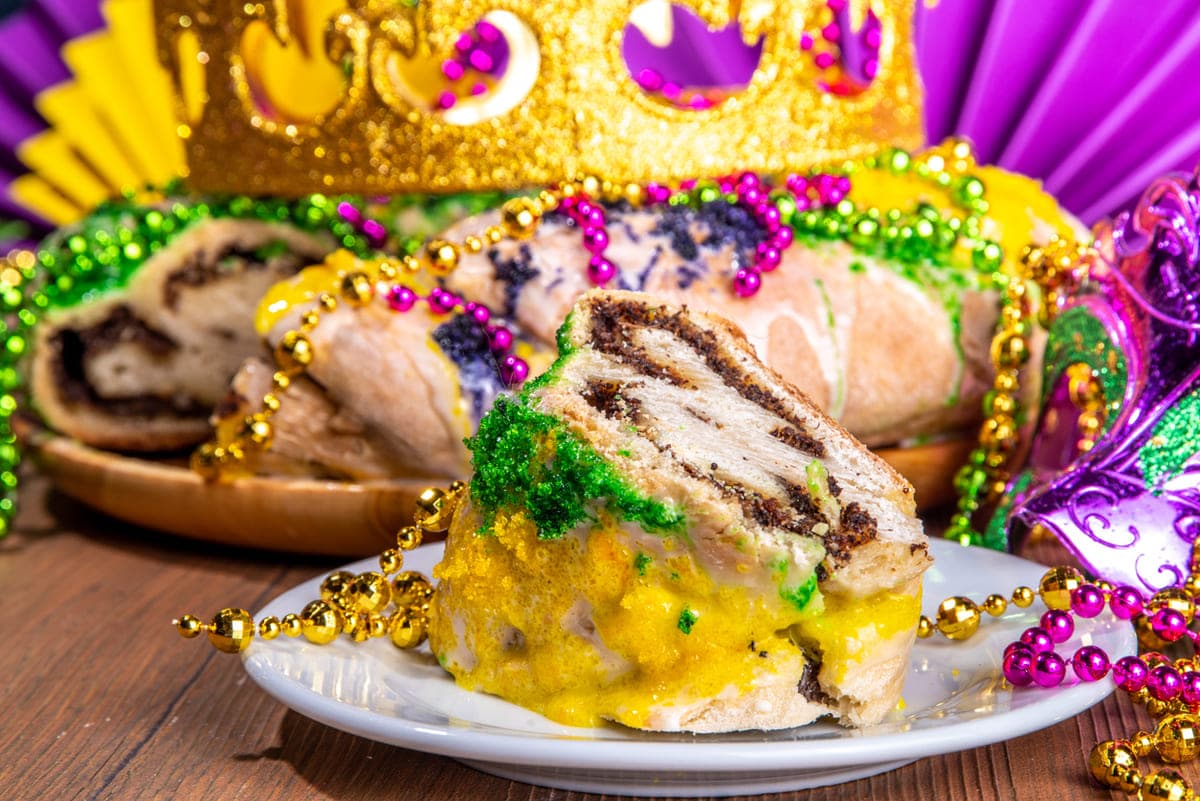 A long-standing Mardi Gras tradition, King Cake is a sweet dough twisted and shaped into an oval, decorated with icing, and Mardi Gras colors of purple, green, and gold sugar crystals.
More bread than cake but oh so delicious, the tradition continues as a plastic baby is hidden inside every cake to celebrate the feast of the Epiphany (on Twelfth Night) when Baby Jesus first showed himself to the three wise men and the world.
If a baby is found in your slice, you're the lucky one to provide the King Cake for the next year's celebration.
Finally, an important tip from Amy Sins, New Orleans-born chef, culinary historian, and Louisiana native: "Never ever eat King Cake before Twelfth Night, or else you will anger the carnival gods."
The following King Cake recipe, perfected by Chef John Besh, is courtesy of Louisiana Travel.
INGREDIENTS:
1 cup lukewarm milk, about 110°F
1/2 cup granulated sugar
2 tablespoons dry yeast
3 3/4 cups all-purpose
1 cup melted butter
5 egg yolks, beaten
1 teaspoon vanilla extract
1 teaspoon grated fresh lemon zest
3 teaspoons cinnamon
Several gratings of fresh nutmeg
Ingredients for King Cake Icing
2 cups powdered sugar
1/4 cup condensed milk
1 teaspoon fresh lemon juice
Purple, green, and gold decorative sugars
1 fève (fava bean) or plastic baby to hide in the cake after baking
DIRECTIONS:
For the cake: pour the warm milk into a large bowl. Whisk in the granulated sugar, yeast, and a heaping tablespoon of flour, mixing until both the sugar and the yeast have dissolved.
Once bubbles have developed on the surface of the milk, and it begins to foam, whisk in the butter, eggs, vanilla, and lemon zest. Add the remaining flour, cinnamon, and nutmeg, and fold the dry ingredients into the wet ingredients with a large rubber spatula.
After the dough comes together, pulling away from the sides of the bowl, shape it into a large ball. Knead the dough on a floured surface until it is smooth and elastic, about 15 minutes.
Put the dough back into the bowl, cover it with plastic wrap, and set aside in a draft-free place to let it proof – or rise – for 1 1/2 hours or until the dough has doubled in volume.
Preheat the oven to 375°F. Once the dough has risen, punch it down and divide the dough into 3 equal pieces. Roll each piece of dough between your palms into a long strip, making 3 ropes of equal length. Braid the 3 ropes around one another and then form the braided loaf into a circle, pinching ends together to seal. Gently lay the braided dough on a nonstick cookie sheet and let it rise until it doubles in size, about 30 minutes.
Once it's doubled in size, place the cookie sheet in the oven and bake until the braid is golden brown, about 30 minutes. Remove the cake from the oven, place it on a wire rack, and allow it to cool for 30 minutes.
For the icing: while the cake is cooling, whisk together the powdered sugar, condensed milk, and lemon juice in a bowl until the icing is smooth and very spreadable. If the icing is too thick, add a bit more condensed milk; if it's a touch too loose, add a little more powdered sugar.
Once the cake has cooled, spread the icing over the top of the cake and sprinkle with purple, green, and gold decorative sugars while the icing is still wet. Tuck the fève or plastic baby into the underside of the cake and, using a spatula, slide the cake onto a platter.
Read Next:
Keep the Party Rolling with Mocktails Before Cocktails
Statement Tops: The Go-To Look This Party Season
6 Tips to Become an Effective Communicator and a Better Party Guest