Since the day she was born in 1959, Barbie has led a charmed life. With a hot bod, a cool car, a cute boyfriend, a killer wardrobe, and a house that dreams are made of, hers has been an enviable existence. Now, everyone's favorite doll finally gets her shot at the big screen with the long-awaited "Barbie" movie hitting theaters on Friday. The film has sparked a flurry of fun, Barbiecore fashion, with star Margot Robbie hitting the red carpet in various vintage Barbie looks. Although the original Barbie debuted in black and white swimwear, pink is the color at the core of the trend, and the brighter and more "bubblegum," the better. While the movie may have escalated things quickly, the truth is that Barbiecore first emerged in 2022 when Valentino sent a parade of hot pink down the runways. Now everyone from pop stars to the Princess of Wales is embracing the trend, proving that both pink and Barbie have gone from ultra-feminine and pretty to ultra-feminist and powerful. Think you're too old to wear it? Think again. Just because you might be closer in age to the doll than to the actress who plays her, you must understand that Barbiecore is more than just a color- it's an attitude and one that any woman can embrace regardless of age.
According to Time Magazine, Emily Huggard, an assistant professor at Parsons School of Design, points to the post-pandemic world as the reason for the popularity of the playful pink trend.
"People are really latching on to escapism and things that they know and feel safe with," she says. "When we think about this trend [Barbiecore], it's pretty, it's hot pink, it's not too complex—I think people are craving a time when things felt less heavy."
Whatever the reason, Barbiecore seems to have staying power. Here are a few ways to dress the part and channel your inner child while projecting style and sophistication.
The Pink Powersuit
Can a woman be taken seriously in pink? If it's a pink power suit like the one worn by the Princess of Wales on a recent engagement, then the answer is a resounding YES! The princess paired the Alexander McQueen pastel pink suit with a matching blouse and added pops of white with her belt and shoes. The effect was both pretty and professional. Try these pink linen pants and matching blazer from J. McLaughlin for the same designer look without spending a royal fortune.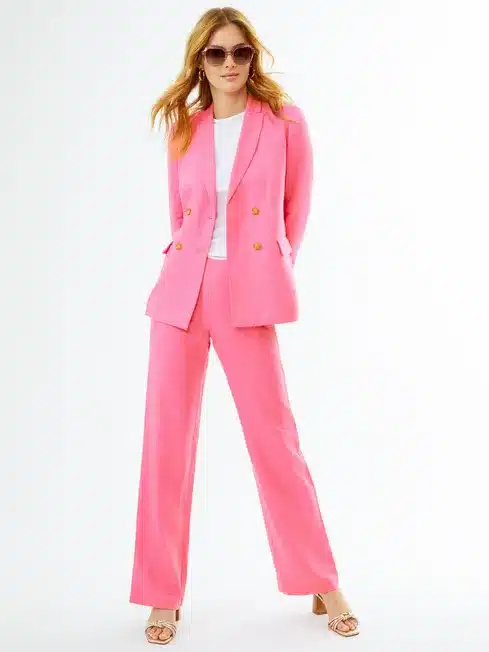 Pick a Pop of Color
Don't want to go pink head to toe? Try pairing a hot pink blazer with black pants or flip it and reverse it with bright pink pants and a black top. The black makes the color pop while lending an air of sophistication to the entire ensemble. We love this pink blazer from J. Crew. A wardrobe MVP, you can pair it with jeans, pants, skirts, and even shorts for a polished pink look.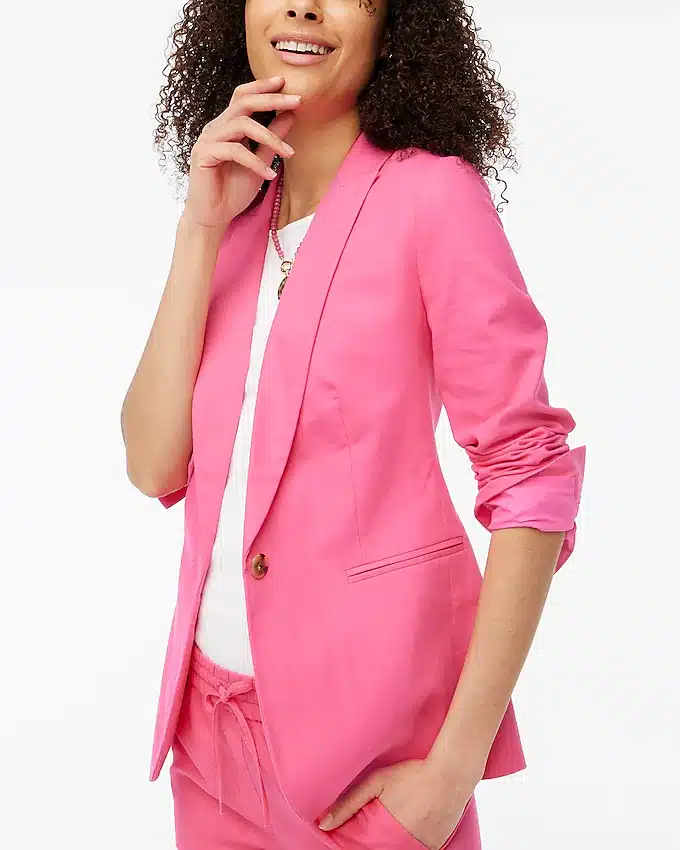 Nail the Trend from Tips to Toes
Your nails are always a great place to experiment with color without breaking your budget. OPI's "Hi Barbie" polish is a wearable, universally flattering shade of pink that's not too neon, not too bubblegum, and sparkle-free. Find it here.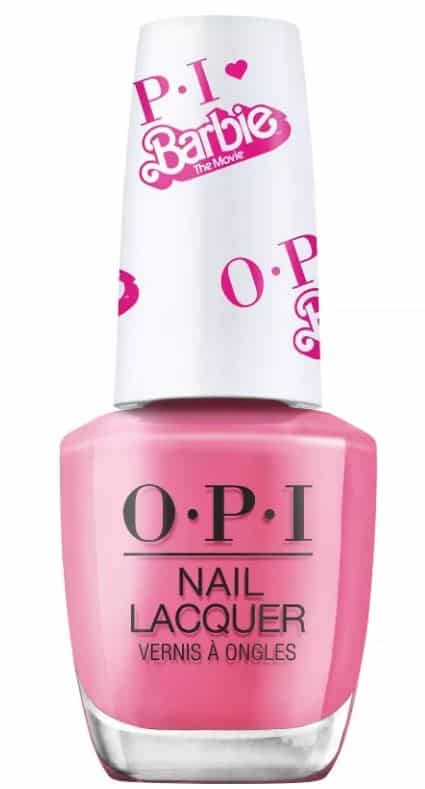 Add Some Jewels
Make any outfit shine with a pink accessory. Earrings, bracelets, and necklaces are easy ways to try the trend without a long-term commitment. This is also where you can play with the sparkle and sequins that are Barbie glam. We are all about these hot pink beaded earrings at Nordstrom for giving just the right amount of glitz.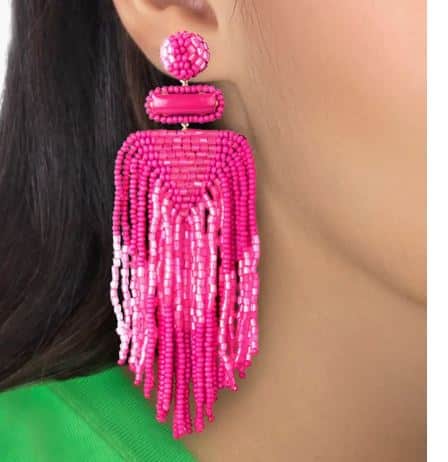 Dress to Impress
Remember when Elle Woods marched confidently into the courtroom wearing her pink sequined dress and won her case? While we don't suggest that you go all "Legally Blonde" for daytime, why not take a cue from everyone's favorite Harvard Law grad and add a pink dress to your eveningwear? We are crazy about this Badgley Mischka dress. This knee-length number is the perfect party dress for any age and features a bow that's more polished than precious.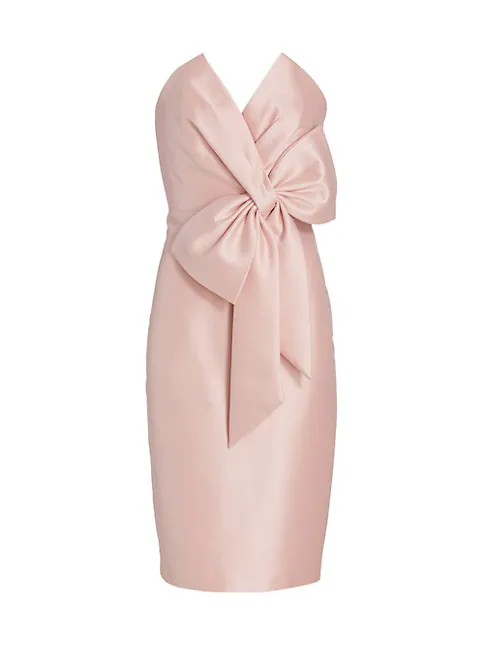 Bagging the Finishing Touches
Any well-heeled Barbie knows that the shoes and bag make the outfit. Take this cute Kate Spade Crossbody for a spin, or doll up your feet in these Steve Madden Fairfax Mules that are easy on your feet and your wallet. From the boardroom to the beach, adding a punch of Barbie pink to your wardrobe is an easy and fun way to jump on the trend without going full-on living doll. You can keep it classy and not campy by steering clear of sparkles, sequins, fur, and feathers unless, of course, that's your thing. If that's the case, then you GO Barbie girl! Just remember, the most important thing you can wear with any trend is confidence. Hey, if Barbie can pull it off at the ripe old age of 63, so can you!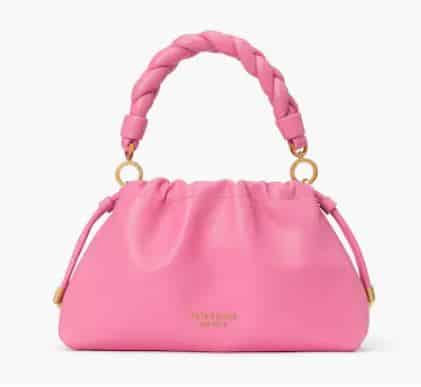 Barbicore Galore!
If you want to get on board the Barbicore train, here are some fabulous options that will make you look stylish but not foolish. Because Barbie's not the only one that can wear pink!

Read Next:
Academy Awards 2023: A Tribute to Women
March Forward Into Women's History Month