I'm blessed with friendships across many generations. They provide a broader perspective on life than the limited view from my own age group. I recently had lunch with a friend who is in her late 40s. She had been shopping and was eager to talk about her upcoming college reunion. Her life has been busy. It was the first college reunion that she would be able to attend since graduating over two decades ago.
Show and Tell
She slid into the booth in the restaurant and piled her shopping bags on the seat next to her. I ordered a cheeseburger, passed on the fries and asked for an iced tea. She stared at the menu for a long time before ordering a plain green salad, dressing on the side, iced water to drink. She sighed. "I'm starving, and so far I'm only down five pounds." My friend has always taken care of herself and looks great, so I was surprised by her admission that she was dieting.
She didn't need any encouragement to continue. "My college reunion is only two weeks away and I'm obsessed about looking my best," she said. "I'm going to the gym every morning before
work and running three miles every evening." She asked if I liked the new blonde highlights in her hair. I did. "Notice anything," she asked, turning her face toward me and lifting her chin. "You look rested," I said. She confessed, "It's only a little Botox and some filler. I have friends who went the whole facelift route. I heard one classmate even had her boobs done." I hoped that I hadn't rolled my eyes.
She rustled through her bags pulling out three versions of a little black dress and a pair of heels so high that I hoped they weren't priced by the inch. She asked which dress I liked best and then mumbled, "you really need to see them on" and added, while lifting the skimpiest one, "this one will look great if I wear Spanx."
I asked who she was looking forward to seeing, as I knew she had kept up with two close friends from her class. "I've heard that HE is going," she said with a sigh and then launched into the story of unrequited young love. I asked if her husband, a handsome, successful executive, was going to the reunion with her. "Of course," she said. "He's been working out with me in the mornings, too."
Our conversation about the reunion continued through lunch. She showed me pictures on her phone that she would take to share: professional photos of her two beautiful children, family vacation pictures taken in Vail last February and some shots of her and her husband on Maui last October. Perfect pictures of a perfect family.
She certainly was prepared, and from all indications, it would be a well-staged evening.
>READ:THE HOLIDAY NEWSLETTER: HAS HAPPINESS BECOME A CONTEST?
The Reality of My First College Reunion
After we hugged goodbye and I told her to let me know how the evening went, I drove home admitting to myself that her behavior wasn't too different from my own when I attended my first college reunion. I didn't share the details with her, but I recalled vividly that my feet were killing me by the end of the evening from standing all night in heels. Worse yet, I left the event feeling hollow. HE was there. (We all have one!) But, he was bald and paunchy and already had a second wife who never left his side. I connected with lots of people that night, but only superficially, exchanging a resume-version of life after leaving the university.
Current Version After Age 50
I've been to several gatherings of ex-classmates since then and each time my "prep" — if you can even call it that — gets more relaxed. These days I consider the probable temperature of the event space before pulling something from my closet that is comfortable to wear, including shoes that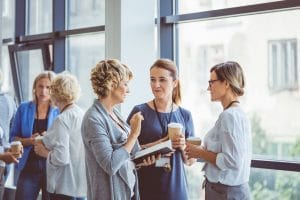 are designed for standing. My weight, hair and body contours look pretty much the same for reunions as they do for an evening out with my husband. And I no longer drag him with me to have conversations with strangers about "the good old days" that didn't include him. I go solo, prepared with little else than genuine curiosity.
I look forward to the reunion events as opportunities to connect with the people with whom I shared some formative years. We were so innocent, so unprepared for what fate had in store for us. I'm eager to hear their stories — not the resume-versions — but the real-life dramas that earned them a few wrinkles. We've lost a sad share of friends already and many of us have tales of near misses or current health issues. As our circle gets smaller, it seems to get tighter.
Different Standards In the Upper Numbers
There's nothing wrong with showing up prepared to share the evidence of your success at a reunion in your 40's. That stage of life is naturally focused on mastering the external markers of success: education, profession, mate, children, property. We create the infrastructure of our adult lives during this stage. My friend has good reason to be proud of her accomplishments on all fronts. She worked hard to earn them and life has been good to her.
>READ:THE MEANING OF FRIENDSHIP: SMALL CIRCLE, BIG SUPPORT
I'm happy to be passed that stage in my life, however. I'm seeking authentic conversations these days when I reconnect with old friends. I think that our current stage of life revolves more around the internal hallmarks of character rather than the external standards that were important in the past. I don't care what you look like, what you own, or if you used to be a big deal. I want to know what you are doing now with the gifts you were given and what kind of difference you are making in your part of the world, however large or small that might be. I am not afraid to show up to reunions with a few extra pounds, gray hair and wrinkles, as long as people show interest in the current me. And, it never hurts if they ask to see the pictures of my grandkids that I have ready on my phone!