The Me Too movement originally started in 2006 on social media site MySpace, by activist Tarana Burke. But it wasn't until the allegations against former Hollywood executive Harvey Weinstein came to light that the Me Too movement took shape as we know it today. And on October 15th, 2017, when actress and activist Alyssa Milano tweeted 'Me Too' that the movement really took off. Since then, hundreds of women have come forward with multiple accusations of sexual harassment and rape against powerful men who used that power to perpetuate their violence.
If you've been sexually harassed or assaulted write 'me too' as a reply to this tweet. pic.twitter.com/k2oeCiUf9n

— Alyssa Milano (@Alyssa_Milano) October 15, 2017
Enter the movie Bombshell. The movie chronicles the events that led up to the removal of Roger Ailes. He was the phenomenally successful mastermind behind Rupert Murdoch's media empire. He was the chairman and CEO of Fox News, where Gretchen Carlson, played by Nicole Kidman, Megyn Kelly, played by Charlize Theron, and composite character Kayla Pospisil, played by Margot Robbie, work. The movie shows how Ailes used his power to degrade and force women into compromising behavior by holding their careers and livelihoods hostage.
The Bombshell Ladies Prove There is Power in Numbers
It also shows how when one woman comes forth, she is accused of every negative demeaning behavior. It is designed to show her as a liar and out for money. Fortunately, for Nicole Kidman's Carlson, more and more women came forward. Ailes' denials no longer worked.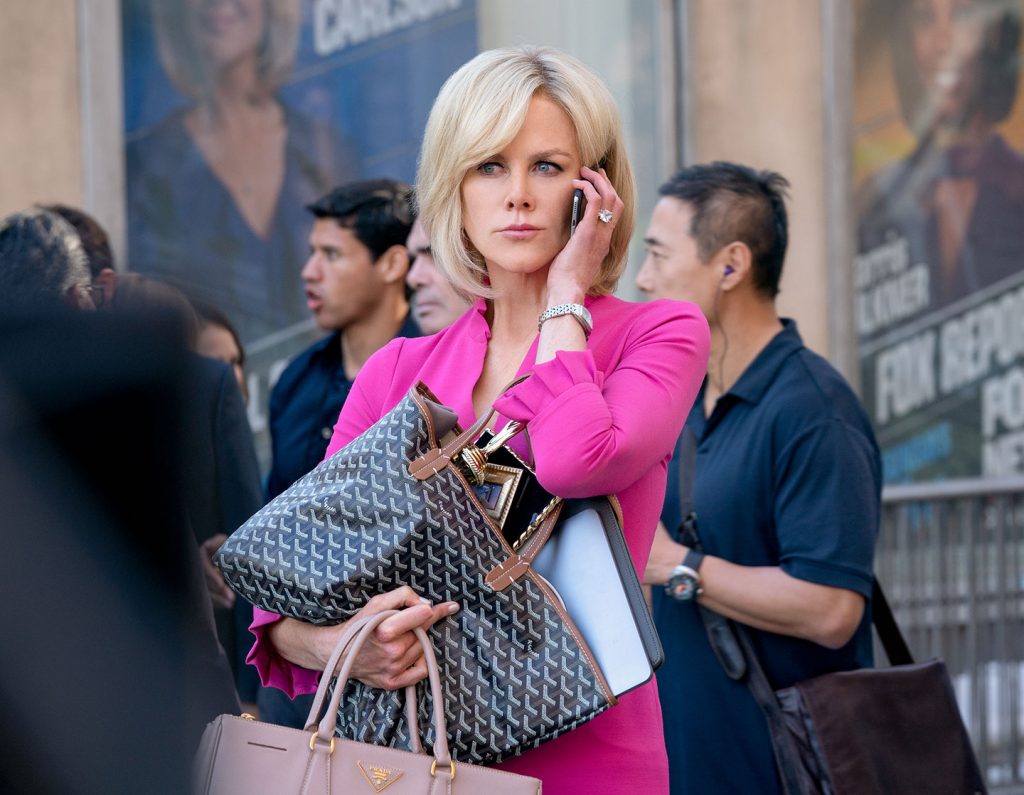 The abhorrent behavior of these high-powered men caught up with them. Bombshell is a culmination of all the news coverage, books, op-eds and social media outpouring from celebrities and everyday women alike. The Me Too movement called upon women to speak up. And the movement has shown how pervasive this problem is.
Bombshell Helps us Imagine a Better Future
But it's not just the sexual harassment that women have endured. It's a hostile workplace environment of demeaning, snide comments and exclusion from important meetings and assignments. The only way this behavior will stop is if women will come forward and say no. There must be consequences for men who perpetuate discriminatory practices — not just for women.
Bombshell is a reminder that when women support one another we can do amazing things. My generation of women (leading edge of baby boomers) laughed off the demeaning, sleazy comments because we had no choice. The women in Bombshell are some of the thousands who banded together to step forward and say "enough is enough, we demand justice."
Because of the Me Too movement and media like Bombshell, today more than ever, women do have a choice. And we can't be afraid to come forward. I recommend seeing this movie as a reminder that women can and should stand together to fight harassment of all kinds, for ourselves and future generations of women.
Bombshell has been nominated for 3 Oscars, including best actress and best hair and make-up. Watch the 92nd Oscars with us live, this Sunday, 2/9 on Facebook and Instagram.
>READ: ME TOO HASHTAG SHEDS LIGHT ON LONG IGNORED DARKNESS
>READ: WHY WOMEN ARE POISED TO IMPACT THE WORLD LIKE YOU'VE NEVER SEEN