After two years of no travel, we are all longing to get back out there and see the world. To get you inspired, we've put together a collection from our most traveled readers of their top 25 travel experiences. If you are looking for a one-of-a-kind experience that will absolutely wow you, look no further!
1. Tracking gorillas in the Congo
Take a National Geographic expedition to the Democratic Republic Congo (DRC) and go deep into the forest to track lowland gorillas. Don't expect any luxury accommodations as the rooms are on stilts, presumably to protect you from creepy, crawly things.
2. Hiking the Camino de Santiago
Hiking the Camino de Santiago is far more than a hike; it's a pilgrimage. Though it can take 30 days or more, our reader hiked the last 110K in a week. She listed this trip as the most memorable and meaningful vacation of her life.
3. Arctic Cruising
Take long zodiac rides through beautiful ice formations, sip cocktails on the deck as you float by icebergs, and have the experience of a lifetime looking at majestic polar bears. Blue whale encounters are a daily occurrence. This reader went all luxury with Silver Seas expeditions, but there are many cruise line options for an arctic cruise.
4. Lunch at the Harder Kulm Panorama Restaurant in Interlaken, Switzerland
The Harder Kulm Panorama Restaurant sits high above Interlaken. Only a ten-minute ride on the Harder Railway up Interlaken's own mountain brings you to a breathtaking view. While there are better restaurants in Interlaken, none can compete with the panoramic sight.
5. The Road to Hana by Helicopter
Why drive the famous winding road to Hana in Maui when you can fly by helicopter? You can still enjoy the lush tropical vegetation, sea cliffs, and an amazing view of the ocean while not missing a single one of the spectacular waterfalls.
6. The Chateau on the Dordogne River
Visiting Saint-Emilion in Bordeaux is a treat for wine lovers and foodies alike. Staying at a luxurious 17th-century chateau with incredible views makes for an over-the-top experience. The Chateau sits majestically on the Dordogne River, surrounded by the vineyards of Bordeaux.
7. Climbing Machu Picchu, Peru
Taking the classic Inca Trail, the hike will take four days to arrive at Machu Picchu. Along the way, you will have stunning scenery and be treated to a variety of impressive Inca sites. Experienced hikers will have no problem completing this trek.
8. Persepolis, Iran
Persepolis is the ceremonial capital city of the Achaemenid Empire (also called the First Persian Empire), dating back to 515 BC. This is the most spectacular archeological site in Iran (and one of the top sites in the world) with incredible architecture.
9. Angkor Wat Temple, Cambodia
Angkor Wat is on many bucket lists, and for good reasons. The Buddhist temple complex in Cambodia and the largest religious monument in the world by land area is a must-see for the well-traveled. The view at sunrise is spectacular.
10. Hot Air Balloon Ride in Cappadocia Turkey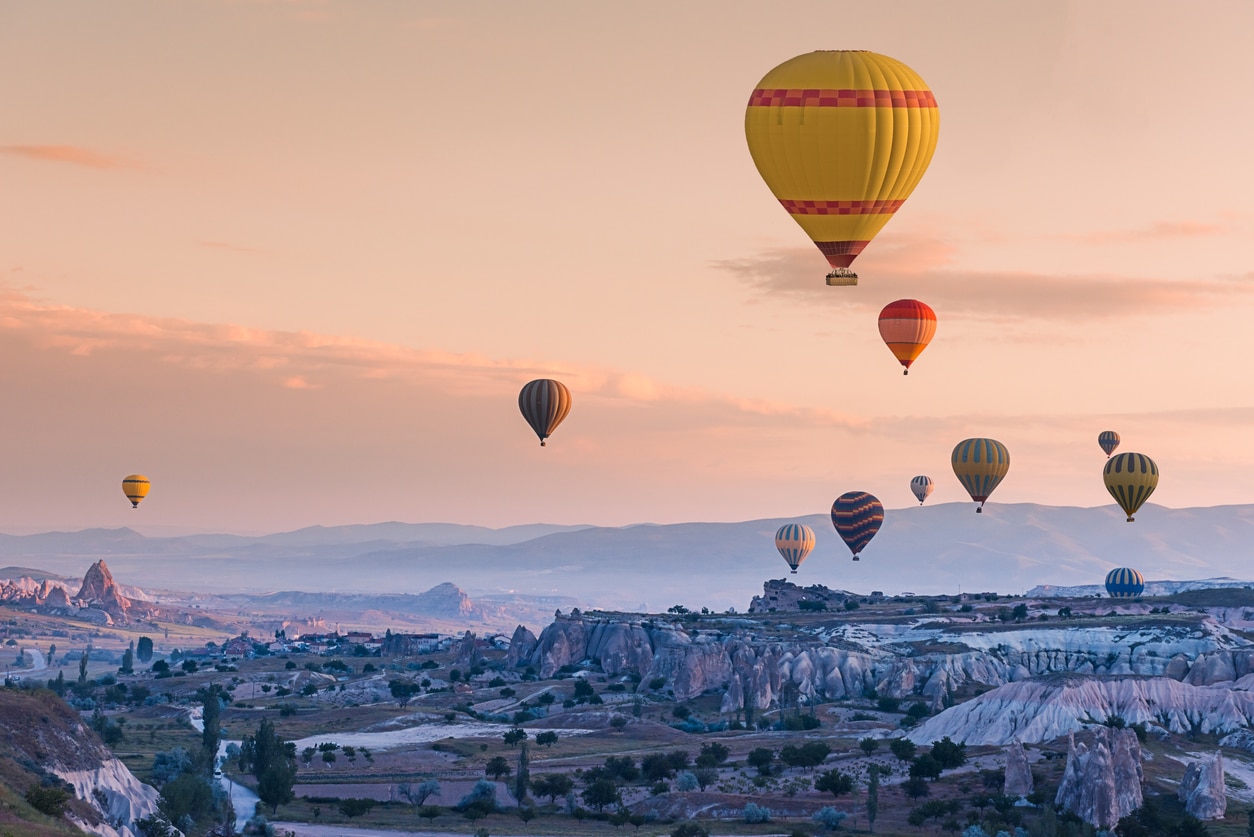 Cappadocia is a landscape unlike anywhere in the world. One of the most popular ways to see this amazing place is by hot air balloon. Since they fly 250 days a year, it has become the most popular place in the world for a hot air balloon ride.
11. Rainforest Expedition, Peru
This rainforest expedition takes you 8 hours up the Tambopata river in a canoe to a Macaw research center located near the largest clay lick in the world. Accommodations are for the adventurous traveler, to say the least, but an unforgettable experience.
12. Ranthambore National Park, India
Ranthambore National Park is famous for its Royal Bengal Tigers. While there are certainly other places to stay while visiting the park, the Oberoi Vanyavilas Wildlife Resort may be the most luxurious place to stay for any type of safari in the world.
13. Petra, Jordan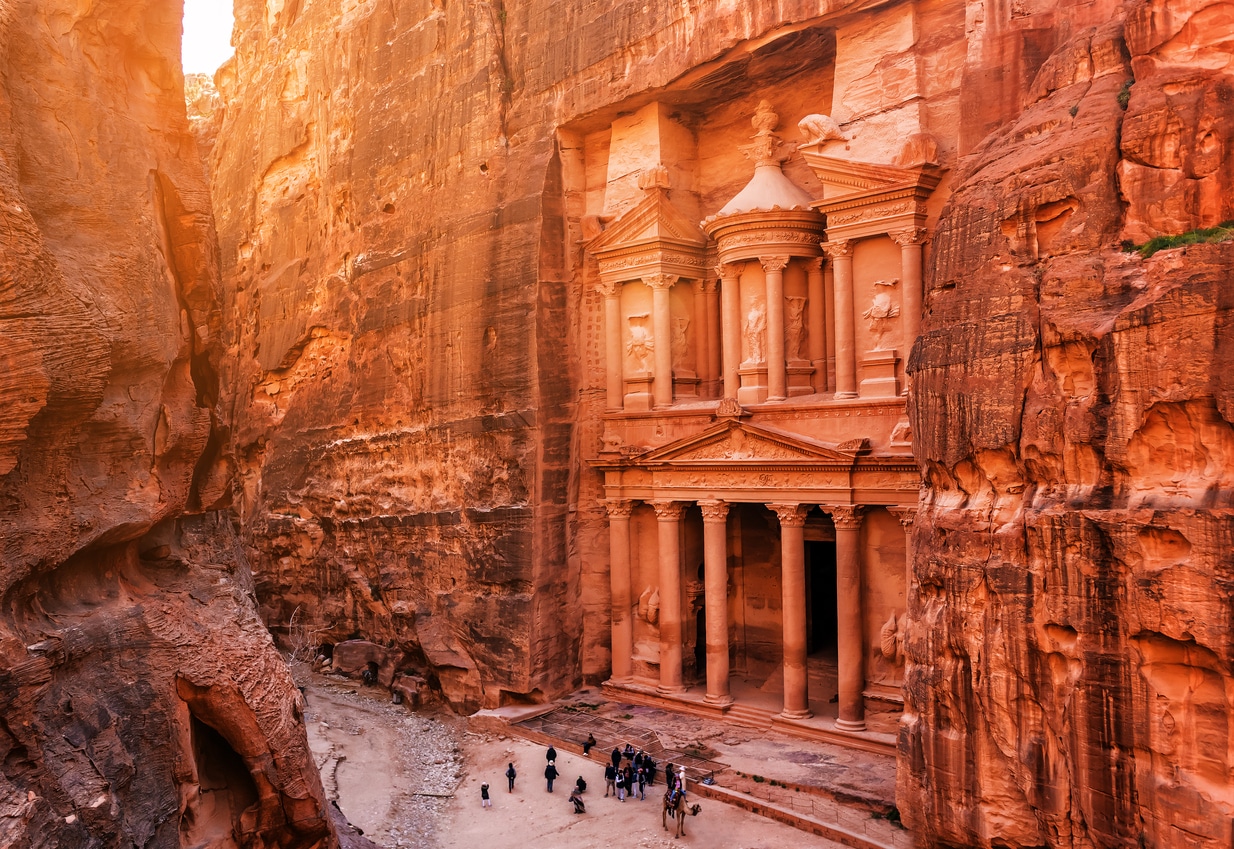 Explore this ancient and beautiful archeological site in the southwestern desert of Jordan. Petra is one of the New Seven Wonders of the World, and for good reason. Dating back to 3000 B.C., it carries memories of a long-forgotten civilization. The contrast between the surrounding cliffs and this marvelous site is spellbinding.
14. Salt Cathedral, Columbia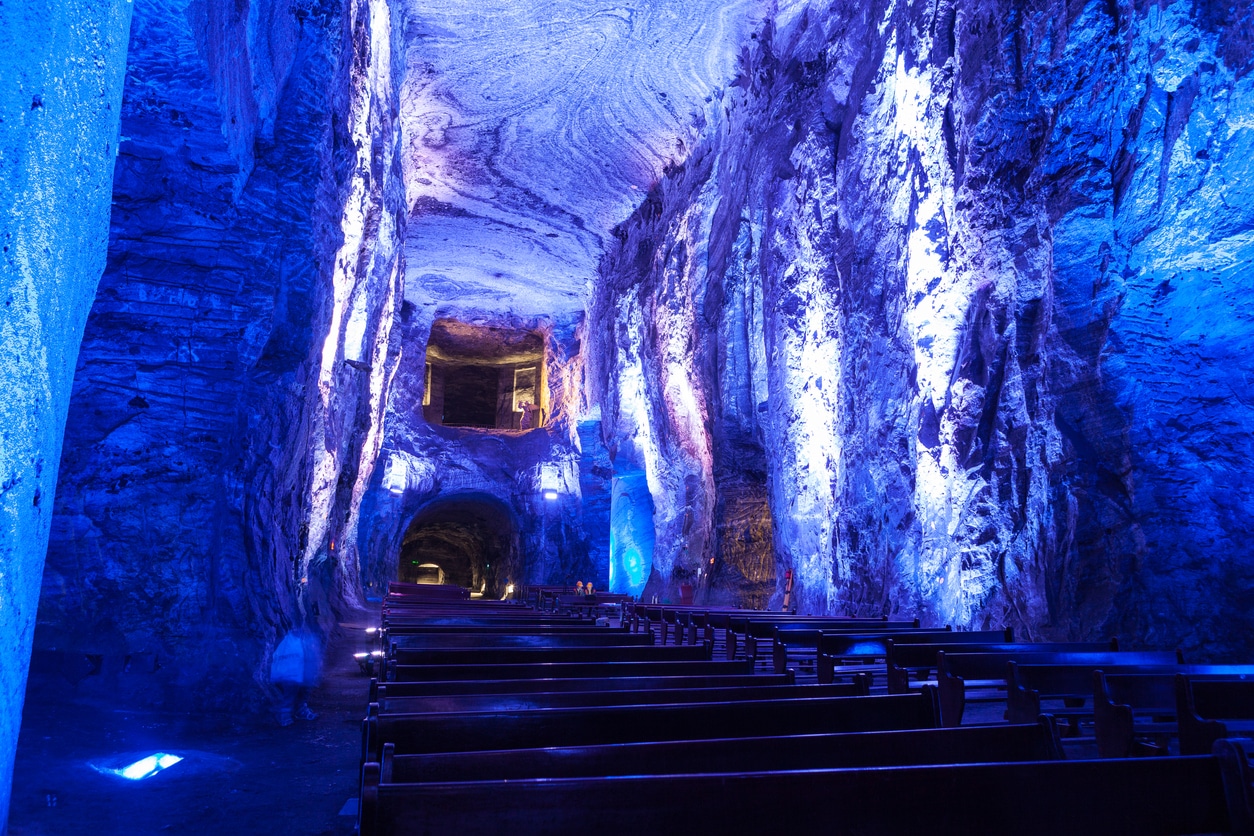 A place of pilgrimage for many, this beautiful underground Roman Catholic church is cut into a mountain of halite. Being 200 meters below ground in the tunnels of a salt mine makes this a particularly exhilarating and spiritual experience.
15. Dalai Lama in Dharamsala

Attending an international retreat in Dharamsala, a town filled with Tibetan monks in orange robes, monasteries, coffee shops, cows, and craft shops, the Dalai Lama spoke about various Buddhist precepts. A few attendees were lucky enough to meet privately with His Holiness in a small group.
16. Chengdu (China) Research Base of Giant Pandas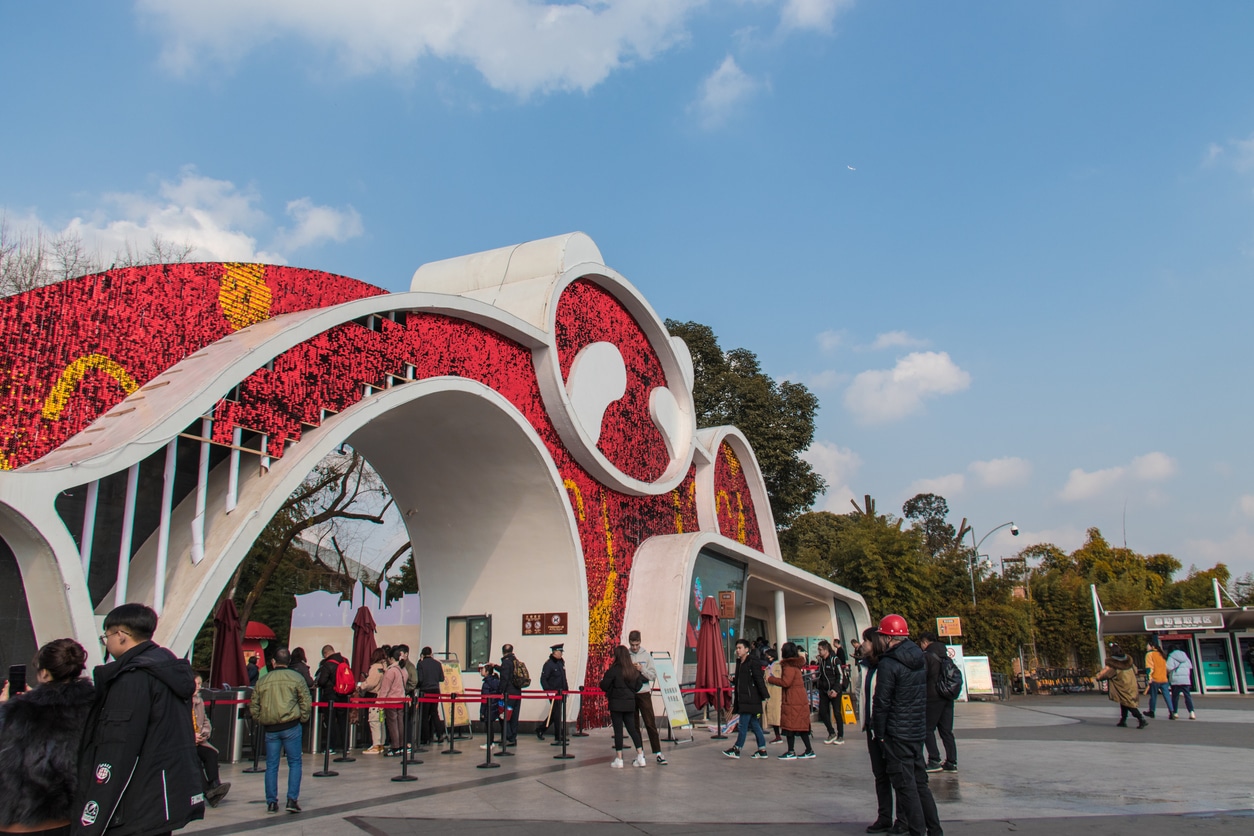 Holding, snuggling, and feeding a furry, 30-pound, 10-month-old panda cub is a delightful experience and the best reason to visit the Chengdu (China) Research Base of Giant Panda Breeding. It is easy to see why the giant panda is a China national treasure.
17. Migration at Masa Mara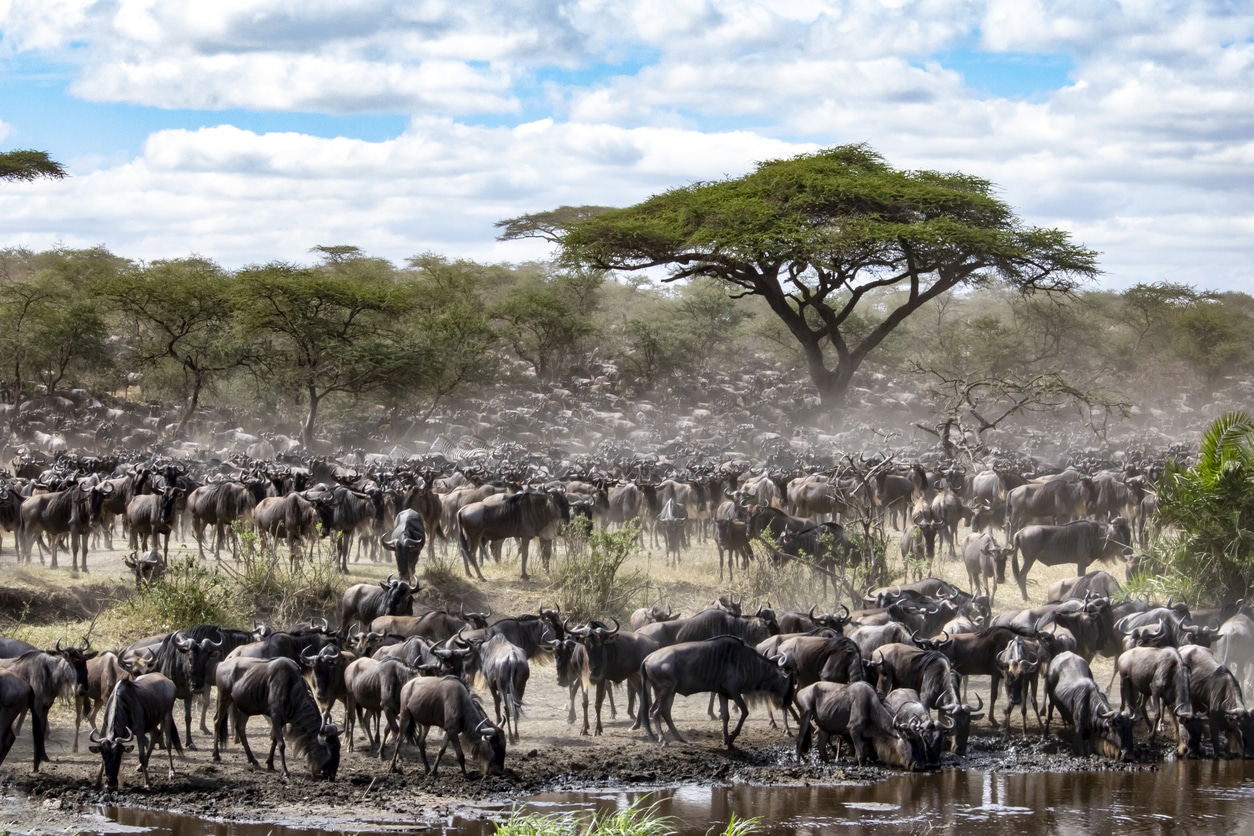 This is a sight to behold – one of the world's biggest and longest animal migrations takes place each year between June and December in East Africa. Over two million animals make their way across the continent in pursuit of greener pastures. Kenya in August/September is prime time, and if you can stay anywhere, stay at Cottars Camp.
18. Silvies Valley Ranch, Oregon
Silvies Valley Ranch is a 140,000 acres luxury working eco ranch in Eastern Oregon with multiple award-winning golf courses, including a reversible course! Stay in one of their divine log homes, visit their spa, learn to shoot guns, and enjoy fine dining for every meal.
19. Elephant Sanctuary, Sri Lanka
Sprinkled throughout Sri Lanka is an assortment of elephant sanctuaries that you can visit from the safety of an open-top Jeep-type vehicle. We visited the Hurulu Eco Park, and it was fantastic. If you visit Sri Lanka's Minneriya National Park, you will likely see the second-largest gathering of Asian elephants in the world.
20. Stay in a Cave in Santorini
Staying inside a cave built into the side of a cliff is quite the experience. The two most ideal places in Santorini to do this are in Imerovigli, the area overlooking the caldera, and further north in Oia, home to one of the world's best sunsets. Make sure to book one that has a hot tub on its patio. It's the perfect way to unwind after a day of sightseeing.
21. Dine at the top of Marina Bay Sands
Singapore is a fascinating city. The architecture is over the top, including the Marina Bay Sands hotel. If possible, book a stay here, but since they are almost always sold out, do the next best thing, dine at the top! There are a lot of restaurants within the building, but you want to make sure you book one that is on floor 57, aka the Sky Park level, like Spago. Make your reservation well in advance for before sunset so you can enjoy the views during the day and night when there is an epic light show.
22. Take a cooking class in Marrakesh.
This ancient walled city (known as The Red City due to the color of the brick walls) is home to mosques, palaces, and lush gardens. Expand your tasting palette and culinary repertoire with a private Moroccan cooking class, the best way to experience authentic recipes.
23. South Pacific Cruise on Regent Seven Seas
Experience the rich cultures of the South Pacific on this luxurious cruise. You will take a journey through brilliant waters where there are hundreds of thousands of islands in this gorgeous region. One of our readers said this was her favorite spot on earth.
24. Katmai National Park, Alaska
Taking a small charter flight with a bush pilot from Anchorage, you land on Brooks Lake, where you disembark to walk to Brooks Falls surrounded by brown bears the size of tanks. At the Falls, you can watch bears catching salmon, sometimes straight into their mouths!
25. Mt. Everest (Partial Base) Camp Trek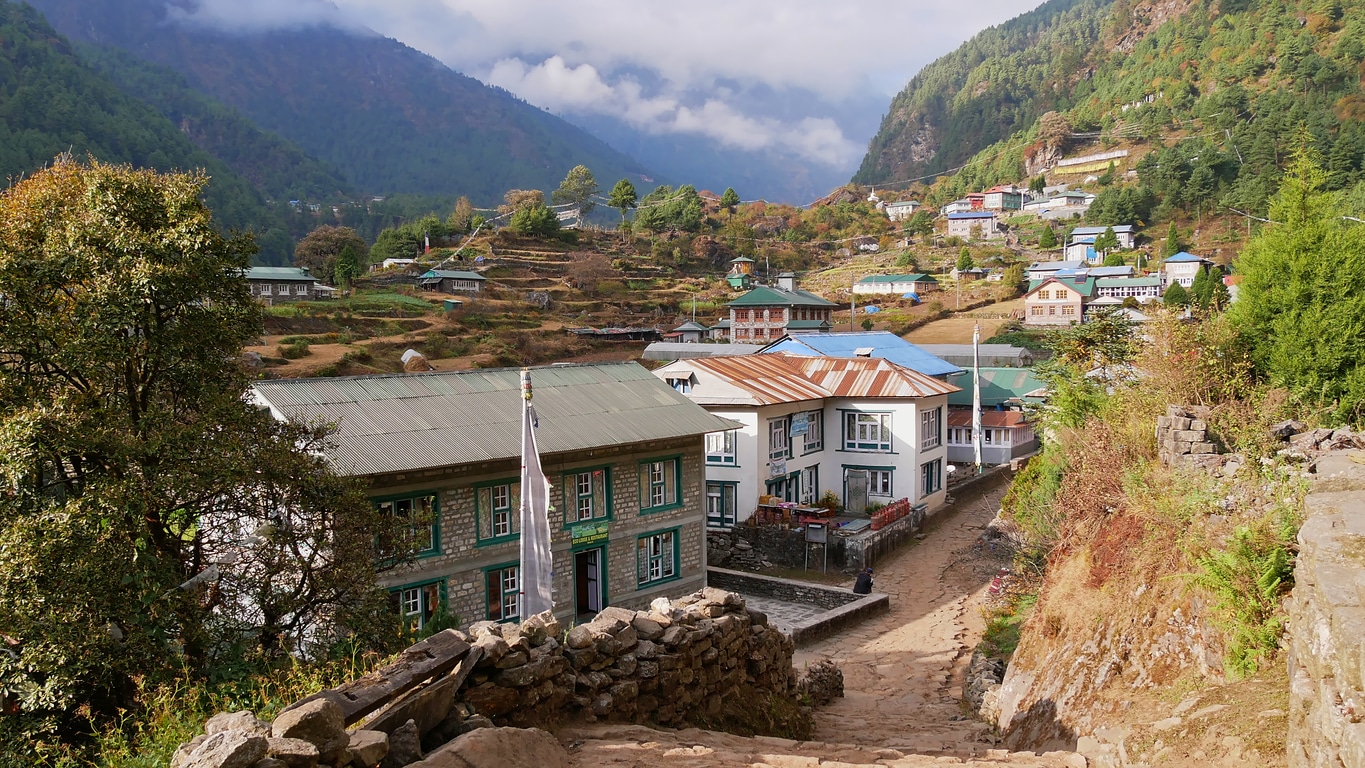 Witness the beauty of Nepal, a country of hospitable people, gorgeous sights, and rich cultural traditions. This outdoor expedition is the perfect blend of adventure and cultural exploration into the Himalayan Mountains.
Read Next:
European Summer Trips Post-Covid
14 Great Trips with Grandkids in the United States