The first time I laid eyes on Vermont, it was a crisp early September afternoon in 1976. Naive, nervous, and hopeful, I had flown from San Antonio to Albany and then taken the bus to the town where, sight unseen, I was to spend my college years. I was immediately captivated by the peaceful contours of the land, the church spires and storefronts of the small towns, and all the green—just beginning to be edged in oranges and reds and golds with the coming of Autumn. It was such a glorious contrast to my beloved Texas that I took to it as to a foreign land, which for me it might as well have been.
A few weeks later, at "peak" fall foliage time, that is what most people imagine when they think to visit Vermont and New England. Or maybe you're a skier or snowboarder, hankering after adventurous days on the slopes and festive evenings in the resort towns and mountains. All wonderful times to visit Vermont, to be sure. But I'm here to tell you that the almost-secret, truly magical seasons to visit Vermont are the springs and summers when the crowds have thinned, rates are down, and the colors, while more delicate than those of fall's brilliance, are just as varied and inspirational. The grace of a Vermont spring is something I invite every PRiME reader to experience for herself.
Whether you have a weekend or a month, you might easily tack on a sojourn in Vermont to your business meetings or art and theatre escape in Boston (less than 2-1/2 hours away), New York City (about 4-1/2), or Montreal (just over 4, depending on traffic at the border). You might even consider taking Amtrak from NYC to Brattleboro on its once-daily Vermonter service, arranging to rent a car from there. Brattleboro is a great introduction to the state's busy small-town life, with some remnants of progressive "hippie" sentiments blending nicely with entrepreneurship and the Arts.
Places to Visit in Southern Vermont
Explore Brattleboro's Downtown
Wander craft shops and bookstores downtown, grab a great sandwich or fresh baked goods at Amy's, indulge in an authentic Mayan meal at Three Stones, or dine at any of the dozen other forward-thinking or homey restaurants right in town. You'll be well placed for your explorations within town or further if you stay at the Latchis Hotel, the delightfully refurbished Art Deco hotel in the center of town. Some rooms even include a glimpse of the mighty Connecticut River, New Hampshire beyond. And you'll be adjoining the Latchis's lovingly restored Art Deco theatre, where first-run movies, performances by local and traveling artists, and community forums are held.
Visit Old Bennington
From there, you might head over the twists and drops of Route 9 to Bennington. Its downtown has enjoyed a revival in the past few years that makes it worth a wander, but don't fail to make your way to Old Bennington, where well-maintained 200-year-old homes line the streets, and the Bennington Battle Monument overlooks everything, including the cemetery where Robert Frost and his family are buried. Vermont is full of picturesque old graveyards, there for the stopping by at your whim if you like that sort of thing—and I absolutely do.
See Manchester
Then head up historic Route 7A for a pleasant drive past farms and fields to Manchester. It's home to Orvis Outfitters, the Northshire Bookstore, and countless outlet stores and restaurants. It's also the location of Hildene, the home of Robert Todd Lincoln, or the only child of Abraham Lincoln who lived to adulthood. Robert faced his father's assassination, his mother's mental struggles, and political backlashes from his unfortunate role opposing the Pullman Porters' strikes. A tour will help you understand why the peace and beauty of Hildene offered him a beloved refuge.
Mt. Equinox
Then consider paying the fee to drive up the private road to the top of Mt. Equinox for dramatic views of the Taconics and New York State on one side and the Green Mountains of central Vermont on the other. Below, you'll see the village of Manchester in one direction, the Carthusian Monastery in another. Make it all a much grander visit for yourself by lodging at the Equinox Resort and Spa, offering luxuries since the 1800s and home to Marsh Tavern, where Vermont's Revolutionary (and pugnacious) Green Mountain Boys once congregated.
Head to Woodstock
Heading north and then east on Route 4 will take you to Calvin Coolidge's birthplace, an actual tiny but thriving town alongside the historic home where he was sworn in by lamplight, past the Long Trail Brewery and Shackleton-Thomas furniture and pottery, and on to picturesque Woodstock. There you'll find another Town Green with fine old brick Federal era homes, Billing's Farm, where you can see prize dairy cows, an excellent farm museum, and the Rockefeller Mansion, once home to conservationists Laurance and Mary Rockefeller and now part of the National Park system. Across the street, the Woodstock Inn invites you to linger for a night or more for comfortable, spacious lodging with excellent dining and a resort feel.
See the Smallest State Capitol
You could consider going north from here to the lovely capital Montpelier (with the smallest population of any state capital in the US at under 9,000), the tourist and skiing mecca of Stowe, and into Burlington, the vibrant college town on the shores of Lake Champlain and our biggest city with fewer than 45,000 residents. But that's if you have the time.
Apple Blossoms
If you have less than a week, I'd suggest heading back into southern Vermont. Fill your car with gas and see what happens when you point it down the various state highways and the many well-maintained (as long as you don't come in March and April's "mud season") dirt roads. If it's mid-May, you'll be blessed with the sight of apple blossoms everywhere. June will bring the cherries and lilacs, with wildflowers running riot all through the summer. You might see a deer or a fox or a flock of turkeys cross your path, or even a black bear or coyote. Birds will sing to you along your way, and the air will be chilly at night but full of fragrant warm breezes in the day. You'll feel like you've earned paradise, as I do every year after a prolonged gray winter of too much cold and snow.
Grafton
And you might end up in my own little town of Grafton. Just over 700 of us live here full time, but there are lots of second homeowners from around the world, some of whom rent their homes to travelers for short stays, and our very own Grafton Inn welcomes visitors with comfortable rooms, fine dining, and a pub. There's no delivery pizza here, no flashy nightlife, but the recently revamped Grafton MKT keeps us in necessities when we don't want to drive half an hour to a larger store, and their breakfasts, specialty sandwiches, and frequent evening barbecues, beer tastings, and other events in the spring and summer make for a merry community.
And then, I say again, wander: down the road, past the Saxton's River (rushing in spring, placid in summer), the cheese factory, and the Grafton Trails and Outdoor Center, then maybe on up to Turner Hill, home for a century to escaped slave Alec Turner and his family and now to the busily landscaping beavers who've taken it over. Take your time. I just might be the "local" you pass by, also on foot, breathing in and listening and looking to my eyes and heart's content. We'll give each other a little wave, both in on the secret now.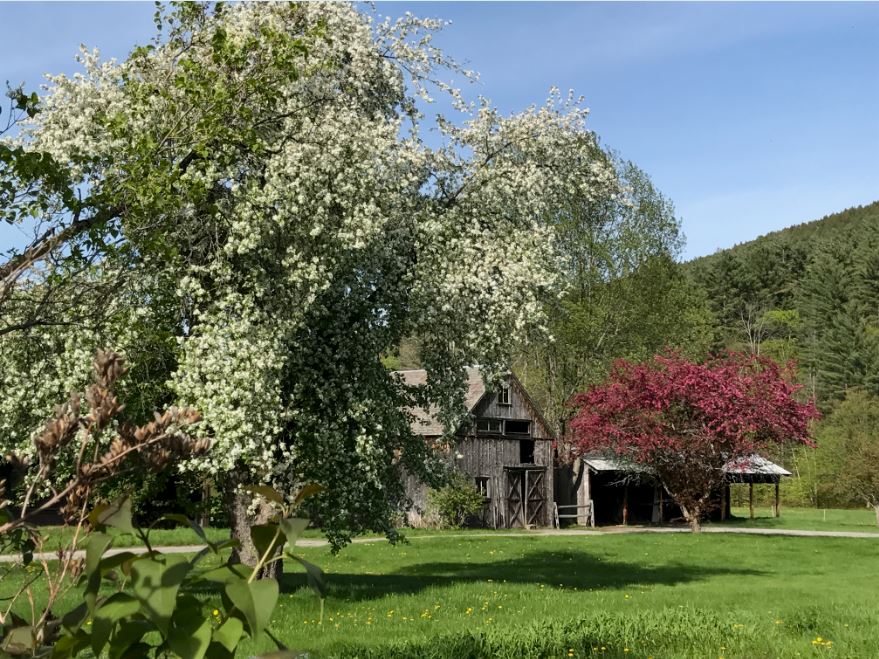 Read Next:
Shooting Landscapes: Tips to Improve Your Photography
14 Great Trips with Grandkids in the United States