Just to set the record straight: my idea of camping is to stay at something other than a 5-star hotel on a floor that is not concierge level. So imagine my surprise when I traveled to Africa and Morocco and stayed at tented camps that provided great service, ambience and food. Could this experience be replicated in the United States or United Kingdom? Are there places where you can experience nature in all its glory, but not have to use an outhouse? Guess what: the answer is a resounding yes.
Location, Location, Location
Glamping is now a thing—a specific form of travel. Not exactly camping—but glamorous camping. And the options in the USA are limitless. I think one of the best options for those that are looking for a 5-star luxury stay is located in Montana at the Paws Up Resort. There you can have a sturdy canvas tent with multiple bedrooms, air conditioning or heat, full bathroom and even camp butlers. They even call it "The American Safari." And to top it off, your kids and your dog are welcome.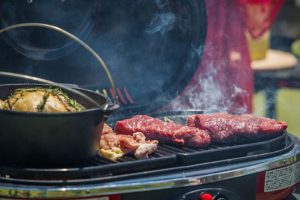 You can fly fish, horseback ride and even take an ATV tour or hot air balloon ride. We enjoyed the Montana Master Chefs weekend—a real gathering of foodies for those that also want to experience the great outdoors. They also have a Montana Grillers weekend for the grill fanatics. You can arrive by direct flights from most US major cities to Missoula, Montana's international airport, where Paws Up will pick you up and deliver you to your tent. Plus, if some want to "glamp" and others prefer a typical resort, both are offered.
For other similar experiences, try the Fireside Resort in Jackson Hole, Wyoming near Yellowstone or the Dunton River Camp at Cresto Ranch Colorado with views of the Rocky Mountains. What a great way to experience these national parks. In Texas, travel to the Hill Country for a weekend where you can stay in traditional teepees or a covered wagon. And if you have a desire to stay in an Airstream trailer, check out an AutoCamp in Santa Barbara or on the Russian River north of San Francisco. After staying there, you can decide whether you want your own Airstream to travel the nation. There are many websites (including glamping.com) that provide alternatives. But be careful: many are rustic, some are actually cabins and many do not have the real luxuries that true glamping requires.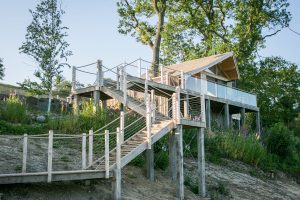 In the UK, you can find similarly glamorous locations like Oaklands Glamping & Treehouse in mid-Wales, an adult-only glampsite offering large, comfortable tents as well as the treehouse. You'll fall asleep in Egyptian cotton sheets listening to the far off sound of a steam train.
Or, try Kudhva in Cornwall. An eco-friendly coastal retreat with architectural cabins that sit high on wooden stilts. Floor-to-ceiling windows give you a remarkable view of the countryside. There's also a hot tub and bar.
So why go glamping if you can stay at a resort? Perhaps the adventure aspect, the sense of nature and the outdoors, and the feeling that you are returning to a more simple time (even though your cellphone may still work). Whatever your reason, it can be lots of fun, it is a great adventure for the entire family and it can provide you with some interesting stories and great memories. And the bonus: you can call the butler if you need some extra blankets.