The snow is falling right now in the mountains of northwestern Wyoming. For many lucky people, that means one thing: Time to plan a Jackson Hole winter getaway. Whether you want to stay awhile or drop in for a long, action-packed weekend, this cosmopolitan enclave offers some of the finest winter activities found in the West.
Summer brings millions of visitors who want to experience national parks along with the area's trails, rivers, and inviting climate. But a Jackson Hole winter transforms this tiny resort town into something magical. There's nothing quite like a walk by moonlight, surrounded by a forest so quiet you can hear fat snowflakes falling. The intense sun gives the snow its sparkle, and steam rises from meandering rivers. The landscape alone deserves your attention, but the outdoor experiences you'll find in the region make this place exciting and special. Need more convincing?
Favorite Excursions for a Jackson Hole Winter Adventure
Alpine Skiing
You'll find the area's stellar downhill skiing at three distinctly different local resorts. Jackson Hole Mountain Resort in Teton Village has a reputation for snow that's steep and deep, but it also offers plenty of intermediate runs if you're not a black-diamond skier. Head to the recently expanded Snow King Resort for in-town skiing. The mountain rises sharply, and there are a limited number of runs, but the King's convenience and laid-back atmosphere can't be beaten. If you have some time to spare, Grand Targhee Resort in Alta, Wyoming, delivers plenty of intermediate skiing and a massive view of the back of the Grand Teton, the most prominent peak in the Teton Range. The terrain here lives up to the hype. Don't miss it.
Grand Teton National Park
One of the top ten most visited national parks in the country, Grand Teton draws serious outdoor athletes as well as those who prefer a leisurely drive or stroll to take in the ever-changing sights. Look for Taggart Lake trailhead—one of the most accessible trails during winter for experiencing the park under your own power. Beginning in late December, rangers offer two-hour guided snowshoe walks four days a week. You can also rent snowshoes at Skinny Skis, just off the town's antler-arch square, and make your way to the lake without a guide. Often, someone will have already broken a trail for you.
Teton Park Road, the route that parallels the base of the Teton Range, closes each winter from the Taggart parking lot to Signal Mountain and becomes one of the best recreation spots in the valley. Fifteen miles of groomed track designed for cross-country skiing, skate skiing, snowshoeing, and walking gives greater access to this spectacular park in winter. The regular grooming is a result of an innovative partnership between the park and its fundraising partner, Grand Teton National Park Foundation. Find grooming updates on the foundation's Facebook page.
Yellowstone National Park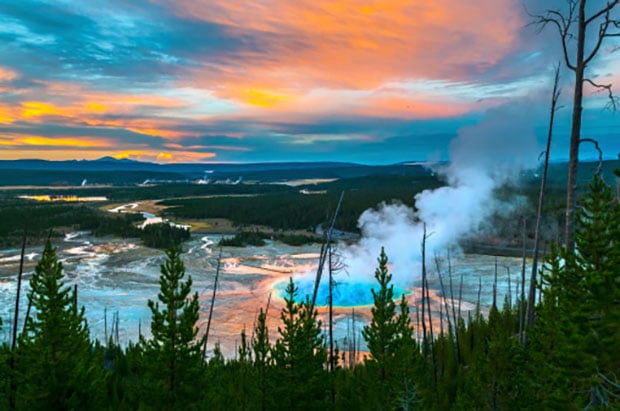 See our nation's first national park in its steaming geothermal glory via guided snowmobile and snow coach tours to the geyser basin and Old Faithful, Yellowstone's Grand Canyon, and more. Have an amazing experience on a one-of-a-kind snow coach safari hosted by Teton Science Schools, an outdoor education center based in Jackson. You could also partake in a single or multi-day outing led by naturalists from mid-December to mid-March. If you prefer to walk, snowshoe, or ski rather than ride, TSS guides also provide an educational/recreational trip to Yellowstone with an overnight stay at the Old Faithful Snow Lodge.
While independent travelers on snowmobiles used to be a more common sight in Yellowstone, you can still go with your family and friends through the Snowmobile Access Program. The number of these unique tours is limited, and they are only allowed if you are awarded a permit through a lottery system.
Wildlife Watching
The valley's vast wilderness provides a home to animals, large and small, and you can often see many species roaming freely within the area's rich ecosystem. While the chances are good that you'll spot wildlife in the early morning or late afternoon when they are most active, the best way to find, watch, and learn is with an experienced outfitter. Guides have high-powered spotting scopes and know where wildlife likes to congregate. They'll also share interesting facts about species and habitats, assuring you'll end the day with more than beautiful photos.
Try Teton Science Schools' Wildlife Expeditions, the valley's oldest wildlife outfitter, Jackson Hole Wildlife Safaris, or Buffalo Roam Tours.
Photography Outings
No matter where you turn, the Jackson valley offers beautiful vistas that are yours for the taking if you're carrying a camera. Frosty conditions during the Jackson Hole winter make for incredible images—snow-dusted trees, wildlife, and rugged peaks—and a chance to experience the tranquility that comes along with the blanket of white. A photography guide will help you find the perfect perspective and share knowledge that will greatly improve your end results.
Talk to Alpenglow Tours for a private excursion into the Tetons. You'll visit some of the area's photogenic hot spots where the company's owner regularly captures stunning images like the one he shared at the top of this post. His customized outings also mean you can linger as long as you need to photograph or simply enjoy the day as it unfolds.
Cross-Country and Skate Skiing
Groomed trails are plentiful in the area and give you ample reason to get outdoors for anything from a quick workout to an all-day affair. If you've never tried cross-country or skate skiing, begin with cross-country on a trail that's set for classic skiing. Once you're comfortable on the narrow, long skis and your confidence is soaring, pick up some skate gear, take a lesson, and move to the wider section of track specifically designed for skate skiers.
Grand Teton National Park's groomed road wins hands-down for best mountain views. It's also relatively flat until you're several miles into the day. Grand Targhee Resort's track provides more challenging terrain, but it's also a stunner in terms of scenery. For an overnight excursion, try Turpin Meadow Ranch. The property offers both flat and hilly groomed Nordic tracks and other outdoor activities, hearty food, and adorable cabins.
Dog Sledding
If you've never glided down a snow-packed trail on the back of a sled pulled by an energetic team of dogs, the time has come to give this ancient form of transportation a try. Led by an Iditarod competitor, Jackson Hole Iditarod Sled Dog Tours will take you on an exhilarating trip through the wilderness to Granite Hot Springs, where you'll soak in the naturally heated water before heading back to civilization.
Aprés Ski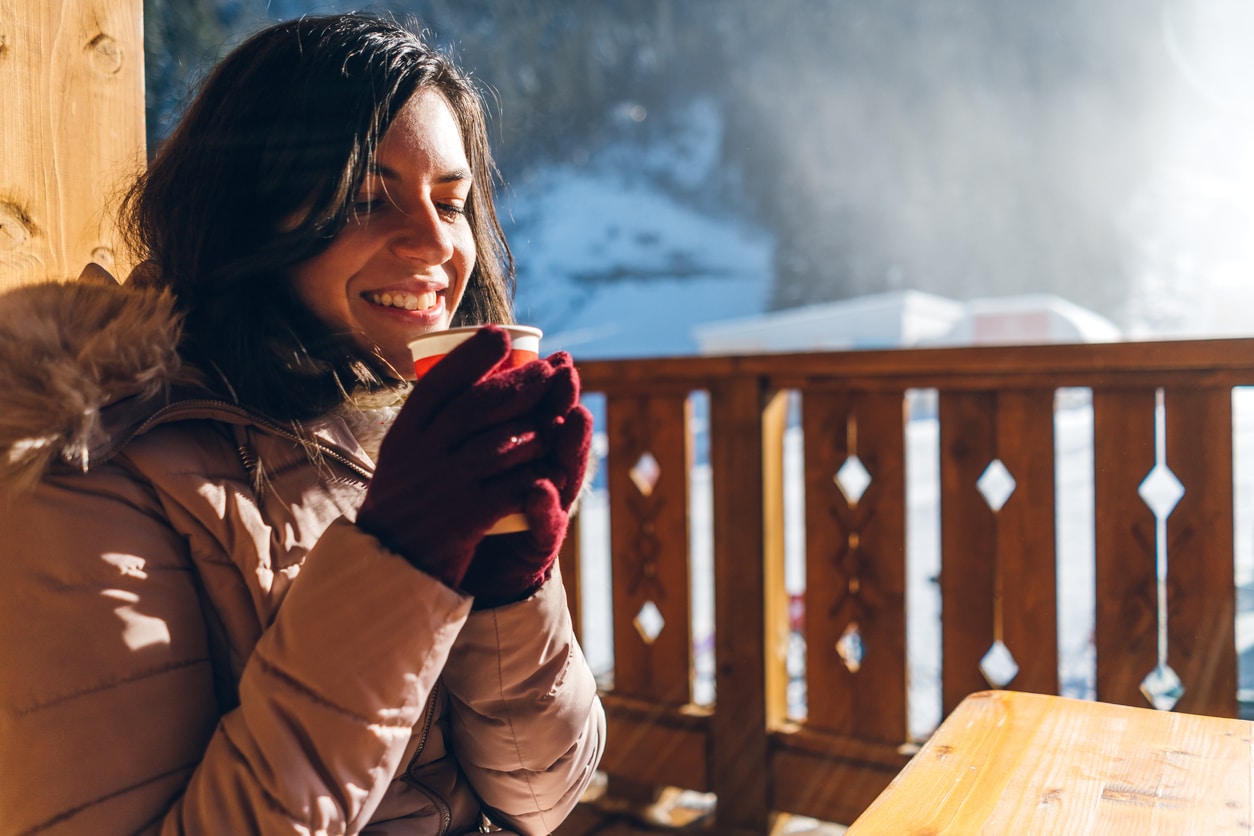 There's no rule that says a Jackson Hole winter snow day requires being out in the snow. If a slope-side après-ski cocktail is more your speed, head to Four Seasons Resort in Teton Village. Their heated outdoor patio with wood-burning fire pits offers the ideal way to appreciate the festive wintry vibe without having to break a sweat or spend the entire day outside.
Sleigh Ride
Approximately 7,000 elk migrate to National Elk Refuge each winter. Located on the edge of town, the nearly 25,000 acres of protected habitat provide a phenomenal spot to take a closer look at these majestic animals. Daily horse-drawn sleigh rides begin around mid-December and give visitors a chance to wind their way through the concentrated herd. Tickets are sold at the Jackson Hole and Greater Yellowstone Visitor Center. Tip: You can often find graceful trumpeter swans on the pond at the edge of the refuge as you drive toward the park.
Where to Stay in Jackson Hole
It's not too late to book your stay for this winter. If you are planning some serious downhill skiing, you will want to stay at the Jackson Hole Mountain Resort in a lux VRBO. The Four Seasons, Snake River Lodge & Spa, and Hotel Terra are all great options with ski in ski out, plus great restaurants.
The best hotel location in the town of Jackson is the new Cloudveil, Autograph Collection is right on the town square and perfect for your winter adventure.
We hope you will find our tips and recommendations helpful for your best winter vacation ever in Jackson Hole, Wyoming!
Read Next:
14 Great Trips with Grandkids in the United States
7 Tips For Traveling With Your Pet