As we're nearing the end of the month, winter weather is settling in, and temperatures are dropping. Well, for some of us… for others, the days are still sunny and warm, and it's still nice enough to get out and about and enjoy the warm weather. One fun way to spend an afternoon is out on the golf course playing a round with your friends or simply enjoying the day. And with the increasing number of indoor driving ranges, it's even possible to keep your golf game up to par even when you live in colder climates. If you're going to hit the links, it's important that you look the part. We've picked out some of our favorite items to help you choose what to wear when you hit the golf course. And if you're one of the unfortunate ones that will have to wait for the weather to clear before you can head to the course, you can still dream about warmer weather and sunny days ahead.
What to Wear When You Hit the Golf Course
Disclosure: This post contains affiliate links.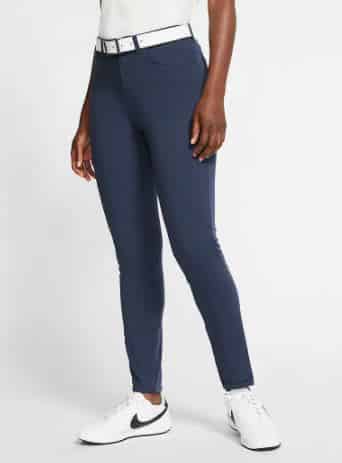 These pants are stylish not only for the golf course but also for everyday wear. It has a denim-inspired look, so it will go with whatever top you choose. Another plus is that it has multiple pockets for storage! These pants are made of the Nike Flex fabric, so it is so comfortable and stretches with you, so it doesn't get in the way of your game.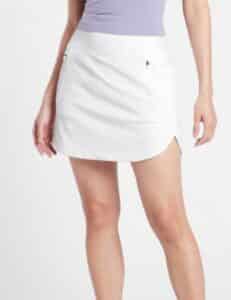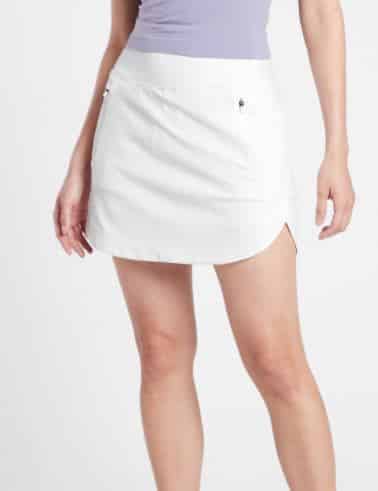 This will be such a staple golfing piece for you! This skort is semi-fitted, making it very flattering but not too tight that it's uncomfortable. It is a nylon/spandex material making it extra breathable, water-wicking, and stretchy. It comes in three classic colors and ranges in sizes XXS-3X.
Who doesn't love looking cute while being sustainable? This stylish dress is made of recycled polyester twill, ocean plastic, and other recycled materials, making it good for the environment and comfortable for you. It gives you an elevated fashion look with a feminine touch. There are also built-in undershorts that allow you to bend and move without worry!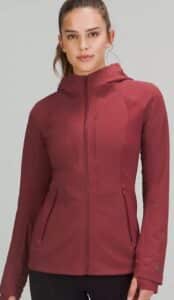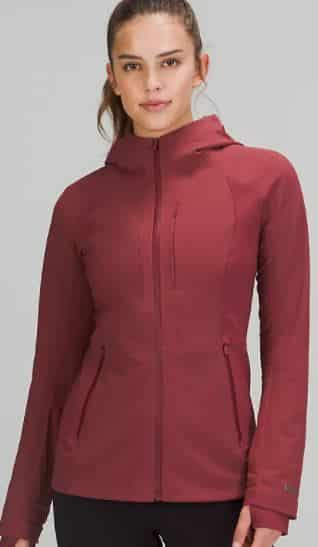 This sleek-looking jacket is perfect for those cold/wet days on the course! It is designed for wet-weather protection. It is waterproof, windproof, stretchy, and breathable, the perfect combination of things to make you comfortable even on your yuckiest days on the course.
This is another cute sustainable piece! Made from 100% recycled polyester, this fabric is both comfy and sweat-wicking. Because of its material and design, this is the perfect piece to layer or wear on its own. It comes in two gorgeous colors.
Of course, a crucial part of your golfing wardrobe is a classic visor. We suggest this one from Adidas! Again, it is made with recycled materials, and it's one size fits most with the adjustable Velcro band. It is moisture absorbing, keeping you dry even whenever you are sweating. Its wide brim shades your eyes from the sun so that you can focus on your swing. It comes in three classic colors.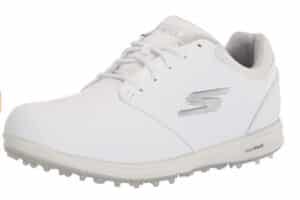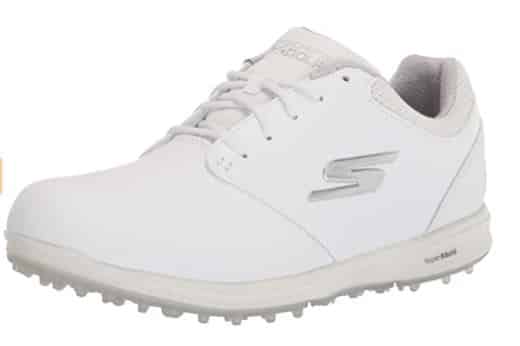 These shoes are perfect for golfing. They have a synthetic upper, a Goga Max insole, and Hyper Burst cushioning, making them super lightweight and comfortable. They are also highly responsive and waterproof. These awesome shoes will be your favorite on the course!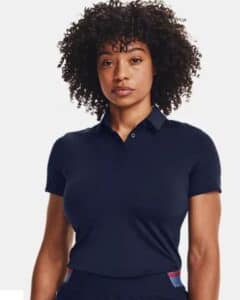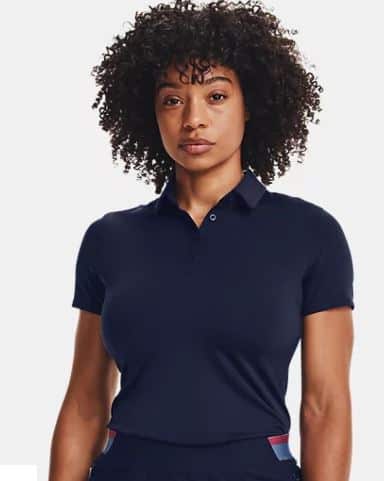 We love wearing this under armor polo on the course! It is extra-stretchy and breathable, so it moves with your body, not against it. This fabric is polyester and wicks away sweat, and it also protects your body against the sun's harmful rays! There are so many good reasons why we love this shirt.
These shorts are both comfortable and sustainable! They are made from recycled materials into a soft knit that is super stretchy and lightweight. These are perfect for those beautiful warm days on the course!
We love these incredibly stylish and comfortable shoes. They have a fluidform technology that provides you with incredible comfortability, stability, and flexibility. They are also waterproof and breathable! These shoes are great to wear every day and especially on the golf course.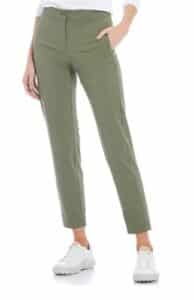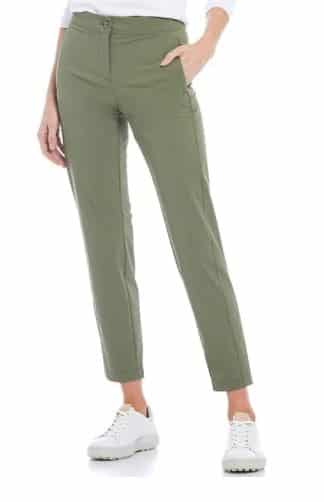 These pants will become a favorite piece of yours, not just on the course but in your closet! The four-way stretch fabric makes them super flexible and comfy, and they are also made with a moisture-wicking fabric that will keep your sweat away, keeping you comfortable. These pants will make you feel polished and ready for whatever your day holds!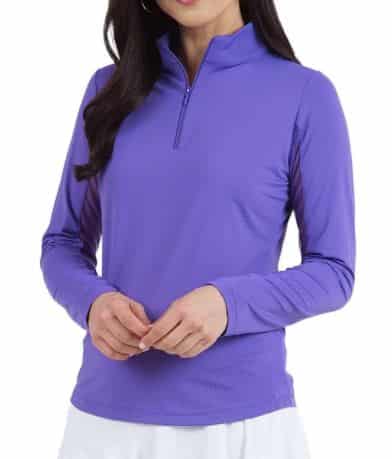 This is one of our favorite standout shirts for the golf course! It is a long sleeve, mock neck, with zipper detail at the top. This is one of our favorites because you can wear it alone or layer it below or on top of your other pieces to keep you warm. It is a nylon/polyurethane blend making it very comfortable and lightweight. It comes in 15 beautiful colors.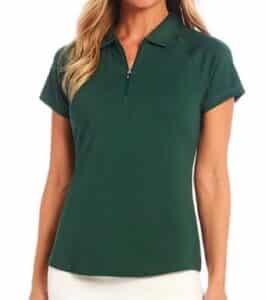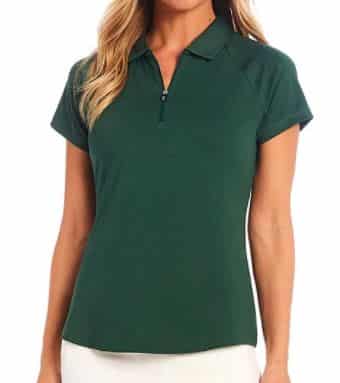 This is another polo that we are obsessed over. It is so comfortable, stretchy, and durable. It also has UV Sun Protection in the shirt, which is wonderful for those sunny days on the golf course. This polo is comfortable and comes in eight eye-catching colors that are sure to make a statement.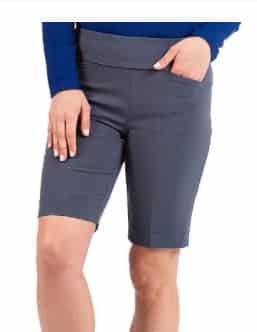 These shorts are great for the golf course because they are stretchy, comfy, lightweight, and breathable. They are also stain-resistant and offer sun protection, two advantages for playing golf.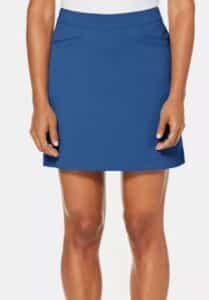 This is such a classic golf skort. It is made of sweat-wicking material, ensuring that you do not appear sweaty. We love the tummy control that this skirt provides, and it's comfortable and stretchy. It also has built-in shorts, so you don't have to worry while you are working on your swing.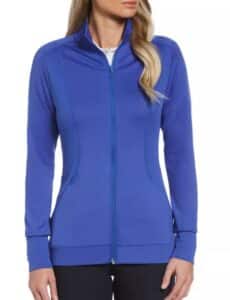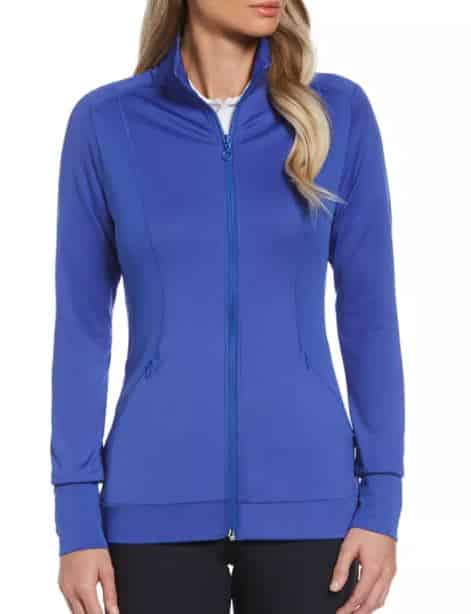 This trendy jacket will give you a little warmth on those chilly days or would be a great layering piece. This jacket is lightweight and super stretchy, and it also has moisture-wicking fabric to keep your perspiration away.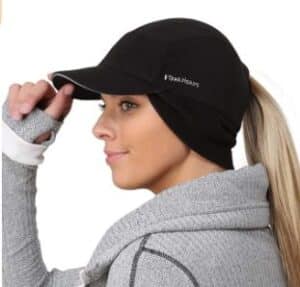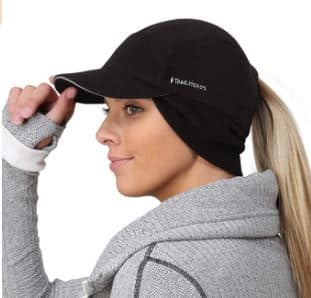 This is one of our favorite hats for both on and off the course during those colder days. You can wear it like a regular ball cap, but if it starts to get super chilly, you can pull the drop-down fleece to cover both your ears and back of your neck! It is a polyester/spandex blend fabric, making it comfortable and stretchy. This will definitely be your new go-to hat!
There are many golfing gloves to choose from, but these are our favorites. They have leather on the thumb and palm, giving them enhanced durability as well as a breathable mesh that improves your comfort and flexibility. They also have a secure closure and provide an awesome fit.
Read Next:
Chic Pieces For Your Fall Wardrobe
18 Top Walking Shoes for Overweight Women