Keeping the romance alive is integral to any relationship, and there are few better tools in our relationship toolbox than a fun date night. It allows us to relax, unwind, and catch up with our loved one away from the usual setting. Depending on your location and interests, there are a vast array of ideas to get out and enjoy your partner and have a little fun – and you need to dress the part to make the date a successful one. We've recently showcased a wide range of dresses that would be great for a fun date night – from maxi to beach to polka dots – but with the evenings cooling down, we thought we would showcase 5 date night outfits that include a great pair of jeans.
Whether you prefer cropped jeans or a pair of white pants, we've got you covered with the best tops and accessories to pair them with. Now get out there and have some fun!
5 Jean-Inspired Outfits to Rekindle the Romance
Disclosure: This post contains affiliate links.
Classically Casual
The jeans in this outfit option should run about ankle-length – perfect to showcase the beautiful wedge sandals. The simple white sleeveless top works great with gold accents and neutral accessories, so you can get out for a casual night with your beau while still looking fabulous.
Jeans, $99 | White Blouse, $59 | Brown Wedges, $79.99 | Brown Crossbody, $180 | Gold Earrings, $150 | Gold Bracelet, $336.75 | Bronzer, $53.20
Beach Chic
It's often hard to find a pair of flattering white pants, but we think this pair is a winner. Match it with the button-down denim top and some simple white slides, and you'll be ready to hit a beach-front bar or a concert in the park.

White Jeans, $39 | Denim Top, $44 | White Sandals, $155 | Crossbody, $495 | Earrings, $54 | Gold Ring, $90 | Tinted Moisturizer, $37
Elevated Elegance
If you're heading out to a hip new restaurant or club and want to kick your fashion up a notch, consider dressing in a fun pattern. While the shirt and accessories will draw attention, pairing them with simple black jeans and low-heeled pumps will keep the look from being too exaggerated. Keep the fun level elevated with a bright red lipstick, the perfect dash of color for this daring outfit.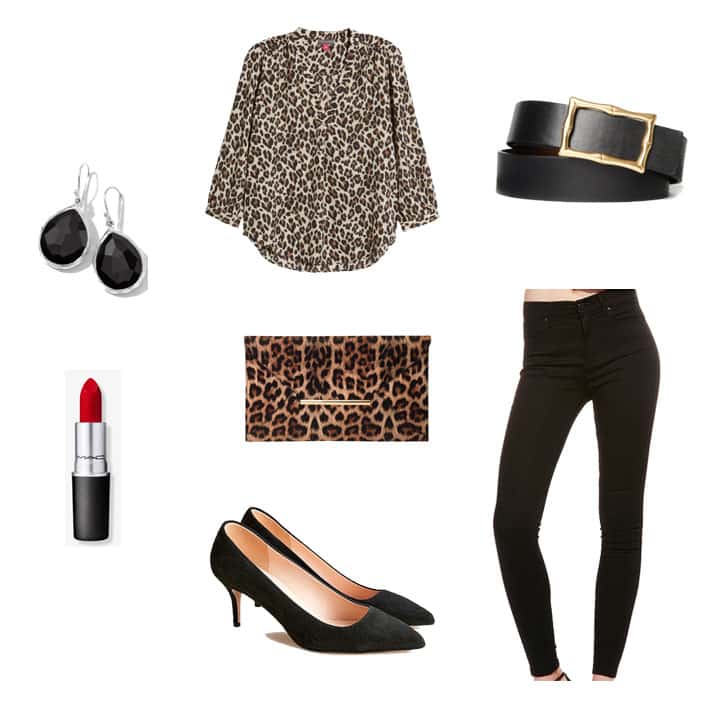 Black Denim Jeans, $128 | Leopard Top, $74 | Black Belt, $98 | Black Heels, $228 | Leopard Clutch, $39.95 | Earrings, $395 | Red Lipstick, $21
Colorfully Cute
When it comes to jeans, my personal preference edges towards either a bootcut or flared style. When paired with a colorful top and neutral accessories, this look is perfect for a casual meal or evening sipping a cocktail on the patio. It'll allow you to stay comfortable while still turning some heads when you walk through the door.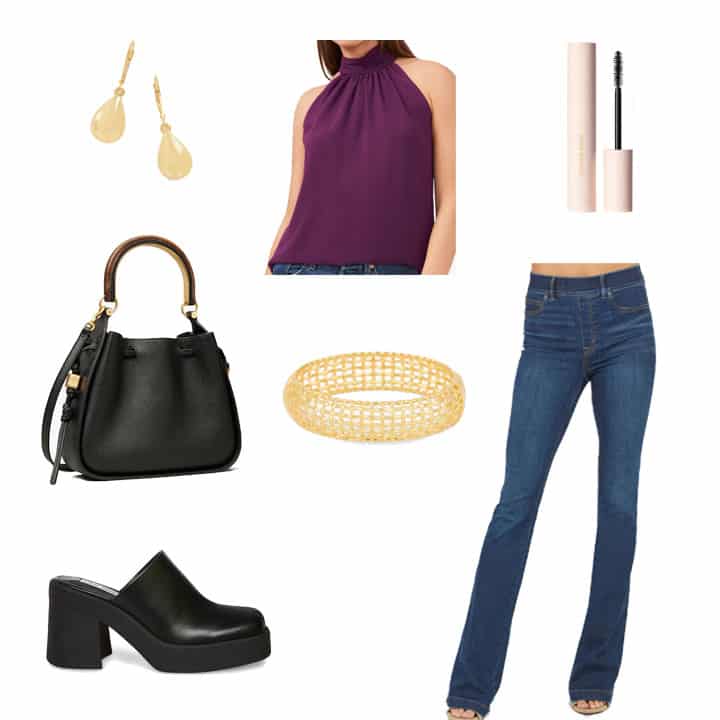 Flare Jeans, $148 | Burgundy Top, $59 | Black Clogs, $69.99 | Gold Earrings, $49.50 | Bracelet, $39.50 | Black Bag, $498 | Mascara, $20
Neat and Natural
Cropped pants are definitely in this year, and they're perfect for late summer days when the afternoons are warm but the evenings are cooling down. While the jeans will pair perfectly with the neutral accessories and brown slip-ons, the emerald top will add a pop of eye-catching color that's sure to draw some attention.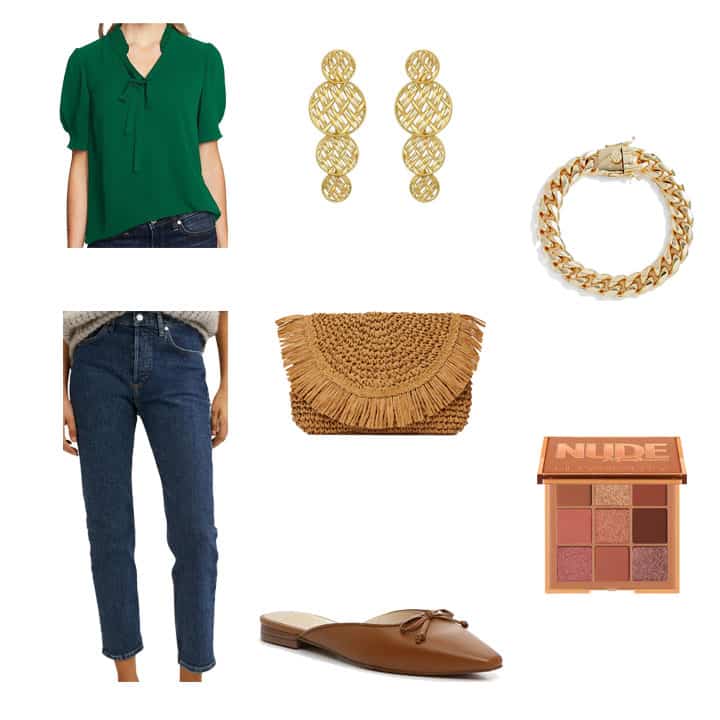 Crop Jeans, $59.99 | Green Blouse, $79 | Brown Slip Ons, $69.99 | Clutch, $88 | Gold Earrings, $185 | Gold Bracelet, $110 | Eye Palette, $29
Read Next:The Best White Jeans for WomenDesigner Jeans That Are Worth The InvestmentThe Best Butt-Lifting Jeans For Women Over 50