From the days of the Flinstones variety, we were told it was important to make sure we get enough vitamins every day. One of the most important, also offered to us in the form of copious amounts of orange juice, was vitamin C. That still holds true today, and as we get a bit older, it turns out that a dose of C could be an important tool in our battle against dry, brittle hair.
Hair is a nonessential tissue, which means it doesn't draw any nutrients if your body is lacking in another area. This is especially unfortunate because hair cells are the fastest-growing cells in our body, so if they aren't getting adequate amounts of nutrients, it's going to show. These days it's not uncommon to style our hair into a damaged state by having color treatments, blow drying it, using a curling iron, or doing any of the other activities we do to our hair. These actions, while beautifying, are damaging and cause our hair to need more nutrients than ever.
Vitamin C can play a vital role in the health and overall appearance of our hair. It's integral for the proper absorption of other nutrients as well, including iron. Because vitamin C is water-soluble, our bodies cannot make it on their own, so we have to find various methods of making sure we get enough of it each day. When it comes to vitamin C deficiencies, you can experience a myriad of hair issues if you're in short supply. These include hair loss and even the inability to grow hair past a certain point. These shortages can come from either our diet being inadequate or our body not being able to absorb it fully.
Causes of Vitamin C Deficiency
Vitamin C deficiencies are caused by a variety of reasons. Diet, lifestyle choices, and even cooking methods can play a role in causing a shortage. Did you know that overcooking a meal can cause the food to deplete the level of vitamin C? Shortages in your diet, or having an eating disorder such as anorexia or bulimia, can also lead to a lack of vitamin C. Finally, the lifestyle choices we make, including smoking or alcohol abuse, can lead to a lower absorption rate of vitamin C. The same goes for various illnesses.
Effects of Vitamin C Deficiency
Having a deficit of vitamin C can lead to a variety of health woes. Included in this are anemia, fatigue, sore arms and legs, decreased red blood cells, gum disease, and even sudden weight loss. It can also have physical effects, like dry, brittle hair. Extreme deficiencies in vitamin C have also been linked to depression or even cognitive impairment.
Treatments
For now, we'll focus primarily on the treatments that are directly associated with the effects on hair. Keep in mind that many will also positively affect other issues you might experience because of a vitamin C deficiency, but we'll mostly look at how hair is involved.
To start, supplements and a healthy diet can help alleviate many of the issues associated with a lack of vitamin C. Iron supplements intended for hair growth also must have vitamin C to help with the absorption of the iron. Some supplements that we recommend include Viviscal Professional or Philip Kingsley Tricho Complex. When it comes to dietary choices, oranges, lemons, guava berries, broccoli, peppers, cauliflower, Brussel sprouts, and fortified cereals are just a few of the foods that are excellent ways to increase the amount of vitamin C in your diet.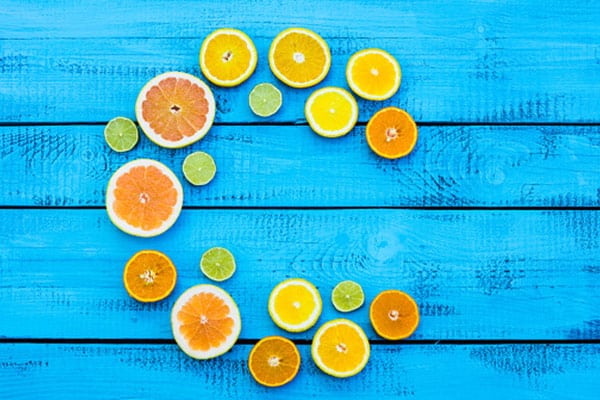 If you find that supplements and dietary changes aren't cutting it, you can consider topical products like Cellex C that's commonly used as an anti-aging exfoliating treatment. Such products can have similar benefits for your hair health. If you want to go directly to the source, consider buying vitamin C powder and mixing it with your shampoo.
You'll find that the process can have a lifting effect on your hair, similar to what might happen when you bleach it. If you're interested in removing color through the use of vitamin C, you'll find that it's a safe and gentle method that won't damage your hair in the process.
Closing Thoughts
Having healthy hair can make a huge difference in our overall appearance. To make sure you're looking your best, treat your hair with the love and care it deserves. This includes having a healthy diet that includes plenty of vitamin C and iron. Try to lessen the use of heating products (or use a heat protectant) and treat your hair to a special mask or conditioning treatment on occasion. You can even try a DIY hair mask using ingredients from your kitchen. One example from stylecaster.com is to blend a pre-boiled, but not fully cooked, sweet potato, a half cup of gooseberries, three strawberries, and half of a small red bell pepper until you get a creamy smooth mixture, then apply to scalp and hair. Leave the mask on for 15-to-25 minutes, then rinse off with warm water.
Now, go enjoy your healthy, beautiful hair!
Read Next:
The Best Haircuts for Thin Fine Hair