With the Fourth of July quickly approaching, we want to help you stay on your diet while still enjoying the delicious food this holiday has to offer. We have our favorite Healthy Braised Ribs recipe to help you enjoy the holiday.
Fall Off the Bone Short Ribs
Ingredients
3 Bone-in short ribs (about 2 pounds)
1/2 teaspoon salt
1/2 teaspoon black pepper
3 tablespoons extra virgin olive oil (we recommend De Cecco)
1/2 white onion diced
1-2 cloves garlic crushed
1 cup beef broth, can be subbed with vegetable broth
2 tablespoons worcestershire sauce
1 spring fresh rosemary
Instructions
Preheat oven to 350 degrees.
Season all sides of the short ribs with salt and pepper.
Heat a heavy oven safe pot over high heat. Add in olive oil and allow to heat briefly. Sear short ribs in olive oil, about 1 minute per side.
Add in onion and sautee 2-3 minutes. Add in garlic and sautee 1 more minute.
Pour in beef broth and worcestershire sauce. Bring to a simmer, add meat, and place a rosemary sprig on top.
Cover and transfer to the oven for about 2.5 hours until meat is tender.
There you have it! A quick low-calorie recipe that doesn't skimp on flavor.
Black Bean and Feta Quinoa Salad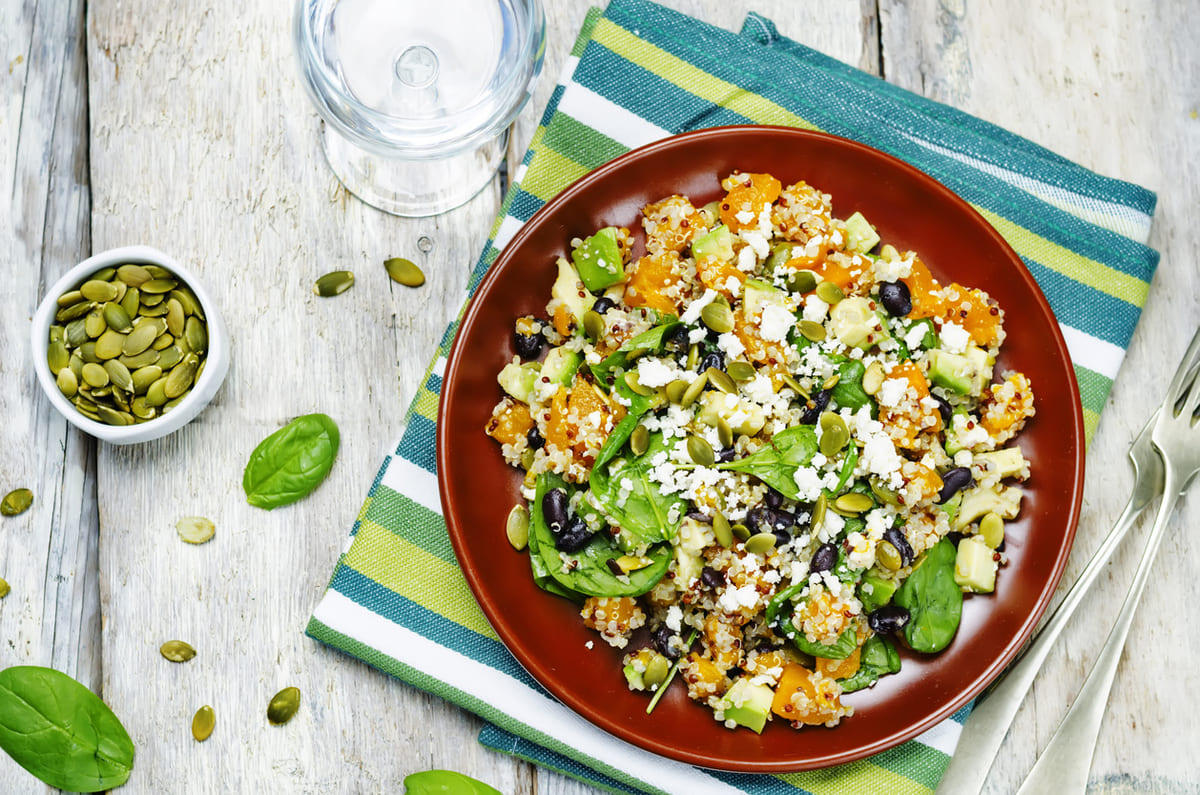 Enjoy your ribs with this delicious side dish from Prime Women's Plate app. It's simple, easy to make, and should be served cold.
Ingredients:
1 cup uncooked quinoa
15 oz can black beans drained.
1 red pepper chopped
1 green pepper chopped
1/2 cup feta
Instructions:
Quinoa
Heat 2 cups of water to a rolling boil.
Add 1 cup of uncooked quinoa. Cover and cook for 15 minutes.
Turn off the burner and let stand, covered for 5 minutes.
Salad
Once the quinoa is cooked, transfer it to a large bowl.
Add in the black beans, peppers, and feta. Stir to combine.
Serve immediately.
Makes 10 servings.
Read Next:
8 Prosecco Cocktails for Spring
Simply Slimming with Recipes for Shrimp
Perfect Summer Recipe: Angel Food Cake with Peaches and Mascarpone