When you think of sipping wine on the patio on a sunny spring day, look no further than a glass of Prosecco. Having become one of the fastest-growing wine categories in the world, its fresh sparkle and affordable pricing make it the perfect spring drink. Prosecco cocktails have become more imaginative than ever, incorporating fresh purees, sorbets, liqueurs, and spirits.
Prosecco DOC sparkling wine comes from the Veneto and Friuli Venezia Giulia regions of Italy. Prosecco Superiore DOCG comes from just two provinces, Treviso of the Veneto between the towns of Conegliano and Valdobbiadene, and the smaller town of Asolo. Prosecco is made from the Glera grape in the "tank method*" of acquiring bubbles and tends to have more fruit and flower aromas than Champagne. It has a slight sweetness that works well with Asian food and cured meats. Drink Prosecco well chilled and as young as possible or within 3 years. Some high-quality Prosecco may be aged for up to seven years.
What's the "tank method," you might wonder? IThe tank method," or Charmat Method, is the name for the sparkling wine-making process used for Prosecco. In the traditional method, as the Champagne region employs, the secondary fermentation takes place in a bottle. With the Charmat method, the base wine, yeast, and sugar are fermented in a closed, sealed tank trapping the bubbles. After the second fermentation is complete, the wine is fined and filtered to remove any sediment while retaining pressure to preserve the bubbles. This method is less expensive and good for aromatic grapes like Prosecco or Asti, where you want to preserve the grape's fresh aromas.
Celebrate spring with these lively Prosecco Cocktails:
Prosecco Royale
The recipe calls for one part crème de cassis, 1 TBSP lemon juice, and top with 3 parts Prosecco. Garnish with a skewer of blueberries. Prosecco Royale is the sister drink to the Kir Royale, which uses crème de cassis and Champagne.
Prosecco Bellini
Invented by Giuseppe Cipriani, the founder of Harry's Bar in Venice, the Bellini's unique pink color reminded him of the toga of a saint in a painting by the 15th-century Venetian artist Giovanni Bellini. Add 3 Oz. of Prosecco, 2 Oz. of fresh white peach puree, and a splash of Peach Schnapps.
Elderflower Prosecco
Start with one part St. Germaine Elderflower liqueur and top with 3 parts Prosecco. Garnish with an edible flower.
New Orleans Prosecco Fizz
Mix 1 part sloe gin (like Sipsmith) and 3 parts Prosecco to make this fizz. Garnish with a Blackberry.
Prosecco Mimosa
These cocktails call for equal parts fresh-squeezed orange juice and Prosecco. There is an option to add a splash of orange liqueur like Grand Marnier or Triple Sec. No need to stir, as the wine could become flat.
Lemon Sorbet Fizz
This makes a tangy drink. Place one teaspoon of lemon sorbet into the bottom of your flute and add a dash of lime cordial over it. Top with cold Prosecco and stir just briefly for the froth. Garnish with a lemon slice.
The Amalfi Coast Sparkler
These cocktails combine two of Italy's most popular drinks. Mix one part limoncello lemon liqueur with 3 parts Prosecco. Garnish with a brandied cherry. Bellissimo!
The English Garden Prosecco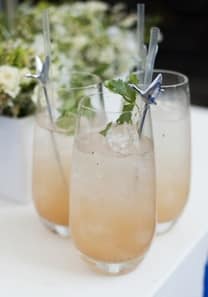 Combine 2/3 Oz. of Gin (like Hendricks which features cucumber and rosehip aromas), 2/3 Oz. of Elderflower Liqueur like St. Germaine, and fill the remainder of the flute with Prosecco. Garnish with a sprig of mint.
Recommended Proseccos
Nino Franco Rustico NV Prosecco Valdobbiadene Superiore, $19.99WE 94 Points
Features a subtle white peach nose with white almond and Bartlett pear crisp palate.
The White Knight Prosecco, NV, $16.99
Tasting Panel 90 Points
Features aromas of acacia flower, white peach, and citrus with lemon flowers on the palate.
La Marca Prosecco, NV, $15.99
Features a ripe citrus and toast flavor with some fresh hints of honey and white flower.
Read Next:
Crostini Recipe with Roasted Vegetables and Smoked Mozzarella
Easy Superfood Recipe: Chickpeas, Kale and Spicy Pomodoro Sauce