Ready or not, summer is here — and it's BBQ and grill time! We've reached out to BBQ cooks, grill masters, and home cooks around the country for tips and recipes for their favorite appetizers, salads, and side dishes.
Get ready to bring a BBQ potluck-ready and people-pleasing dish to your next event!
3 Myths about Grilling Debunked
Cooking with wood has been around for thousands of years – even though we have microwaves and electric ovens, nothing beats the flavor you can add when you cook over an open wood flame. Want smoky flavor? Leroy Hite, the founder of Cutting Edge Firewood, spent the past 10 years creating an exceptional firewood and cooking wood company, and he grills at least 6 nights a week. Read on as Leroy debunks the top 3 grilling myths and offers a few tips:
You should only flip meat once. No! When you're grilling, you should flip your meat multiple times to ensure it cooks evenly and doesn't burn. If you flip it only once, it can burn or dry out.
Gas grills are better than charcoal grills. Not necessarily! Each type of grill has its own unique advantages. In terms of flavor, charcoal or wood-burning grills outperform their gas counterparts. But in terms of ease, gas grills are easier and faster to light than charcoal grills.
You can tell if your meat is done by poking it. Please don't. Different types of meat require different internal temperatures for safe consumption. To ensure your grilled meat is cooked to perfection and safe to eat, use a meat thermometer to read its internal temperature.
Quick Tips for Cooking with Wood
Leroy says, "The size of your cooking wood matters – you want to make sure there's enough wood to provide heat and flavor, and you want to make sure your wood fits with your grills." Here are some tips on how to best gauge the size of wood you need:
Chunks and splits work great with kamado smokers like the Big Green Egg and Kamado Joe.
For larger smokers or open fires, you can use splits or logs.
Keeping the lid closed while cooking with wood creates a more delicious smoked flavor.
Make sure your cooking wood is dry. Chunks of wood have a long burn time which means you don't have to open your smoker lid to add more wood.
Consider the type of wood that pairs best with certain proteins: hickory is bold and pairs well with red meat; apple and cherry are sweet woods that pair well with pork, poultry, and seafood; pecan wood is nutty and works well with all types of protein.
BBQ Potluck Appetizers & Side Dish Recipes
While my home cooking skills are limited to the kitchen, my hubby is seriously an amazing Traeger smokin' and grill BBQ-ing professional.
With our family and friend circle, we attend many potlucks all year round, and I love potlucks, and who wouldn't? All you have to do is bring that one side dish, and you gain an amazing barbecue dish and everyone else's side dish, right?
But then the dilemma. What do you bring? Is it unique enough? Will it turn out yummy enough to even bring? Don't give up! Look at these amazing side dish recipes!
Smoked Chorizo Meatballs
Prefer to bring your own smoked dish? Flip open to page 130 of your new favorite cookbook: Chiles and Smoke: BBQ, Grilling, and Other Fire-Friendly Recipes with Spice and Flavor for Smoked Chorizo Meatballs.
Author Brad Pose says, "One of my favorite dishes that my wife prepares is albóndigas, a Mexican meatball soup. She transforms the typically clear broth into a thicker, spicier version packed with fresh chipotles and tomatoes. We eventually took this idea to the grill to create smoked meatballs with a savory, spicy sauce. The combination of beef and spicy pork chorizo creates an incredibly juicy, savory meatball with a pop of herbs from mint and cilantro. A skillet of sauce is cooked alongside the meatballs, bathing them at the end to incorporate all of the flavors."
SERVES 4–6
INGREDIENTS
Smoked Tomato Sauce
3 tablespoons (45 g) chipotle chiles in adobo
1/2 white onion, diced
4 garlic cloves, peeled
1 can (28 ounces, or 785 g) fire-roasted tomatoes
1 teaspoon smoked paprika
1/2 cup (120 ml) beef broth
Kosher salt
Chorizo Meatballs
1 pound (455 g) ground beef, 90/10 preferred
1 pound (455 g) pork chorizo
2 large eggs
1/2 white onion, grated
1/2 cup (56 g) panko breadcrumbs
1/4 cup (24 g) chopped fresh mint
1/4 cup (4 g) chopped fresh cilantro
2 tablespoons (6 g) dried Mexican oregano
1 teaspoon kosher salt
1 teaspoon ground cumin
1/2 teaspoon black pepper
FOR GARNISH
1/2 cup (8 g) chopped fresh cilantro
INSTRUCTIONS
Prepare the smoker for indirect cooking at 350°F (180°C).
Prepare the sauce. Place the chipotle chiles, onion, and garlic into a blender and blitz to break up the chiles as much as possible. Add the rest of the sauce ingredients and purée until the desired consistency. Taste and adjust. Pour the sauce into a large cast iron skillet or grill-safe pan.
In a large, chilled bowl, combine the ingredients for the meatballs. Using your hands, mix all the ingredients until evenly combined. Taste test the mixture by cooking a small sample in a frying pan on the stove until cooked through. Adjust the seasoning if needed.
Roll the meat into 11/2-inch (3.8 cm) balls and place them on a parchment-lined baking sheet, leaving space between each meatball.
Place the meatball tray and the skillet with the sauce in the smoker, allowing them to cook for about 25 minutes.
Once the meatballs have hit 135–140°F (57–60°C) internal temperature, transfer them to the skillet with the Smoked Tomato Sauce, nestling them in. Continue to cook until the meatballs have reached 165°F (74°C), which should take another 10 minutes or so.
Sprinkle the chopped cilantro over the top.
Smoked Brisket Queso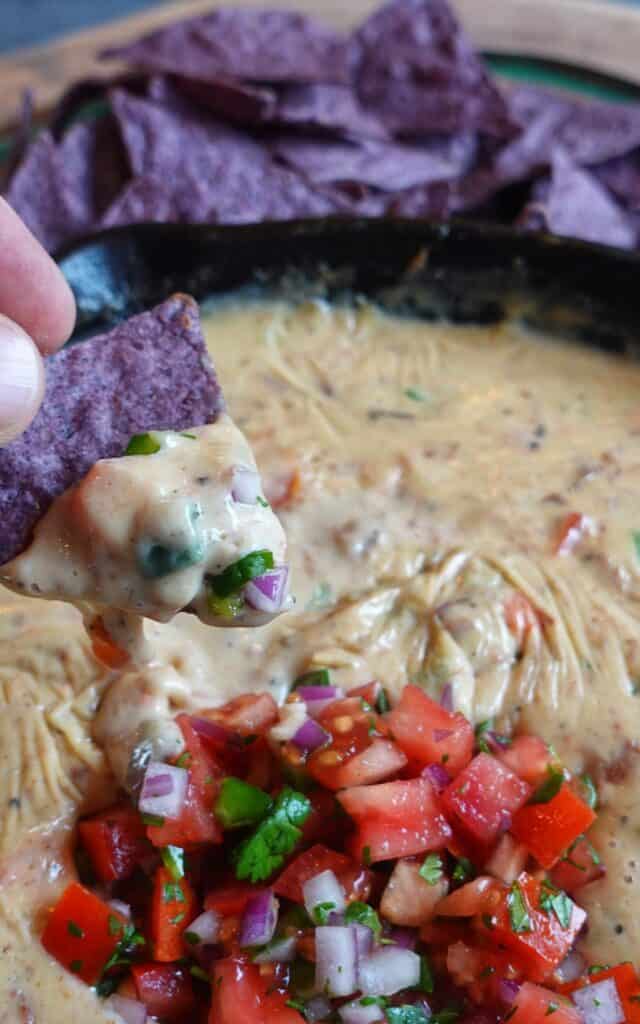 Hello, yummy! This fireside dish recipe from pro chef Derek Wolf is an exciting way to extend the party outdoors. Add some smokey campfire flavor to the mix with Smoked Brisket Queso.
There are few things that go together better than the summer and a big bowl of chips and dip. Featuring fresh ingredients like deli-sliced American and Monterey Jack cheese, juicy brisket, jalapenos, tomatoes, and more, Chef Derek says, "This recipe is extremely easy to make and is packed to the rim with flavor."
*PREP TIME: 15MINUTES *COOK TIME: 1HOUR *TOTAL TIME: 1HOUR and 15MINUTES
SERVES: 10 PEOPLE
INGREDIENTS
4 fresh jalapenos with seeds removed and diced to about ¼"
1 ½ cups Roma tomatoes diced to about ¼"
18 oz good quality white American cheese cubed
10 oz Monterey jack cheese shredded
12 oz chopped brisket
1 cup heavy whipping cream
2 tsp chili powder
½ tsp cumin
1 tsp granulated garlic
½ tsp red pepper flake
½ tsp kosher salt
1 tsp fresh ground black pepper
Blue corn tortilla chips
Fresh jalapeno and tomato or pico de gallo for the topping
INSTRUCTIONS
Start by preheating your smoker to 250 degrees. While it's preheating, add ingredients to a 12″ cast iron skillet. I suggest adding the two different types of cheese, the jalapenos, tomato, and brisket, in their own pile in the skillet. Pour the cream and sprinkle the spices over the entire skillet.
Once your smoker is preheated, place the skillet in your smoker and let it go for about 45 minutes uncovered until the edges start to slowly bubble. Remove from the smoker and stir the ingredients together for 2-3 minutes to fully combine the two cheeses and the cream.
Place the skillet back in the smoker uncovered for another 15 minutes or until the edges start to bubble again. Remove the smoker, give one last stir, and top with the fresh tomato and jalapeno or pico de gallo and serve with the blue corn tortilla chips.
Easy Sweet Coleslaw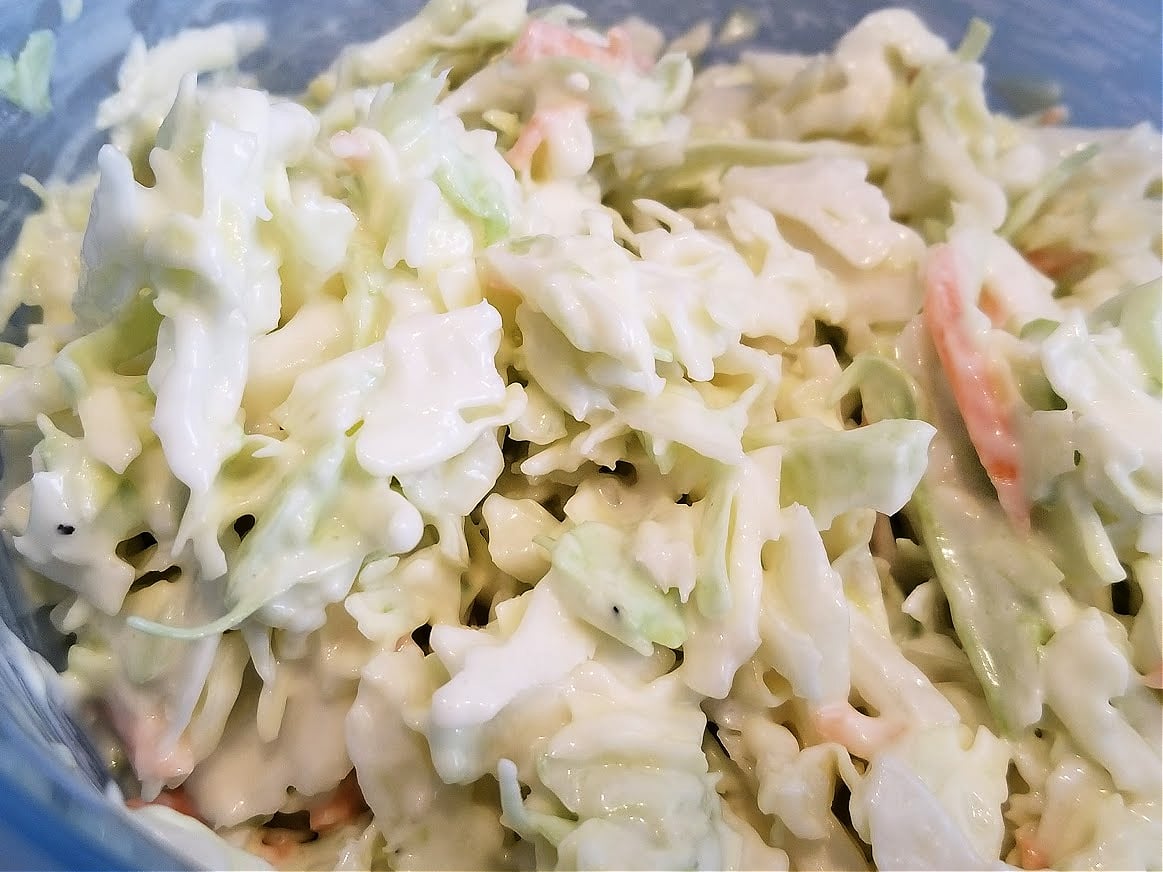 Confession! I LOVE coleslaw — sweet, creamy, and so yummy! It's taken me years to perfect, but I've blended several favorite restaurant-style sweet coleslaw recipes into a family favorite recipe for sweet and simple coleslaw.
INGREDIENTS
1 (16 ounces) bag coleslaw mix
1/2 cup light Olive Oil Mayo
one-half of a large onion, diced*
1/2 cup fat-free sour cream
2 Tablespoons lemon juice
1 Tablespoon apple vinegar
2 Tablespoons vegetable oil
1/2 cup white sugar (adjust according to your family's preferred level of sweetness)
1/4 teaspoon salt
1/4 teaspoon pepper
1/2 teaspoon poppy seeds
INSTRUCTIONS
Combine and toss the coleslaw mix and onion in a large bowl.
In a separate bowl, whisk the remaining ingredients together. Blend thoroughly.
Pour this mixture over the coleslaw/onion mix and toss thoroughly to coat.
Best served when chilled for at least 2 hours.
Seriously, this is so easy to make, and it'll be THE favorite potluck dish of all your friends.
Grandpa Davila's Potato Salad
Looking for some delicious recipes to try for potlucks? Davilla's BBQ is a third-generation family-run restaurant providing award-winning BBQ – and side dishes! The Texan family of BBQ pitmasters shared their family recipe, "Grandpa Davila's Potato Salad," with Prime Women.
"Grandpa Davila's Potato Salad" is a guest favorite dating back to the 1950s when Adrian's uncle owned a restaurant. However, the recipe was created well before then and has been a hit at their family gatherings for generations.
This timeless dish combines potatoes, eggs, celery, pickle, mustard, and touches of sweetness that make it a perfect addition to any summer meal. It's not served hot, but the pickle and the touch of mustard bring some tanginess.
INGREDIENTS
3 pounds russet potatoes, peeled
1 large egg
2 celery ribs, finely chopped
1⁄4 green bell pepper, diced
1⁄4 medium yellow onion, diced
1⁄4 cup sweet relish
1⁄4 cup diced sweet pepper
1⁄4 cup sugar
1⁄2 teaspoon salt
1⁄2 teaspoon freshly ground black pepper
1⁄2 cup mayonnaise
1 teaspoon prepared yellow mustard
INSTRUCTIONS
Bring the potatoes to a boil in a large pot of water and boil until soft, 25 to 30 minutes.
Drain the potatoes, mash them a bit (you want them to remain slightly lumpy), and set them aside to cool.
Meanwhile, bring a small saucepan of water to a boil and boil the egg for 15 minutes. Allow the egg to cool, then peel and finely chop it.
Stir together the egg, celery, bell pepper, onion, sweet relish, and sweet pepper in a medium bowl.
Stir the sugar, salt, and pepper into the cooled mashed potatoes.
Stir the vegetable mixture, mayonnaise, and mustard into the potatoes. Mix thoroughly and serve.
Pesto Caprese Pasta Salad
Courtesy of Xanthe Steele, writer at Foolproof Living, this Caprese pasta salad is fresh and tangy, making the perfect accompaniment for all the BBQ standouts. It's light, herby, and perfect for summer. Whip it up in just 30 minutes so you can dedicate your time to the grill.
SERVES 6
* Prep Time: 10 minutes *Cook Time: 20 minutes *Total: 30 minutes
INGREDIENTS
FOR THE PESTO DRESSING*:
1 ½ cups fresh basil leaves loosely packed
⅓ cup pine nuts or sliced almonds
2 small cloves of garlic minced
2 tablespoons white wine vinegar
3 tablespoons lemon juice
2 tablespoons shredded parmesan cheese
½ teaspoon kosher salt
¼ teaspoon black pepper
⅓ cup extra virgin olive oil
FOR THE CAPRESE PASTA SALAD
1 lb pasta orecchiette, rotini, or your favorite gluten-free pasta
1 ½ lbs cherry tomatoes sliced or cut in half
10 ounces small mozzarella cheese balls or a whole log cut into bite-size pieces
¼ cup shredded parmesan cheese
Handful of fresh basil leaves to use as garnish
Salt & pepper to taste
INSTRUCTIONS
Cook the pasta according to the package directions. Drain and place it in a bowl.
Place fresh basil leaves, pine nuts, garlic, vinegar, lemon juice, parmesan cheese, salt, and pepper into the bowl of a food processor. Pulse 4-5 times to give them a rough chop.
Turn the machine on and while it is running, drizzle the olive oil through the tube. Stop and scrape once and continue running the machine until the vinaigrette is creamy.
To assemble the salad: place the mozzarella cheese and tomatoes into the bowl with pasta. Drizzle it with the pesto dressing. Give it a toss making sure that everything is coated with the dressing.
Sprinkle it with parmesan cheese and taste for seasoning. Add more, if necessary.
Garnish with fresh basil leaves and serve while still warm.
*Store-bought Pesto: If you'd rather use store-bought pesto, you can turn it into a salad dressing by mixing 1/2 cup pesto with ¼ cup white wine vinegar and ¼ cup parmesan cheese.
Make ahead: To make this pesto mozzarella pasta ahead of time, chop up the tomatoes and prepare the pesto. Store them in separate airtight containers in the fridge for up to a couple of days. Then, cook your pasta just before you're ready to eat, assemble the salad, and serve it in a large salad bowl.
Storage: Pesto pasta will stay fresh in an airtight container for up to 4 days.
Freezing: I do not recommend freezing this dish.
Surprise Wedding Mac & Cheese
Say hello to Brian Leigh of B.T. Leigh's Sauces & Rubs from Bowling Green, Kentucky. Brian has created a variety of rubs and sauces perfect for BBQ. He began experimenting with sauces when hosting friends and then started getting orders and decided to create his company. He was a contestant on The Great American Recipe show on PBS, and his sauces and rubs have won several awards.
Brian served this yummy side dish at a cookout when he and his wife Jenny surprised his guests with their wedding! This flavorful macaroni and cheese features just the right amount of kick to pair with your favorite barbecue main dish.
SERVES: 10
*PREP TIME: 25 minutes *COOK TIME: 45 minutes
INGREDIENTS
2 tablespoons flour
2 tablespoons butter, melted
2 cups milk
1/2 cup heavy cream
1 tablespoon Dijon mustard
1 teaspoon salt
1/4 teaspoon white pepper
1/8 teaspoon nutmeg
8 ounces sharp cheddar
8 ounces white cheddar
8 ounces smoked gouda
1 cup ricotta
1/2 cup parmesan cheese
1 8oz can sweet corn
1 8oz can pickled jalapenos
2 cups cavatappi
1 cups cauliflower, roasted
1 cup of panko breadcrumbs
8 ounces Edam cheese, shredded
DIRECTIONS
Break cauliflower into small florets, toss in oil and salt, then, using a baking sheet, roast off in a 400-degree oven until golden brown.
Using a large pot and a colander, cook and drain cavatappi, reserving about a cup of pasta water.
In a large saucepan over medium heat, melt 2 tablespoons of butter and mix in flour to create a roux.
You will want to cook the roux until it is a light blond color with a slightly nutty smell.
Add the milk, stirring constantly until a sauce develops.
Once the milk is incorporated, add the heavy cream until incorporated.
Add the Dijon mustard, salt, white pepper, and nutmeg.
Begin adding the cheese – start with the white cheddar. Add a few ounces at a time, continually stirring until incorporated.
Once the white cheddar is melted, add the parmesan – once the parmesan is incorporated, add the sharp cheddar.
Remove the pan from the heat to avoid breaking the sauce. A trick to help not break the cheese sauce is to keep the pan about a quarter onto the burner and stir from the heated end into the non-heated side. This should distribute the heat and act as a safety net in breaking the sauce.
If the sauce is too thick, add some of the reserved pasta water. Don't get dinged like I did for making it too thick 🙂
At this point, the cauliflower should be perfect. Pull that from the oven and add to the sauce mixture along with the jalapenos and the corn.
Stir in the drained macaroni, the smoked gouda, and the ricotta, folding gently.
Transfer the mixture to a baking dish, spreading it into an even layer.
Mix the edam and the panko together and spread on the top of the macaroni.
Bake until golden brown, approximately 30 minutes at 400 degrees.
Fiesta Corn Salad with Avocado
Nicole Masson, recipe developer and creator of Fresh Apron, offers two of her favorite BBQ Side Dish recipes for Prime Women.
The first is the Fiesta Corn Salad with Avocado, which is a light summer side dish. It's bright, tangy, and filled with fresh summer vegetables. Bring it to your next BBQ, cookout, or picnic!
INGREDIENTS
3-4 ears of fresh corn, husked (should yield about 2 cups of kernels)
½ cup diced cherry tomatoes
2 tablespoons diced red onion
1 jalapeno, minced
½ avocado, diced
¼ cup cilantro, roughly chopped
juice of ½ lime
1 teaspoon red wine vinegar
⅛ teaspoon chili powder
⅛ teaspoon cumin
sea salt, to taste
INSTRUCTIONS
Bring a large pot of water to a boil. Add corn, and cook for 3-4 minutes, until crisp-tender and bright yellow. Drain and let cool for about 5 minutes, until corn is cool enough to handle.
When the corn has cooled, cut the kernels off the cob and place them in a large bowl. Add the remaining ingredients to the bowl with the corn and toss to combine. Season with sea salt to taste.
Serve and enjoy!
Cucumber Strawberry Salad with Arugula
The second recipe from Nicole at Fresh Apron is the Cucumber Strawberry Salad with Arugula, a recipe you'll want all spring and summer long! It's super fresh, sweet, peppery, and tangy.
INGREDIENTS
For the Balsamic Vinaigrette
2 tablespoons extra virgin olive oil
1 tablespoon balsamic vinegar
1 teaspoon honey
1 clove garlic, minced
salt and pepper, to taste
For the Salad
1 ½ cups baby arugula
1 cup strawberries, sliced
1 cup cucumber, chopped
2 tablespoons crumbled goat cheese
INSTRUCTIONS
Make the Balsamic Vinaigrette. In a small bowl, whisk together the olive oil, vinegar, honey, and minced garlic. Season with salt and pepper to taste. Set aside.
In a large bowl, toss the arugula, strawberry slices, and cucumber. Top with crumbled goat cheese and drizzle the vinaigrette over the top. Gently toss one more time.
Serve immediately and enjoy!
Grilled Watermelon Salad
Shelly Martin, an Experienced Chef from Easy Kitchen Guide, a blog About Kitchen, Food, and tips related to kitchen tools, suggests this simple and refreshing recipe for Grilled Watermelon Salad.
INGREDIENTS
4 cups cubed watermelon
1/2 cup crumbled feta cheese
1/4 cup chopped fresh mint
1 tbsp balsamic vinegar
1 tbsp olive oil
Salt and pepper to taste

INSTRUCTIONS
Preheat the grill to high heat.
Grill watermelon for 1-2 minutes per side until slightly charred.
In a large bowl, toss grilled watermelon with feta cheese, fresh mint, balsamic vinegar, olive oil, salt, and pepper.
Serve immediately.
Crispy Roasted Hen Of The Woods Mushrooms
Looking for something simple but tasty? New Englander Mia Jones and her cooking and recipe website Molé in the Wall feature the rich and bold flavors of Mexican cuisine with the comforting, hearty dishes of New England, including this dish, a delicious crispy roasted mushroom snack or side dish with only four ingredients. Bonus: It's garlicky and spicy.
NOTE: Hen of the Woods is a special mushroom. They are the perfect mushroom to cook up crispy and eat alone as a snack. Not only are the texture, shape, and flavor perfect for this recipe, but they offer a host of health benefits. This is a clean and nutritious side dish or snack that you can feel great about.
Cook Time: 12-17 minutes.
INGREDIENTS
1 lb hen of the woods mushrooms
3 tablespoons butter or olive oil; for vegan plant-based butter, use Miyokos
5 cloves of garlic
1/2 teaspoon crushed red pepper flakes
1 teaspoon salt
INSTRUCTIONS
Clean the hen of the woods mushrooms by using a dry towel and brushing off any dirt (don't wash with water, or they will absorb it and become waterlogged).
Separate or chop the mushrooms into smaller sections and add them to a cast iron skillet.
Add the butter or olive oil, minced garlic, crushed red pepper flakes, and salt to the mushrooms.
Place on or in the cooking source. When the heat has melted the butter, toss the mushrooms until they are fully coated in the fat and seasonings.
Cook at 425° until they have shrunk significantly in size from loss of water content and edges or some sides have become crispy and dark golden brown.
Toss with tongs intermittently as they are cooking.
Grilled Pineapple with Mint & Cinnamon
Grill up a great time with this recipe from The BBQ Companion, with 50 recipes for BBQ, side dishes, and even desserts. Just pull out a card and get cooking in the great outdoors. With fifty recipes in the deck, it's got you covered for chicken, beef, lamb, pork, seafood, and veggies, as well as options for side dishes and even desserts.
INGREDIENTS
1 pineapple, peeled, cored, and cut lengthways into 8 wedges
8 bamboo skewers, soaked in cold water
1 tablespoon softened butter
140 g (1 cup) soft brown sugar
2 teaspoons cinnamon
Pinch of sea salt flakes
Mint leaves, to serve
INSTRUCTIONS
Thread the pineapple wedges onto the skewers.
Preheat a barbeque grill to medium and lightly grease with oil.
In a small saucepan, cook the butter and brown sugar over low heat, stirring until melted.
Add the cinnamon and salt and mix well. Remove from heat.
Brush the sugar syrup over the pineapple wedges and cook on the grill for 3-5 minutes on each side until caramelized.
Serve hot on a platter scattered with mint leaves.
What are you waiting for? You've got everything you need to serve up an amazing meal to family and friends, from delicious smoked or grilled meats to sides and dessert! Have a great summer and bon appetit!
Read Next:
Time to Indulge: Holiday Brunch Recipes
How I Got Beach Body Ready in Just 5 Days!