Protein is a word often associated with bodybuilders and those looking to add "bulk" to their frame. That association can leave many women wary of adding more of it to their diets, but the truth is that protein is not just for increasing muscle mass. As we age, protein becomes more important than ever for the benefits it provides not only to our muscles but also to our bones, our skin, our energy levels, and our quality of sleep. Unfortunately, most of us don't get enough protein in our daily diets, but there are easy ways to incorporate more of this essential nutrient into your life that don't require a degree in nutrition or the skills of a gourmet chef. You just need a solid understanding of how much protein you need, coupled with a few simple, basic ingredients, many of which you probably have on hand.
Why It Matters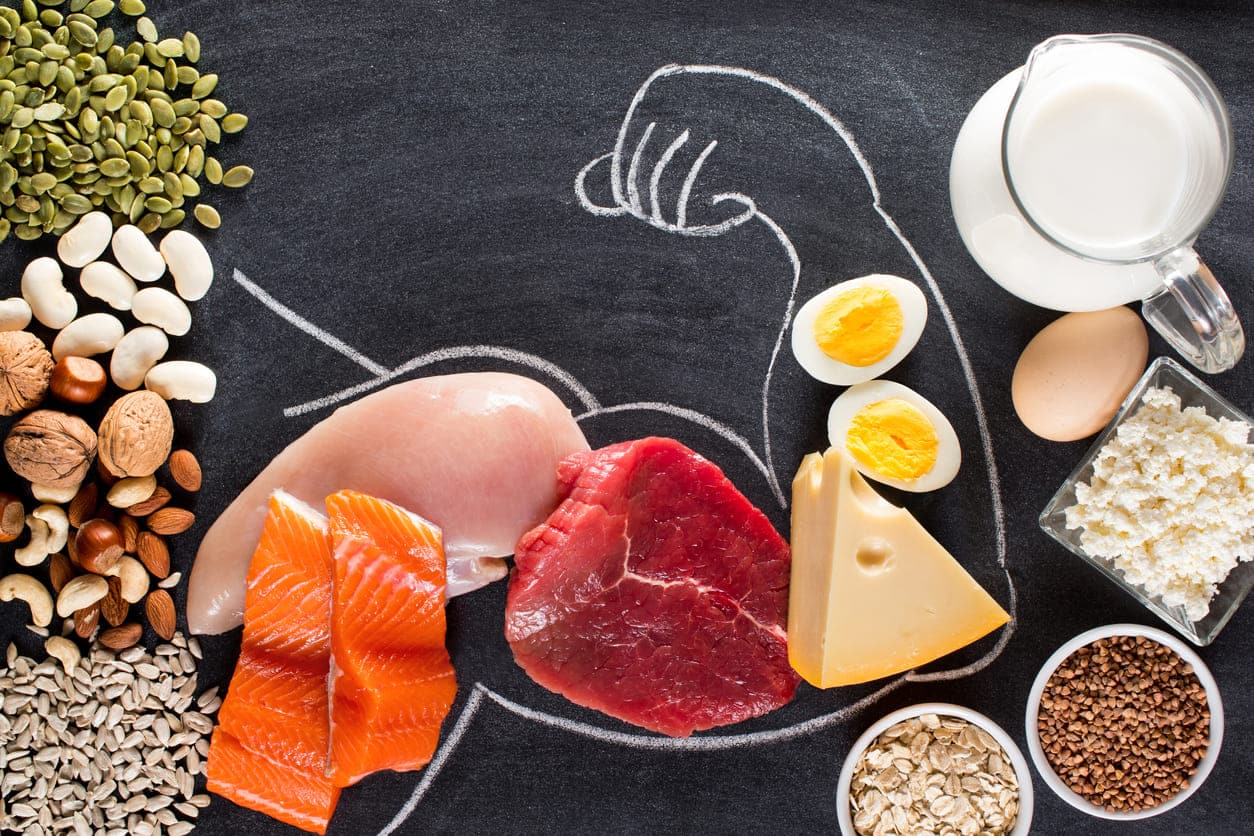 You already know that protein is an essential building block for muscles, but you may not realize that it is one of the most effective and easy ways to help your body age well.
Research reported in the Washington Post found that "older adults who consume more protein are less likely to lose 'functioning': the ability to dress themselves, get out of bed, walk up a flight of stairs, and more."
National Academy of Sports Medicine (NASM) Certified Nutrition Coach Michelle Waranoski agrees, adding that not only is protein the primary macronutrient for helping to prevent loss of muscle and bone density, but it can also improve skin elasticity, help maintain a feeling of satiety and, as a bonus, it helps your food taste good!
How Much Is Enough?
to reap the benefits? Well, that depends on several factors, including your exercise habits, your goals, and, yes, your age. As women get older, especially throughout the menopause years, metabolism slows, which can cause your waistline to increase while your bone density and muscle mass start to decrease. Not a good combination! So, while the recommended daily allowance, according to Waranoski, is between .7 to 1 gram of protein per pound of body weight, there is wiggle room. Studies have shown that increasing protein to 1.5 grams per pound in adults ages 52-75 significantly increases the rate of building muscle mass. If you aren't a macro tracker and you are still uncertain about whether or not you are getting enough protein in your diet, check in with yourself.
"In general you can look at cues like fullness and satiety," says Waranoski. "Or you can look for aesthetic clues like clear skin, bright eyes, and good muscular strength and definition. You will also feel and sleep better when you are consuming the appropriate amount of protein for your body."
People who follow a vegan or vegetarian lifestyle may have more trouble hitting those higher protein numbers. That's where Waranoski suggests adding a pea protein powder to supplement if necessary to hit the protein goal. However, she cautions that not all protein powder options are created equal, including the vegan variety. Some can be extremely high in fat, which can be problematic if you are trying to manage or lose weight. Look at the labels carefully and compare nutritional information before selecting a brand.
Hacks and Recipes
You don't have to overthink it when it comes to increasing your protein consumption. There are simple ways to get your numbers higher that don't include eating a dozen eggs in one sitting or roasting a whole chicken (unless you're meal prepping, of course). Some of Waranoski's favorite protein hacks include adding liquid egg whites to protein shakes, adding protein powder to yogurt or oatmeal, or putting liquid protein shakes into iced coffee for a delicious, coffeehouse-like treat. Switching to a reconstituted protein peanut butter powder and spreading it on apples or rice cakes is an excellent way to create a protein-packed snack without the added fat that real nut butter contains. Cottage or Ricotta cheese works well for this too. Spread it on a rice cake, top it with sliced fruit and enjoy!
If you've got more time, try these filling and delicious muffins. Easily customizable, they are delicious with coffee in the morning or as a mid-afternoon pick-me-up. With only 129 calories and 10 grams of protein, they will leave you feeling deliciously satisfied.
For a snack that will satisfy your sweet tooth and sneak in a few extra protein grams, try these portable protein balls. Perfect for on-the-go, they make a great post-workout snack that won't ruin your dinner with only 140 calories per ball, 9 grams of fat, and 3 grams of protein.
Protein Balls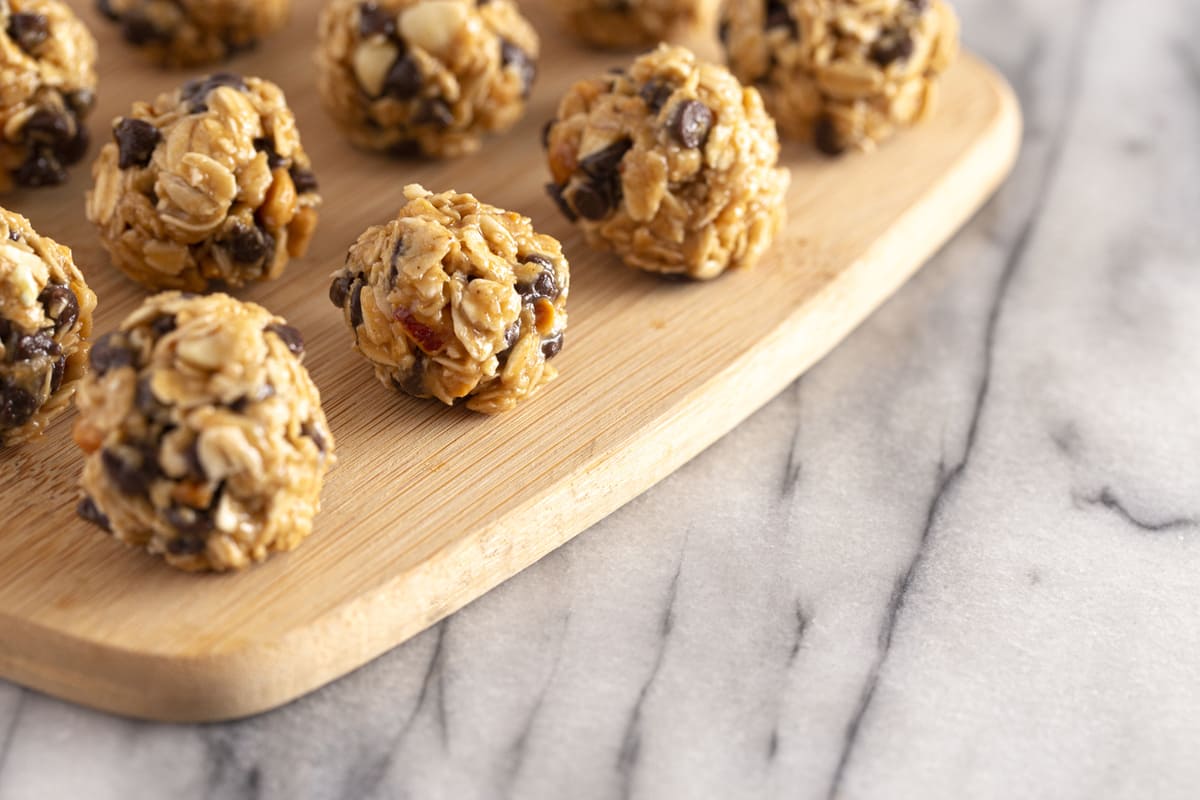 1 Cup Of Oats
1/2 Cup Peanut Or Other Nut Butter
1/3 Cup Honey
1 Cup Coconut Flakes
1/2 Cup Ground Flaxseed
1/2 Cup Mini-Chocolate Chips
1 Tsp Vanilla
Combine all ingredients in a large bowl, stirring or mixing well to incorporate. Place in fridge for 30 minutes. Roll into 19 bite-size balls, and enjoy! Store in fridge.
Finally, for something a little heartier, try these three-ingredient chicken quesadillas. Really, it doesn't get any easier to put dinner on the table than this.
Chicken Quesadillas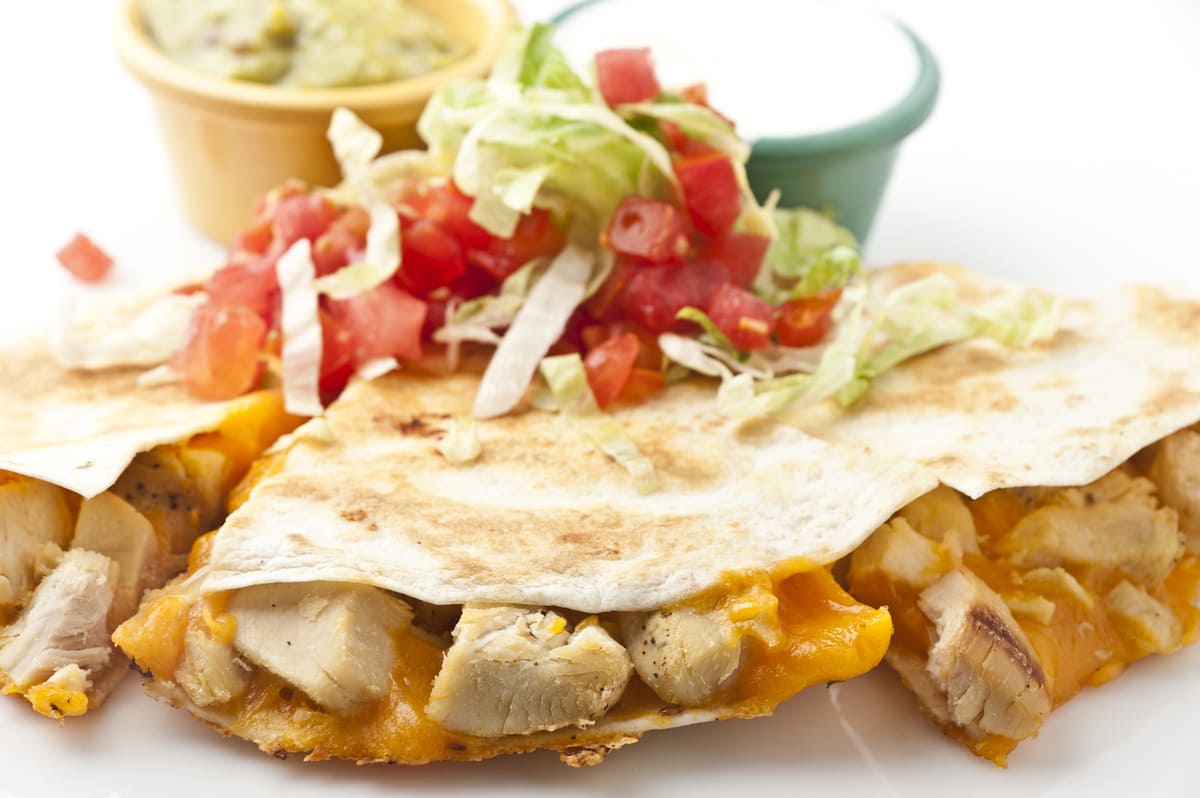 Cooked and shredded chicken (but prepackaged to save time)
Shredded Mexican blend cheese
6 Corn (or flour) tortillas
Heat the shredded chicken (if using prepackaged) and mix with 6oz of shredded cheese. Spread mixture evenly on half of each tortilla and top each with a pinch of additional cheese. Fold over and spray each with cooking spray before placing it on a baking sheet. Bake at 375, 20-25, flipping once.
Read Next:
Detox Your Body and Get a Flatter Stomach with the Mayr Diet
Keto Diet vs. Fasting: Which is Best For You?