Looking for a refreshing recipe to serve at end of summer parties? Light, airy angel food and sweet, summer peaches… can you already taste them together? This angel food cake with peaches and mascarpone recipe is easy, delicious and the perfect treat!
Ingredients:
10-inch angel food cake
2 ripe peaches, peeled and cut into thin wedge slices
Juice from a half lemon
1 tablespoon sugar
1 tablespoon Amaretto
1⁄2 pint (1 cup) heavy cream, cold
8 ounces (1 cup) Mascarpone sweetened with 2 tablespoons honey
4 sprigs fresh mint
Directions:
Slice the angel food cake horizontally into three layers of even sizes and set aside.
Place the peaches in a bowl, drizzle with lemon juice, sugar and Amaretto, mix well and set aside.
In a chilled bowl, whip the cream until soft peaks form. Remove 1 heaping cup of whipped cream and place in refrigerator. Add the Mascarpone to the remaining cream and, using a rubber spatula, gently fold the Mascarpone into the cream until well combined.
Place the bottom cake layer on a cake plate. Spoon half the Mascarpone mixture onto the cake and spread it evenly on the cake. Using one third of the peaches, create a circular row of peaches on the Mascarpone.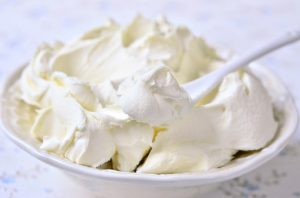 Stack the middle slice of cake on the filling. Spoon the remaining Mascarpone onto the cake and spread it evenly on the cake. Place one third of the peaches in a circular row on the Mascarpone. Stack the final slice of cake on the filling.
Ice the cake with the refrigerated whipped cream, using a spatula to spread it over the top and sides of the cake. Decorate the top of the cake with the remaining peaches and drizzle the amaretto/peach juices onto the cake.
Loosely cover the cake with plastic wrap and place in the refrigerator until serving time.
Serves 10-12.
For another angel food cake that's summer-licious, try this angel food berry trifle! And pick up Paula's cookbook. The Cheese Lover's Cookbook and Guide.