Use juicy in-season fruit for a summer salad recipe served best on a patio. Created by Paula Lambert, founder of the Dallas-based Mozerella Company and our supreme authority on all things involving cheese.
For more summer salad recipes, get the cookbook – The Cheese Lover's Cookbook and Guide.
Frico Salad with Fennel and Oranges
Serves 4
Orange Vinaigrette:
1/4 cup freshly squeezed orange juice
1 tablespoon red wine vinegar
1/4 cup extra virgin olive oil
Salt, to taste
Freshly ground black pepper, to taste
Place the orange juice, vinegar, salt, and pepper in a small bowl and whisk together.
Drizzle in the oil, whisking constantly until the dressing is emulsified.
Makes about ½ cup vinaigrette.
Salad
1 fennel bulb
1/2 red onion, thinly sliced
1 orange, peeled and segmented
4 ounces field greens
Salt, to taste
Freshly ground pepper, to taste
Remove and discard the stalks from the fennel and very thinly slice the bulb.
Place in a large salad bowl and add the onion.
Drizzle with the vinaigrette, toss to coat, set aside and marinate for at least 15 minutes or up to 1 hour.
Peel the orange, removing the bitter white pith. Using a sharp knife, slice between the membranes to release the orange segments; set aside.
Just before serving time, add the greens and oranges to the fennel, sprinkle with salt and pepper, and toss until the greens are well-coated. Adjust the seasonings, if necessary.
Fricos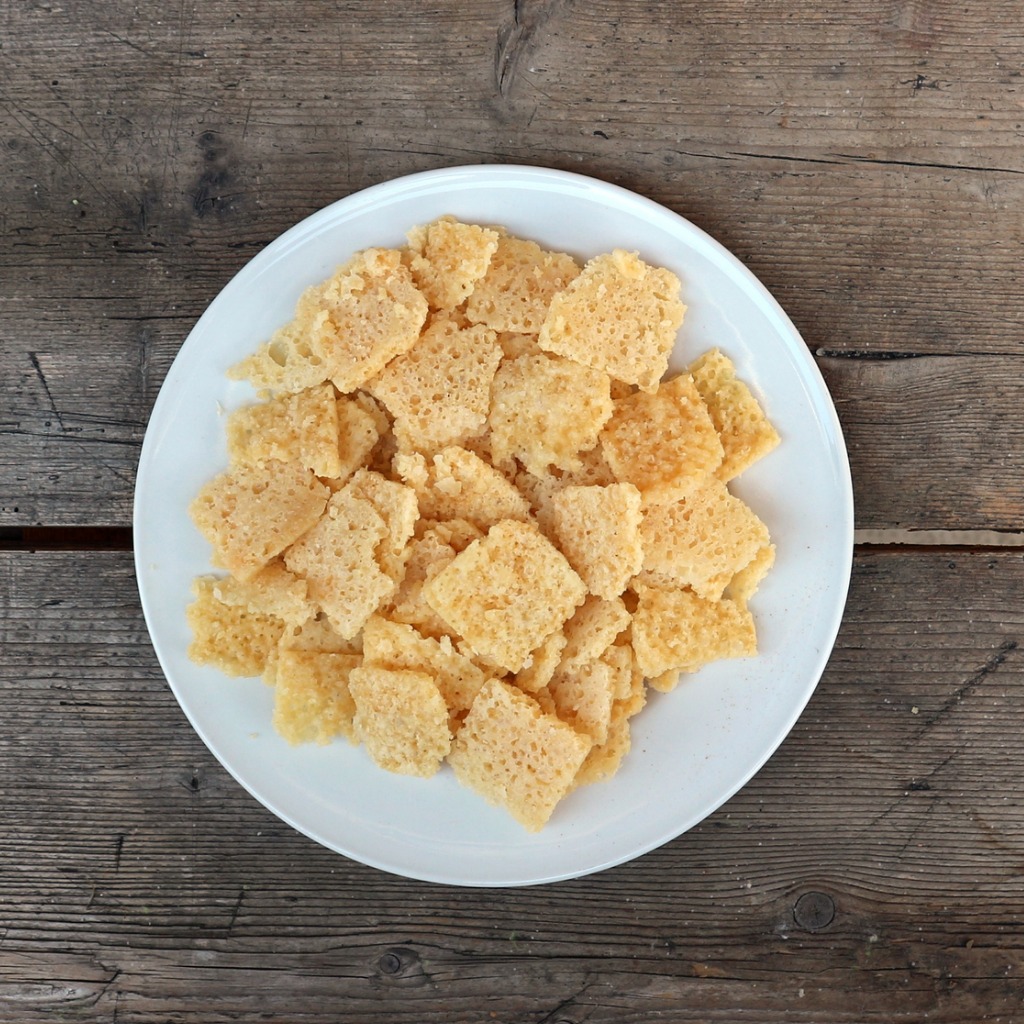 4 ounces smoked Scamorza (or Cheddar, Provolone, or Monterrey Jack) shredded (1 cup)
Heat a large nonstick skillet over medium heat.
Place one-eighth of the shredded cheese in a mound in the skillet. Cook until the bottom is browned, several minutes.
Use a spatula to remove the cheese from the skillet and place on a paper towel to drain.
Repeat to make 8 fricos in all.
To serve, divide the salad among 4 salad plates and top each with 2 fricos. Serve immediately.
Copyright © 2000 by Paula Lambert, The Cheese Lover's Cookbook and Guide, all rights reserved.
More Summer Recipes:
Corn Salad in Radicchio Cups Recipe
Grilled Tuna Salad with Queso Oaxaca
Summer Goodness: Gazpacho Recipe with Chevre Cream
Perfect Summer Recipe: Angel Food Cake with Peaches and Mascarpone
Easy and Delicious Chilled Pea Soup with Minted Mascarpone
Avocado and Crab Tostadas with Queso Blanco
[optin-monster slug="tbhhurcqgsuq6f7q3mfp" followrules="true"]