There are many versions of gazpacho; some made with moistened bread and ground almonds, some that are chunky, some that are puréed, and some that don't even contain tomatoes. It's all a matter of taste and the region of Spain from which the recipe comes.
This is the gazpacho recipe I prefer. It is the essence of summer, and it is very simple to make because everything goes into a blender. You may adjust the amount of the garlic (or omit completely) if you wish, and the smooth goat cheese crème balances the acidity of the tomatoes nicely.
Gazpacho Recipe with Chevre Cream
Ingredients
6 large, very ripe tomatoes, cored, with all blemishes removed
½ large sweet onion
2 medium cucumbers, peeled and seeded
1 small bell pepper, seeded
1 rib celery
½ clove garlic
¼ cup tightly packed flat-leaf parsley
1 cup tomato juice or V8 juice
2 tablespoons extra-virgin olive oil
1 tablespoon red wine vinegar
Salt and freshly ground black pepper to taste
8 sprigs flat-leaf parsley leaves for garnish
Chevre Cream
¼ cup (2 ounces) fresh Goat Cheese
1 cup (8 ounces) crème Fraiche or heavy cream
Serves 8
Directions
For the Gazpacho
Cut the tomatoes, onion, cucumbers, bell pepper, celery, and garlic into large chunks and place them in the container of a blender. Add the parsley and pour in the tomato juice.
Process until completely puréed and smooth. Depending on the size of your work bowl, it may be necessary to process the vegetables in smaller batches (each with a portion of the tomato juice).
Pour the Gazpacho into a large bowl or plastic refrigerator container.
Stir in the olive oil and vinegar, and then season to taste with salt and pepper.
Cover with plastic wrap and chill in the refrigerator for at least three hours before serving.
For the Chevre Cream
Place the goat cheese and cream in the work bowl of a food processor fitted with a steel blade.
Process until the mixture is completely smooth. The mixture will resemble a dense whipped cream.
Place in a small bowl, and chill until serving time.
To serve, ladle the chilled Gazpacho into soup bowls. Dollop a heaping tablespoon of the Chevre Cream in the center of each bowl of soup, and garnish with a sprig of parsley.
For another delicious summer-inspired recipe, try this Mango Salmon Recipe, which is sure to please!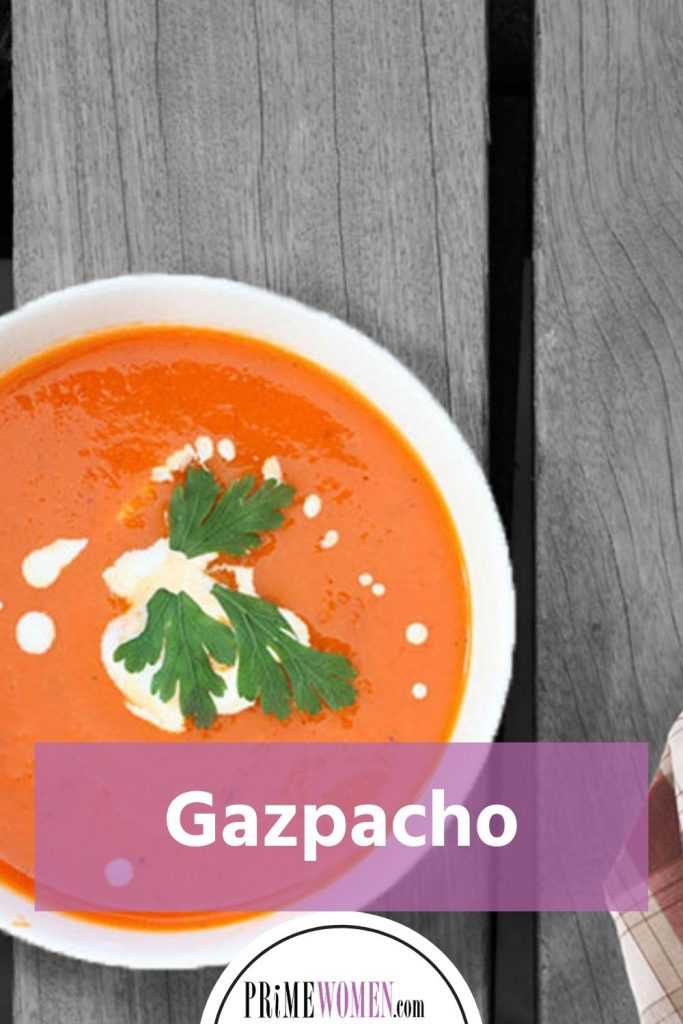 [optin-monster slug="tbhhurcqgsuq6f7q3mfp"]
More Recipes to Try:
Butternut Squash Bisque Recipe
Baked Tomatoes with Puffy Parmigiano Crowns Recipe