This blonde roast chicken recipe is a must-add to your collection. It is so simple you will question if there is a typo in the recipe, but the answer is no! However, it requires faith in the recipe and following the required preparation time before roasting.
Ingredients (there are only two!)
2 TBSP Salt
A whole, 3 ½-4 pound chicken
Preparation:
Clean out the chicken, removing any remnants such as the gizzards and neck.

DO NOT WASH THE CHICKEN. Studies have shown that washing raw poultry such as chicken or turkey can spread salmonella in the kitchen, contaminating the sink, counters, and faucet just from the splash of water. Instead, prepare the chicken to bake, and the baking process will kill the salmonella.

Set the chicken on a plate. Pat the chicken dry inside and out.
Measure 2 TBSP salt in a small bowl.

Pink Salt or regular Kosher salt can be used.

Grab a pinch of salt and begin to cover every surface of the bird.

This includes under the skin, outside, and inside. Use all the salt. No, it will not leave the chicken tasting salty – believe me, in the end, you will have the moistest and most tasty chicken you have ever prepared.

Line a rimmed baking sheet with foil. Then, place a baking rack inside and lay the chicken on the rack.
Refrigerate uncovered for at least 12 hours up to 2 days.

The scrawny chicken looks funny in the refrigerator, but have faith!

One hour before baking, take the chicken out of the refrigerator. The chicken needs to be at room temperature before baking.
Preheat the oven to 400 degrees.
Roast the chicken for 50 minutes to 1 hour or until the thickest part of the breast reaches 165 degrees. Another way to test is to snip the skin between the thigh and breast to see if the liquid runs clear.
Let rest 15 minutes before carving.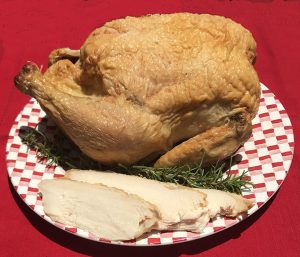 Because no butter or oil is used on the skin, the result is a beautiful blonde color rather than a deep golden. Blonde roast chicken is an elegant entree to serve at summer parties but easy enough to enjoy any day of the week.
Don't Forget the Vino!
Because the chicken is so simple, you can pair it with whatever you want and whatever sounds good at the time. I prefer a crisp and refreshing white wine or a simple Pinot Noir, depending on the side dishes and my mood.
Read Next:
Summer is Time for Healthier Meal Choices
Low(er) Calorie Chicken Fettuccini Alfredo