After my annual checkup with our family ophthalmologist, I asked whether I had any signs of macular degeneration (my mother was diagnosed with this in her early 60s and was practically blind in her 90s). He said not right now, but he wanted me to add the following to my regular diet: Each week, include 3 servings of oily fish (anchovies, sardines, or salmon), and each day have at least one serving of dark leafy greens.
While the first two oily fish are not on my top 10 food items, salmon certainly is. Also, I enjoy preparing a salad daily with at least 5 fruits and vegetables. I particularly like using a mix of greens with kale and spinach as a part of the mix, and adding a healthy fish to the lineup is an easy way to follow my doctor's orders.
My preference is wild salmon, preferably from Alaska. When purchased from my favorite grocery store, I like to select the cut of salmon in the fish case, and it's often marked "previously frozen." This is fine with me, but I am noting that it is often more economical to buy packages of individually wrapped frozen fish from my local grocery or big box store freezer section. While the package suggests defrosting in the refrigerator, I have found that submerging the sealed filets into cold water takes only 15-20 minutes.
To make mango salmon, I first prepare a mix of seafood seasoning, which includes dill, cumin, and smoked paprika. To save time, I keep a mix on my counter in a covered bowl. Another option is to purchase prepackaged seasoning. Lightly sprinkle this on top of the salmon before baking.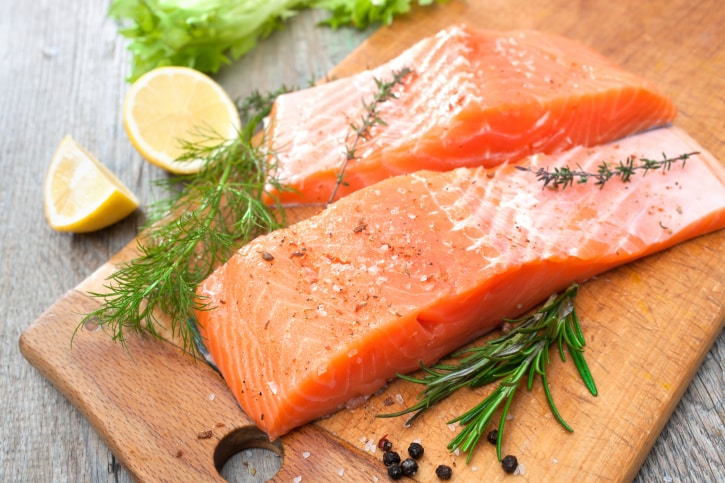 Ingredients
½ cup of butter
½ cup of brown sugar
2 ripe mangos
Fresh lemon or lime juice
2 pounds of salmon filets sprinkled with seafood seasoning.
SERVES 4
Instructions
Melt the butter in a small saucepan over medium heat. Add the sugar and 1 C water, stirring regularly until it begins to thicken. This will take 20-30 minutes. Remove from heat.
Cut the mango by holding the tip upright and slicing off the sides. The seed is in the middle.

Cut the big slices into diced sections and spoon into a bowl for the garnishing.
Pour lemon or lime juice on top to prevent browning.
Peel the rest of the mango, cut pieces off the core, and add to a blender and puree.

Pour the puree into the saucepan and put it back on medium heat. Continue stirring. This will take another 20-30 minutes and should have a syrupy consistency.
Either grill or bake the salmon at 425 degrees. I have found it is easy to add cooking spray to a glass dish and bake. Place the salmon skin-side down and sprinkle with the seasoning.
Pour the sauce over the salmon and cook for 10 minutes.
Test for your preferred degree of doneness (this is generally when the flesh flakes easily).

The USDA recommendation is 145 degrees for fish. Use a good digital thermometer such as All-Clad for an accurate temperature reading.

Place the cooked salmon on a serving plate and garnish it with the mango sections.
Enjoy your mango salmon, and improve your long-term vision health!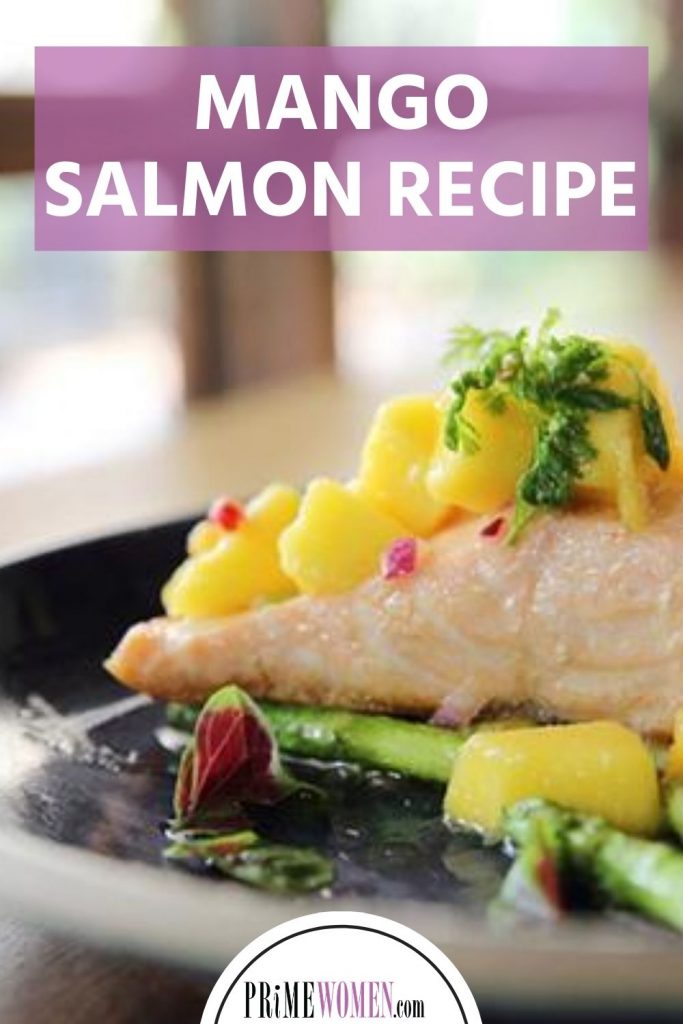 Read Next:
The Best Foods To Eat (And Avoid) For Inflammation