Today our Prime Pick comes from professional Makeup Artist and Prime Women author / video star Elizabeth Rist. The day she came in our studio to film her new series of makeup tutorials (subscribe on YouTube) for women 50+, she was wearing a perfectly fitting pair of leggings we all coveted.
"Oh, these? "she said. "They are the best pair of leggings I've ever owned. They're Spanx, believe it or not. While they're a bit pricey, they are worth every cent. I bought one just to try them out, but after wearing them I had to go back and get every color I could get my hands on."
>BUY: THE LEGGINGS ELIZABETH HAS ON
Why does Elizabeth like them so much? Well, because she's on sets so often, she needs complete flexibility to move. They keep her sucked in without shifting no matter how many acrobatic feats she needs to perform. That's right, she doesn't have to keep tugging them up all day. And they are thick enough to wear as pants on their own.
Plus…look how flattering they are! These Spanx leggings are like a second skin, pulling in all the jiggles and keeping the legs looking taunt and flattening out the belly. What they do for the backside?? Hello, sexy mama! Who couldn't use that shapely help?
We went to the website to check them out and discovered these leggings sold out in 72 hours! And they keep selling out. So even though you may gulp upon checkout, go ahead and do yourself a favor and buy yourself a pair before your size is gone. Once you wear them, and you get back your strut and flirt from feeling so oh-la-la, you'll be snatching up as many pairs as you can fit in the budget.
They're made by Spanx, a company we all love for their strong female founder and for understanding women's bodies. Shipping is free, too!
Here are our favorites….while they last: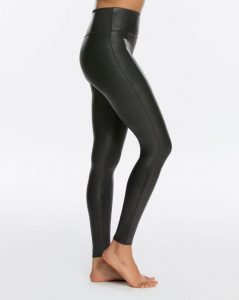 Faux Leather Leggings – Petite and Regular, XS – 3X, in 5 colors, $98
This is the pair Elizabeth has on. They also come in snakeskin print and croc print.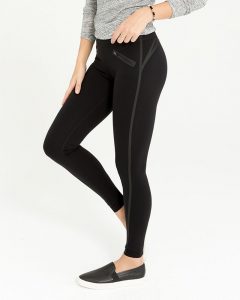 Everywear Tech Tape Leggings with Thinfused Shaping Technology and pockets, xs-xl in two colors, $128
Leopard Faux Leather Leggings, xs-3x, $98
Can you see these with a black chunky sweater for winter?
There are four pages of leggings on their website, all designed to suck in the gut and make the butt look great. Tried and tested by one of our own. Get your "oopmh" back!
>READ: HOW TO WEAR LEATHER THIS YEAR AND LOOK MODERN AT 50+
>READ: HOW TO BE PHOTOGENIC: 4 EASY TRICKS TO LOOK FABULOUS IN PICTURES
>SUBSCRIBE: PRIME WOMEN YOUTUBE CHANNEL FOR ELIZABETH'S MAKEUP TUTORIALS