We don't know about you, but we've been devouring books left and right this year! That's why we've compiled a list of books to read in November to keep you warm heading into the holiday season. Grab a cup of hot cocoa and settle in to enjoy fiction, mystery, thriller, and world political books by stellar authors, including Nina Totenberg, Charles Dickens, and a fun memoir by actress Geena Davis.
Books To Read In November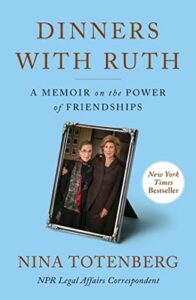 Dinners with Ruth is an extraordinary memoir of Nina Totenberg's personal successes, struggles, and life-affirming relationships, including her beautiful friendship of nearly fifty years with Supreme Court Justice Ruth Bader Ginsburg. This is also an account of how these two women paved the way for future generations by tearing down professional and legal barriers.
Listen, World by Julie Scheeres | Women In History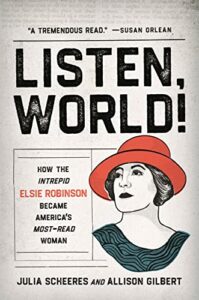 Listen, World is one of the inspiring stories we need to bolster women's overlooked place in history. The long-forgotten Elsie Robinson (1883-1956) was the highest-paid woman writer in the William Randolph Media Empire. Robinson was a nationally syndicated columnist whose columns ran for over thirty years and garnered more than 20 million readers. During her career, Robinson was the most-read woman columnist in the country.
Bibi: My Story by Benjamin Netanyahu | Autobiography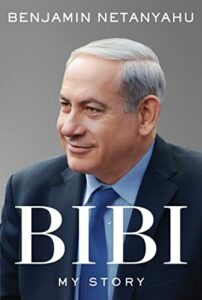 As the longest-serving prime mister in the history of Israel, Netanyahu has experienced his share of crisis, controversy, tragedy, triumph, and more. In Bibi: My Story, he shares the story of his family and background, his path to leadership, and his commitment to defending Israel and securing its future. Written with humor, clarity, thoughtful candor, and a host of revealing anecdotes, readers will have new insight into Netanyahu.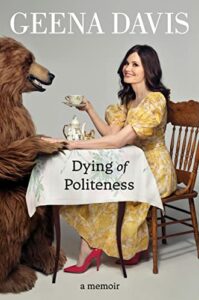 Dying of Politeness is an entertaining account of Geena Davis' journey from a polite childhood to Hollywood powerhouse and ultimately fighting for women's rights all around the globe. In 2022 Davis received an Honorary Oscar for her research against gender bias in movies. The Geena Davis Institute on Gender in Media was established in 2004 and advocates for equal representation of women in film.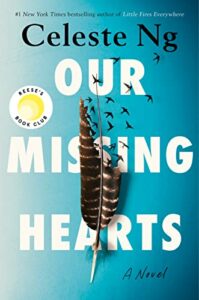 Our Missing Hearts is a cautionary tale and warning about present-day political, racial, and inequality issues. There is a new act passed – the Preserving American Culture and Traditions (PACT) Act. Anyone of Chinese birth or ancestry is considered a danger to PACT. Chinese children are removed from their homes, books are banned, and freedom of speech is only acceptable if you agree with PACT.
Demon Copperhead by Barbara Kingsolver | Contemporary Fiction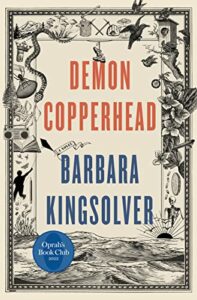 Demon Copperhead is a reimagined David Copperfield in a modern-day rural America contending with poverty and opioid addiction. With each unfolding chapter, the connection between the two books brings home the fact that there are still many clever, self-reliant young people who must defy their circumstances simply to survive. Both books are simultaneously entertaining and moving and plead for reform.
CLASSIC: David Copperfield by Charles Dickens | Historical Fiction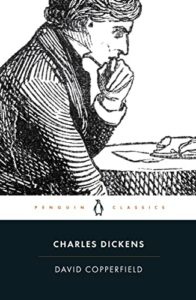 This story follows the life of David Copperfield from childhood to maturity. The novel was published first as a serial in Crisis Magazine, then in book form in 1850 when Dickens was 38 years old. Adaptations of David Copperfield include a 1935 film starring Freddie Bartholomew, Basil Rathbone, Lionel Barrymore, and W.C. Fields; a 1970 British television movie featuring performances by Ron Moody, Ralph Richardson, Michael Redgrave, and Laurence Olivier; and a 1999 BBC miniseries starring Daniel Radcliffe.
In Case You Missed It: Here's Sandy's reading list from November 2020!
A Time For Mercy by John Grisham | #1 NYT Best Seller | Fiction
A Time For Mercy finds a court-appointed attorney defending a sixteen-year-old boy accused of murdering a local deputy. Many in town want a speedy trial and the death penalty. The story is a richly rewarding novel that is timely and timeless, filled with drama and small-town intrigue.
Readers Recommend:
The Cost by Maria Bartiromo | World Politics
The Cost looks at the impact of the COVID-19 pandemic on the United States and China relations as the biggest challenge to corporate America today. The world's health and wealth depend on the United States' economic recovery leadership from the pandemic shutdowns.
Readers Recommend:
The Searcher by Tana French | NYT Best Seller List | Fiction
The Searcher follows the story of a middle-aged retired Chicago detective who moves to a remote township in Ireland looking for peace and quiet. The concise descriptions of the Irish countryside introduce the location and scenes of the story. The detective gets swept up into the mystery surrounding a missing local boy's disappearance and uncovers layers of darkness, realizing that even small towns shelter dangerous secrets.
Readers Recommend:
The Invisible Girl by Lisa Jewell | NYT Best Seller List | Mystery
The Invisible Girl is an insightful, thought-provoking, and well-crafted drama. The story uses multiple viewpoints from a mother and lonely wife, a 17-year-old girl who suddenly disappears, and a 33-year-old suspicious neighbor, all desiring to be "truly seen."
Readers Recommend:
Good Night Beautiful by Aimee Molloy | Psychological Thriller
Good Night Beautiful is a domestic suspense thriller featuring a newly married woman shaken to the core when her husband suddenly disappears. This mystery ride is filled with twists and turns that successfully lead to the final turn, which is the most thrilling surprise.
Readers Recommend:
I'll Be Seeing You charts the passage of a family's loss from Alzheimer's disease to the understanding that even in the most fractious times, love can heal, transform, and lead to graceful, grateful acceptance. The family's transition was difficult, mitigated at least by flashes of humor and joy. The children provided support and direction to the parents who had parented them for so long.
Readers Recommend:
After The Rain by Alexandra Elle | Self Improvement
After The Rain delivers 15 Lessons on overcoming obstacles and building confidence by sharing stories from her own remarkable life. This book is an uplifting reminder that there is always sunshine after the rain, helping transform challenging life experiences into life opportunities.
Readers Recommend:
*Prime Women does not endorse any political view.
If you are an Amazon Prime member, you get a free Prime Read each month. Right now, our favorite is the suspenseful thriller Things We Never Got Over by Lucy Score.
Read Next:
Sandy's Selections: New Books to Read in September
Sandy's Book Selections For August