On January 5, 2022, Sindutai Sapkal of Pune in western India died from a sudden heart attack. Orphans, discarded children, ill-treated women laborers, and even the discarded cows of India lost a great protector and ally. Once abandoned herself, Sindhutai Saphal couldn't bear to see others suffering the same pain. Sindhutai Sapkal did everything she could to ensure their comfort, even if that meant a loss of comfort for herself.
Sindhutai started her mission to help others when she had nothing but the clothes that she wore. She had no resources but her own. In the seventy-three years she walked this planet, Sindhutai Sapkal adopted well over a thousand children. She also set up a shelter to save senior cows from being slaughtered and fought for tribal rights. She has earned the moniker Mother of Orphans, as well as over 700 awards commemorating her efforts.
Sindhutai Sapkal's Humble Beginnings
Sindhutai Sapkal was born into a family of cow herders on November 14, 1948. She was subjected to scorn from her early childhood, routinely referred to by her family as Chindi, or torn cloth. While her father advocated for her education, her mother disagreed. For this reason, Sindutai was only able to attend through 4th grade. Shortly after, at just ten years old, her parents married her off to a man twenty years her senior.
At twenty years old, Sindhutai Sapkal was nine months pregnant with her fourth child. An angry landlord accused her of infidelity. When her husband beat her and ejected her from their home, she turned to her mother's family, who also turned away from her. Sindhutai gave birth in a cowshed, using a sharp stone to sever the umbilical cord, then took shelter in a crematorium.
She sang and begged to get food for herself and her young daughter. They slept in cowsheds, on trains, and in cemeteries. As Sindhutai Sapkal begged and sang for food for herself and her newborn daughter, she encountered other children that had been abandoned on the street. Despite having nothing of her own, her heart went out to them. She took in as many children as she could, starting with a teenage boy named Deepak. She relied on her singing and begging to provide not only for herself and her child but for several other abandoned children as well.
Achievements and Accolades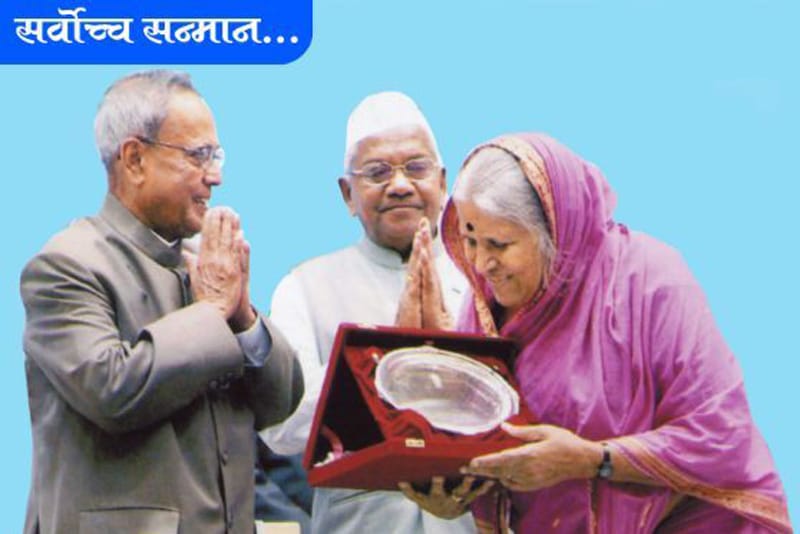 Sindhutai Sapkal was a very accomplished individual, driven by her desire to help others. Her passion led to the formation of six orphanages. Children who live at her orphanages are provided with food, shelter, clothing, and an education. They stay at the shelters until they get jobs, get married, or otherwise settle in life, rather than leaving at 18.
The Mother of Orphans received over 750 awards in response to her astounding kindness towards those in need. Some of the more recent awards included the Mother Teresa Award for Social Justice, the Social Worker of the Year award from the global pharmaceutical and biotech company Wockhardt, and the Padma Shri in the social work category. She has also earned one of the highest civilian awards given to women, the Nari Shakta award, presented by President Ram Nath Kovind in 2017. All the money she earned from her awards and accolades went to support her large adoptive family.
Sundhutai Sapkal wrote the book Mi Vanvasi, an autobiography journalling the events of her life. In 2010, her remarkable life was made into a Marathi-language biopic, Mee Sindhutai Sapkal. The moving film, created by one of the boys she adopted, won four National Film Awards the year it was released, including the coveted Special Jury Award, and was selected to premier at the 54th London Film Festival.
Sindhutai Sapkal's Lasting Impact
The immense kindness and loving care that Sindhutai Sapkal brought to the world does not depart with her. Many of her former wards have gone on to very successful careers in medicine, law, and politics. Others, including her biological daughter, Mamata, and the first child she adopted, Deepak Gaikwad, have continued with their mother's work. Because of all the children she has adopted through the decades, according to her website, she has amassed 207 sons-in-law and 36 daughters-in-law.
When discarded, Sindhutai found the strength not only to bring herself and her child out of the despair and darkness she was thrust into but to bring many other lost souls with her as well. She provided food, shelter, clothing, and education for all the children that she could. She gave street urchins the tools they needed to become happy, functional adults in a world that had forgotten them. More importantly, she provided love. She gave over a thousand children the chance to learn what it was like to be valued. When you look at photos of Sindhutai Sapkal, it's her gentle strength and the power of her love that shines through, both in her eyes and in the eyes of her wards.
Read Next:
Women Who Inspire – Marisa Tomei
29 Inspirational Quotes to Motivate and Empower