Summertime is upon us, and it's time to start planning for the various activities we'll participate in as the days get longer and the temperatures heat up. Which always brings up the dilemma: besides sunscreen, what should I wear to holiday gatherings and the beach or pool? Long, lazy days call for breezy comfort and style, and that includes a garment that you can easily wear over your swimsuit (sometimes to cover your post-quarantine body), then quickly slip on and off to jump in the water then put back on for cocktails or lunch. It's a lot to ask from an article of clothing.
However, could the answer be as simple as a flowy, fashionable caftan? According to Vogue, a caftan, believed to have its origins in ancient Mesopotamia, "has become the catchall term in fashion for any kind of loose-fitting robe or tunic. [Strictly speaking] a true kaftan is a narrow cut, long robe with full sleeves, either with a deep open neck or fully open to the floor."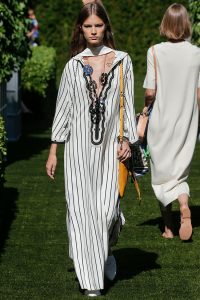 In the recent past, the loose, flowy dress (in a variety of lengths and styles) has seen a renaissance. Popular in the 1960s, the garment has been worn by the likes of Grace Kelly (who favored Pucci with matching turbans), Jacqueline Kennedy Onassis, Lee Radziwill, and socialite Talitha Getty who is famous for her boho-inspired clothing. Search for "caftan" on fashion sites like Neiman Marcus, and you'll get several pages of results showing options in various lengths, colors, and fabrics.
The best thing about the caftan is its versatility. As your day progresses, you can transform from the patio to the piazza by trading in your flip-flops for strappy sandals and swapping out your accessories for big earrings, a necklace, or a flashy cuff. The first step, of course, is to choose the right caftan for you. They can overwhelm a small frame and add bulk to a larger one, so you want to choose wisely.
So, forewarned is forearmed. If you're 5 feet 2 inches, think shorter lengths and shorter sleeves, like one from Pippa Holt (expensive, alas, yes). Or consider more of a tunic style, like one from Tory Burch. If you like the coverage, pair a short style with a pair of slim pants. You can balance a flowy top with trim legs to create a chic look for any occasion. And even if you're not vertically challenged, leave some ankle showing so you aren't completely covered, and your outfit still has a summer feel. If you have a long frame, side slits can break up a monotonous look, and prints or patterns can add an impact (but beware of beading).
Caftans come in every price point, from a short, colorful option for a cool $15 from Riviera Sun to a long embroidered option for $895 from Alice and Olivia (see below for both options).
We thought of all the different styles we'd want to consider and found options for each. Here are some we chose for your consideration.
Anthropologie Mosaic Cinched Caftan, $198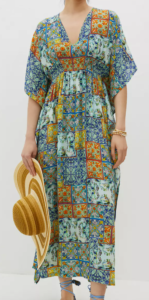 This patchwork dress has a beautiful print and is very flattering for all body sizes.
Anthropologie Farm Rio Tasseled Caftan, $125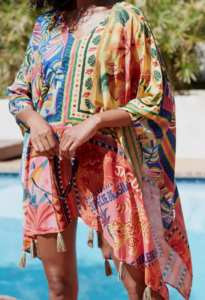 You can make a sunny splash with this bold print caftan. The tassels at the bottom add the perfect amount of whimsical flair.
Alice + Olivia Marva Embroidered Belted Maxi Caftan, $895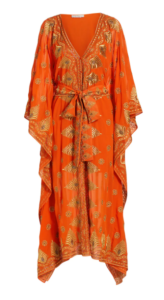 This caftan has a metallic boho floral opulence that is perfect to wear out or as a swim cover. This option is perfect because you can dress it up or down, depending on the occasion.
Madewell Rujuta Sheth Marie Cinch Dress, $119.97
Rujuta Sheth focuses on sustainability, longevity, and craftsmanship. This caftan is flowy, yet has an elastic waist to show off your figure.
Tuckernuck Blue Stripe Emerson Short Caftan, $158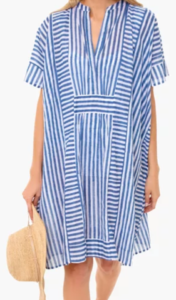 This breezy silhouette is ready for vacation! The Emerson Caftan is perfect for a day at the beach. When paired with some strappy sandals, it's a fabulous option for some afternoon shopping.
Trina Turk Opulent Oasis Floral Print Maxi Caftan, $162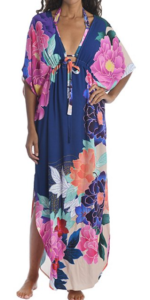 Perfect for a visit to the west coast, Trina Turk is inspired by the Golden State's multicultural mix, which you can see in the bold prints and dynamic hues.
Anthropologie Marie Cinched Caftan, $198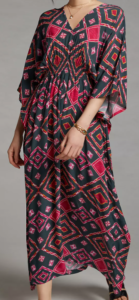 This flowy caftan is perfect for layering over your swimsuit and can be dressed up by adding some jewelry, sunglasses, and a sun hat!
Tuckernuck Cerulean Short Emerson Caftan, $158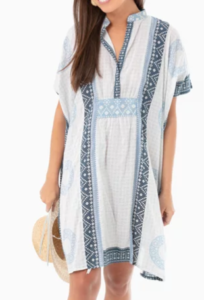 This caftan has a hidden interior waist tie that is perfect for a more fitted look. It is casual enough for the beach; however, cinch the waist, and you are ready to hit the bar for a cocktail.
Riviera Sun African Print Dashiki Caftan for Women, $14.99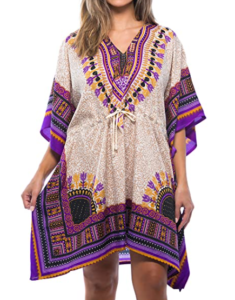 This African-print caftan has a great silhouette that will give you the freedom to customize the fit to your shape.
If you're looking for a flowy, versatile clothing item for summer, look no further than the caftan. The different fabrics, lengths, and gorgeous colors make a fun option all summer long!
Read Next:
5 Cool Outfits to Wear This Summer
15 Daytime Dresses for Prime Women