Summer's official start date is quickly approaching, and so are those warm, hot days. When it comes to putting together your summer wardrobe, there really aren't any set rules. If you live in a warm location, you know all too well about the heavy, claustrophobic heat and the need for some lightweight and breezy clothing. For those of you in cooler climates, the summer gives you a chance to wear those sundresses, shorts, and lightweight skirts and tops.
5 Summer Outfits
To help you decide what to wear before you head out, we have compiled 5 summer outfits that are light, relaxed, and will keep you comfortable this season. From lunch with the girls to a pool day with the family, we have you covered.
Date Night
Head to your favorite bistro with your main squeeze in this colorful dress. Silver accessories dress it up, while the sneakers keep it fun and casual.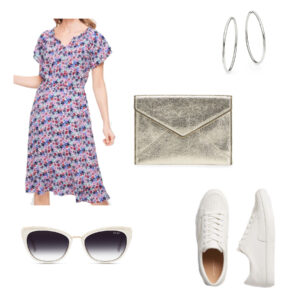 Talbots Dress, $149 (Buy One Get One 50% Off)| White Sneakers, $39.99 | Silver Hoop Earrings, $105 | Silver Clutch, $95 | White Sunglasses, $39
Farmer's Market Boho
This colorful skirt paired with a lightweight tank top is perfect for a day out and about. The earth-toned accessories add a perfect bohemian touch to the outfit.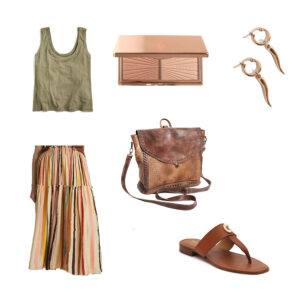 Maxi Skirt, $148 | Olive Tank, $24.50 | Brown Sandals, $59.99 | Metal Earrings, $20 | Messenger Bag, $355 | Bronzer, $29
Lunch Date With the Ladies
This red dress shouts, "I'm back!" so everyone knows you've conquered quarantine and are ready to get back to summer living. The soft accessories keep it toned down while still making a statement.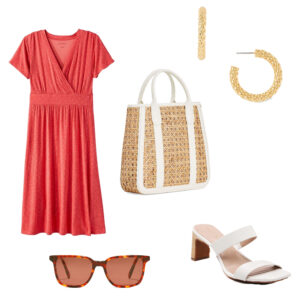 Gold Earrings, $29.50 | Red Dress, $59.95 | White Block Heels, $44.99 | Rattan Tote, $159 | Sunglasses, $65
Errands? Lunch? Anything, really!
This beautiful watermelon-colored shirt paired with white shorts makes the perfect combination for any daytime summer activity. The gold accessories dress it up just enough to add a little extra pizzazz.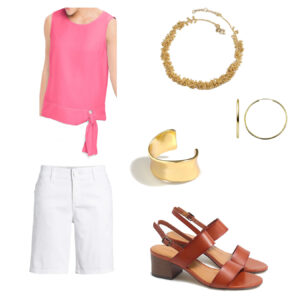 White Shorts, $58 | Watermelon Top, $79.50 | Brown Block Heeled Sandals, $39.50 | Coral Beaded Necklace, $49.50 | Cuff, $68 | Gold Earrings, $96
Living Your Best Life Poolside
This nautical blue swimsuit will look stunning with the white coverup, turning heads when you make your appearance poolside. The neutral accessories are perfectly paired for a day at the beach or the pool.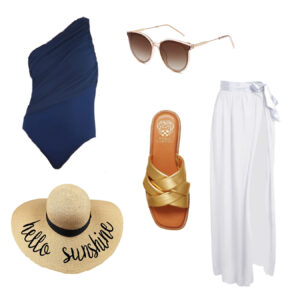 Navy One Piece, $114 | White Skirt Cover-Up, $10.99 | Sunglasses, $14.99 | Gold Sandals, $39.99 | Sun Hat, $15.99
Summer is just around the corner, and hot days are already starting to become more common. It's time to put on some light and airy clothes, call up your girlfriends, and get back out and have some fun!
Read Next:
8 Top-Rated Products To Soothe Thigh Chafe This Summer