Ever admire women who always look pulled together, fashionable and seemingly spend a lot of money on their clothes? Guess what? Chances are they own less clothing and spend less money on them than you do! That's because they start with a few core colors and build their wardrobe around them. They purchase the highest quality they can afford for their investment clothing pieces because they know they will be wearing them for years.
For your core color choice, think neutrals like black, navy, brown, camel, grey and ivory. For the video above, we selected black, but you could pick any neutral that goes best with your skin tone. From there, select two other neutrals that complement your base. For women living in year-round warm climates where you can have one season clothing, you'll want to include ivory/white or perhaps camel or a soft grey as your base, but certainly include in your neutral pallet.
> SUBSCRIBE TO PRIME WOMEN'S GUIDE TO BEAUTY ON YOUTUBE
New Fashion and Beauty videos released every Thursday at 3pm!
Think of your closet going forward as your pantry – always equipped with the necessities to throw together a quick meal. What you don't want is a closet full of different colors. It should be a blank slate. By keeping your basics neutral, you can introduce color at any point. No longer will you worry about purchasing a blouse or sweater and having nothing to wear it with. You can use it as an opportunity to add something colorful. And don't forget accessories. They are a great way to make your outfits look different each time you wear them.
Now for the pieces that will create your "column" to build on with every purchase you make.
The 7 Investment Clothing Pieces for Your Core Wardrobe
1. TOP IN 3 SLEEVE LENGTHS
For the top of your column, choose a plain, high-quality t-shirt you love in three different sleeve lengths: short sleeve, three-quarter and long sleeve. As the seasons change, you can easily switch to a longer or shorter sleeve while still retaining the same base for your look. The t-shirts could be all the same color or you may want to have one in all three neutral colors you've selected. Layering different accessories and outerwear pieces will allow you to style your outfit up or down as much as you like!
Basic Tee – Short Sleeve
Vince | Essential Pima Cotton Crew | $78
Everlane | Cotton Box-Cut Tee | $18
Basic Tee – Long Sleeve
Vince | Essential Long Sleeve Crew | $85
Everlane | Pima Micro Rib Long Sleeve Crew | $32
Basic Tee – 3/4 Sleeve
Three Dots | 100% Cotton 3/4 Sleeve British Tee | $45.95
2. HIGH-QUALITY PANT YOU CAN WEAR YEAR-ROUND
To complete your basic column, you'll want to find a really nice pant. We've given you three options below in different price points. There are certainly others on the market, but these pants are so popular, you can buy them year-round. Again, buy the highest high-quality pant you can afford in your chosen neutral, the same color as your top.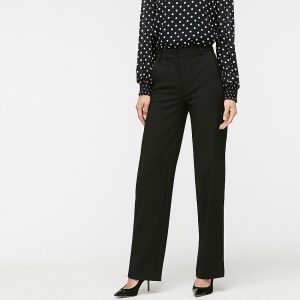 Ann Taylor | Ankle Pant | $119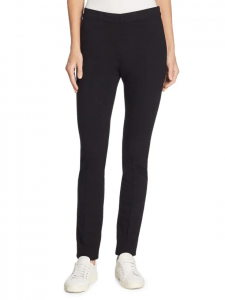 Akris Punto | Elements Mara Leggings | $395
>READ: BUSINESS CASUAL FOR WOMEN OVER 50 – THE TOP 10 STORES
3. HIGH WAISTED JEANS
For women over 50, high waisted jeans are usually the best choice and if they have a little bit of stretch, even better. Choose a dark wash or black pair in a flattering cut. If your neutral pallet does not include black, you may still want to include a pair of jeans in a dark wash, as well as, a pair of jeans in your core color.
Good American | Good Flare | $149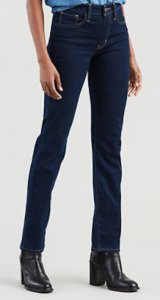 Levi's | High Rise Straight Jeans | $59.50
>READ: JEANS FOR WOMEN OVER 50
4. LEATHER/FAUX LEATHER BLAZER
A simple black leather or faux leather blazer will give your outfit a little texture and nice, clean lines. You can easily dress up for a night out or down for a rock-n-roll edge. For those of you still dressing in a suit for work every day, you will also want to purchase three suits in each of your neutral colors. Three suits really is enough if they are neutral and you use blouses, tops and accessories to change up your look and intermingle the skirts/pants with your neutral jackets.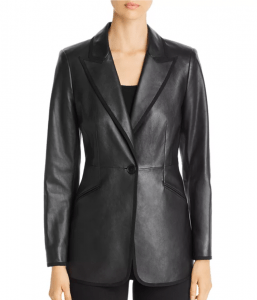 Elie Tahari | Madison Leather Blazer | $998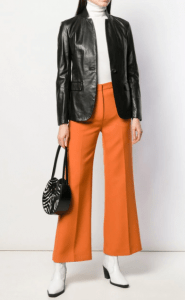 P.A.R.O.S.H. Vegan Leather| Fitted Jacket | $401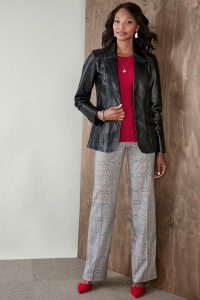 Chadwick's | Genuine Leather Blazer | $59.99
Blank NYC | Vegan Leather Open Blazer | $78.79
>READ: HOW TO WEAR LEATHER THIS YEAR AND LOOK MODERN AT 50+
5. SHOES
A slingback or pump in your core color will be your best friend if you're looking to invest in timeless pieces for your closet. Choose a heel that is comfortable for you and appropriate for your everyday life. A good shoe can last years by replacing the soles or repairing the heels when needed.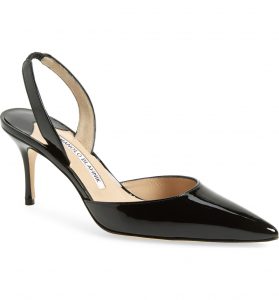 Manolo Blahnik | Carolyne Shoe | $695
Nine West | Sonia Slingback Pump | $89
6. HANDBAG
Your handbag is a constant companion. Look for a durable bag in leather or faux leather. This is another item you really want to buy the best you can afford. If you choose a classic style, you will have it for years. A shoulder bag or a convertible handbag is your most versatile choice. Be sure to buy a bag that is suitable for your frame. Too large of a bag can overwhelm a petite figure and, regardless of your size, you will be tempted to overload a large bag causing shoulder and rotator cup issues down the road.
Rebecca Minkoff | Edie Quilted Leather Bag | $298
Valentino by Mario Valentino | Ocarina Shoulder Bag | $172.20
>READ: BEST HANDBAGS FOR FALL AND WINTER
7. BLACK DRESS
This is the one item that really should be black. A sophisticated black dress can seamlessly take you from the office to dinner and drinks or a cocktail party. Look for a sheath dress. Their sleek lines and classic old Hollywood style will serve you well. If your body type is such that a sheath dress does not flatter, select a style that works for you. If you are unsure what style that would be, ask your friends or salesperson what style they think looks best on you.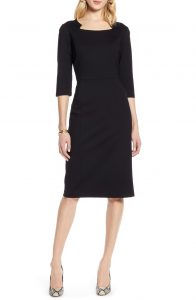 Nordstrom | Ponte Sheath Dress | $129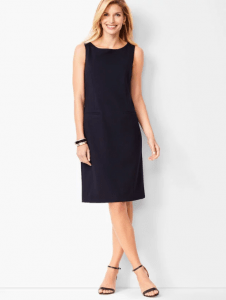 Talbots | Italian Luxe Knit Sheath Dress | $159
Black Halo | Derek Sheath Dress | $345
Dressing like you have a lot of money even if you don't, is easy if you will consider your core pieces an investment. You could start with one piece this fall and add to it each season. In the long-run, we believe you will be happier and better dressed with less by focusing on investment clothing.
> READ: DAYTIME DRESSES – EVERYDAY FEMININE