SottoPelle® supplements work to improve your hair, both by promoting growth and stopping hair loss. After starting the typical supplement regiment, I was supposed to see new hair growth by taking capsules twice a day, but did they work? Here's my honest review, including details about the supplement brand.
Disclosure: I was given a complimentary bottle of Hair Repair & Restore: Bolster Beauty by SottoPelle® capsules to facilitate this review. Having written that, my opinions are completely honest, and the company didn't ask me to state a particular point of view. Okay, on with the show!
What Is Hair Repair & Restore: Bolster Beauty by SottoPelle®?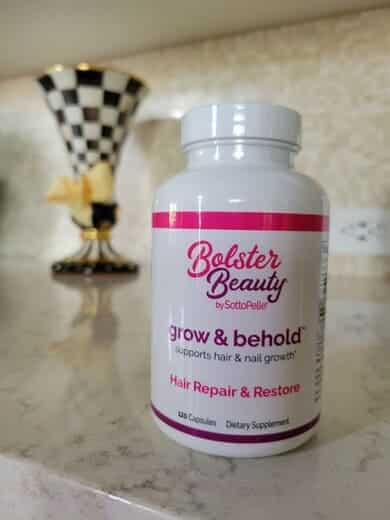 If you've never heard of Hair Repair & Restore: Bolster Beauty by SottoPelle® Capsules, that's okay – I didn't, either, until I was asked to review the product. The company's shining product star offers to increase the vitality, shine, and fullness of your hair by taking the product daily.
To start, I took two capsules twice a day (for a total of four capsules). Each bottle contains 120 capsules ($24.95 plus shipping per bottle), so taking four daily is a 30-day supply. For those who don't love taking pills, the capsules aren't gigantic, but they do float in your mouth, so I found them easier to swallow with my head forward, believe it or not.
Please heed the advice from your provider before starting a new health regimen: These statements have not been evaluated by the Food and Drug Administration. This product is not intended to diagnose, treat, cure, or prevent any disease.
Additionally, Your health care provider can best assess and address your individual healthcare needs. You should consult your health care provider before starting a new diet, fitness, supplement, or treatment regimen, and individual results may vary.
What Ingredients Are in the Capsules?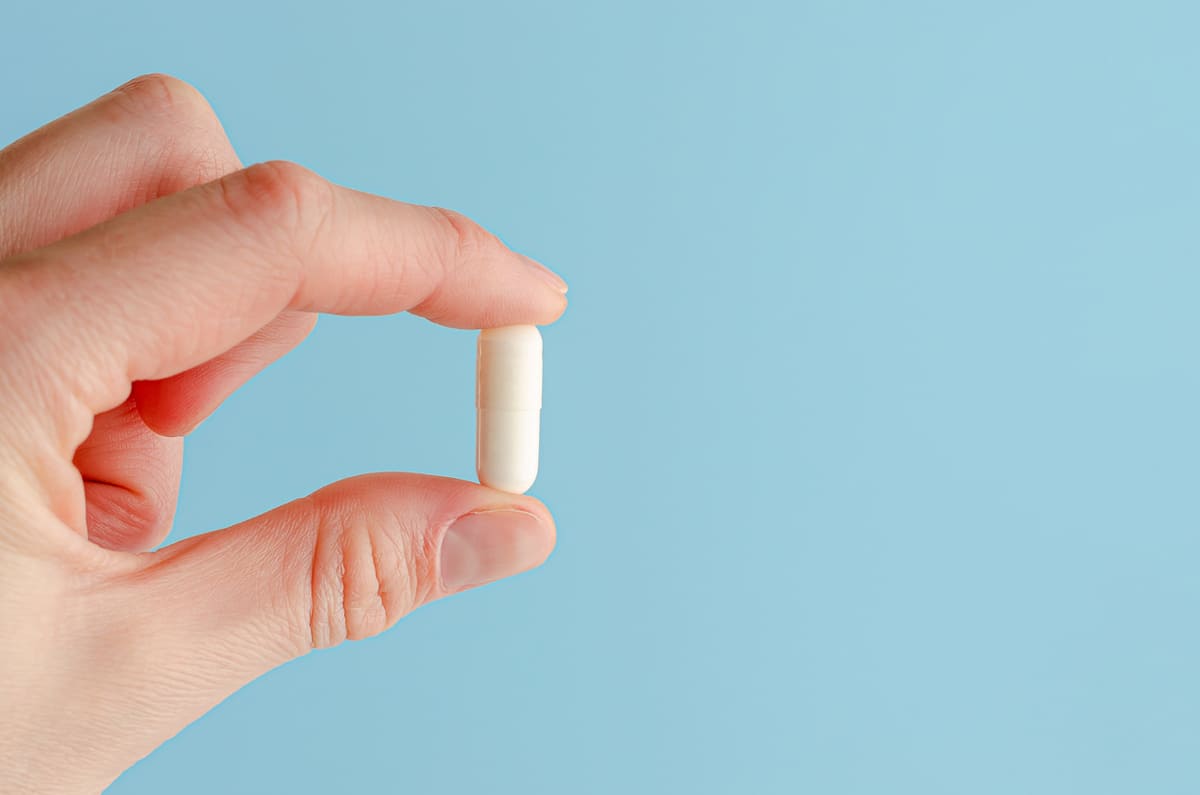 Happily, only a handful. The ingredient list for each serving (two capsules) and benefits include:
600 mg Saw Palmetto – Added to support the hair growth cycle. In addition, its claimed benefits include inflammation reduction, hair loss prevention, and enhanced urinary tract function.
5,000 mcg d-Biotin – Research has shown that d-Biotin is great for improving all over hair health by increasing shine and volume. It also improves scalp coverage for women who suffer from thinning hair. Additionally, Biotin can help your nails and enhance your skin's hydration.
25 mg Zinc (as Amino Acid Chelate) – Quick biology lesson: Zinc plays a very important role in hair repair and tissue growth, so a zinc deficiency can cause a loss or thinning of hair. Adding zinc into the capsule mix can stop hair loss and even help to grow it back with continued use.
75 mcg Selenium (as L-Selenomethionine) – Not only can Selenium provide the minerals to have healthier hair, it can help reduce dandruff by eliminating dandruff-causing fungus.
20 mg Chrysin – Used for treating baldness, Chrysin simply adds to the good hair cocktail in each capsule.
Additionally, each capsule is made from vegetable cellulose, and there's calcium carbonate powder mixed with the supplements that are used as a base material.
My Experience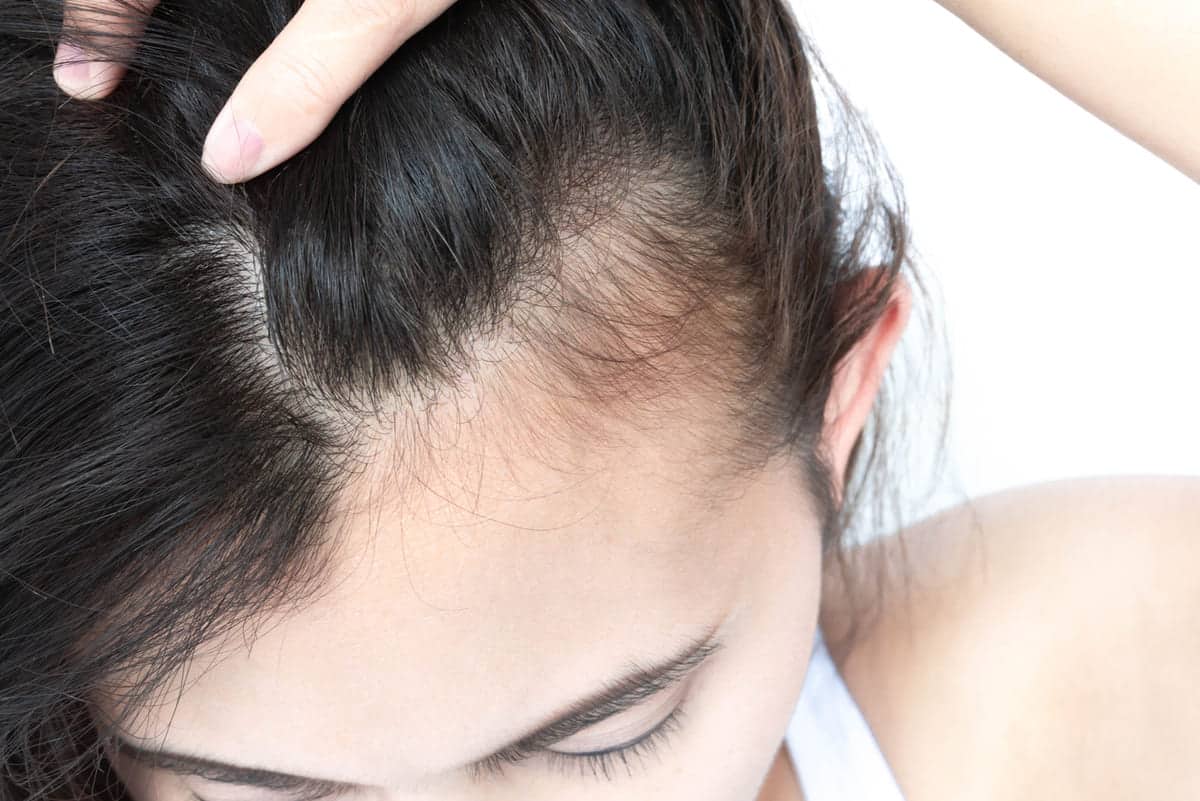 I'm not great at taking supplements; let me just get that out of the way. Honestly, unless they're staring at me first thing in the morning, I forget about them after a few days due to my "out of sight, out of mind" mentality.
So, I made it a point to put the capsules directly with my other daily medication so I wouldn't forget. I took two in the morning and, as directed to begin, two in the afternoon (I chose dinnertime).
As for my hair condition, I've been in menopause for about 10 years. Let me explain: I had a full hysterectomy to remove a tumor and have been on HRT since day one. So, with that lack of hormone balance that only a human body can provide perfectly, I began to notice a patch of hair near my left temple that wasn't as full as it used to be. Happily, I took the opportunity to try out the supplement as I felt I was a great candidate for my hair issue.
I noticed zero side effects ingesting them, so no odd sensations and no upset stomach (I have a very sensitive stomach, so that was a relief).
But did I notice any positive effects from taking them? Yep. I'm seeing small hair growth in the patch that is thinner than the rest of my hair. Keeping with the fact that hair grows, on average, ½ inch per month (give or take a couple of centimeters), I am seeing some sprouts. But even better, I'm not seeing more thinning there.
Do I Have to Keep Taking the Supplements After I See Benefits?
One word, yes. If you want your hair to look shiny and healthy and even fuller, you'll need to continue to take a daily supplement of two capsules a day. I mean, it's not a bad deal when you think about it. And if you forget to take them one day, you don't need to play catch up – just continue with your daily dose when you remember.
Read Next:
I Stopped My Hair Loss, but Then What?
5 Ways to Fix Your Thinning Hair