As we get older, it's common for our hair to start to thin. According to the Mayo Clinic, 55% of women will experience hair loss by the age of 70. This is due to a number of reasons, from female-pattern baldness (the most common) to increasing levels of stress as we get older. There are prescription medications to treat the most extreme cases of hair loss, but if you just notice a thinning of your mane or that your ponytail isn't as robust as it used to be, there are lesser solutions to try.
There is a wide variety of products you can try at home to make your thin hair look thicker and fuller, from plumping mousse to volumizing spray. You can also try different methods to make your hair look thicker, including blow-drying it from an upside-down angle and adding curl to boost it up. We've tried most of the tricks and a vast number of products on the market and have found that they offer a wide range of success. After many trials and experiments, we've come up with 8 of our favorite hair products that can help with hair loss or simply work well with fine or thinning hair.
Make hair thinning a thing of the past. Moérie provides mineral and biotin treatment, whether you want longer, healthier hair or just add some extra volume to it. The set contains shampoo, a hair mask, a conditioner, and ultimate hair growth spray. Their mineral and biotin-rich formula allows hair to recover from various stages of hair loss, removes any contamination, and boosts hair growth.
It's all-natural, cruelty-free, and free of any hazardous materials!
Collagen is the most abundant protein in our bodies, but as we age, our bodies naturally start making less each year, which can contribute to the signs of aging, such as fine or thinning hair. This marine collagen blend contains collagen, biotin, hyaluronic acid, and 100% daily vitamin C to help promote thicker, healthier hair. Add one scoop of this flavorless powder to coffee, tea, or smoothies daily for hair growth. Bonus points: it is a woman-owned company!
This patented brush gives you a pain-free brushing experience. What's the difference? It has 428 bristles with 32 different heights to apply the correct pressure to your hair, helping to reduce hair loss and breakage. There are three models available, with one option designed specifically for fine hair.
Bolster Beauty's formula supplies essential nutrients to support healthy hair growth at the deepest cellular level. Its primary ingredient, Saw Palmetto, helps keep the hair growth cycle working in top condition. Other ingredients include d-Biotin, Zinc, and Selenium, which help stimulate scalp health, inhibit hair loss, and encourage new growth.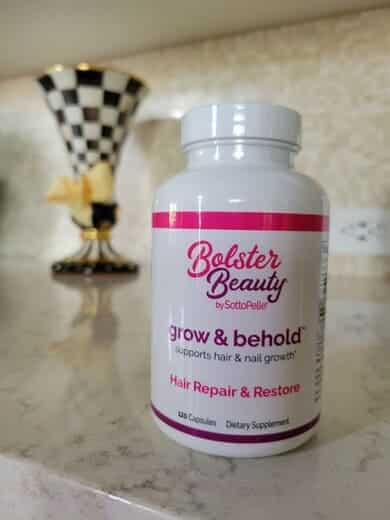 This double award-winning, weightless styling spray gel wraps around each strand from root to tip, adding instant volume, body, and lift to thin, flat hair while nourishing the scalp and follicles to support thicker, healthier hair growth over time. Available at better-notyounger.com.
The Kiierr Laser Cap is a powerful, cutting-edge low-level laser device for the treatment of androgenetic alopecia (pattern baldness). Kiierr laser technology is backed by clinical trials and cleared by the FDA for the treatment of hair loss. Their laser caps are completely portable and discreet, so you can grow hair inconspicuously anywhere, at any time: at home, at work, driving, or running errands. You only have to use it for 30 minutes every other day, and if you don't see thicker/fuller hair growth after 7 months of continuous use, they will give you your money back!
This daily maintenance shampoo is designed and formulated to help promote and maintain healthier hair and a healthier scalp. It has over 22 beneficial ingredients and is color safe and keratin safe, as well as being sulfate and paraben-free! The best part? While most sulfate-free shampoos don't lather, this one does, defying the odds and giving you the best washing experience possible.
Some days you just don't have time to hop in the shower and get ready for the day. If your hair looks dirty or greasy, you want to fix it fast before heading out the door. For me, that's where Drybar detox dry shampoo comes in. It has a super-absorbent formula that eliminates oils and impurities, leaving hair looking and feeling clean and refreshed with extra volume and a matte finish. This was a lifesaver for me during a year of Zoom meetings and pajama pants.

Blissy's silk pillowcases are handmade and crafted from high-quality 22-Momme 100 percent pure Mulberry silk. They help prevent allergies and are non-toxic and completely natural. The silk pillowcase does wonders for your hair, skin, and overall health while you sleep. Plus, they're so cozy you feel like you're sleeping on a cloud. I was hesitant before making this purchase, but after taking the plunge, I won't go back. My hair looks fabulous, and I'm sleeping better than ever.
As you try out new products specifically designed for fine or thinning hair, you might find they're unexpected miracle workers. However, if you still aren't pleased with the fullness of your hair, you can always consider adding in some extensions, a clip-in hairpiece, or even invest in a quality wig. The most important thing is that you go about your day feeling good about yourself, and let's face it, our hair is one of our most important accessories. It can make all the difference in your level of confidence and your overall well-being. If that starts with a hair product, I say go for it. Our days are stressful enough without having to worry about fine or thinning hair!
Read Next:
The Best Haircuts for Thin Fine Hair
The Best Haircut for Your Face Shape