Before making a clothing purchase, it's always wise to imagine at least a few different ways to make it work in your wardrobe. Having a few go-to style staples will also help you get dressed more quickly — after all, how many times are we in a rush with "nothing to wear?" So let's review some versatile pieces that you can mix and match all summer long. You may already have most of them in your closet!
These seven pieces can be turned into at least 10 summer ensembles — do you already have anything similar?
1. Karen Kane Tie Front Top ($103.50):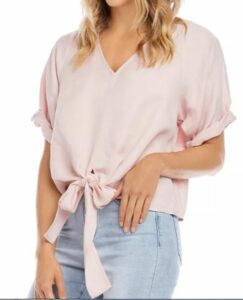 This flattering knotted top can be worn layered or alone for any season.
2. JCREW Slim perfect T-shirt in stripe ($19.50):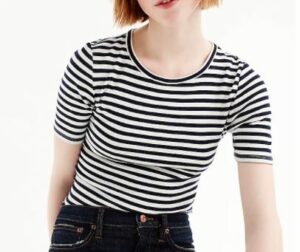 Pair this timeless pattern with skirts, your favorite denim, or casual shorts.
3.Denim Short Sleeve Utility Button Down Shirt ($34.90):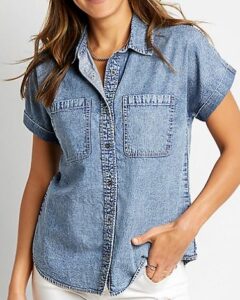 Denim looks great with everything! Try this versatile piece with shorts, other denim, and skirts.
4. Tuckernuck Blush Floral Viola Pleat Skirt ($99):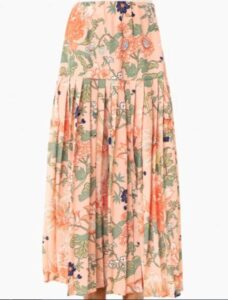 Equal parts trendy and classic, this floral maxi skirt can be worn with a basic top.
5. FEKOAFE Drawstring Casual Shorts ($19.99+):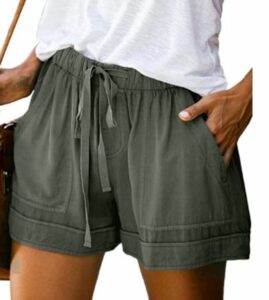 Wear these comfortable shorts to run errands or dress them up for coffee with girlfriends.
6. Ab-Solution High Waist Ankle Skinny Jeans ($68):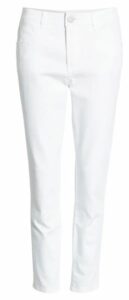 The perfect-fitting white jeans are a core piece in any closet. You can dress them down with a tee and sneakers, or dress them up with heels and a blouse.
7. Loveappella Maxi Dress ($68):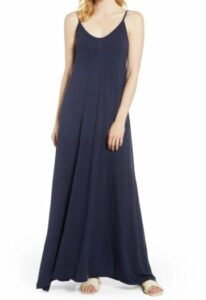 Wear this dress on a hot summer day or layer it with different tops.
Outfit #1: Pink Top With Floral Skirt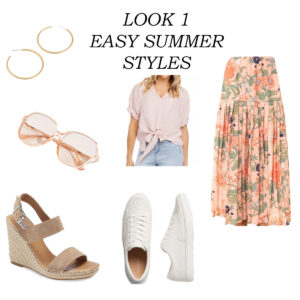 To ensure the skirt remains the statement, opt for delicate jewelry like this pair of medium hoop earrings. For a more casual look, slip into some comfortable sneakers or elevate it a little with some stylish wedges. And don't forget your summery shades!
Outfit #2: Striped Top With Floral Skirt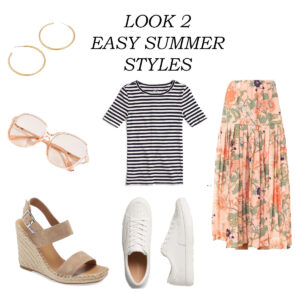 Keep the accessories simple and just swap out the pink top for this striped option to create a cool summer vibe. Plus, the navy stripes will really pull out the gorgeous colors of the skirt.
Outfit #3: Denim Shirt With Floral Skirt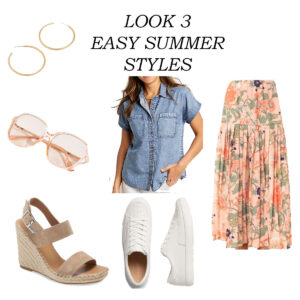 Denim can be dressed up or down, so experiment by layering it over another patterned shirt or just buttoning it up to wear alone.
Outfit #4: Denim Shirt With Drawstring Shorts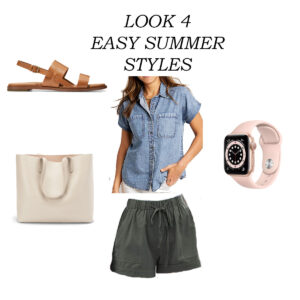 These comfy drawstring shorts can be worn all day. Just pair them with an easy leather tote, watch, and pretty summer sandals.
Outfit #5: Striped Top With Drawstring Shorts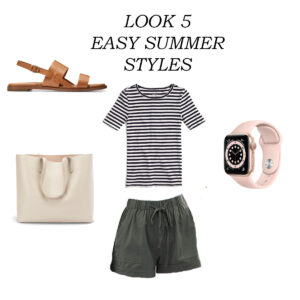 Wear some colorful accessories to add some fun to this neutral look. Oh, and don't forget your watch to log your steps.
Outfit #6: Shorts With Pink Top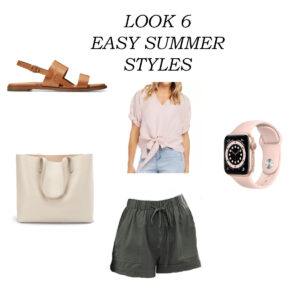 Top off this neutral outfit with a pop of color.
Outfit #7: White Denim With Pink Top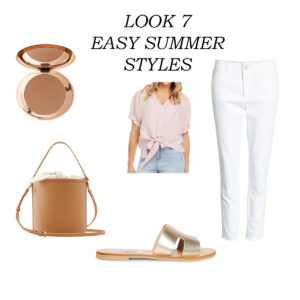 This look is simple and chic. This gorgeous bucket bag is the perfect summery shade. Make sure to add some bronzer to your look too.
Outfit #8: Striped Top With White Denim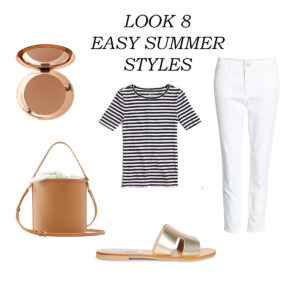 This look is wonderfully preppy chic. Keep it comfy and cute with some flat metallic sandals.
Outfit #9: Denim Top With White Denim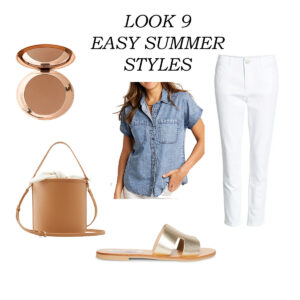 Style your look withmetallic sandalsand a timelessbucket bag. Bucket bags are great to wear right now. I love the cross-body style to keep your hands free while you shop.
Outfit #10: Denim Top With Maxi Dress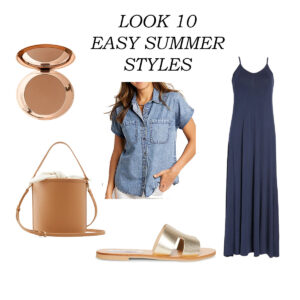 Wear the denim top as a jacket or cinch it at the waist for some added shape. Having some great go-to style staples and having multiple ways to wear them is a win-win! It can save you both money and time spent getting ready every day. But remember to switch it up with fun accessories like hats and jewelry, and don't be afraid to try different shoes. Have fun styling! Read Next:10 Summer Fashion Essentials Under $1006 Classic Summertime PrintsBest Comfortable Sandals for Summer