Diana Gabaldon's Outlander novels tell the story of Claire Beauchamp Randall, a young woman who visits a stone circle in the Scottish Highlands and falls through time from 1946 to the mid-eighteenth century, when the clans are preparing to rise in support of 'the Prince over the Water.' Her story is filled with love, passion and drama, and it transports her to some of Scotland's most amazing historical sites, although, understandably, she doesn't always have the leisure to admire them.
In the second part of my feature, I'm taking you to more Scottish Outlander locations that appear in the Outlander books and in the TV dramatisation starring Caitriona Balfe and Sam Heughan.
BLACKNESS CASTLE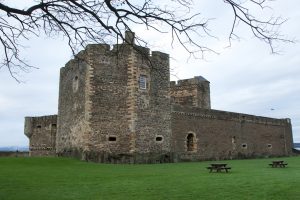 The moment you set foot inside the grim looking walls of Blackness Castle, it becomes apparent why this place was chosen for that infamous scene in Season 1 where Jamie is flogged by Black Jack Randall. The whole place has a deeply forbidding look about it, and it's no surprise to learn that it was once used as a prison. Blackness is built on a natural outcrop of rock, which means the courtyard is irregularly surfaced with sharply angled stones that are slippery with green algae. There's a dampness everywhere – the sea is on the other side of the curtain wall – and in fact, the lowest prison cells were 'slopped out' twice a day by the high tide. Nice.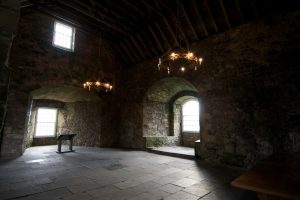 Blackness was built in the 1440s by Sir George Crichton, Admiral of Scotland. The Crichtons were a powerful family, closely allied with the Crown.  But, in 1453, when James Crichton defied the wishes of James II of Scotland, he picked the wrong monarch with whom to quarrel. James, who wanted the castle for himself, rolled up with his beloved cannons and quickly settled the dispute. Thereafter, Blackness became a state prison, with the more 'privileged' prisoners enjoying relatively good conditions in the upper storeys while the poor souls in the lower cells were condemned to misery. It was down to Oliver Cromwell, in 1651, to bring Blackness to its knees: his forces bombarded it from land and sea, forcing the Royalist garrison to surrender. The place was left in ruins.
You can wander freely around the Castle's three towers and along its wall-walks which give bracing views across the Firth of Forth. The South Tower contained the residential quarters with a Great Hall and chambers above. Everything else is about fortification and defence, with a succession of prison rooms in the Central Tower, and gun batteries above guardrooms and cells in the North Tower. Even on a sunny day, the abiding feeling is one of oppression.
HOLYROOD PALACE AND ABBEY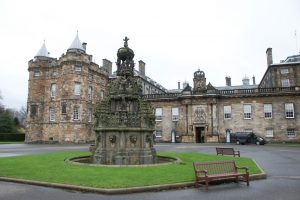 Sitting at the lower end of Edinburgh's Royal Mile, the Palace of Holyroodhouse is pivotal to the story of Bonnie Prince Charlie: this is where he mustered his troops and held court in the opulent chambers. In the Great Gallery, where a sumptuous banquet took place, you can gaze at over 100 portraits of the kings of Scotland, created by Jacob de Wet and commissioned by Prince Charles' great-uncle, Charles II. This gallery features in 'Dragonfly in Amber,' the second Outlander novel, and in the haunting ruins of Holyrood Abbey Claire has a tense encounter with Jack Randall.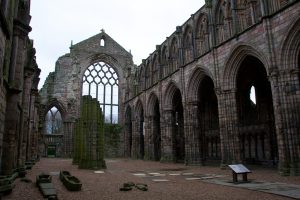 Holyrood Abbey, which adjoins the Palace, was founded by David I in 1128 to house a community of Augustinian monks. The name 'Holyrood' is said to derive from a vision that David had of a deer stag with a cross or 'rood' between its antlers. An alternative story says that it comes from a fragment of Christ's cross, once owned by David's mother, Queen (later Saint) Margaret. As with many monasteries in Scotland, the monarch of the time had private apartments where he could stay with his family, and it was James IV who decided to enlarge the accommodation to create a grand palace for his bride, Margaret Tudor. Their wedding took place here in 1503.
So many of Scotland's royals were born, married and buried at Holyrood, but there is one monarch whose story captures your attention more than most: Mary Queen of Scots. Mary lived in the Queen's Apartments on the second floor of James V's Tower, which is the oldest surviving part of the Palace. She married her second husband, the notorious Lord Darnley, in the Palace chapel in 1565, and in her private chambers Darnley forced her to witness the murder of her Italian secretary, David Rizzio, in 1566. Palace guides will show you an enigmatic stain on the floorboards which is said to be his blood.
TULLIBARDINE CHAPEL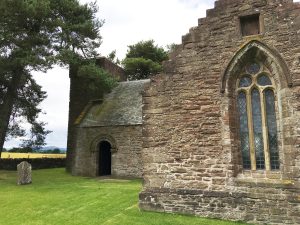 As the wagons of war start to roll, Claire and Jamie move northwards from Holyrood to meet a destiny they still believe they can change. After the Battle of Falkirk Muir, they take refuge in an abandoned chapel, and in the pitch darkness Claire tends to Rupert, who is seriously wounded. (Spoiler Alert: It should be said that, in the TV series, it is Angus and not Rupert who dies here.)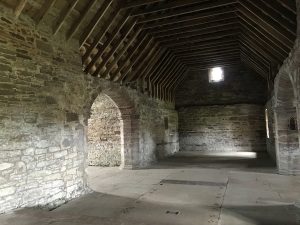 Tullibardine Chapel, where the scene was filmed, lies amid the quiet Perthshire countryside. It was founded in 1446 by Sir David Murray of Tullibardine Castle, and was intended as a collegiate house – in other words, it held a small community of priests who prayed for the souls of his family. This was quite a common practice among wealthy landowners of the time.
In a nice twist that neatly weaves history with film-making, the Murrays of Tullibardine were closely involved in the Jacobite rebellions of 1715 and 1745. Lord George Murray was Prince Charles' army general, and it was his wish to be buried at Tullibardine alongside his family. But, after the Battle of Culloden, he was forced into exile, and was unable to return to his homeland. His brother William, the Marquess of Tullibardine, was arrested and died in the Tower of London.
DRUMLANRIG CHAPEL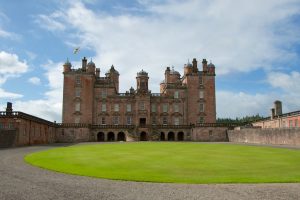 In Outlander, after the chapel is surrounded by Redcoats, Claire is offered as a hostage in exchange for the Jacobites' freedom. She travels south with the Government forces, who are unaware of her true identity, and is taken to Bellhurst Manor, the seat of the Duke of Sandringham. To Claire's horror she finds the Duke at home, together with his niece, Mary Hawkins, both of whom know her as a Jacobite sympathiser. Aware that she is in grave danger, she tries to brazen it out while Jamie makes all speed to come to her rescue.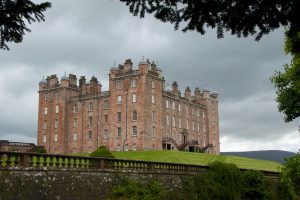 The scenes outside Bellhurst Manor were filmed at Drumlanrig Castle in Dumfriesshire. This spectacular mansion is the seat of the Duke of Buccleuch and Queensberry, who is also the Chief of Clan Scott. It was completed in 1697 and is considered to be one of Scotland's finest examples of 17th century Renaissance architecture. Bonnie Prince Charlie stayed here in December 1745, and the room in which he slept is preserved just as he left it, with ornate furniture and a horsehair bed draped with ancient hangings. I have seen it, and I can assure you that it does not promise a comfortable night's sleep. It is as hard as nails.
The Prince was taking no chances during his stay: the guide at Drumlanrig told me that his strongboxes of money were bolted to the floor of the bedroom, and his pack ponies were quartered in the corridor.
Drumlanrig Castle is open for guided tours during the summer months. Dates and admission prices are given on the official website.
CULLODEN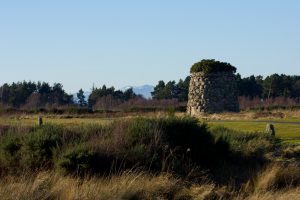 The last of the Outlander locations I will share is the most moving. However much you might have read about it, nothing really prepares you for the feeling of Culloden. I went there on a crisp morning in January, with the frost still white in the hollows and snow gleaming on distant mountains. It will stay with me forever.
On 16th April 1746, the fate of so many men and so many families was decided in the space of less than an hour. For the Jacobite army, defeat turned swiftly to massacre. The Prince, seeing that all was lost, embarked on a prolonged flight across Scotland and ultimately to France. The dead were buried in mass graves according to their clan. Throughout the Highlands, swift retribution from occupying Government forces meant that life was never the same again. The wearing of plaid and the carrying of weapons was fiercely suppressed. Many survivors went into hiding or fled abroad into exile.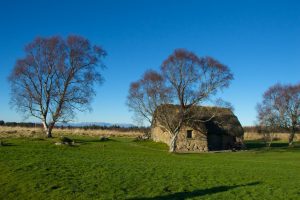 As you walk around the site, information signs tell the story of the battle, and rows of flags mark the lines of opposing forces. There is only one building: Leanach Cottage, the remnant of an old farmhouse which served as a field hospital for Cumberland's forces. In the late 19th century, a local landowner, Duncan Forbes, raised a memorial cairn at Culloden and placed engraved stones on the graves.
What sadness persists here. You can feel it, but you can't dwell on it for long. Culloden is not a place for the living.
I hope you've enjoyed being whisked around Scotland in the footsteps of Outlander. This is by no means a comprehensive list – you'll find more information about filming locations on the website of Visit Scotland, which might help you to plan your own tour.