Do you believe in life after death? What about something that has caused you to die internally? An ended friendship, leaving a dream job, or perhaps it could be that your last child has just left the nest and you can't quite cope. Whatever the reason may be, something has drained the life out of you. For me, I had to learn how to move on after divorce. However, now I can say there is good news. There is life after death!
Divorce Shook Me to my Core
Years ago, I went through a divorce and was also affected by several other major events at the same time, which seemed to spell out failure. I literally felt like I had just died. I was alone. I had no life, and every breath I took was stale. It was like half of my body was missing because I didn't have my soulmate. Nothing else seemed to matter. It happened at one of the most vulnerable times of my life when my last child was weeks from graduating from high school and then off to college.
Each day I managed to drag myself out of bed and go to work. I was faking and shaking every move, searching for a warm moment. Sure, there were other family members that I had access to, but they couldn't fill the emptiness. I looked normal on the outside, but internally I was broken. Did people know what I was going through? Did they even care?
Darkness Was All-Around Me
Everything seemed manageable until I made it home and turned the doorknob. There was no one to greet me except silence. The walls always felt as though they were closing in on me. My beautiful home that was once filled with light, life, and laughter, now seemed completely dark. I became extremely weighed down and could barely move. Who was this person that once was so lively? How did she get to this stage?
I never really talked to anyone about how I was feeling. I just kept it to myself. I would lie in bed every night, in the darkness, listening to the world outside. Tears would slowly saturate my cheeks. I stopped answering the phone. Friends slowly started disappearing. This was my new norm. Then, one night as I lay there, I just started praying. I can't tell you the exact words because I don't know or remember. I was just having a conversation with God and hoped he was listening. Whether or not he was, I do recall that every time I would do this, then I was able to get a decent night's sleep. So, I began doing this often.
Finding Help in the Experience of Others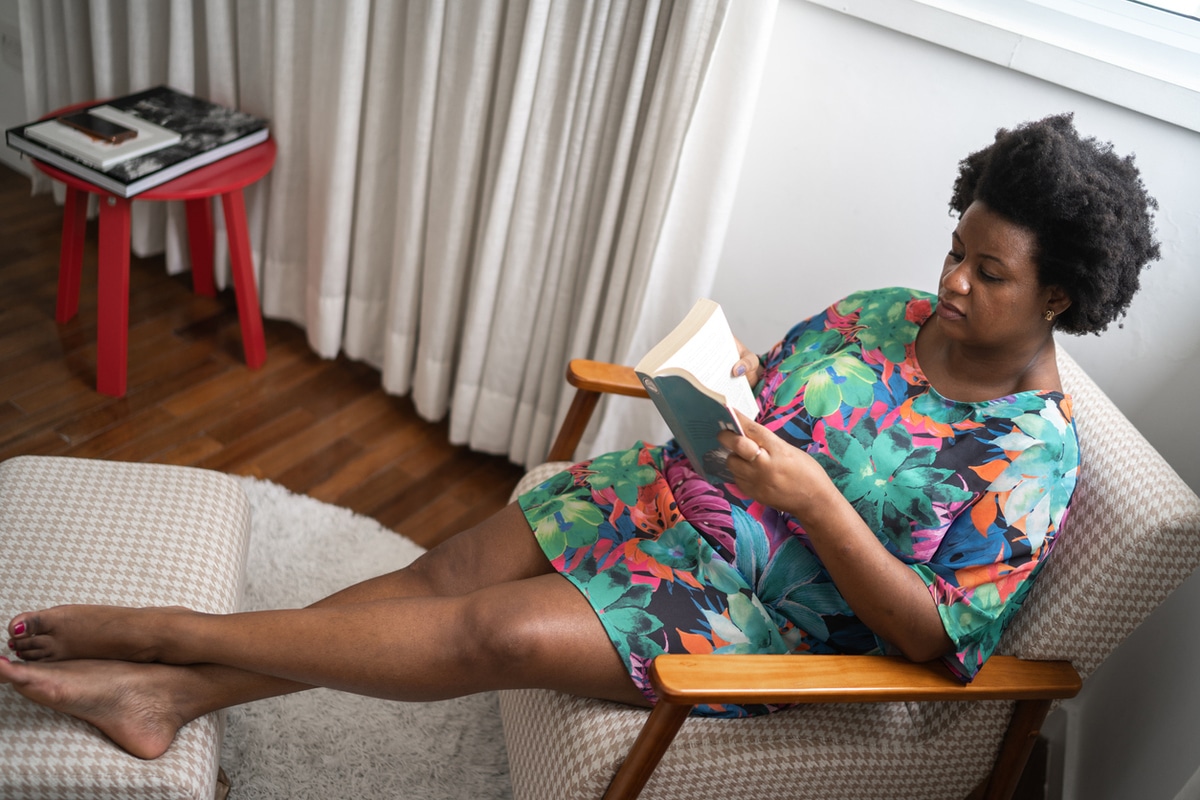 I still would have sleepless nights. So I began incorporating reading into my routine. Some of the books were about things others had gone through. They reminded me that there are situations far worse than mine. I specifically remember reading The Briefcase by Lori J. Jones, a heart-wrenching true love story about her trials in life. If she could survive as a single parent, then certainly, I could.
I then focused on self-help books such as Lord, I Want to be Whole by Stormie Omartian and Battlefield of the Mind by Joyce Meyers. I also listened to audiotapes and online talks by Priscilla Shirer, which were very motivating. I made it a point to focus on positive things, regardless of the circumstances around me.
Gradually, I began to feel better. I started shedding my wardrobe of pity, replacing it with things that made me feel good. Positivity was my new medicine. I love art, so I began using my art to express how I felt. Walking became a daily activity that I found therapeutic mentally and physically. Talking about my pain also helped heal the hurt. I began meeting new friends as I continued to step out of my comfort zone and get my life back on track.
Working on Myself and Learning How to Move on After Divorce
before? Why did it take so long for me to start living again? What happened that gave me hope in a new life? People around me were still the same, but I realized it was me that needed the internal cleansing. The lively person I was so many years ago had died and had to be resuscitated.
After the internal makeover, I was able to remove the veil of darkness. A ray of light now shined again. I was back to living, vibrant, energetic, and confident. This transformation didn't happen overnight, but when it did, it felt so great! I was renewed.
Today, although I'm still single, I am in the prime of my life and cherish every moment. I can go and come as I please, laugh and cry whenever I want and still feel good about life. I'm not giving up hope on a new healthy relationship, but I am so grateful to know that with faith and perseverance, there is life after death. You just have to be willing to take the steps or seek the help you need to bring yourself back. What steps are you taking? Are you ready to live again?
Read Next:
Is Lack of Sex Behind Midlife Divorce?
High-end Dating Apps for Women Over 50