Making New Year's resolutions doesn't have to be more challenging than actually sticking to them. There are so many people, especially women, who focus their resolutions solely on losing weight and eating healthy. While that is certainly not a bad thing, the problems arise when we set unrealistic expectations for ourselves. Rather than starting the year feeling anxious about meeting your New Year's resolutions, relax and start planning how you're going to spend 2018 being more self-indulgent.
If you're like me and get a kick out of reading your horoscope, check out Refinery 29's New Year's Resolution to Consider, Based on Your Sign. My 2018 horoscope (Zodiac sign: Aquarius) says, "You should roll with the punches," and although it is not in my nature as a classic Aquarian to go with the flow, I'm supposed to imagine what my 2018 will look like if I do just that. Easier said than done, right? But, what if I just stop questioning everything and let life take its course? The point is, no matter what your Zodiac sign is, it's important to relinquish a little control over life, stop being so hard on yourself, and start taking better care of YOU. I'm purposefully not just talking about diet and exercise here. Your main focus for 2018, and years to come, should be you – figure out how to be the happiest and healthiest version of yourself, and you won't need to set such strict and unrealistic resolutions every year.
All the Things You Need to Start – and Stop – Doing in 2018 sets out 14 realistic goals that are enjoyable, and that anyone can accomplish within one year. Most importantly, the goals allow you to indulge a bit. Two of my favorites are, "Stop doing that one workout you hate," and "Ditch the foods you hate." Why do we continue to torture ourselves, ladies? There is no need to force yourself to do burpees or eat kale just because your trainer told you to, or you read an article about why it's good for you. It's much easier, and less painful, to find other exercises that excite and challenge you, and foods with similar nutrients that you actually enjoy eating.
Rather than focusing on a strict diet or hardcore fitness plan, instead, consider trying something new, such as going on a wellness retreat, meditating, or cutting out one food item that is always a temptation – (French fries anyone?) For me personally, I put on about 15lbs during nine months of traveling the world in 2017, but instead of coming back and doing a crash diet to lose the weight, I decided to focus on eating better and exercising more consistently in order to properly lose the weight, and keep it off. I have always wanted to run the Los Angeles Marathon, which is in March 2018, so I signed up a few months ago, just before I flew home from Greece at the end of my journey.
I knew that if I gave myself the time to follow a six-month training calendar, and the motivation to get back to running, I would naturally fall back into healthier eating habits. To kick off 2018, and as part of my marathon training, I am running the San Diego Resolution Run half marathon with my sister. My goal isn't just to lose those extra 15lbs, but to care enough about my health to make better eating choices, and to have fun running while I train and reach a long-time goal.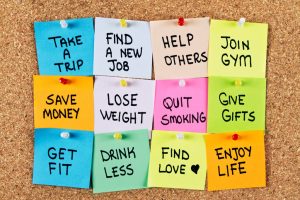 If you are looking for more creative ideas, Daring to Live Fully's 29 New Year's Resolution Ideas – Make This Your Best Year Ever has some wonderful self-indulgent options to make 2018 a fun and successful year, such as, "Learn something new each day," "Pick up a hobby," "Read more books," "Become more confident," and "Be kinder to yourself." Imagine setting these as your only New Year's resolutions! All of them are practical, fun, and beneficial to your mental health.
For a truly self-indulgent experience, 50 self-improvement ideas you can do one step at a time, check out The Ultimate List of 2018 New Year's Resolution Ideas. Many of these lean towards what you can do more, and in turn what you can do less, including move more (sit less), explore more (travel, camp, hike), volunteer more (time or money), listen to music (watch less TV), and sleep more (put your phone down and stop browsing!)
Get excited about setting your 2018 New Year's resolutions! Make sure that you are indulging a bit, improving your mental and/or physical health, and having fun while accomplishing your goals.