'Narcisa' is a recently, but traditionally built farmhouse style property, sitting on the edge of the fertile Nadur valley, offering views out towards the sea. Ideally situated in one of Gozo's biggest villages, and in close proximity of the best beach on the island, Ramal Bay, Nadur has the village emblem of the sun rising, as being on the very tip of the Eastern side of the island, Nadur is the first village to see the sun rise.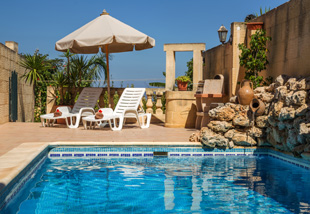 The bedrooms at Narcisa are all en-suite, and the two double rooms offer stunning views from their private terraces. On arrival guests will find handmade soaps, fresh fruit, and a bottle of local wine in the room.
Breakfast is a totally relaxed affair, with the breakfast table buckling under a variety of fresh fruit (as much of it local produce as possible according to the season)local breads, a selection of cheese and cold meats, yogurts, cereals, freshly squeezed orange juice, and preserves. As an optional extra I provide homemade pancakes stuffed with fresh fruit, Greek yogurt and a drizzle of honey, or a traditional English breakfast. Guests sit by the pool, on the breakfast terrace, overlooking the garden, and enjoying the sea views.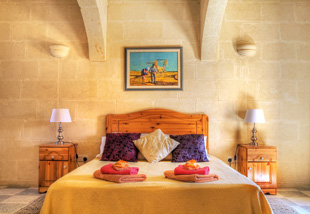 The treatment room at Narcisa is warm and cozy, with relaxing music and candles burning, with luxurious massages and facials to choose from.
In the garden, surrounded by fruit and olive trees, I have created a meditation area, where a guest can awaken their sensory awareness with natural products such as wood, stone and water. Also, it's possible to arrange yoga classes in this area, on a one-to-one basis.
I strongly believe that bed and breakfast dwellers do fit into a different category to luxury hotel dwellers, but that doesn't mean that the standards need to drop. At Narcisa, my guests have my undivided attention, and I can organize practically anything for them, from a wedding to a country walk, with a truly personal touch.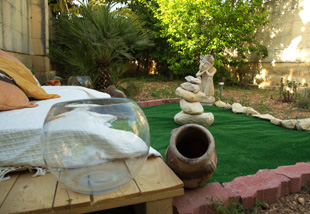 As an ex-pat, previously working in a country that makes everything as difficult and stressful as it possibly can for its occupants, I believe that I fully understand the total importance of a persons annual vacation. It's really interesting for me, having studied the psychology of a traveler in a recently completed degree in tourism (Yes, I've come a long way from booking a flight and packing a suitcase) to watch my guests arrive as a bundle of tied up knots and stresses, and slowly, but surely, unravel.
The strap line for Narcisa is 'Relax- Indulge –Unwind', and I don't feel that my job is done unless my guests do just that.
To find out more about Malta, Gozo or Narcisa, please feel free to email me, Julie Wiltshire, on [email protected], and to visit the website www.bedandbreakfastgozo.com