These days we could all use a break, and luxury spas are just what the doctor ordered. Spas provide the antidote to our high stress modern lives. They are resources for preventative health, wellness, anti-aging and more – and no "one size fits all" experience will do. Thankfully, many spas in the US and abroad are creating unique experiences for their guests, catering to their needs, and understanding that the ageless generation works hard, plays hard—and seeks some serious rejuvenation.
It's been a week since I returned from my very special week at the Golden Door Spa. If you aren't familiar with it, Golden Door is located 2 hours south of Los Angeles in Escondido, California. It's the top of the heap, uber special and grand dame of residential spas in the United States. After returning home one week ago, I confess, I am still resting up. I'm exhausted.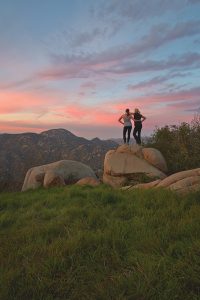 Activity at Golden Door Spa starts at 5:45. That's a.m. for you night stalkers. A brisk 5 mile hike up the mountain before breakfast isn't my idea of fun, so I opted for a more leisurely 3 miler. It did, however, get me out of bed in the morning at least three times while I was there.
That's the thing about The Door, as devotees call it. There is so much choice. Don't like early morning? Sleep in. Don't like the time you are scheduled for aqua aerobics? Change it. Want an extra mini-muffin with your oatmeal? Have it! It's a judgement free zone. The other guests aren't tracking your efforts and the instructors want what you want. They really must hire them for "helpful attitude," beyond their skill sets. The number of guests is limited to 40 per week, so you enjoy a four-to-one staff ratio.
Decisions, Decisions
Before I even arrived at The Door, I was faced with the first of many choices. What did I want to accomplish? What was my goal for my time at The Door? Weight management, strength, balance, flexibility, mindfulness, rest. Hmmm…could I just say "all of the above" and let the chips fall where they might? Yes, it seems I could.
There are classes or programs all day long. Each day I received my program of activity printed on a fan shaped piece of stiff paper. I had a facial and a massage every day, too, I might add. I've never been stretched, strengthened, trained, buffed and puffed so much in my life. As for activities, I fit tap dancing, meditation, archery and Zumba, into that schedule, as well.
Overall, it was fun and funny and the food was terrific. Before I knew it, my week was up and it was time for me to get home and rest!