The answer flashed across my mind as an enamored couple sailed off in the final scene of a romance movie, "That's it! Sailing in the San Juan Islands." I had been searching for an adventurous vacation in the United States after our trip to Italy canceled. A simple one-day drive would land me sailing in the San Juan Islands. Donning my researchers' cap, I began to scour the internet for information.
Anacortes Yacht Charters
Focusing on cruising, I discovered Anacortes Yacht Charters offered power and sail charters while NW Explorations manage power charters. However, one company stood out above the rest called San Juan Sailing for sail fleets, powerboats, and stateroom rentals where they do not try to be the biggest, but passionately want to be the best. Personal notes from owners of the sailboat Imagine, a Jeanneau Sun Odyssey 349 in the fleet, confirmed what I suspected. They asserted, "Having tried several different charter companies around the San Juan's, when we discovered San Juan Sailing, we were blown away by their service and attention to detail. It was no surprise that Sail Magazine rated them the best Charter Operator in the Pacific Northwest.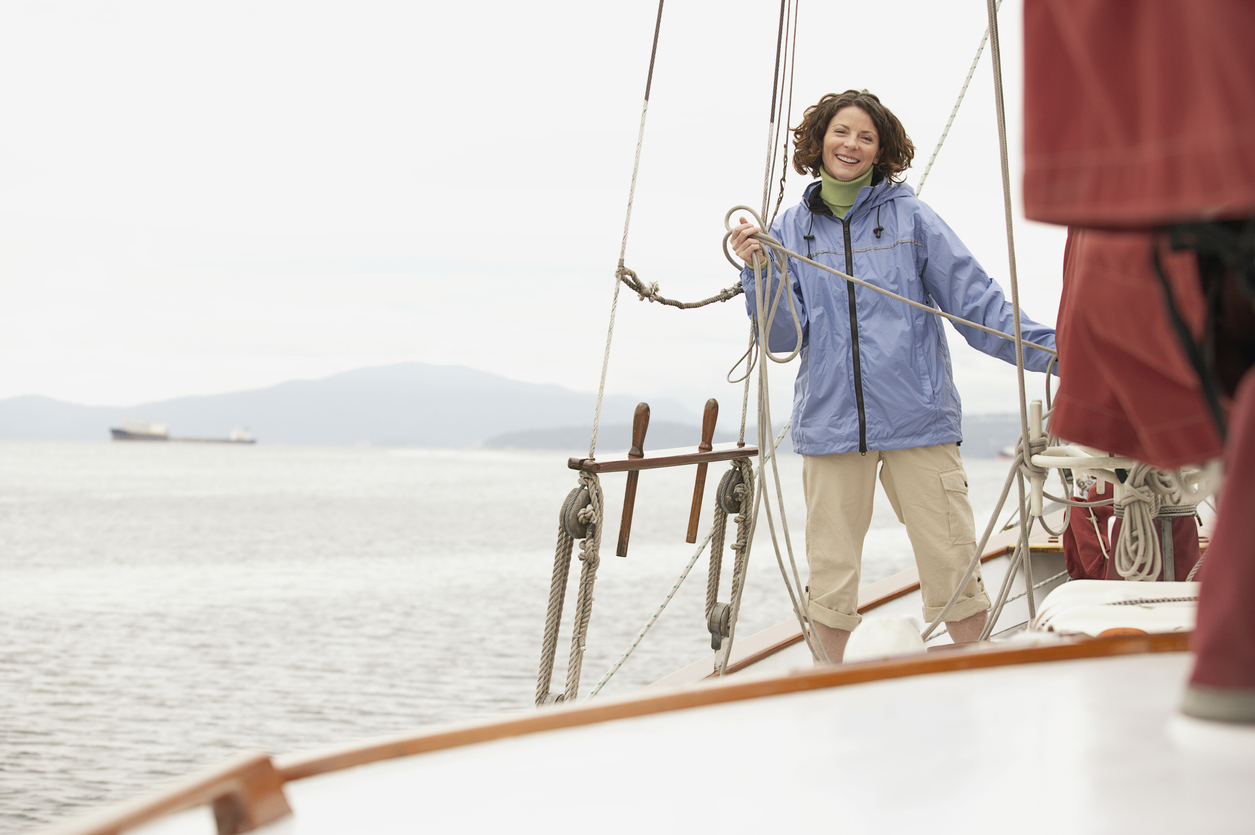 Preparations to Sail
Tackling the first order of business, my trip required someone to be in charge of navigating the sailboat. Zealous about sailing, my adult son who achieved Skipper status a year prior, leaped at the chance. Now all I needed was a crew. Okay, easy enough to talk me into going despite a few qualms. After all, I had never been sailing before. Frankly, I felt anxious. I admit it helped tremendously to learn my son's International Proficiency Certification sailing instructor declared, "With your competence in sailing and high-level problem solving, I'd sail anywhere with you." Plus, my husband decided to come on board too. That made one Skipper and two crew!
With just six weeks until embarkment, I threw myself into learning everything I could about setting sail, embracing the strange terminology, and seeking out the most remarkable islands and coves among the stunning San Juan Islands. Compiling all the tips and recommendations on Google Maps, a plan emerged. My heart thumped eagerly as our Skipper charted the course on a navigational app. In particular, we embraced some sage advice from a longstanding sailor, "Hold on loosely to plans and make changes as your heart leads you elsewhere."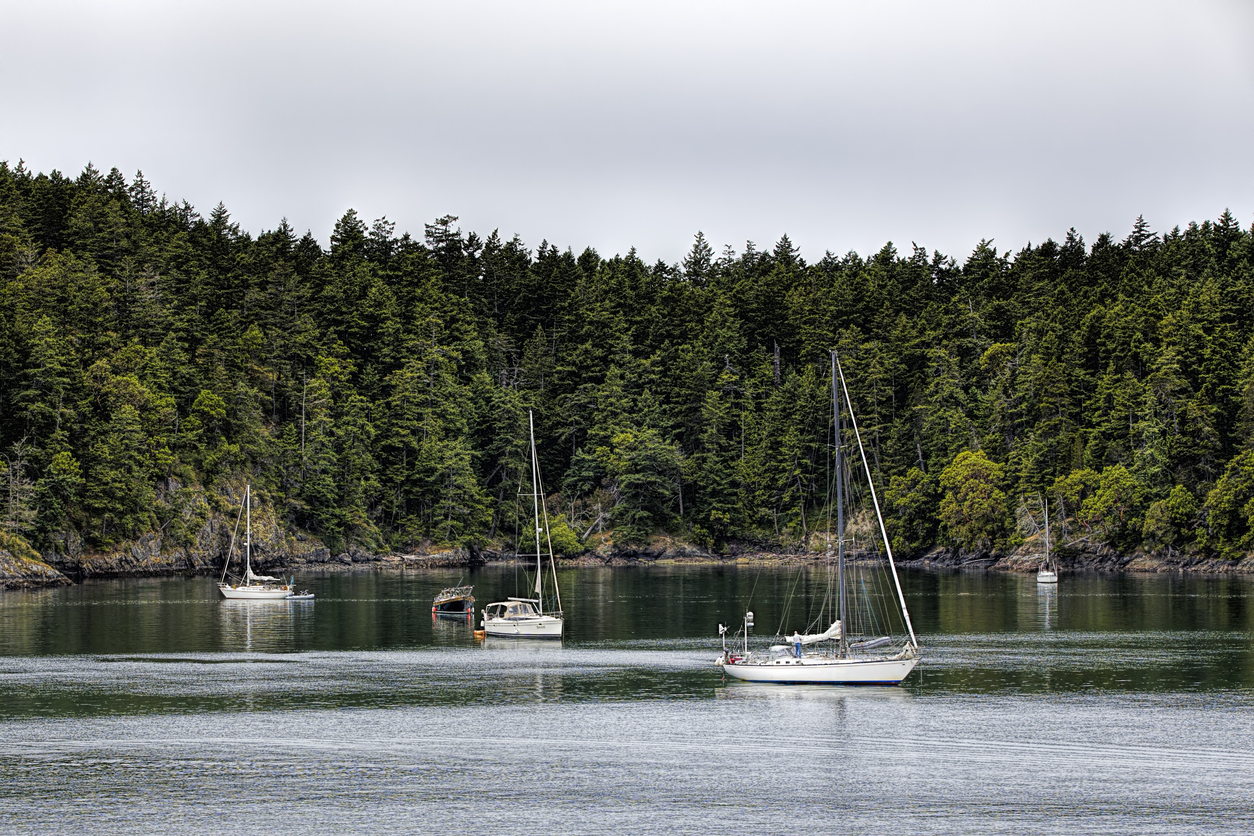 First Day at Sea
Pre-boarding the Imagine the night before sailing, we hefted our gear on board, along with the cuisine foodies dream of, fine wines, and of course, specialty coffee beans. Cupboards and cubby holes filled up quickly. The next morning through the fog, like steam on a window dissipating, I spotted another sailboat cruising through the waves. Their Skipper had one hand on the wheel and the other wrapped around a hot mug of coffee. Not ours. Instead, we got busy learning to steer, hoist main and jib sails up and down, sailing until winds threatened to tip us, and finally set anchor with a stern tie to the land. Wide-eyed most of the day, every moment for me was unchartered territory in the world of sailing while I got my sea legs.
By late afternoon, we glided into Inati Bay on Lummi Island, located a mere hour by powerboat from the mainland. Yet, the remoteness of this small secluded cove embraced us. As dusk fell, seven other boats with anchor lights glowing, shared this oasis. Immersing ourselves in the evening ambiance we settled on the deck, some neighbors grasped two oars to row a modest dinghy ashore and built a flickering fire; a bona fide bagpipe musician sent lingering melodies drifting over the water, engulfing the cove in unexpected intimacy.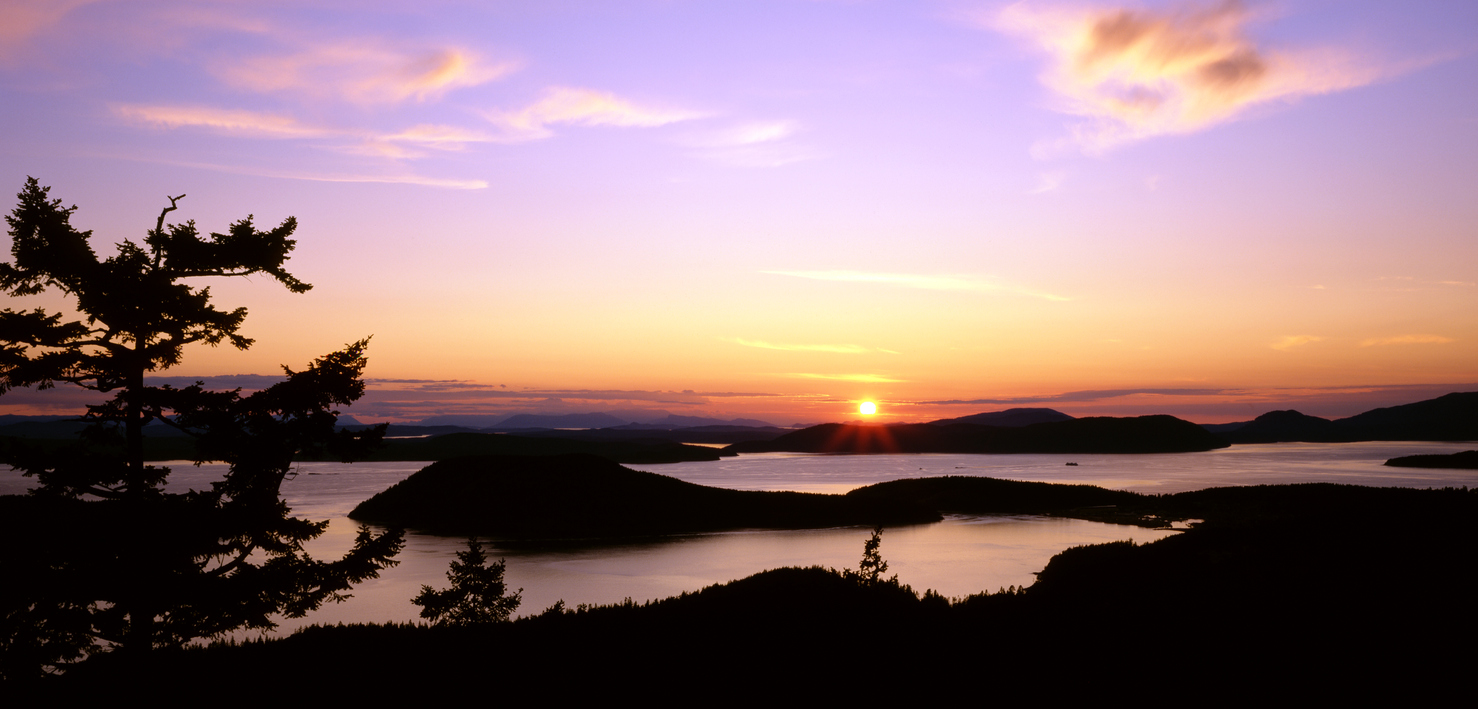 Discovering Islands
Exploring the San Juan Islands brings one word to mind, paradise. We headed toward the Patos lighthouse, a charming site where a beacon rises above a red-tiled rooftop supported by white walls and perched on a fringe island, by raising our sails under translucent blue skies. This act of sailing reigned as high in importance as reaching our destination, because we relished the magical sensation of gentle breezes advancing our ship through the rolling sea. Sounds quieted, as if muffled in a blanket, allowing the roar of everyday life to fade away. Always watchful, our eyes focused upon a colony of sea lions lounging on temperate smooth boulders shortly after spotting a pod of orcas nonchalantly swimming like they owned the ocean. Such is life among the islands.
Catching a glimpse of a mooring buoy in the nearby Fossil Bay at Sucia Island, we opted to spend the night. Reclining on deck, nature took center stage, while we sipped on a glass of fine wine. This exquisite setting, where two opposing rock cliffs plunge to water level, revealed one lone evergreen tree tucked between them. The vivid sunset spilled through this crevice, streaming a river of illuminated colors straight to the stern of our sailboat. Imagine that.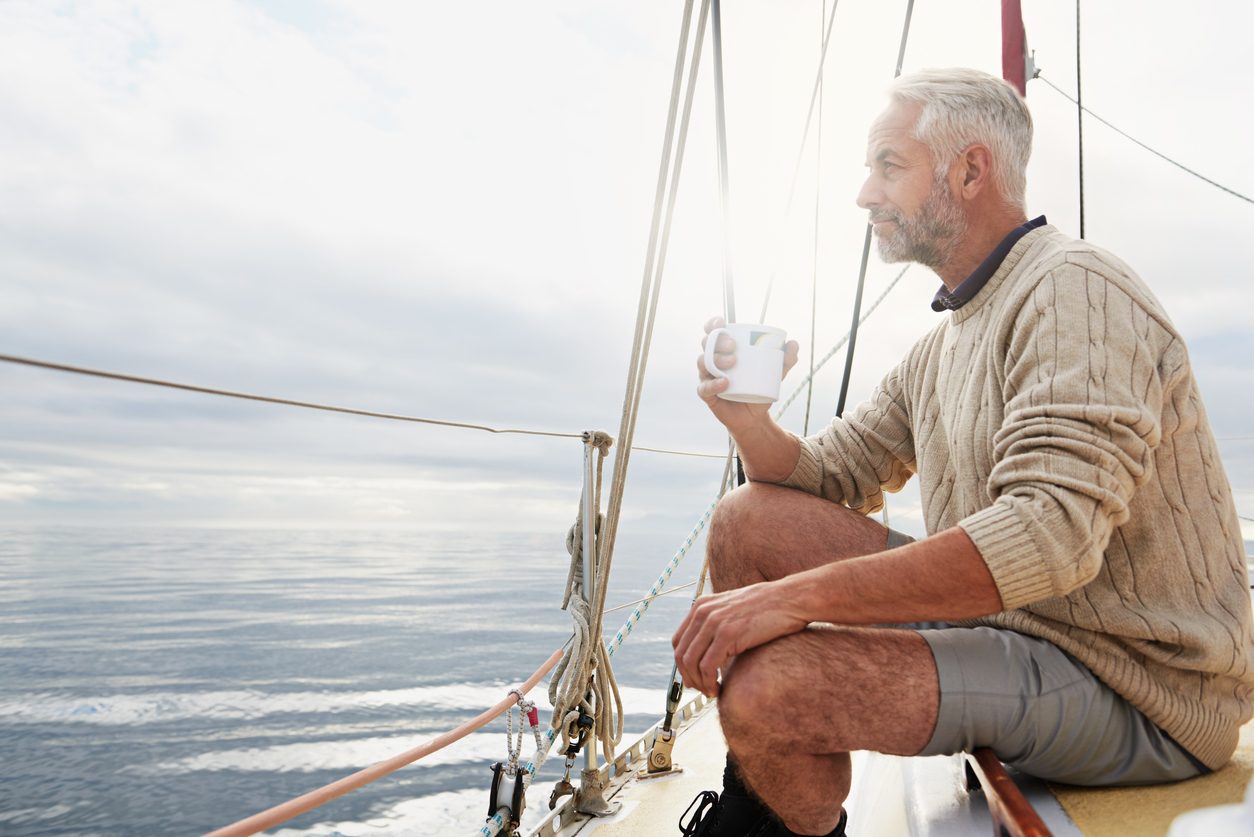 Keeping Plans Flexible
Remember the advice about changing a plan… We anticipated an early start the morning we woke up in Fossil Bay. Instead, the impassable steel gray fog restrained us from even glimpsing the nearby rocky shoreline. Kicking back, we opted for creating scrumptious chicken omelets laden with aromas of mushrooms, tomato, avocado, and freshly cut basil. Synchronizing culinary efforts, we ground fragrant coffee beans grown in Ethiopia, known for hints of pineapple juice, black tea, and cane sugar, to maximize the use of our French Press. Venturing on deck, the continuance of impermeable fog sent us scurrying below to indulge in a second round of steaming coffee and lattes. This time with beans from Indonesia laced with subtle tastes of lemon meringue, fig, and brown sugar. Thank you, Coava Coffee in Portland, Oregon, for your exquisite coffee bean selections contributing to the ideal leisurely morning.
By noon, the fog lifted a smidgen. Cautiously sailing southward, the visibility grew until the dazzling sun came out in all its splendor by midafternoon. We headed toward Deer Harbor on Orcas Island and snagged an isolated mooring ball to the west of the docks. That evening, innumerable stars twinkled above the calm night while the lights in the tiny town and at quaint farms blinked on one by one up the hillside and atop tree-lined cliffs. The starry night mesmerized us.
Overcoming the Unexpected
Although the weatherman predicted four days of rain during our trip, I am happy to report he was wrong. Living through just one day and night of vicious winds and continual rain was enough. Taking a wild ride from Pelican Beach on Cypress Island back to Lummi Island, we had come full circle and anchored in Inati Bay for our final evening.
White-capped waves broke outside the cove, whereas, within the inlet, moderate ripples lapped against the sailboat rocking us to sleep…until I bolted upright out of my deep sleep at 1 AM. Grabbing the iPad to pull up the navigation app, I discovered the predicted wind trends had unexpectedly changed course. During the last couple of hours, gusts had buffeted us from all four directions causing our anchor to shift and edging the boat closer to the shallow shoreline. My voice, spiked with alarm, woke the Skipper and crew.
Wearing headlamps and gripping flashlights in the angry pitch-black night, our competent Skipper immediately began considering options to protect the sailboat and us. While shivering on deck, a small break in the driving wind and torrential downpour eventually came. Without delay, we pulled up the anchor. Carefully, repositioning the boat between the beach, stony cliffs, and hidden rocks underwater, we set anchor again. Then, our Skipper disappeared temporarily, as he rowed the dinghy through the inky dark water to reset the stern tie onshore. Mission accomplished, just in time before the winds kicked back up and sent chilly rain pelting down once more. We beat that storm, which tried to ravage our boat, and then slumbered peacefully.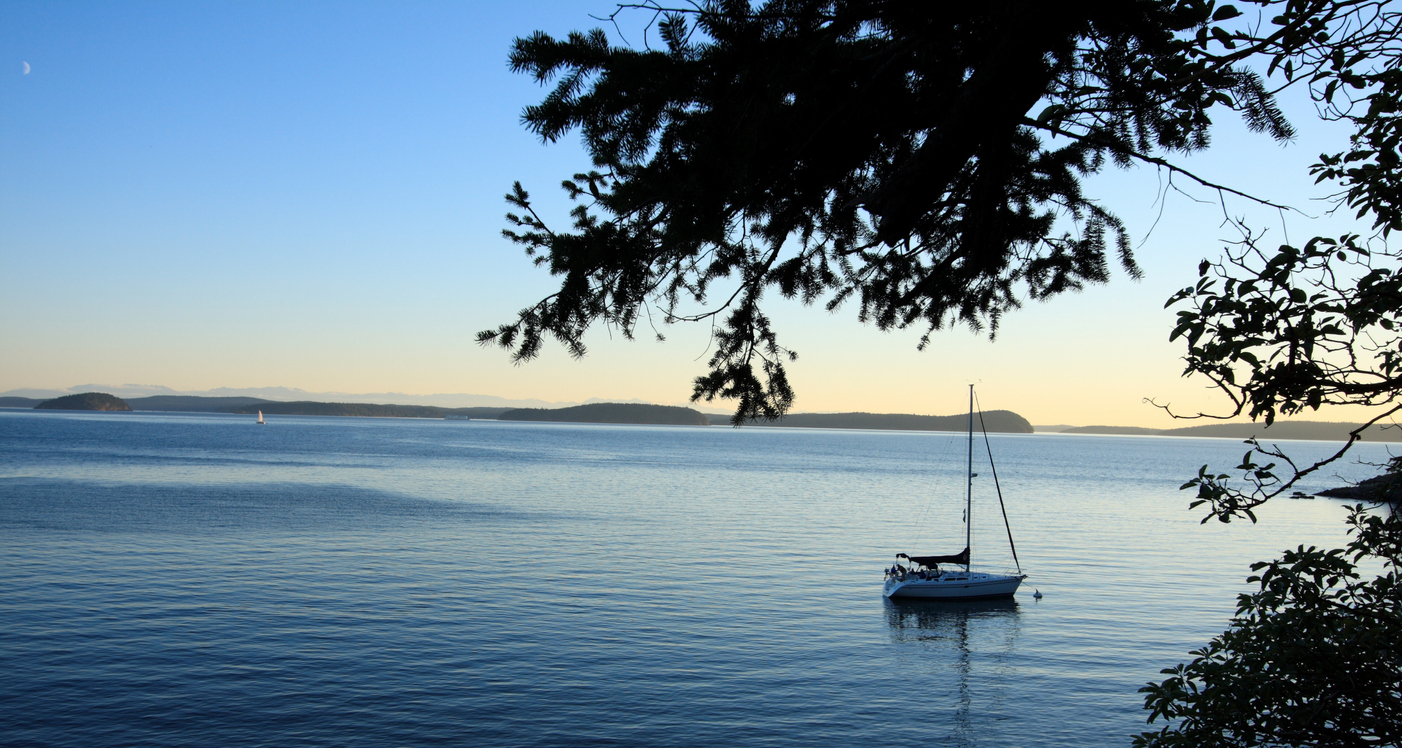 Exceeding All Expectations
The tempest spent itself during the night. Inhaling the invigorating salty sea air, the morning beckoned us to sail once again under stunning clear skies. Sailing the Imagine exceeded all our expectations for discovery, adventure, and fascinating encounters. If you yearn to navigate through the San Juan Islands next year, either bring your personal Skipper or if you're not quite ready to charter on your own, reserve a stateroom on a sailboat complete with a USCG Captain. Either way, you get to participate as an active crew member. To quote San Juan Sailing, "Cruising the islands has become for some, a way of life. Even for those who spend but a short vacation here, the memories of each day invite one back to the beauty of the islands and the hospitality of its people. Come and see for yourself. And welcome aboard!"
Sad about those postponed vacation plans from the previous seasons? We may be unable to book a trip and hop on a plane in some instances, but that shouldn't stop us from treating our senses and bringing some relaxing out-of-office energy to our spaces. Click for some lovely travel-inspired candles to help conjure up that vacation feeling from home.